The Ultimate Guide To Visiting Glacier National Park, Montana!
All of my best tips for enjoying your Glacier National Park vacation and our detailed 8 Day Itinerary, including best hikes, maps and restaurants.
This is a bucket list trip for sure! Is Glacier National Park on YOUR wish list? If not, put it on it! Here's a picture I took on our favorite hike, Grinell Glacier Hike, looking down at the shimmering turquoise waters of Grinell Lake. Glacier National Park is a fantastic family vacation, as long as everyone is capable and enthusiastic about hiking.  In order to see everything this park has to offer, you have to hike in to see the best views, aside from driving the Going to the Sun Road where the views are also incredible. This is also not an easy trip to plan, so I hope my tips and our detailed itinerary will help.  Glacier National Park is spread across 2 million acres and it takes about two hours to get across the park.  We stayed in three different locations in order to be close to the different hikes in each area.  You also need reservations for each part, more on that later.  Don't let the planning deter you though, this trip is WORTH IT!
Our TOP 3 FAVORITE HIKES at Glacier National Park are: Grinell Glacier Trail, Avalanche Lake Trail, and Upper Two Medicine Lake Hike.  A close third is Hidden Lake Overlook.  They are all described for you below! VIDEOS on my Instagram saved highlight called Glam Places 5.
Itinerary for our 8 day trip
We spent 3 nights in Columbiana Falls on the west side of the park, 3 nights on the east side/Many Glacier of the park near Babb, and 1 night near the Two Medicine area of the park, the SE section. Glacier National Park is very spread out, across 1 million acres.  It takes about two hours to travel the main road through the park, from one end to the other, on The Going to the Sun Road.  There are spectacular hikes on either end of that road, which means it works out best to stay in two different spots at least.  We added on the third lodging location to take advantage of hiking in Two Medicine, which turned out to be our second favorite hike and our fave dinner!
Day 1
Travel Day
Direct flight Phoenix-Kalispell International Airport, Glacier National Park on Allegiant, arrived late afternoon.
Rental car SUV pickup at airport (small airport, rental car place right there)
Dinner:
North Fork Pizza, Columbiana Falls (like 15 min from the airport) It's conveniently in the same general area near grocery stores. It was really good and a fun place! Popular!
Grocery Stores– Stocked up at Super One for breakfast and lunch stuff to pack for hikes tomorrow. We did Super One so we could get bear spray. We bought two cans of bear spray for the four of us and the brand was Combat Assault. Grab some Windex to clean your windows throughout the trip! There was SO much dust and constructional the W Glacier entrance and our windows got filthy.  Glad to have the window cleaner for when we drove the Going to the Sun Road.   See details below on the wraps I made for packing on our hikes each day, they worked out great!
Smith's is a better grocery store in same area in Columbiana Falls.
Check in to Airbnb in Columbiana Falls. The place we stayed in was awesome! If you'd like the info for it, send me an email or message me on Instagram. This home was so spacious and cozy and had everything stocked that we needed.  We even made friends with the neighbor's horses, cat and dog.  It was such a sweet place and we really enjoyed our stay.
Day 2
Drive to entrance to W Glacier 35 min from our Airbnb house in Columbiana Falls.
Trail of the Cedars & Avalanche Lake Hikes:
Hike Trail of the Cedars (easy less than 1 mile, flat) and it continues to Avalanche Lake. 6 miles roundtrip for both. Avalanche Lake hike gains 500ft. Lots of nice shade on this hike. Gorgeous views of Avalanche Lake at the end. You have to continue to the Avalanche Lake hike, it's the highlight for sure! Trail of the Cedars is a beautiful wooded hike amongst tall cedar trees and anyone can do this hike.  Make sure you keep going to Avalanche though!  Bring your crocs for the water.  It's a rocky beach.
Trail of the Cedars and Avalanche Lake were the perfect warm up hikes for what's to come!
Afternoon & Evening:
Stop into the cute shops at the entryway to the park on your way out.  Huckleberry everything seems to be the thing! We found some great places on our hikes for picking wild huckleberries, stay tuned…
Also stop by The Huckleberry Patch for huckleberry ice cream or shakes. We ended up getting Moose Tracks ice cream there because it looked the best and it did not disappoint!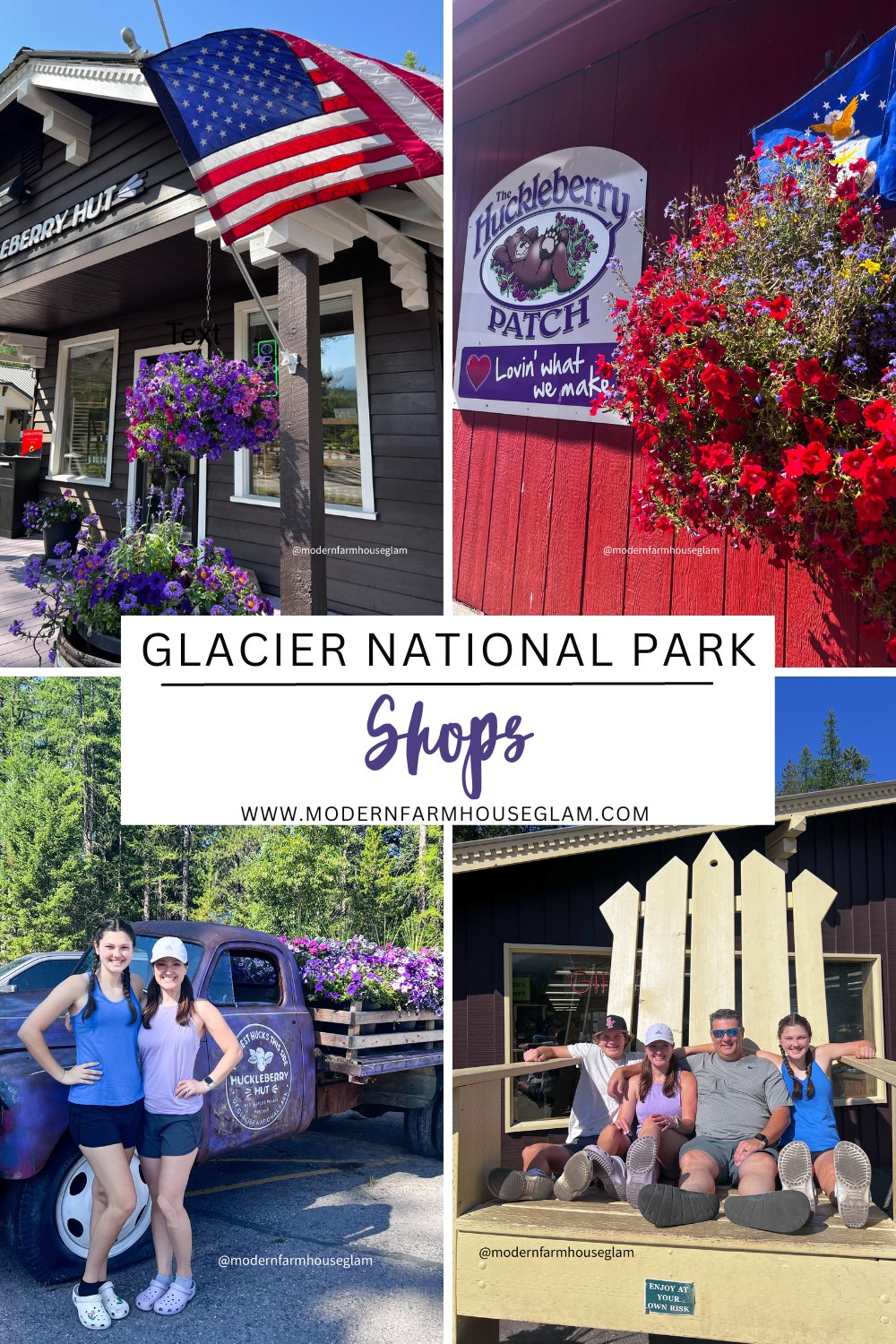 We checked out the farmer's market on Thursday nights in Columbiana Falls for dinner 830 1st Ave W, Columbia Falls, MT 59912 The Coop Bldg- it was kind of a bust.  I thought we would eat dinner there at the food trucks, but didn't look great.  Instead we went to:
Dinner at Gunsight Saloon.  Fun place and good food! Live band! I def recommend having dinner there if you're staying in Columbiana Falls.
If you're doing this itinerary for Day 1, you'll need a reservation for the GTTSR, it lasts for 3 days. Here's the link for making your reservations at the park on recreation . gov . You need these in addition to your National Park Annual Pass.  It's such a pain and they sell out fast.  More details in my TIPS section at the bottom.
LUNCHES
What I made for lunch everyday to take in our hiking backpacks for lunch:
Turkey, cheese and spinach wraps! These worked out perfectly for easy and light transport in our hiking backpacks, so we could eat lunch on the trail once we reached our destination.  We had 2-3 each, wrapped in aluminum foil. Mission wheat wraps, turkey, ham, cheese, spinach, and ranch dressing.
We also each took two granola bars each for each hike.  We like Clif bars, RX No B.S. bars, Kind bars, Dave's Killer bars and Cascadia Farms bars.
Another one of our favorite snacks are the salted shelled pistachio nuts. You can get them at Target and Costco.
You need more food and water on the hikes than you may think! It's not fun being hungry on a hike or running out of water. There is NO food purchase anywhere close by on these hikes, you're pretty much in the middle of nowhere. If you're in The Many Glacier and Two Medicine Areas of the park, there are barely any food options at all.
We each had the equivalent of 4-5 water bottles in our hydration bladder for the longer hikes. We also carried Life Straws and used them!

Day 3
Drive Going to the Sun Road (GTTSR) one hour in to Logan's Pass to hike Hidden Lake Trail and part of The Highline Trail. Logan's Pass has a visitor's center, which isn't that great, but it's a good bathroom stop before your hike.  The parking lot gets crowded here, but we didn't have to wait more than a few minutes for a spot. We did not get here super early and did not have a problem.
Going to the Sun Road is AHHHHmazing! You feel like you're in Switzerland.  You drive along the ridgeline of stunning majestic mountains, past waterfalls, and through tunnels.  The views are spectacular.  There are a few spots on this road that made me feel fearful of heights. There are some narrow road spots with a view over the edge of the steep drop-offs. If you're afraid of heights, driving this road from the east to west side provides a better sense of security, as you're hugging the side of the road along the mountain and not the edge of the drop-off side of the road. We the full length of the GTTSR both directions and I felt completely fine driving east to west, but very unsettled driving west to east.  There are some CRAZY spots! You HAVE to do this road if you're coming to the park, it's a MUST DO! You need a reservation to get onto this road and into all sections of the park.  See my tips section below for more info.
I don't have many pictures from GTTSR because we were really taking it all in, plus I was driving for a good bit of it.
Download ahead of time The Guide Along App.  $12 and you get your own personal tour guide along the GTTSR and throughout Glacier National Park.  Worth it! We loved it and the kids named our tour guide Francisco and we called him Franny for short. Haha!
Highline Trail:
We attempted the Highland Trail and I DO NOT recommend it! The trail goes along the ridge of a very high mountain with a straight drop-off, down onto the road! You hold onto the railing for the first section, with a steep drop-off down to Going to the Sun Road.  That railing section went on for way longer than I expected.  I did not enjoy it lol.  Then the railing disappears and you're STILL on a sketchy trail, but this time without a railing. It goes on that way for a long time and apparently the majority of the trail for 4 miles in.  We went in about a half mile and decided to turn around.  My idea of fun is not being scared and worrying about someone in our family taking a misstep and falling to their death.  No thanks! Anyone else with me?! We went across the street and did Hidden Overlook Trail instead.  It was a great decision for us.  That trail is AMAZING and not scary.
If you decide to do the Highline Trail, here's the details: it gains 690ft and is 10 miles long one way, then shuttle back.  We planned on only doing the first 3 miles ish. 4 miles in takes you to Haystack Butte and then turn around and come back. "The Loop" which is the last 4 miles if you continued is steep downhill and grueling apparently, plus no shade. People talked about how miserable the Loop part is and I would def not recommend doing that.
Hidden Lake Overlook Trail:
Hidden lake overlook trail- mountain goats, wildflowers. Steps and elevation. Look for bighorn sheep and marmots, too. It's 1.5 miles and 460ft elevation to the overlook and then another 1.5 miles to the lake, dropping 780ft in elevation. We went just to the overlook.
I don't recommend the hike continuing down to the actual lake.  That much of an elevation descent does not sound like fun or worth it to me! It was closed anyway when we were there, due to bear activity.  I have more info on how to find our trail closures in my Tips section toward the end of this blog.
There's a good amount of sun exposure on this hike.  Wear your suncreen!
We saw three mountain goats up close on this hike! A mama, dad and baby-so sweet!
We also saw a pack of big horned sheep and got a pretty good close-up view of them, as they were heading down from the cliffs and crossing the trail!
Afternoon:
Stopped by Lake McDonald Lodge after our hike, which is on Going to the Sun Road.  Behind the lodge is beautiful Lake McDonald, with its clear water and colorful pebble rocks.
Evening and Dinner:
We tried to go to Backslope Brewery for dinner, but it closes early! We got there around 7:30 and they wouldn't seat us because it closes at 8. Bummer. (On Yelp, it looked like the garlic parmesan fries and Thai Bowl or Diner Bowl were good.  You can follow me on Yelp here)
We went across the street to Mudmann Burgers and it was pretty average.
Head to grocery store (Smith's) and pack food for the next couple of days! Not much in Babb/Many Glacier areas, where we head to the next day. Stock up!
Back to Coumbiana Falls house for last night in this area of the park.
If you're doing the itinerary we did on this day, you'll need reservations for GTTSR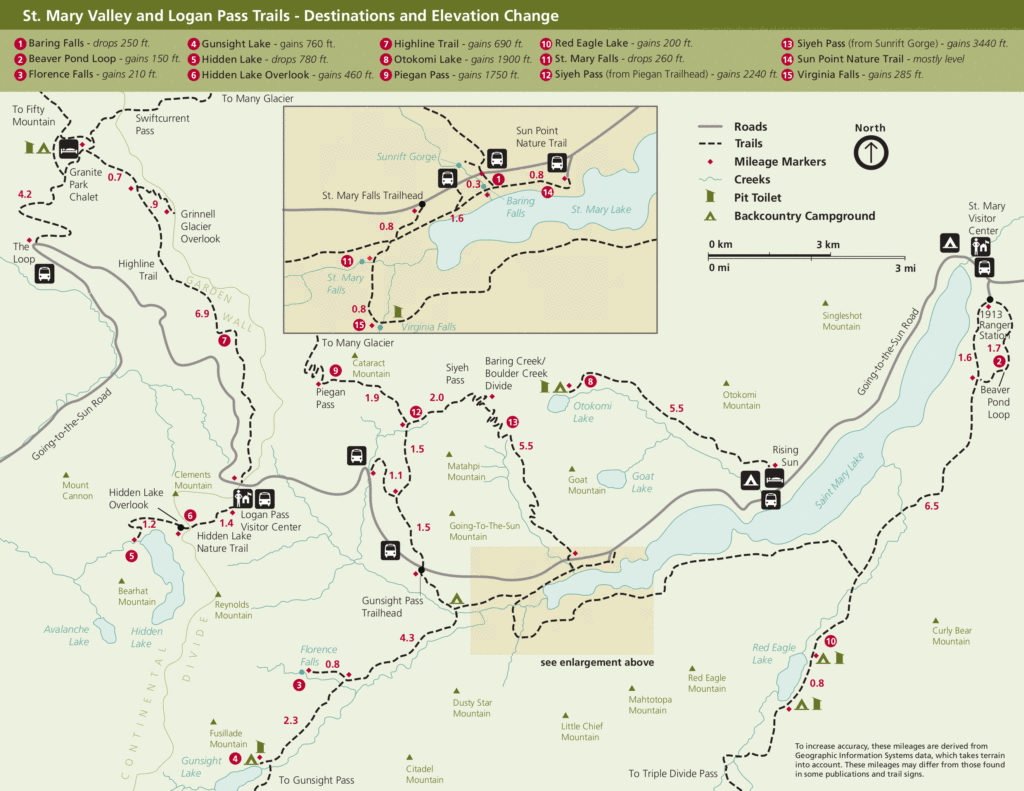 Day 4
Check out of Columbiana Falls house and drive GTTSR the whole way (2 hrs) to next rental house in Babb on Duck Lake (near West Glacier entrance)
GTTSR: places to stop: Big Bend, Jackson Glacier Overlook, Wild goose island overlook (just look as you drive by), Overland Bend
Check into next Airbnb rental house in Babb, on Duck Head Lake.  This place was not the best, not the worst either.  There are very few good housing options in this part of the park. We ate lunch at the house because there weren't any options that were available or open.  Luckily we had enough food packed in the cooler to hold us over.
Fischer Cap Lake Hike (short hike):
Head into the Many Glacier entrance to the park to do small hike to Fischer Cap Lake for moose. Keep an eye out for wildlife on this road into the park.
Before or after the short hike, head into Swiftcurrent Motor Inn gift shop and grab some soft serve ice cream, yum! It was only $3.50 to fill your cup with blackberry and vanilla soft serve.  We got this a few times because it was so good!
Now for Fischer Cap Lake to see moose…Go to the far end of the parking lot at Swiftcurrent Motor Inn.  Turn left at the snake looking tree to head down the lake, or there are other options, including one trail down that has a small brown sign marking Fischer Cap Lake.  We missed it the first time!
TIP: this trail is BUGGY! Bring your bug spray.  There were a ton of flies and the bug spray did not seem to deter them, yuck! It's still worth suffering through the bugs to see the moose in the lake, though and it's a short hike luckily.
Videos of the moose, which are WAY better than a photo HERE.
Drive to the Many Glacier Hotel, close by and park.  Walk down through the hotel and to the water. We took a boat ride from here the next day, but had some time, so decided to check it out. You could probably hike to Grinell Lake at this time, but we wanted to have an easy day since tomorrow is our biggest hiking day.
Dinner:
We ate at Nell's in the Swiftcurrent Motor Lodge, not very good.  The sweet potato fries were good, but the mac and cheese, caesar salad and burgers weren't very good.  Go to Two Sister's for dinner instead.  More on that later.
Reservations needed for Many Glacier & GTTSR for this day.