Your summer adventure is waiting! Lake Powell, AZ/UT is our family's favorite spot to bring on the SUMMER! Boating through the vast red sandstone canyons is magical! With changing water levels, you never know what mystery cove or beach you may discover on each trip. Lake Powell is located in northern Arizona and crosses into Utah.  It's in the Glen Canyon Recreational Area. This is a BIGGG lake, about 250 square miles. We drive there from Phoenix, it's only four hours away. Put it on the list!
Our first experience at Lake Powell was about five years ago, when we got invited by our friends to stay on their houseboat for a week with them! Something we will never forget! We instantly fell in love with Lake Powell and all the wonder, beauty, fun and relaxation it has to offer.
Here is the unbelievably sweet spot we found to dock the houseboat.  This pic was taken as we were approaching the shore in the houseboat.  The guys went ahead of us in the speedboats to scout the perfect spot.  There was one other houseboat with some other families with young kids sharing our little private beach for the week.
This is an ideal spot to dock your houseboat for the week…sandy beach to relax, fun rocks to climb, and secret coves to swim into! We were in awe of the beauty and peacefulness of this spot.  And it was SO much fun!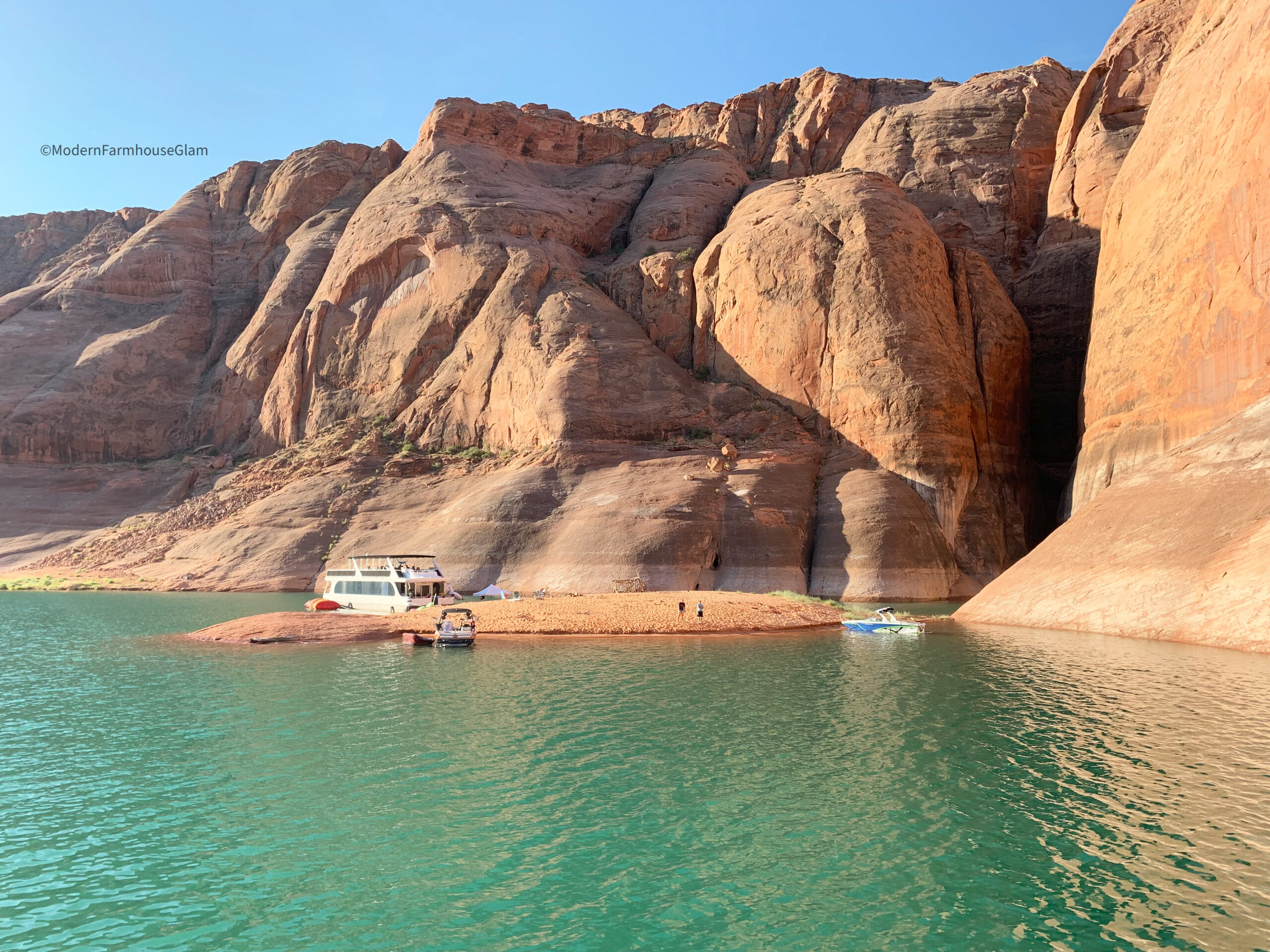 Pic below is the houseboat we got to stay in. It was such a cool experience.  Hanging out with our friends in the evening on the top deck, gazing at the clear night sky full of stars, was amazing!
Another look at our private beach.  It was such a special spot and we had a blast!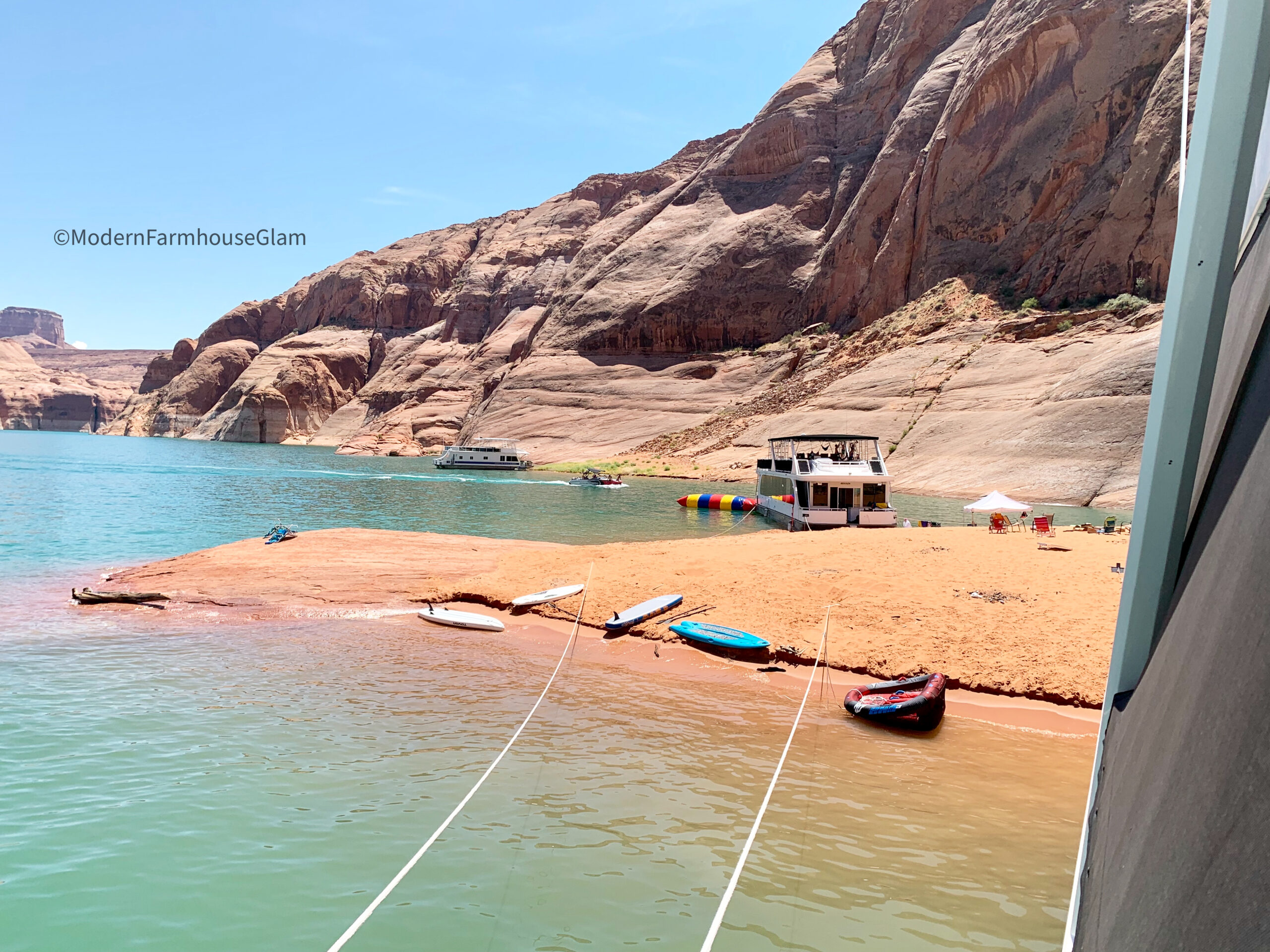 These are our some of our best friends, who we spent the week with at Lake Powell! We are grateful to them for introducing this magical place to us.  We had so much fun with them on this adventure!
What's Lake Powell without at least one thunder storm?! It always adds to the experience and adventure, right? Here's the rainbow that followed the storm and a pretty waterfall on the following picture. I caught that photo from the top deck of the boat.  The views tho!!!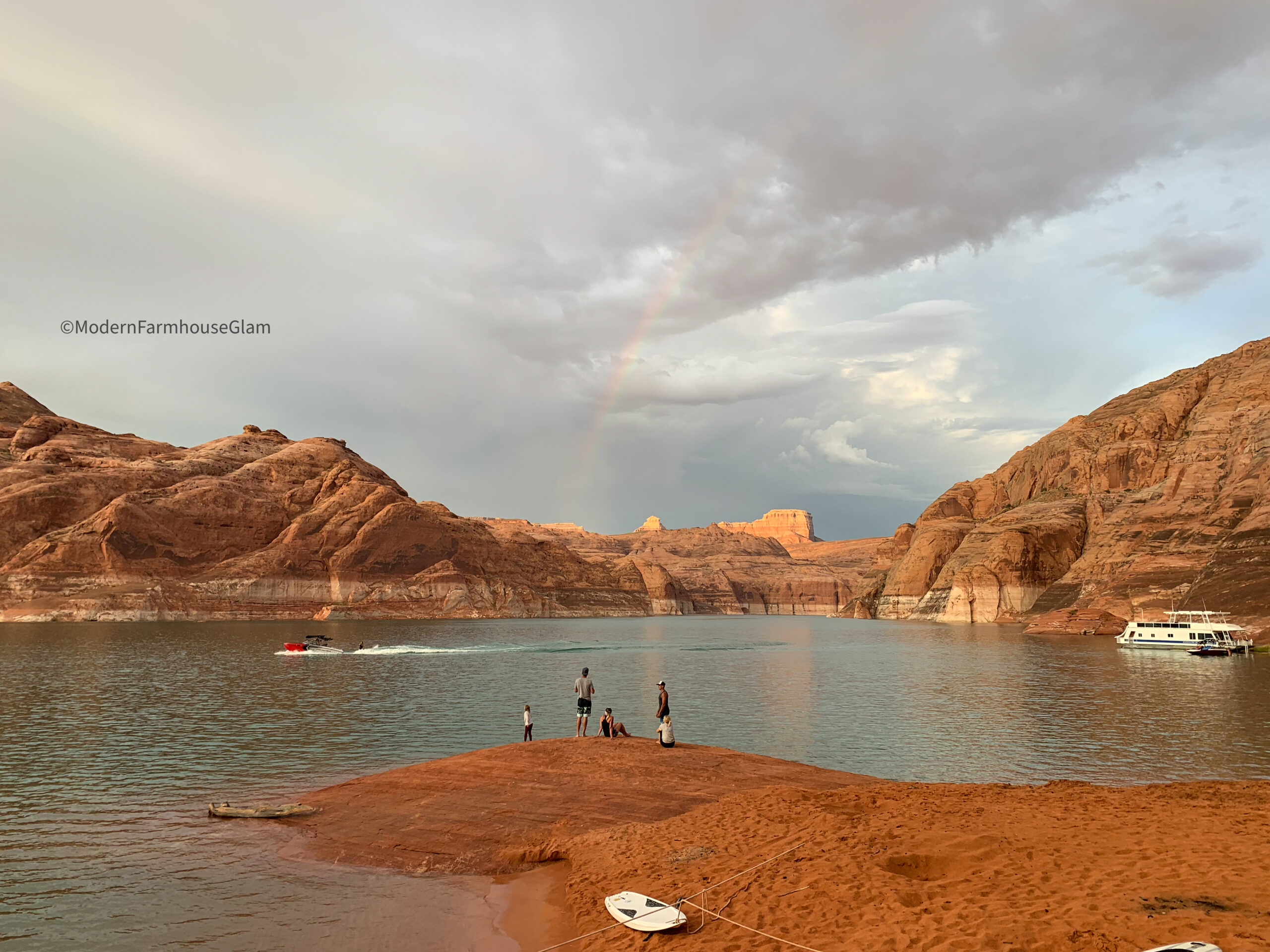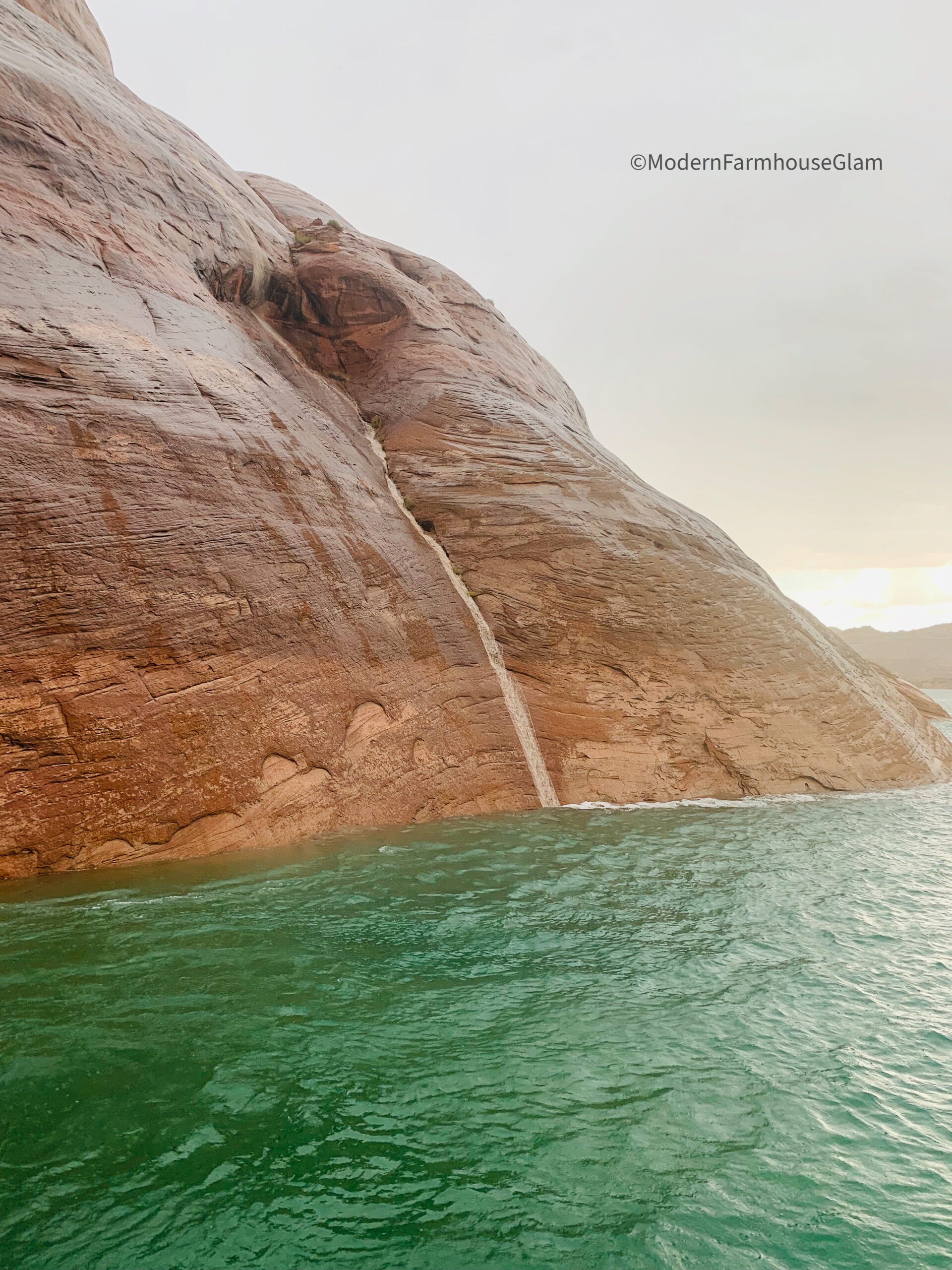 Pic below: we all swam in this little cove and into the slot, which was so neat!
Our kids also tried out some paddle boarding.  My friend and I also took the paddle boards through a tight canyon to see the sights, I believe it was Labyrinth Canyon.  So pretty!
She's gotten a lot bigger since then! Here's me and my daughter ready for a day of boating: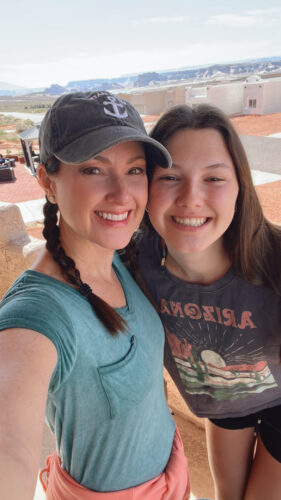 My son and his friend on the speedboat. Wow they've grown up a ton since this photo! I think this was about five years ago and they look completely different.  Isn't is crazy how quickly the kids grow up?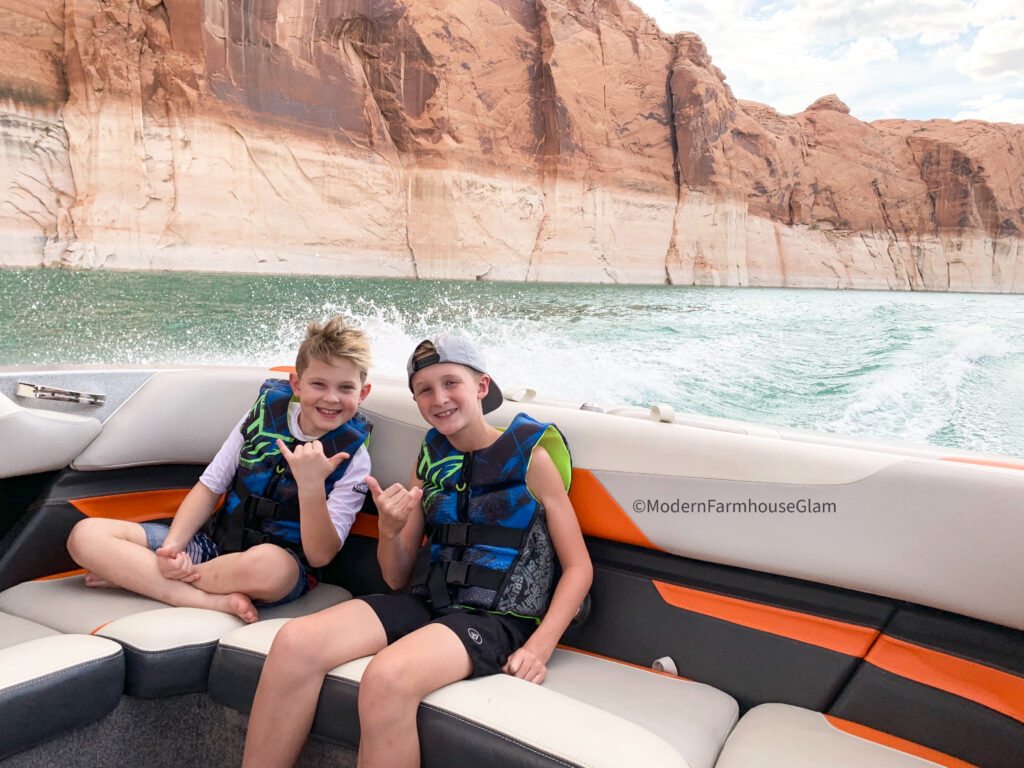 Since this pic when my son looks so little, we have been back several times.  This summer (2023) was the first time we ventured out on our own speed boat and it did not disappoint! The kids favorite part is always tubing behind the boat, which doesn't need much explanation.  Teenage fun at it's finest.  My favorite part is taking in the stunning scenery and wonder of the canyons surrounding the lake on our boat. You have to experience Lake Powell by boat.
The pic below was taken in Padre Bay which is a great spot for tubing and I'm pretty sure that's Cookie Jar Butte behind the kids on the left. On my Instagram saved stories called Glam Places 1, 2 and 3, you can see tons of video of the kids tubing.  It's so much fun! This is the three person TUBE we have and the kids love it. Here is my Amazon Boating Essentials List.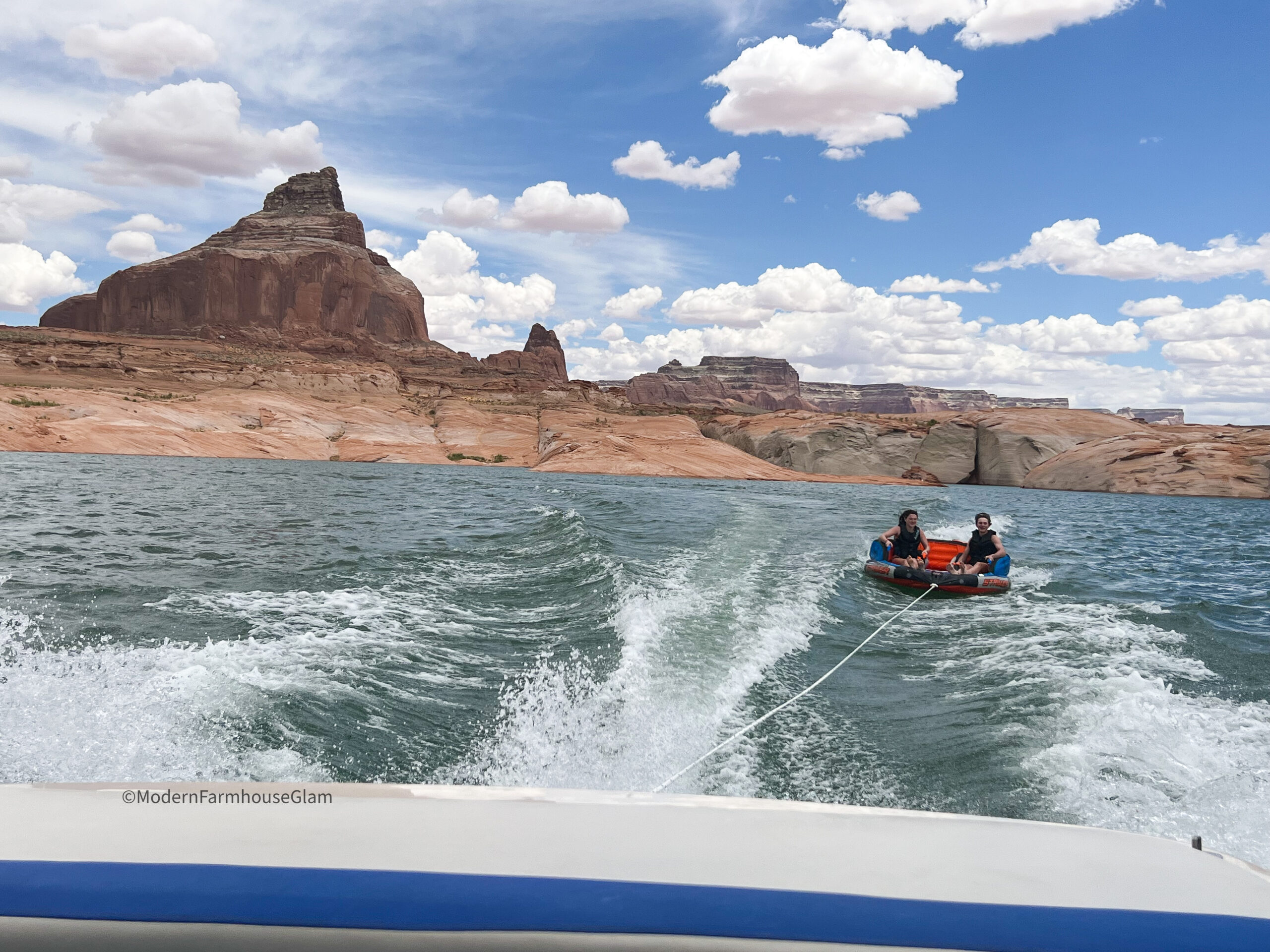 These two cuties make any vacation fun! They are besties and have a great time together on all our family adventures.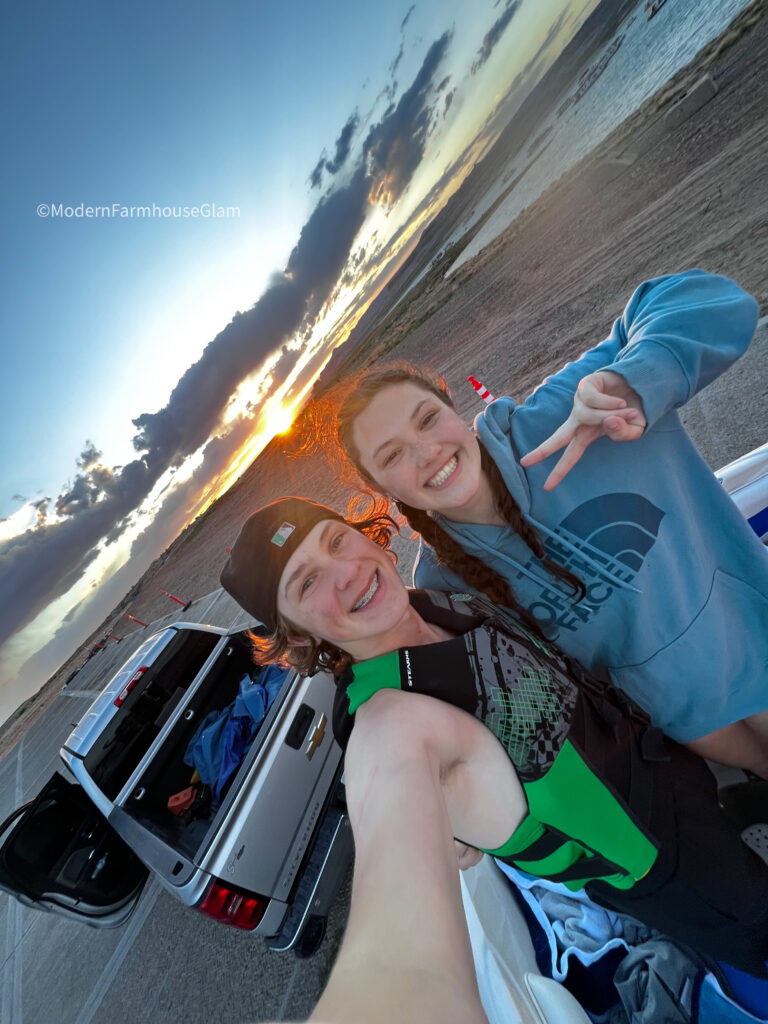 Our kids took a few turns driving the boat.  My husband is looking forward to when they can drive it all the time and he can relax in the back lol.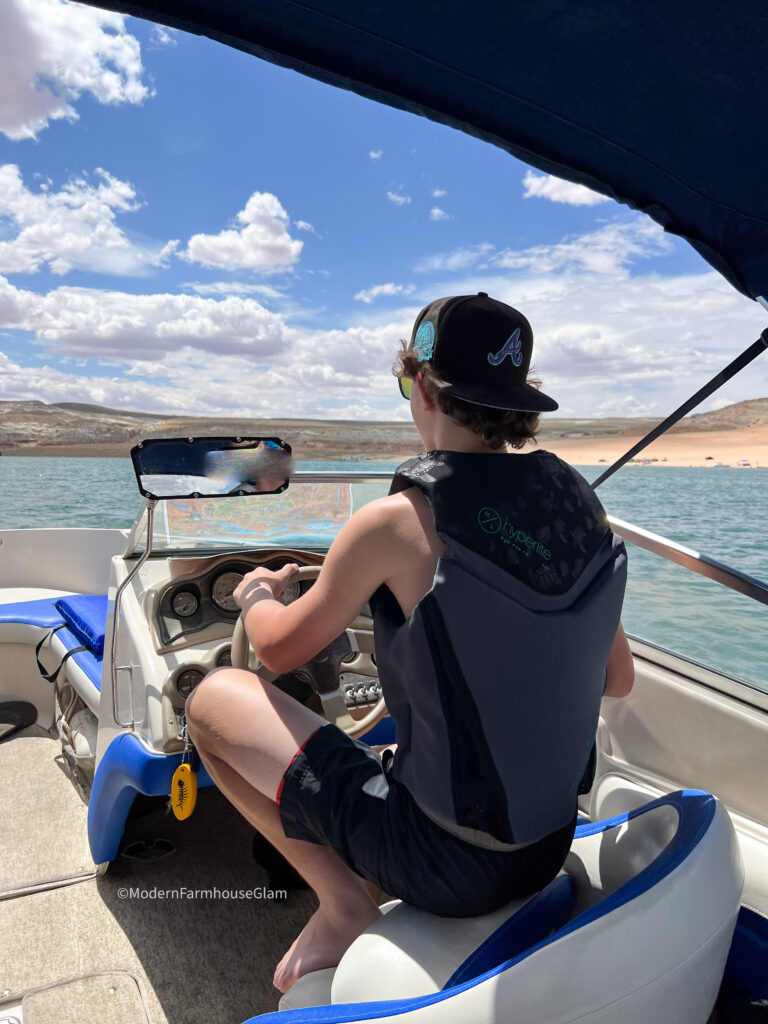 Me and my son enjoyin' lake time. Link to my First Mate hat.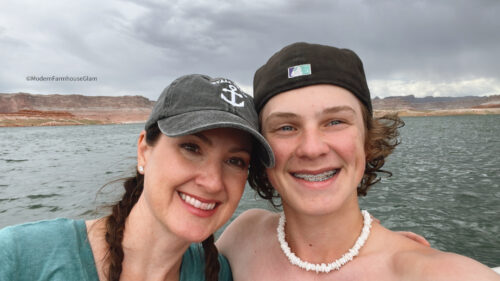 We launch our boat from the Wahweap Marina. Pretty easy unless the wind is picking up, like it was for us one day…adds to the adventure lol. Most of the nice houseboats are docked at Antelope Point Marina (goals) and it's also where the restaurant is.  We docked our boat here to grab some dinner during sunset after our last day of boating adventures.  It's a great place to sit outside and enjoy sunset, but don't be in a hurry because they're kinda slow.  Think lake time haha!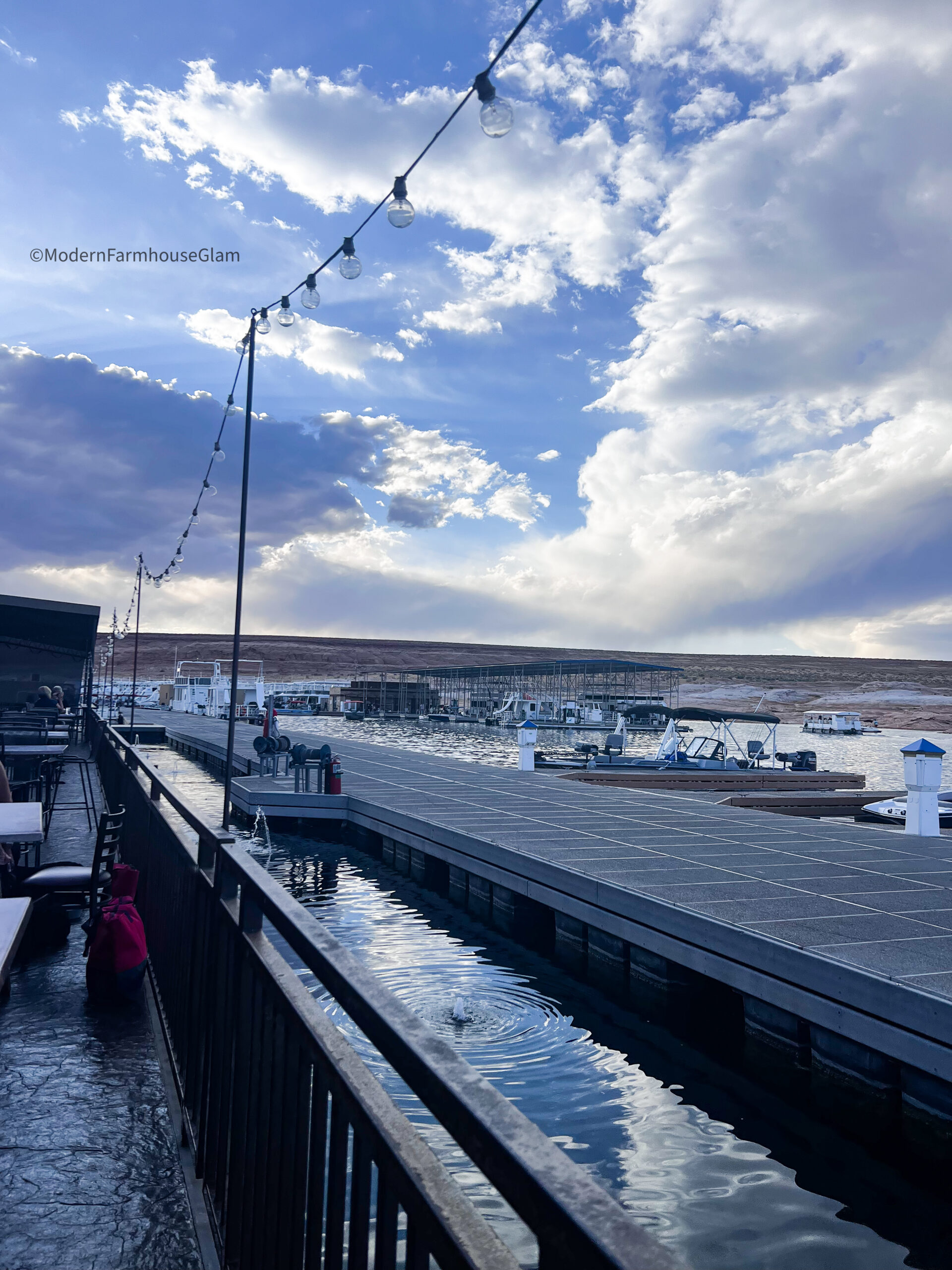 Selfie of me and my kids at the restaurant at the marina. They're the best.  It's so nice eating outside here at sunset!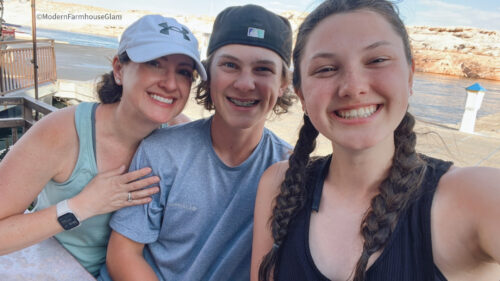 Heading back to the dock after dinner at the marina, admiring sunset. We got caught in some rain, so that was certainly an adventure. It was kinda fun though!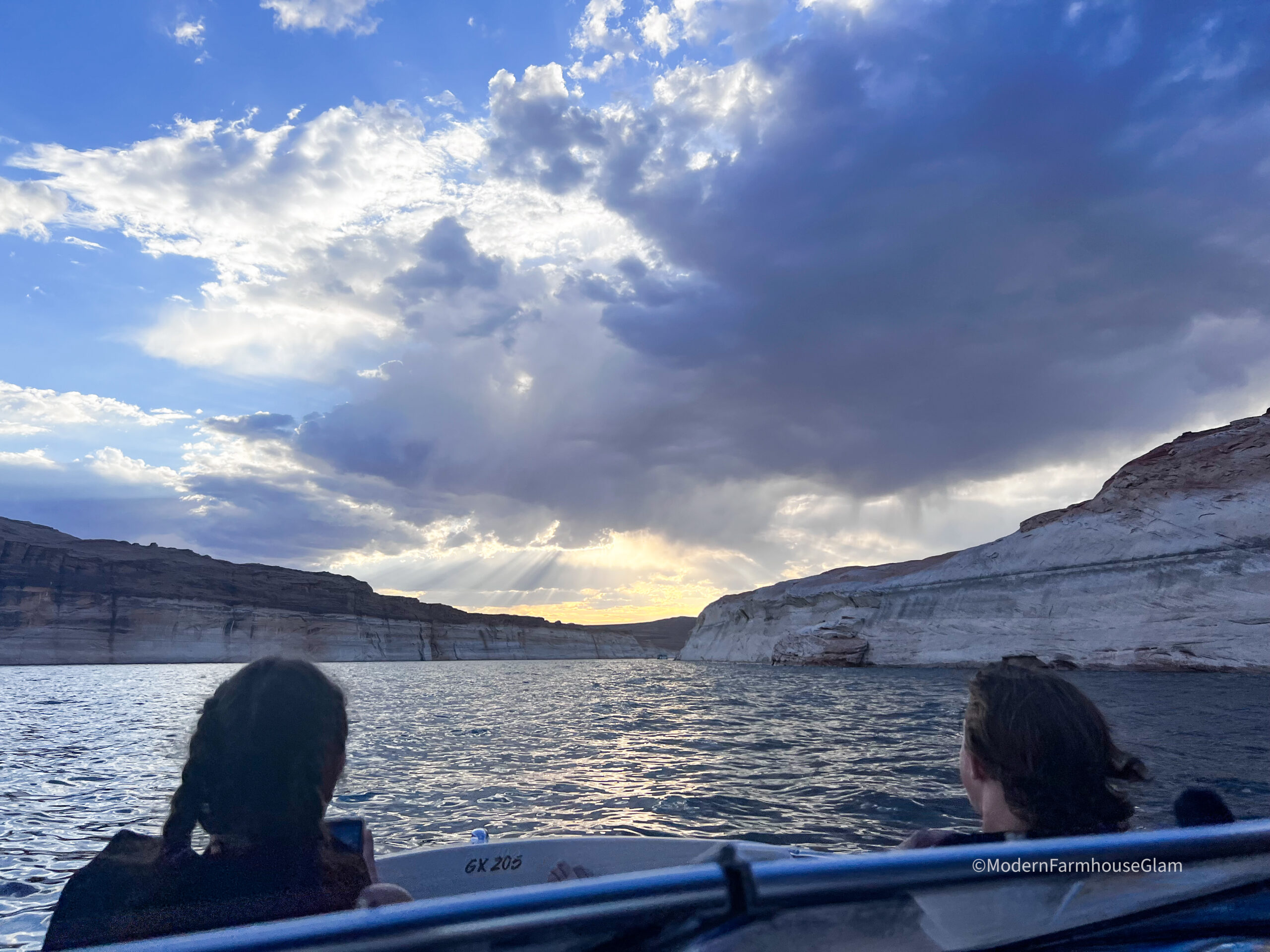 The "good" parts of the lake are once you get well past Antelope Point and though the main channel. It's pretty rough waters through that part.  Padre Bay and some of the side channels are where it's really pretty…amazingly beautiful actually. Padre Bay is full of stunning mesas and buttes. Hard to describe it in words, you really just have to experience it for yourself. We found a little circular area in Padre Bay where the water was calm and there were hardly any boats, so it was perfect for the kids to do some tubing behind the boat. Lone Rock is worth checking out, it's in the opposite direction from Wahweap…not too far though. More on that in a bit.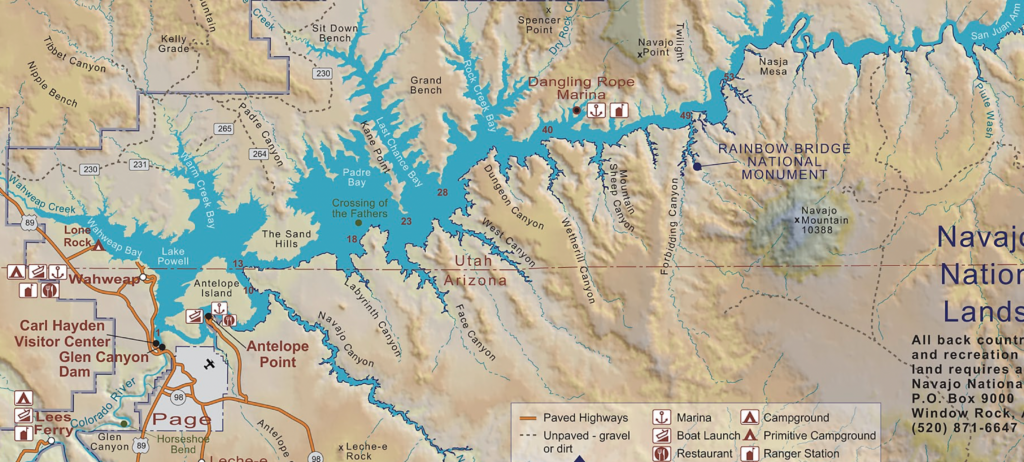 Everywhere you look, there is beauty.  The massive steep sandstone canyon walls are mesmerizing and quite stoic. And that emerald colored glassy water is incredible.  It's really cold though, so consider yourself warned lol! Pictures do not do Lake Powell justice.

Cliff Jumping
Our kids and their friend getting ready to do some cliff jumping. This was in one of the side channels of the lake.

No way I was doing that, but the kids wanted to of course.  Our friends have been doing cliff jumping here for years and were familiar with this spot, otherwise I would have never let my kids do it. The water is over 200ft deep here.

Another spectacular sight white boating through Lake Powell.  The colors and magnitude of the rocks are incredible.

We spent a good bit of time with our toes in the sand at this spot.  It was so relaxing and quiet here.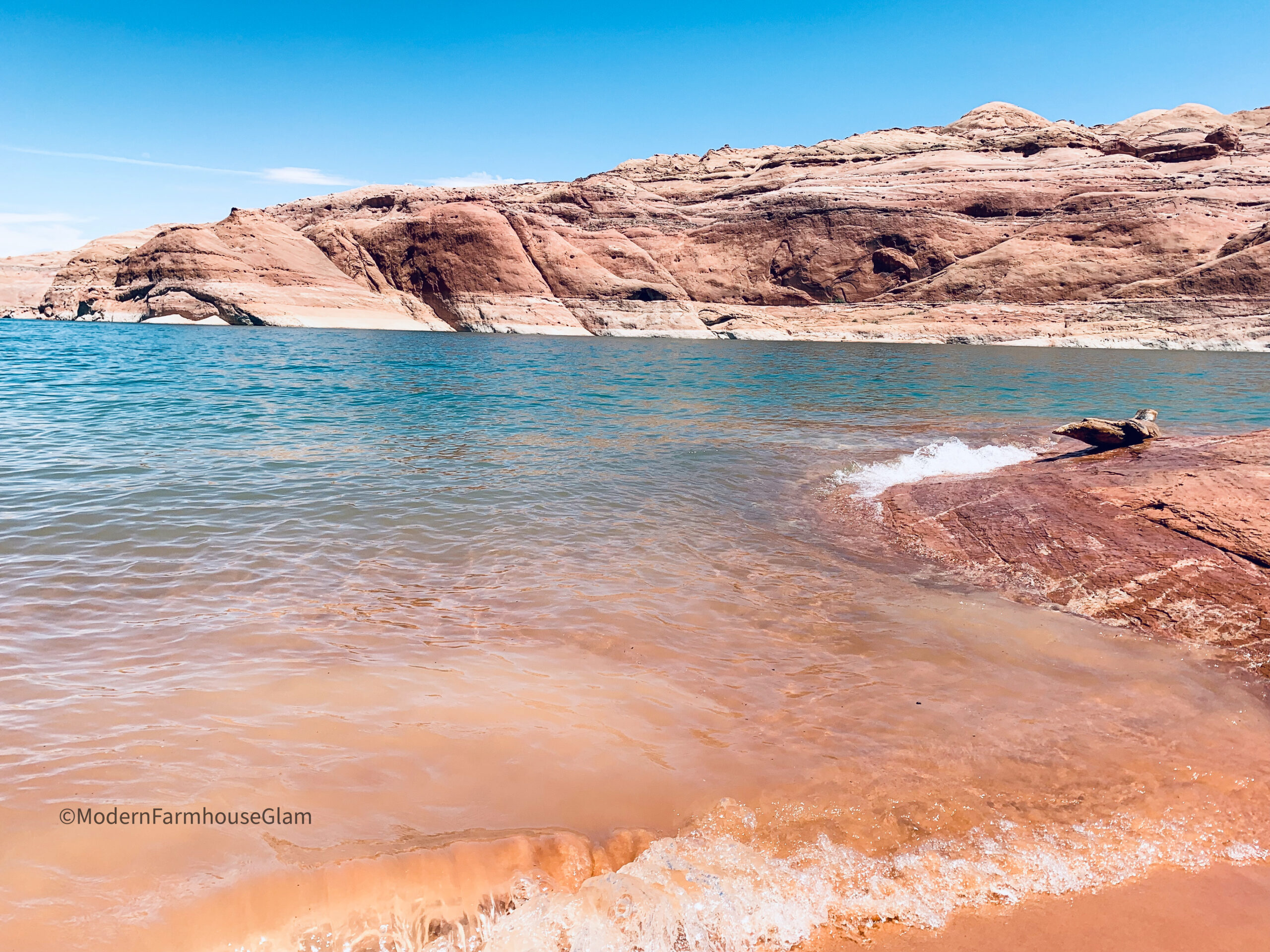 My husband and I enjoying some coffee at sunrise on the boat.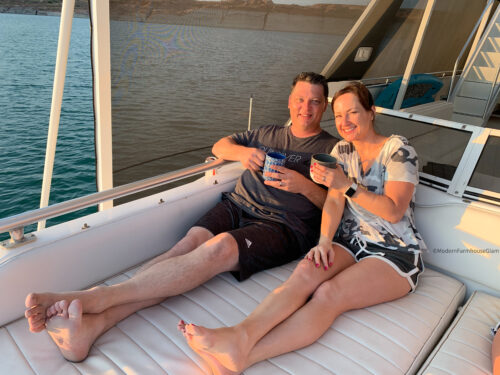 Lone Rock
Self explanatory haha! It's a gigantic rock in the middle of the water.  So fun to boat to and also a fun spot to hang out on the sandy beach. A few years ago, we drove down to Lone Rock Beach in our truck and there were people camping and having bonfires on the beach.  We let the kids swim and play in the water, such a fun spot!
Pic of Lone Rock below taken from our speedboat June 2023.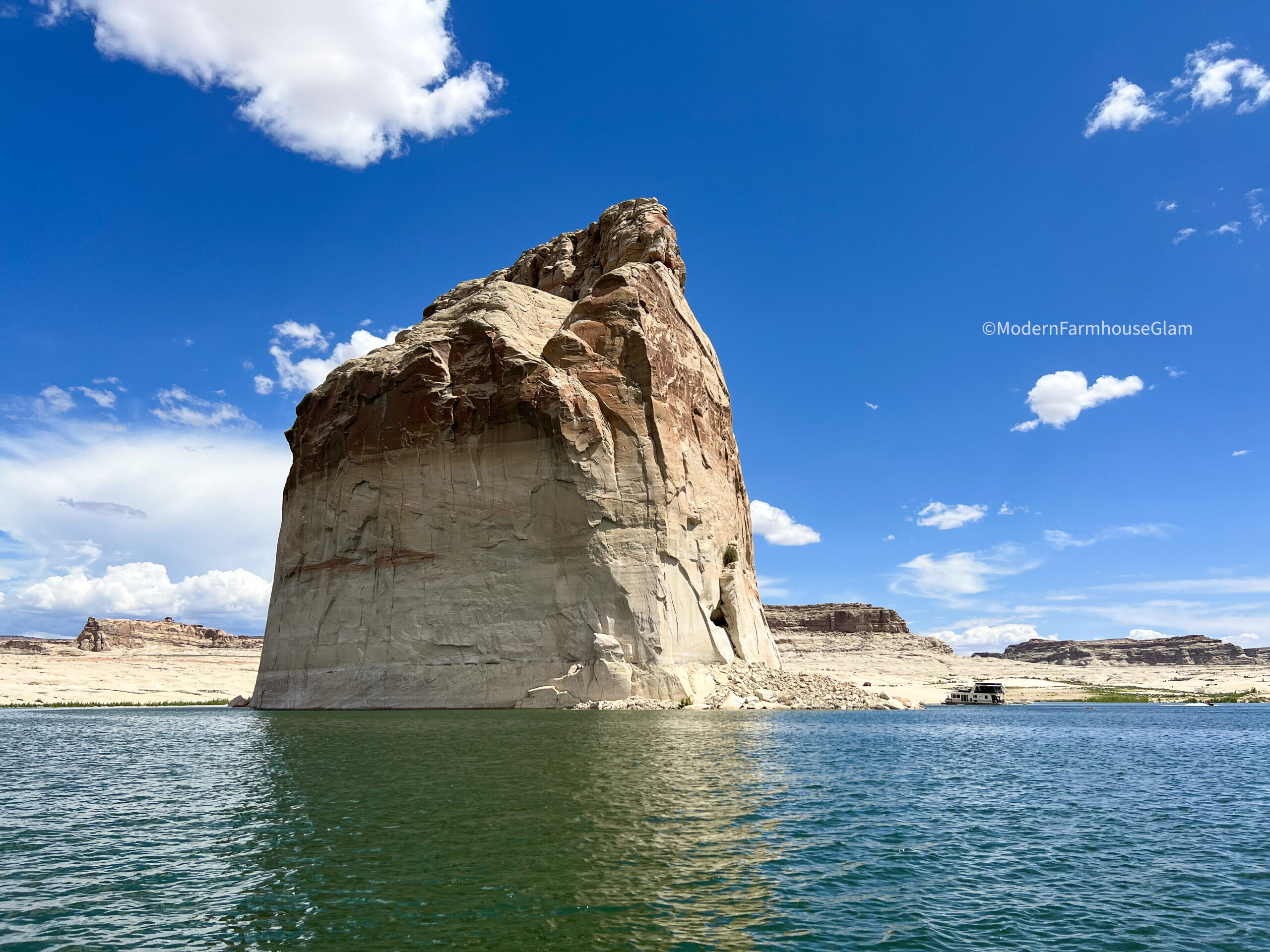 Pic below taken from the Lone Rock beach about two years ago, so like 2021.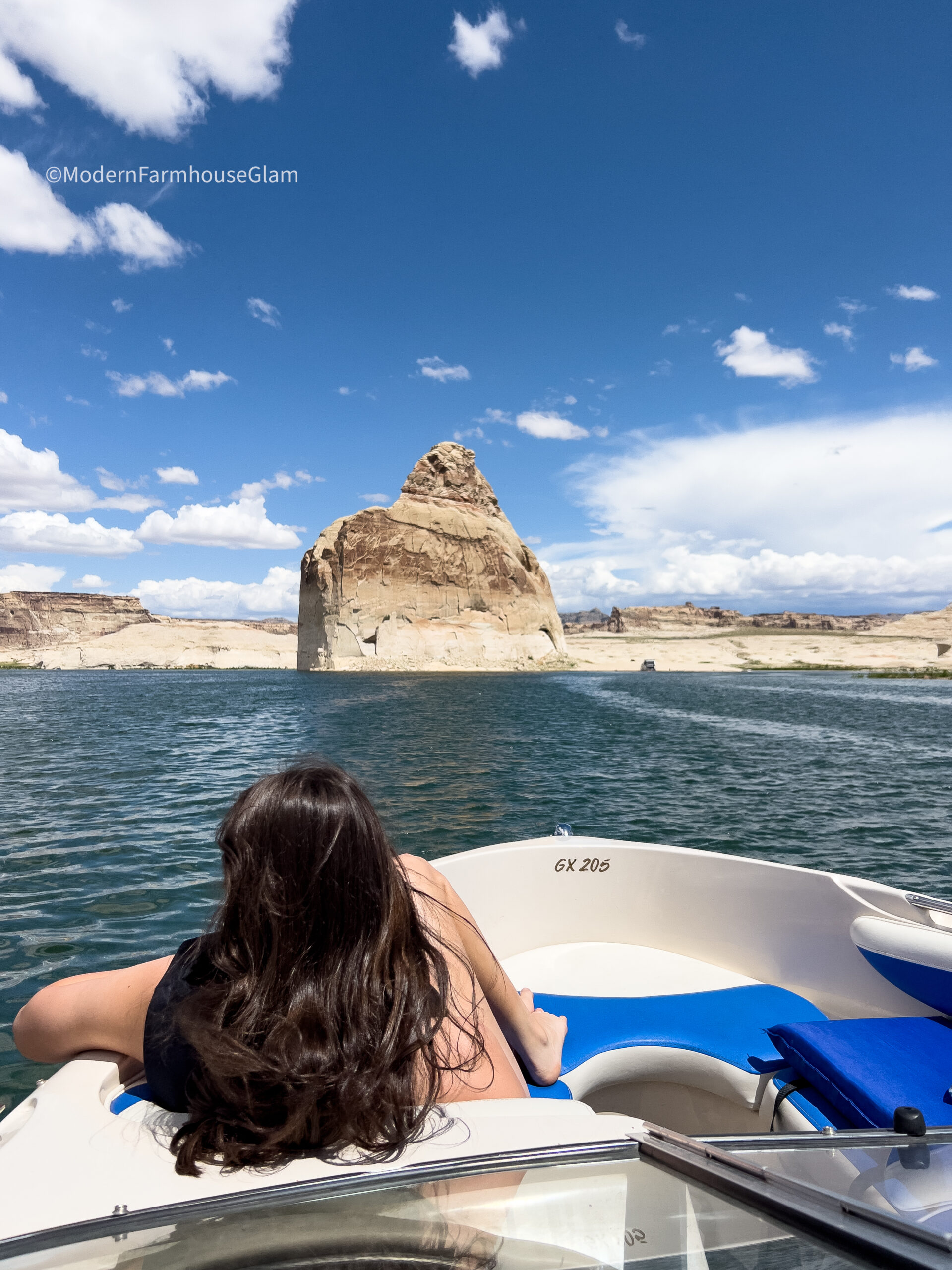 There was a houseboat fire at one of the marinas and we saw it on our way back that afternoon.  So scary! Luckily, nobody was hurt, but about seven houseboats burned.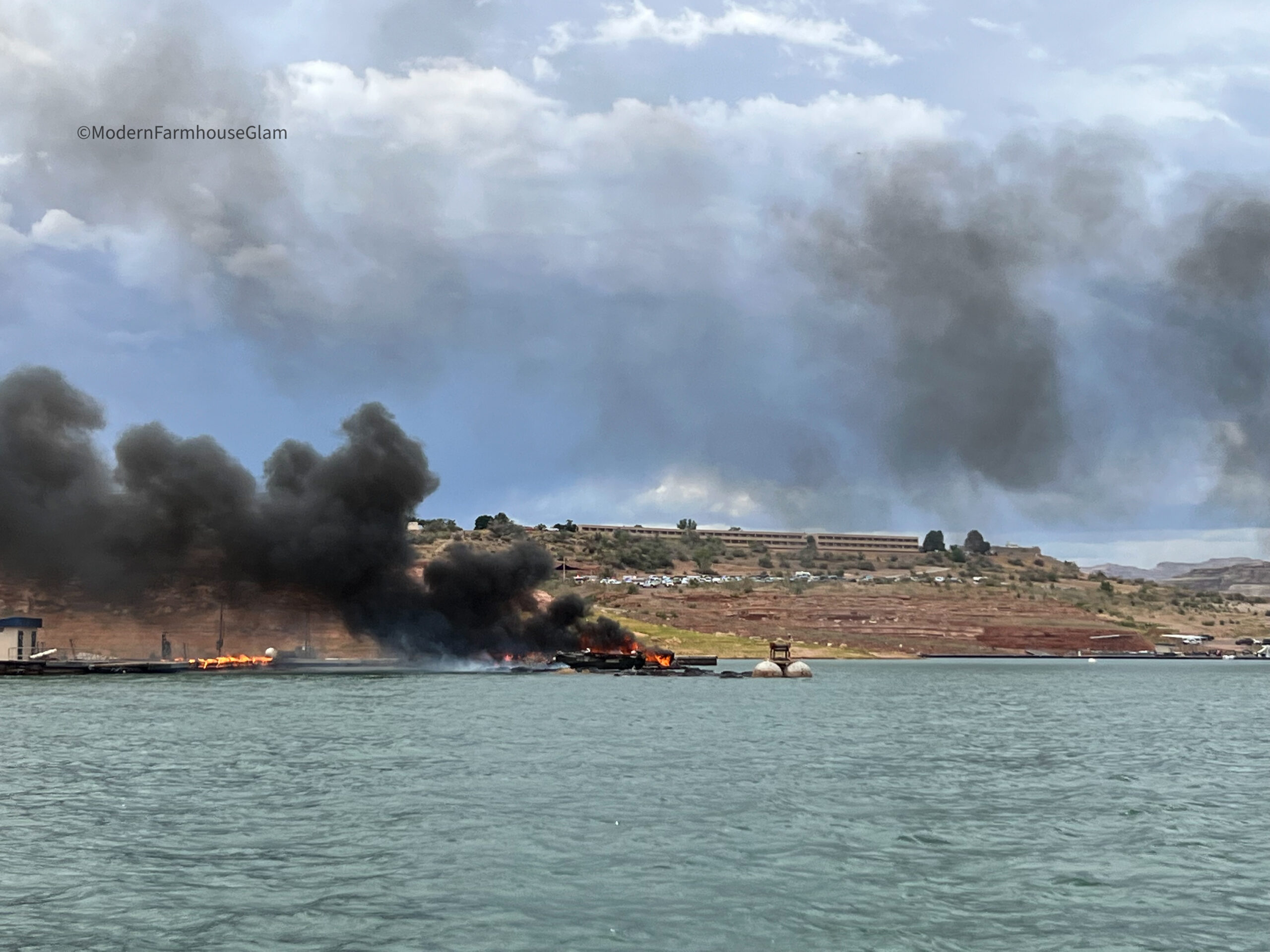 TIPS:
Where do we stay? We almost always stay in Airbnbs/VRBOs when we vacation because we like having some room to spread out and especially a patio or balcony to watch sunset and enjoy the evenings outside. It's not real practical to cram into a hotel room anymore, especially with two teenagers. Plus, you have a kitchen to make some of your meals.  Page, AZ is not the best for going out to eat, so we brought a cooler with us from home packed with food and made some of our meals there. You def want to pack a lunch, snacks, and drinks for the boat! The vacation rental home we stayed in at Lake Powell had a nice front porch view of Lake Powell and sunset.
It can get CHILLY on the water, especially if you hit a little rain like we did and in the evenings! Bring your hoodies.;) We have had perfect weather over the summer when we've gone.  Nice breezes on the water and it feels so refreshing to take a dip in the water. It's also fun wearing a sweatshirt at night. The water itself is usually cold.
A few more TIPS for Lake Powell: There's an entrance fee or you can use your America The Beautiful National Park Pass.  This pass lasts for a year from the month you get it and you can get into all the National Parks–so worth it–get exploring! Our favorite family vacations have been to National Parks! We've been to Rocky Mountain National Park in CO, Yosemite National Park & Sequoia in CA, Zion National Park & Bryce in UT, Arches National Park & Moab in UT, and Grand Teton National Park in WY. Are any of these trips on YOUR bucket list?
Get a MAP at the entrance station.  Lake Powell is huge and you'll want to see all the side channels on the map.  There are buoys with approx mile markers that will help you gauge where you are.
You can rent boats and houseboats at Lake Powell.  I wouldn't recommend making this your first boating experience though.  The water through the main channel is CHOPPY and it can be tricky trying to dock your boat at the end when it's windy.
We have SO much left to explore on Lake Powell.  Cruising around and discovering new areas is so much fun.  Check back to this blog article for updates with new cool stuff! We plan on doing Rainbow Bridge (largest natural arch) and Labyrinth Canyon next time. We also want to stop at Dangling Rope Marina for some ice cream or a root beer float! Now for some other must-do stops when you visit Lake Powell.
Hiking Lower Antelope Canyon & Horseshoe Bend Overlook:
If you head to Lake Powell for a vacation, don't skip walking up to Horseshoe Bend overlook and hiking Antelope Canyon.  We hiked the Lower Antelope Canyon and it was so cool – you need a reservation because it's on the reservation FYI!
Picture below of my daughter and I in Lower Antelope Canyon.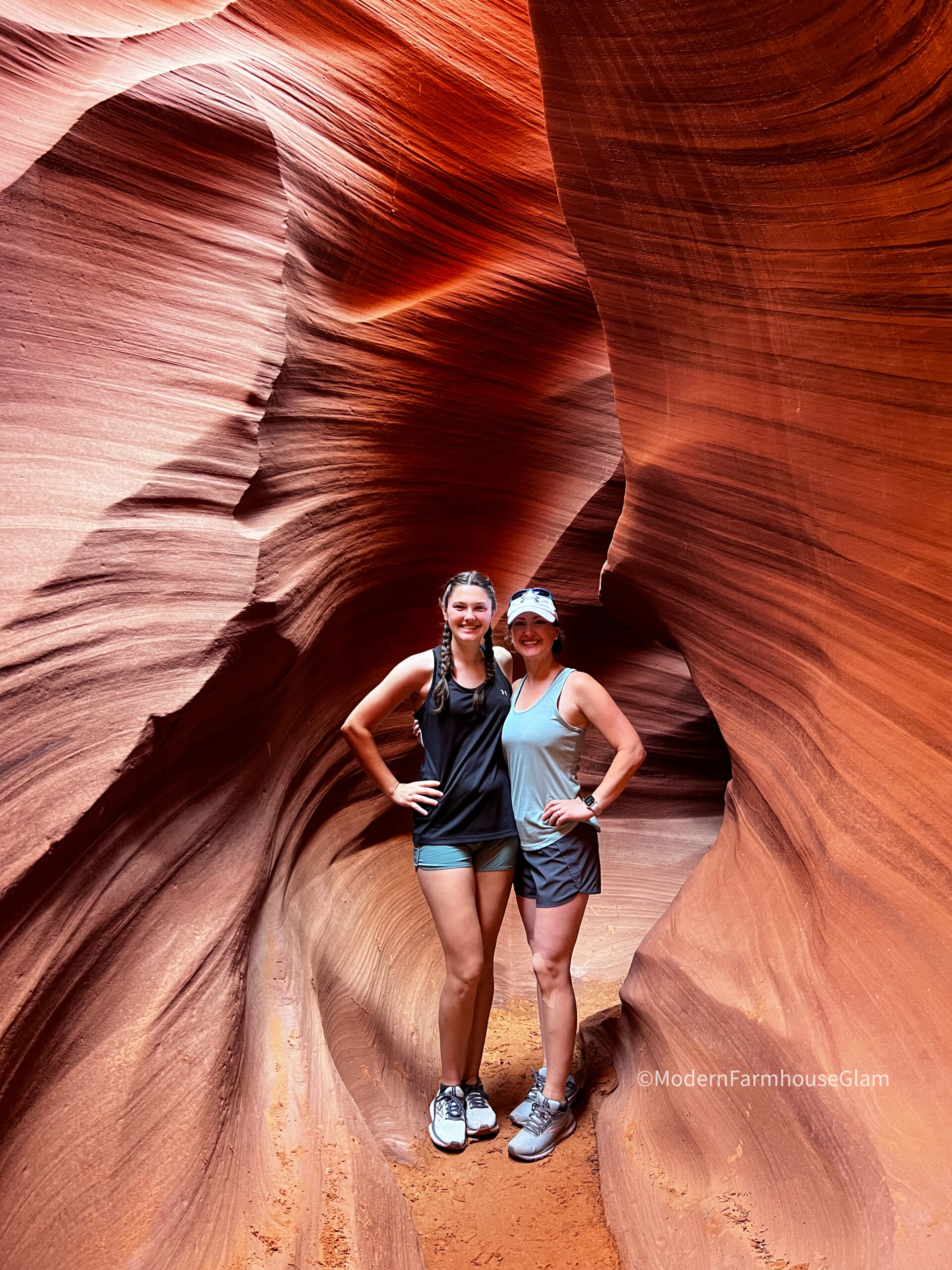 My favorite hiking shoes (Brooks) linked and me and my daughter's fave workout shorts. They have the cutest fit (Lululemon knockoffs) and are so comfortable.
Lower Antelope Canyon is a really unique and fascinating sight.  It's a little quirky because you have to book with a tour to go through it.  One thing I wasn't expecting were how STEEP the stairs were and how many there were during this hike! I've become a bit afraid of heights as I've gotten older and these steps def made me feel kinda uneasy.  It's all safe and fine, but just giving you a head's up.  I certainly would not recommend this hike for young children like under the age of ten, elderly or large people.  There are some tight crevices you go through as well.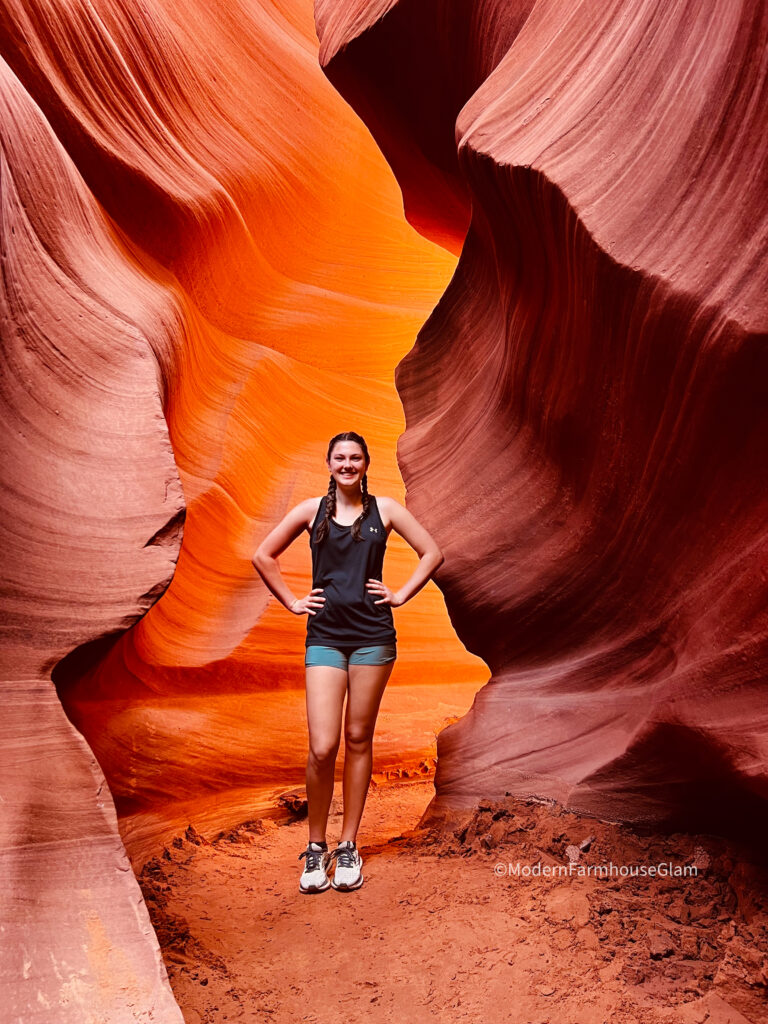 Panorama shot of our fam in Lower Antelope Canyon.
You aren't allowed to take video, but our tour guide was really helpful with showing us all the great photo opps in the canyon. This is the "seahorse" cut out in the rocks.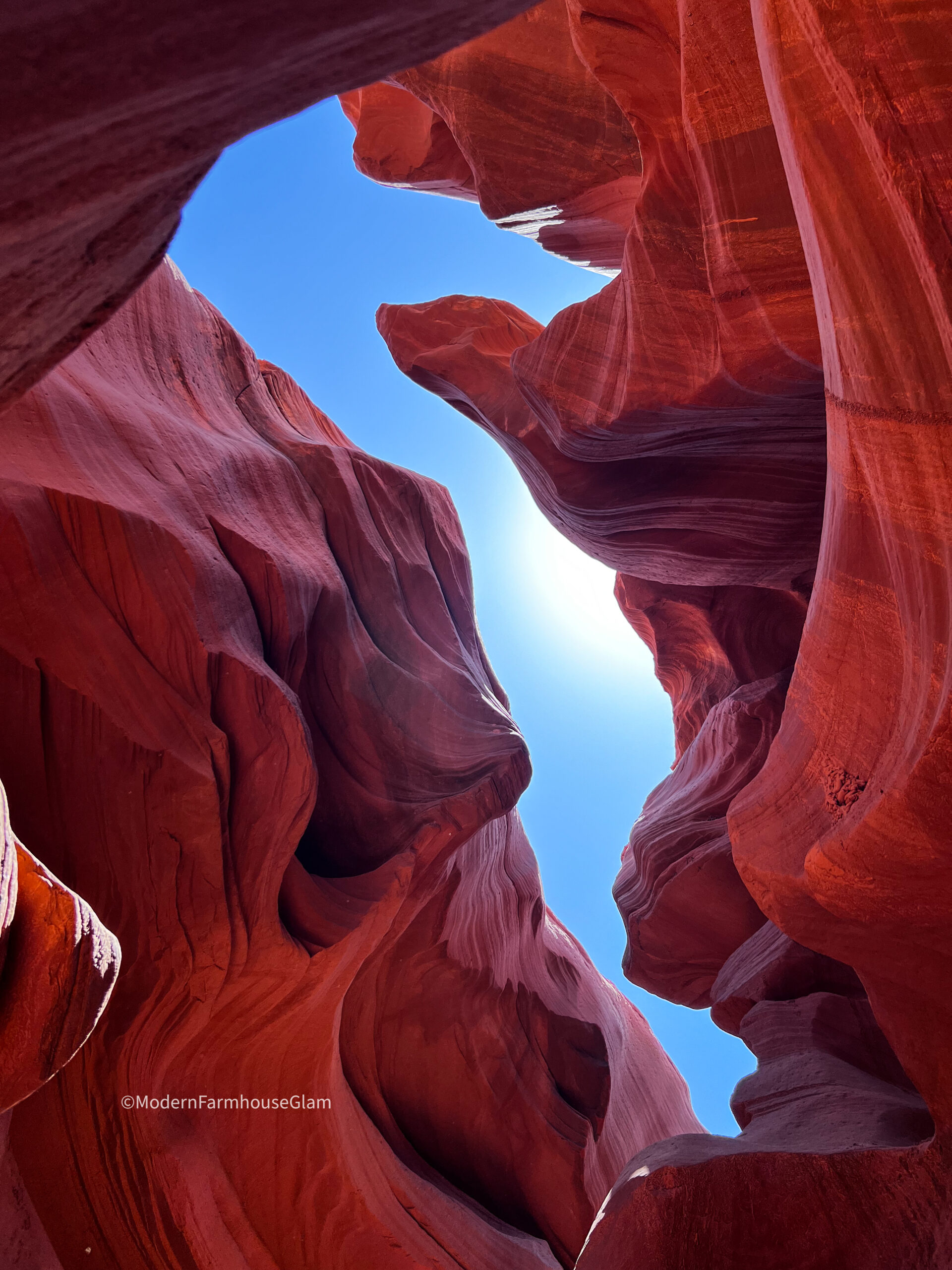 As cool as these photos were at Lower Antelope Canyon, next time we want to try boating to a similar spot in Labyrinth Canyon.  I'll let you know all the details and how to get there once we do it.  It involves boating to the spot, docking, and then hiking in.  We weren't huge fans of having to be go through a tour group with a guide and it would be more fun on our own adventure, with no time limit. Curious to see how the "other" spot compares…I'll keep you posted if we do it!
Below pic, me and my daughter, finishing up the hike.
Horseshoe Bend Overlook
It's a 1.5 mile walk roundtrip for the Horseshoe Bend Overlook.  Full sun the whole time so you'll need to put on sunscreen, a hat and bring some water. It's close to Lake Powell, so make sure you check it out if you make the trip!
A few years ago we went with our friends in some small boats around Horseshoe Bend and it was awesome.  It's a totally different perspective and it's neat looking up from the boat at all the people looking down at you from the overlook haha!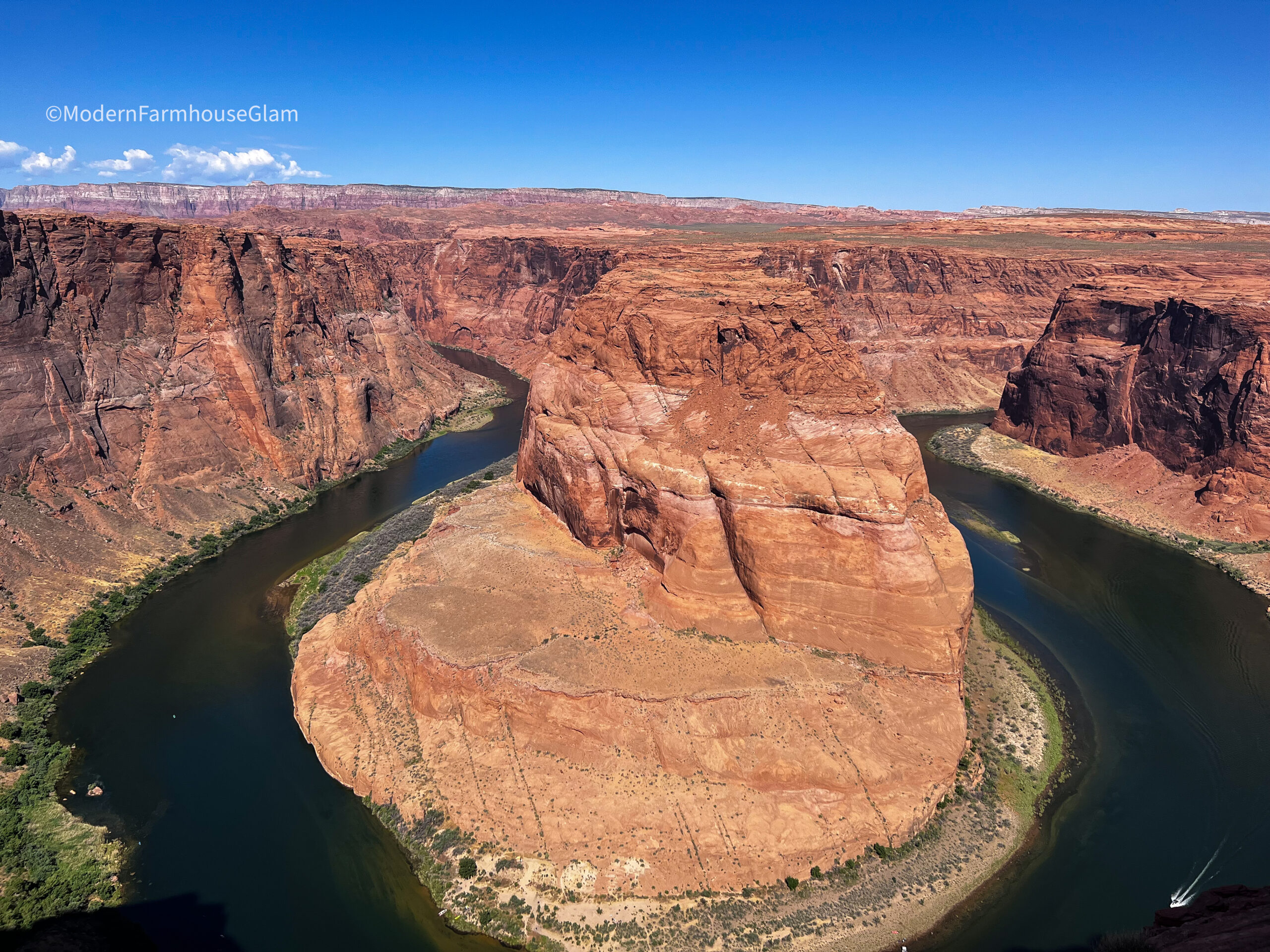 I hope you are inspired to take a trip to Lake Powell! Let me know if you end up going, I'd love to hear about your trip! It's a guaranteed adventure you'll never forget.  Our family has made so many special memories at Lake Powell and as soon as we get home, we already start talking about when we're going back! XO Amy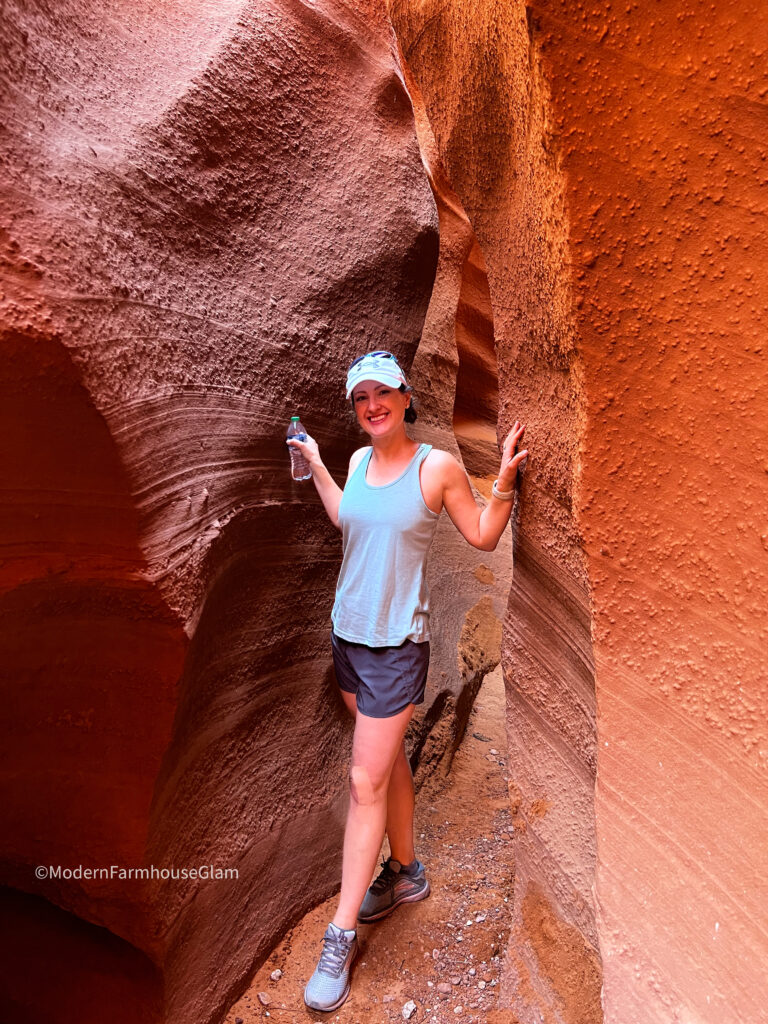 You may also like:
My Boating/Lake Life Essentials List on Amazon
Rocky Mountain National Park Trip
Grand Teton National Park Trip
Lockett Meadows Hike Flagstaff AZ
My Amazon Hiking/Camping Favorites List