Rocky Mountain National Park in Colorado was one of our favorite family trips! We've been to seven national parks and this one is for sure in the top three, if not the best one so far!
If you like hiking in the mountains, through the pine trees and to gorgeous lakes, this is a trip for you! We also saw amazing wildlife, like herds of elk and three bull moose together.
Here are some of the best hikes, tips, and pictures I have from our trip, which will hopefully help you plan your amazing adventure to this spectacular destination. 5 min. video here on YouTube of some of the highlights from our trip. Sometimes it is clearer to view this video on my saved Instagram Highlight called Glam Places (3).  The YouTube video sometimes runs in lower quality for some reason.
This picture below was taken from our favorite destination that we reached from all of the hikes we did on this trip. They were all amazing though.   This fabulous green water is Lake Haiyaha.  It was STUNNING in person! The hike to get here was what I would consider moderate in difficult, with some elevation.  Well worth it! I've never seen water quite this color before. Have you?
I'll share our favorite highlights from the trip first, including top hikes and wildlife spottings and then go back and start from the beginning, with our travel/flight details, lodging, places we ate and more. None of these photos are edited.
Wildlife:
We saw a herd of 100s of elk on the mountainside, which crossed the road right in front of us.  Incredible! We also saw three bull moose! We also saw lots of deer.
Elk along Trail Ridge Road:
Trail Ridge Road is a MUST-DO! It takes you along through breathtaking mountains to your final destination at Alpine Visitor Center, which is almost 12,000ft above sea level. It is the highest continuous paved road.
We took OLD FALL RIVER TRAIL RD on the way to Alpine Visitor Center and Trail Ridge Rd on the way back.  Both spectacular! There are a few parts on both that will get your heart rate up if you're afraid of heights, especially when there's no guard rail. Old Fall River Rd is a one-way gravel road that was the original route connecting the east and west portions of RMNP.  It winds you through pine tree forest areas and waterfalls.  So pretty! We felt totally safe on this road and it was perfectly fine to do in our rental SUV.  It can just be a bit of a nail-biter at times. It's only open in the summertime.
Video of these elk here on YouTube , which is part of my 5 minute highlight video or watch it on Instagram Highlight called Glam Places 3.
I'll show you the three bull moose we saw at Sheep Lake a little further down!
Hikes:
Lake Haiyaha Hike
This is the most stunning colored water I've ever seen. Our family loved this hike! Here's how we did it: We separated Lake Haiyaha and did it on it's own. There's a split off after Nymph Lake for either Dream and Emerald or Haiyaya.  So you end up seeing Nymph Lake again and then head up to Lake Haiyaya, instead of going the opposite direction for Dream Lake and Emerald Lake, which we did the previous day.
Have you ever seen water this color blue? It was perfection.  This was also along the trail on our hike to Lake Haiyaha.
See video of this mesmerizing blue water HERE.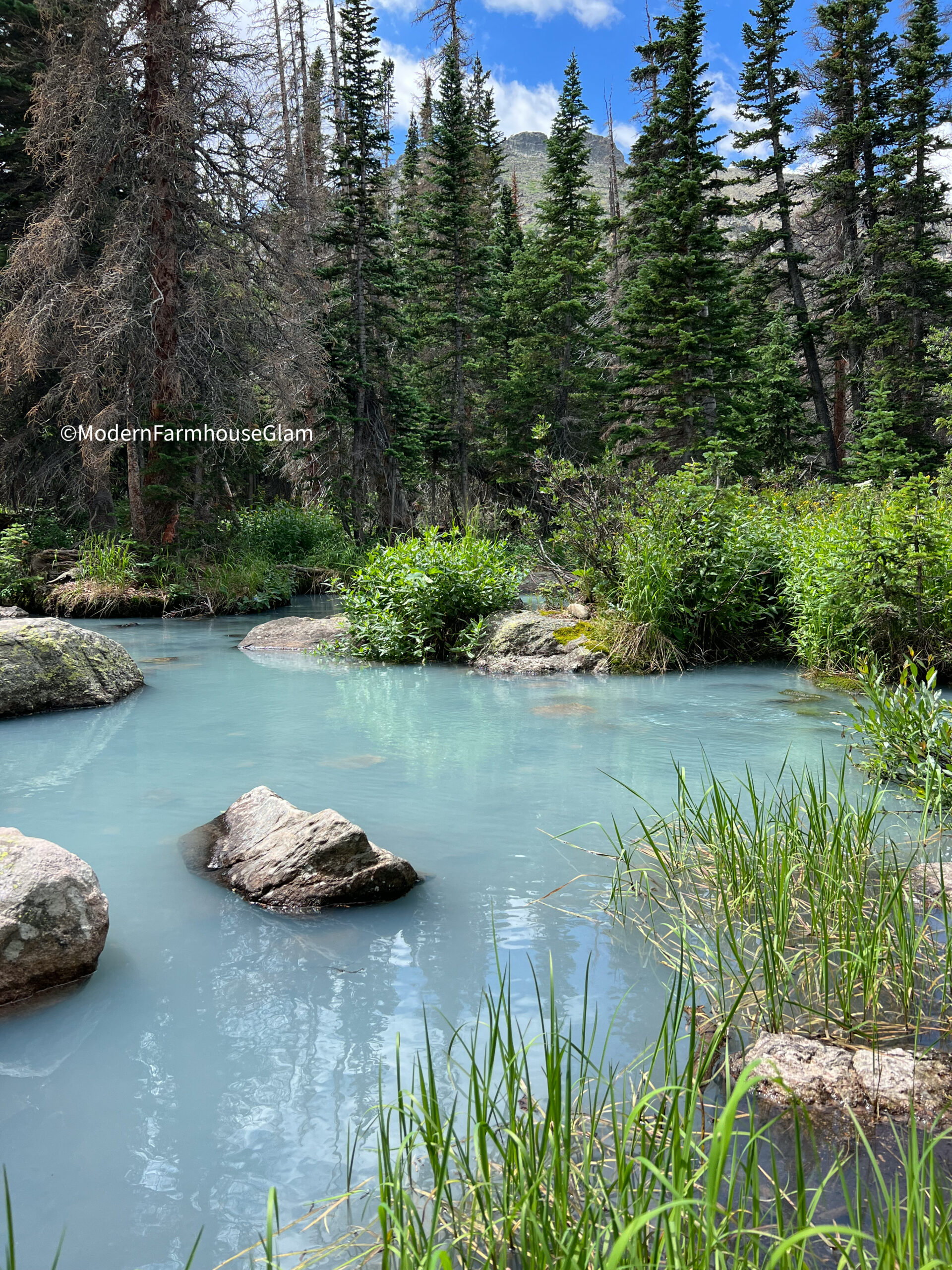 Bear Lake, Nymph Lake, Dream Lake, and Emerald Lake Hike
If you're going to hike one area of RMNP, this is it! It is the Bear Lake Corridor. We saw five different lakes along several trails in this area.  We did Lake Haiyaha on a different day and the other lakes all in one day, including Emerald, Nymph, Bear, and Dream. Have you ever seen four lakes all in one hike? It was amazing.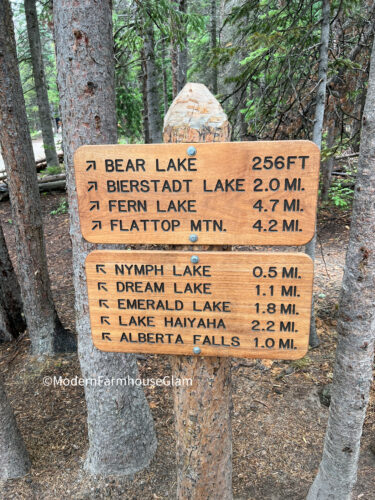 We took a brief stroll around part of Bear Lake, but wanted to save our energy for the other lakes on the hike, so we did not go the whole way around. It's an easy loop around Bear Lake, under one mile, if you're looking for something easy going.
We got caught in some rain when we first got to Bear Lake! It added to the adventure and luckily we had our rain coats and gear.
Our kids getting ready for the trek! It was a chilly day, which was perfect for hiking.
The first stop along the trail was Nymph Lake.  Look at those beautiful lily pads and yellow flowers!
The next lake along the trail was Dream Lake.  So pretty and peaceful.
Next stop was Emerald Lake, so gorgeous! That water was so clear and such a pretty shade of dark emerald green.  Do you see the waterfall in the distance in the middle?
The storm clouds were really brewing over the mountain peaks. We didn't stay too long at this stop because of the storm coming.  Make sure to always dress in layers for your hikes and bring rain gear.  The weather changes quickly in the mountains! We went from short and t-shirts to jackets, to rain jackets.  Waterproof shoes are a good idea as well in case you really get stuck in a storm.
Below is the trail marker showing the split off to do either Dream and Emerald Lakes or Lake Haiyaya.  We did Dream and Emerald on one day and came back the next day to do Lake Haiyaha by itself.  Glad we did it this way.  It would have been a lot to do all of these together and might have been rushed.  Lake Haiyaha is a bit more strenuous in terms of elevation, so it was good to have a fresh day for this one.
Mountain peak views from the trails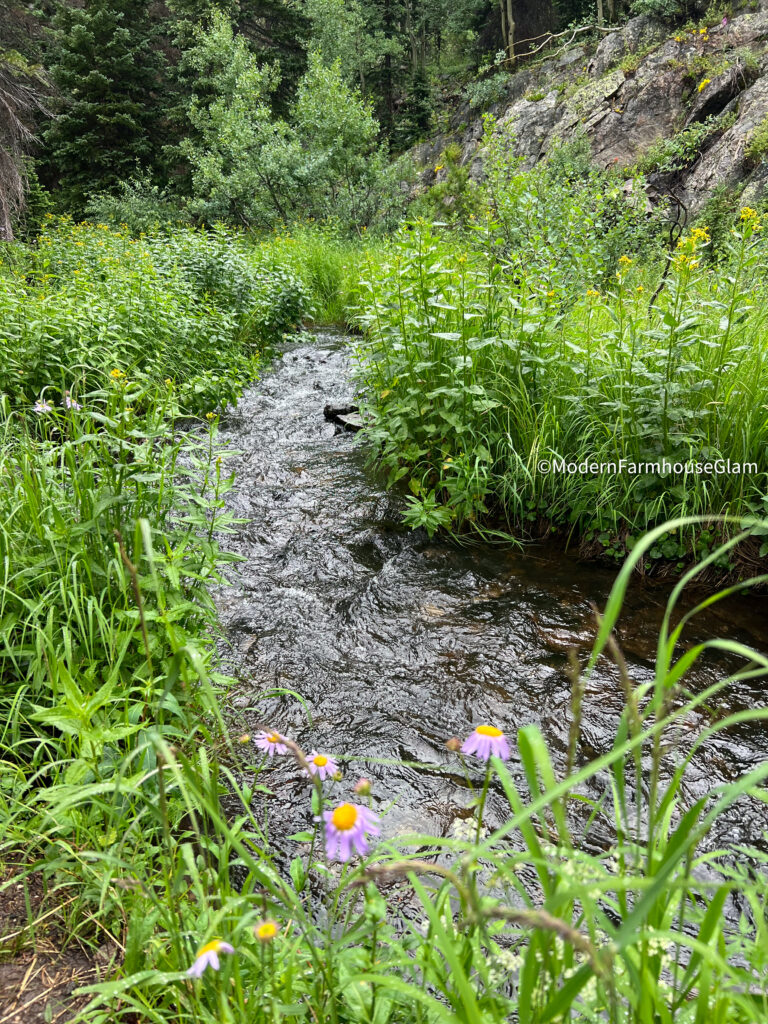 Cute little stream. It's hard to resist taking so many pictures when there's so much beauty!
Moose at Sheep Lake:
We stayed near the Fall River Entrance and Sheep Lake is right near there.  We saw these three bull moose hanging out there several times.  They are amazing animals! I got tons of video of these moose, but only a couple of pictures.
Bighorn sheep apparently graze here, although we only saw a couple from a distance.  The moose really stole the show! It's unusual to see three bull moose spending time together.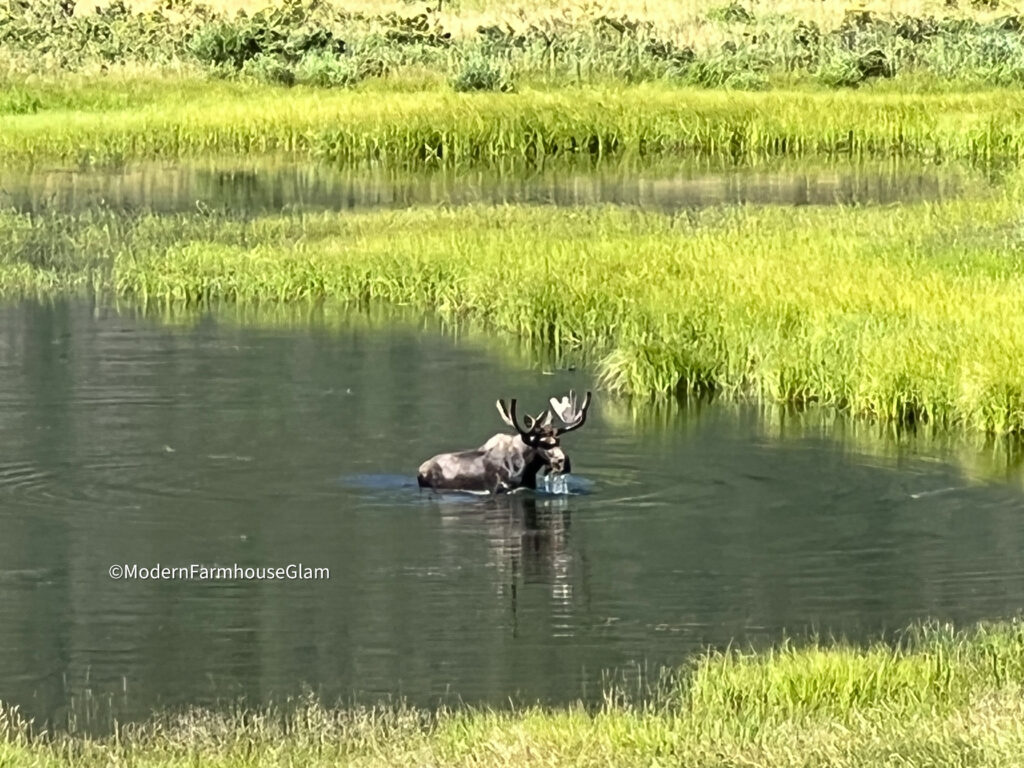 Travel and Flight Deets, Lodging, Where We Ate:
We flew into Denver Airport from Phoenix. On our drive from Denver to Rocky Mountain National Park, we stayed over one night at The Boulder Creek Lodge, in Nederland CO. It was a cute town for a stopover. We didn't want to drive across the big mountain range to RMNP in the dark and miss the scenic views, so it worked out better time wise to stay the night here. We had dinner at a BBQ place, which was decent, nothing exciting.  There's a cute trail along the creek which we walked after dinner.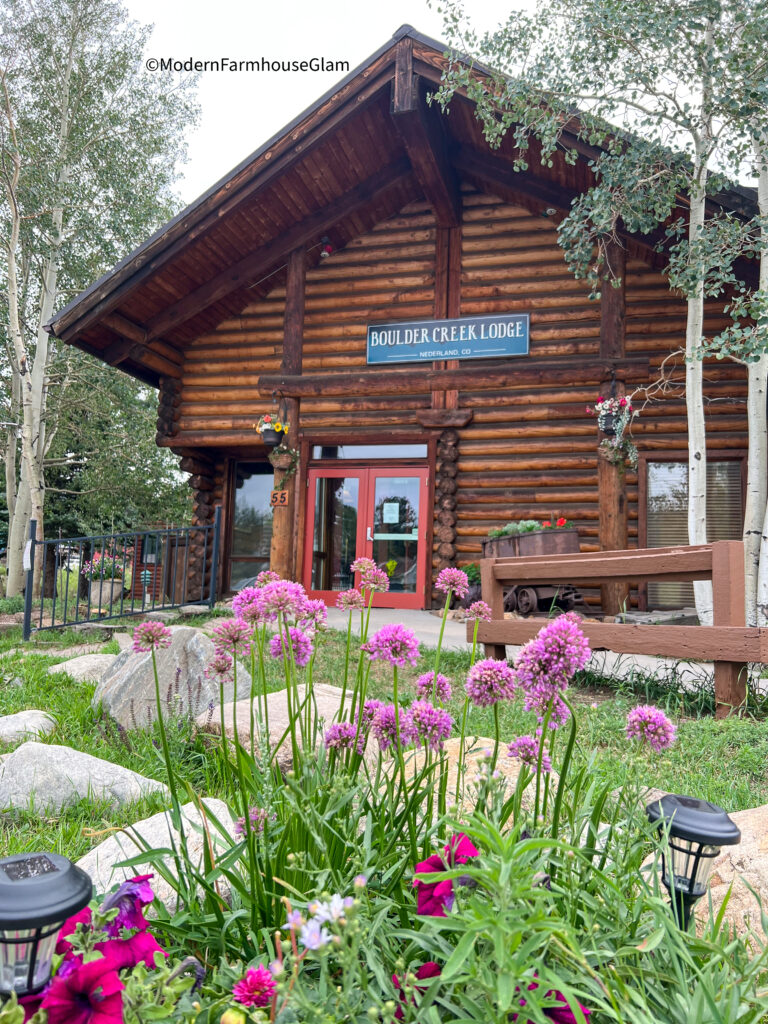 On the drive the next morning into RMNP, wow did we hit FOG! It was a complete white-out going across the mountain with zero visibility.  Let's just say I was a nervous wreck, since I was the one driving.  We pulled over at one point to see if the storm and clouds would pass and took some photos. The pictures don't show as crazy as it was, but trust me it was a nail-biter! I don't recommend doing this drive if there's a front coming through.  Wait it out lol.
Lily Lake, Rocky Mountain National Park
Well, we made it across the foggy mountain and here was our first stop: Lily Lake
We did not do the hike here, but walked about halfway around and across the little bridge.  Pretty area!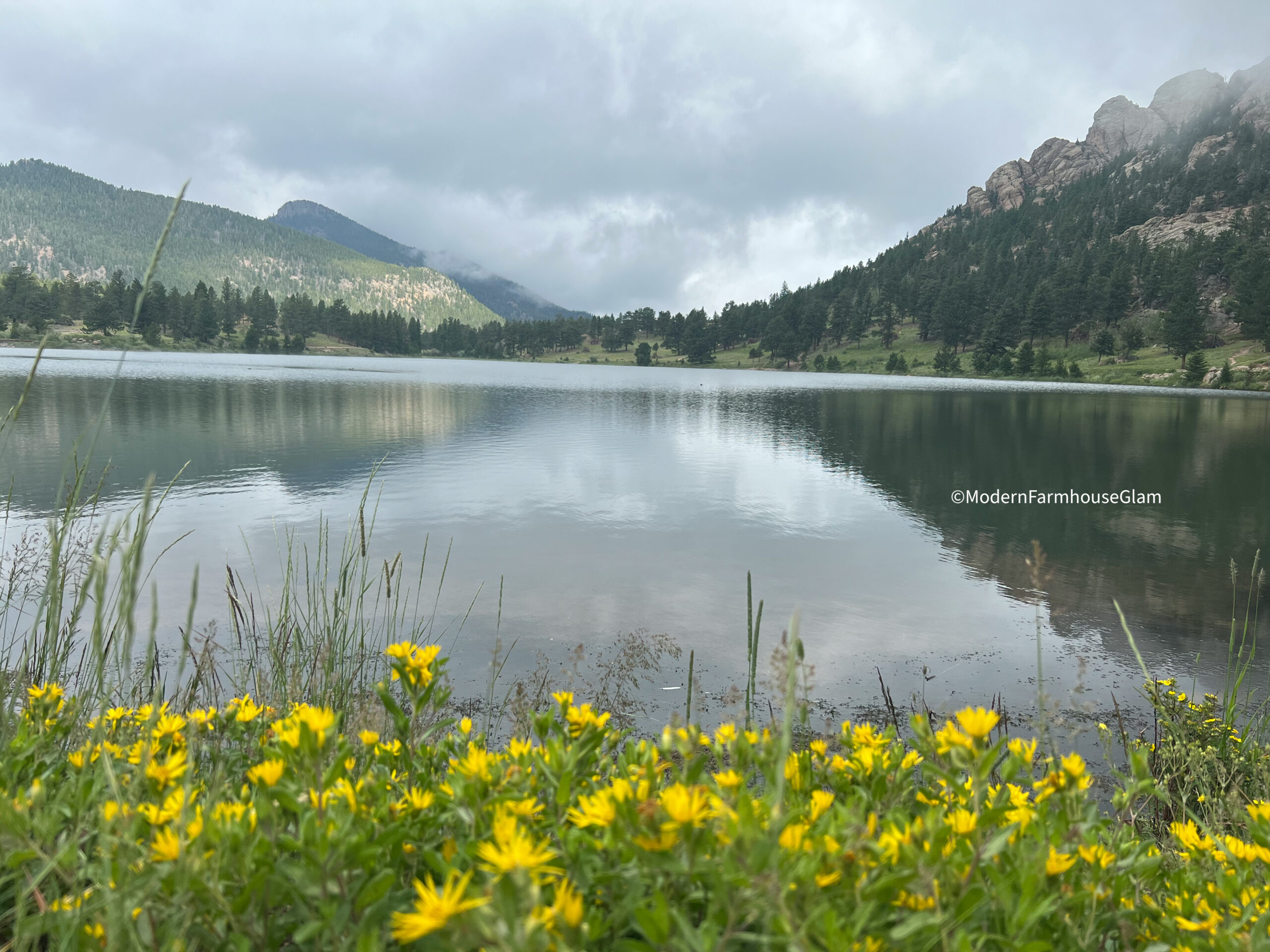 Where we stayed in Estes Park, Rocky Mountain National Park: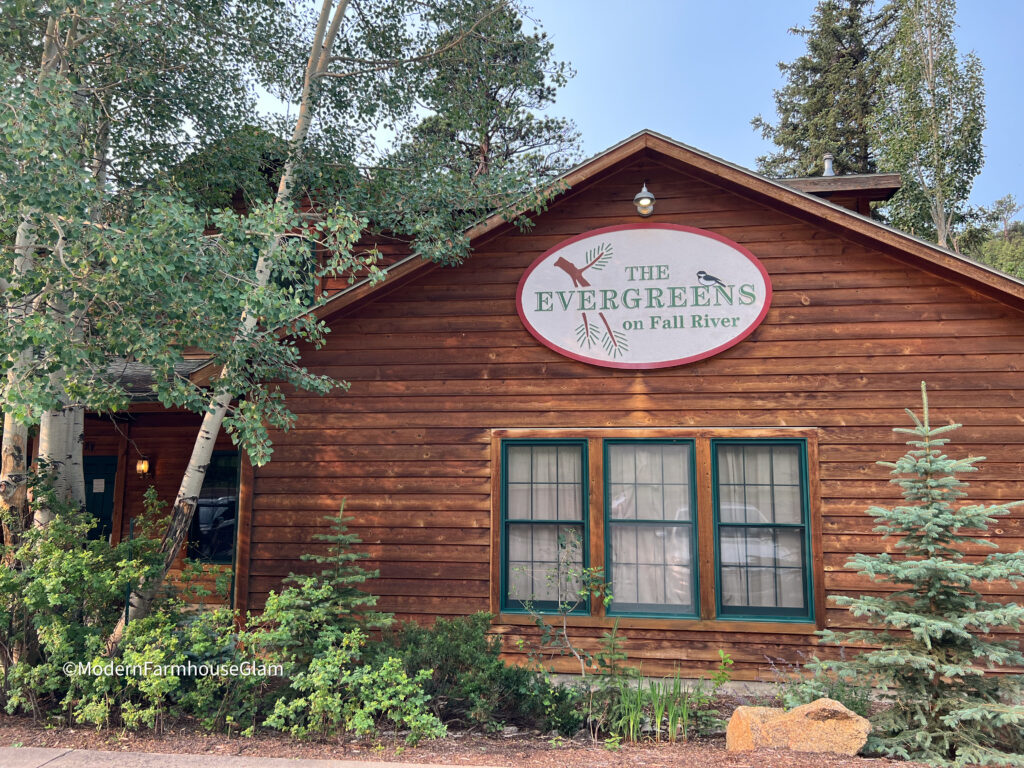 We loved where we stayed in Rocky Mountain National Park, The Evergreens on Fall River Cabins. These cabins in Estes Park, along Fall River, were family friendly and the location was fantastic.  7 minutes from the cabin to Falls River Entrance to RMNP and 8 minutes the other direction to town (Estes Park). There were several similar lodging options along Fall River that looked like basically the same idea.
Video of the inside of the cabin and surrounding grounds HERE. Or watch it on my saved Instagram highlight called Glam Places 3, which may be higher quality.
The cabin had a kitchen, which was great for making breakfast in the morning and storing snacks and lunch stuff to take on our hikes. Two bedrooms, plus a pull out couch in the living room, deck with a view and a cute walking trail along the river.  It was perfect for our family! It's nice having some room to spread out and not be crammed into a hotel room.
Town is less than ten minutes, which is convenient for going out to dinner after a kong day of hiking and restocking groceries for the next day.  Safeway is the main grocery store and less than ten minutes from the cabin. Estes Park is a touristy town with lots of shops, restaurants and more.
We did not have any wait getting into the Falls River entrance and got to drive past Sheeps Lake each morning, where we saw three bull moose hanging out on several occasions.  Fantastic!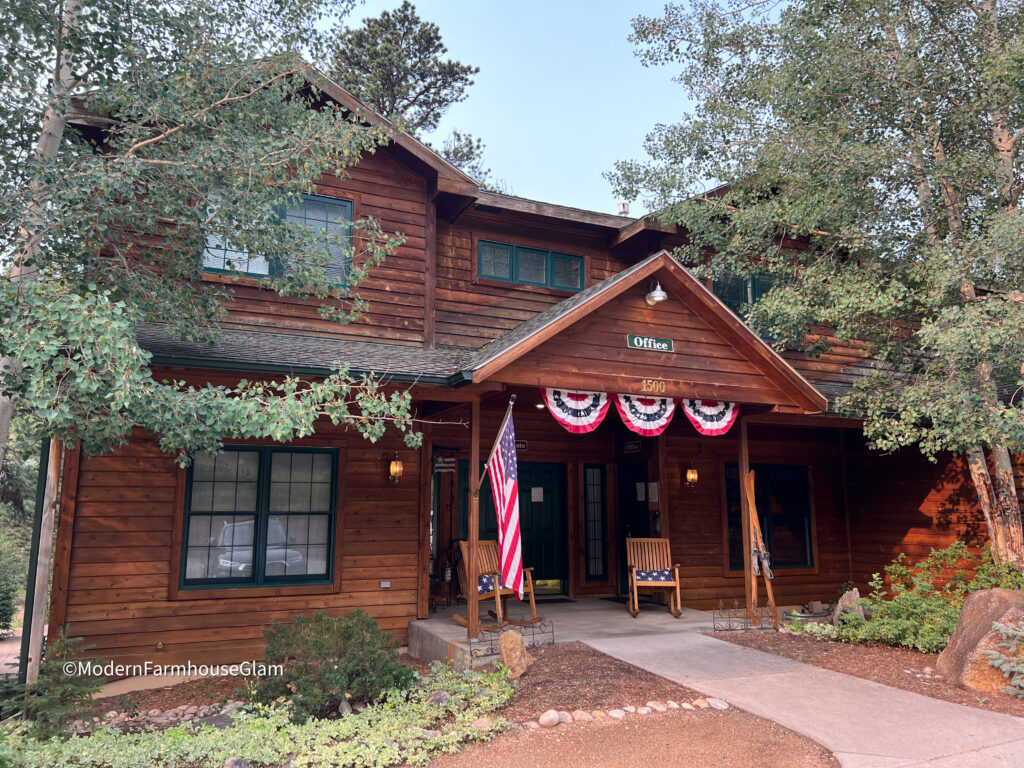 The town, Estes Park, was really packed with tourists.  Going out to eat was crowed and overpriced for the most part and kinda disappointing food-wise.  There was a sub place that we really liked called Scratch Deli and Bakery.  We try to adjust our foodie expectations on National Park trips because it's generally pretty average.  We try to keep our focus on the beauty of nature and lessen our expectations on food.
You can follow me on Yelp for all my restaurant recommendations in different cities.  I'm a total foodie!
Cub Lake Hike:
This was such a pleasant hike, through a beautiful meadow filled with wildflowers, ending at a lake of flowering lily pads.  We really enjoyed this one! It was different than the mountain lake hikes and we only saw four other people on the trail.  And a deer.






Copeland Falls Hike:
This hike is at the other end of the park and we did it on the morning that we were flying back to Phoenix.  It was a great hike!
Alluvial Fan: Not much of a "hike," but it gets you quickly to a small waterfall.  Easily accessible for those with small kids, etc.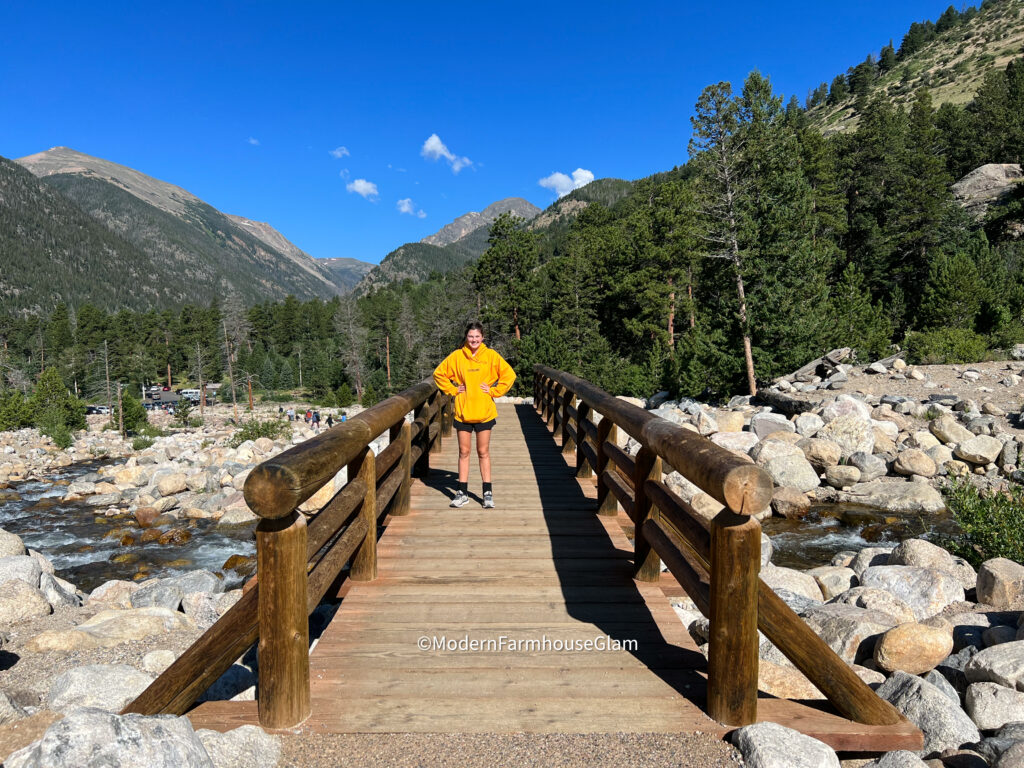 Bridge at Alluvial Fan
Deer:
We saw this lone buck along the road and pulled over to get a closer look.
Pearl St., Boulder, Colorado:
This town is SOOO cute! I hadn't done any research on Boulder ahead of time, so didn't know what to expect.  Pearl St. is adorable! There's a brick walkway through shops and restaurants.  What a great stop for the afternoon before heading back to the Denver Airport for our flight home to Phoenix.  The University of Colorado at Boulder is also nearby and it is a SPECTACULAR campus.  Wow! The historic buildings surrounded by the lush trees and landscaping are so beautiful.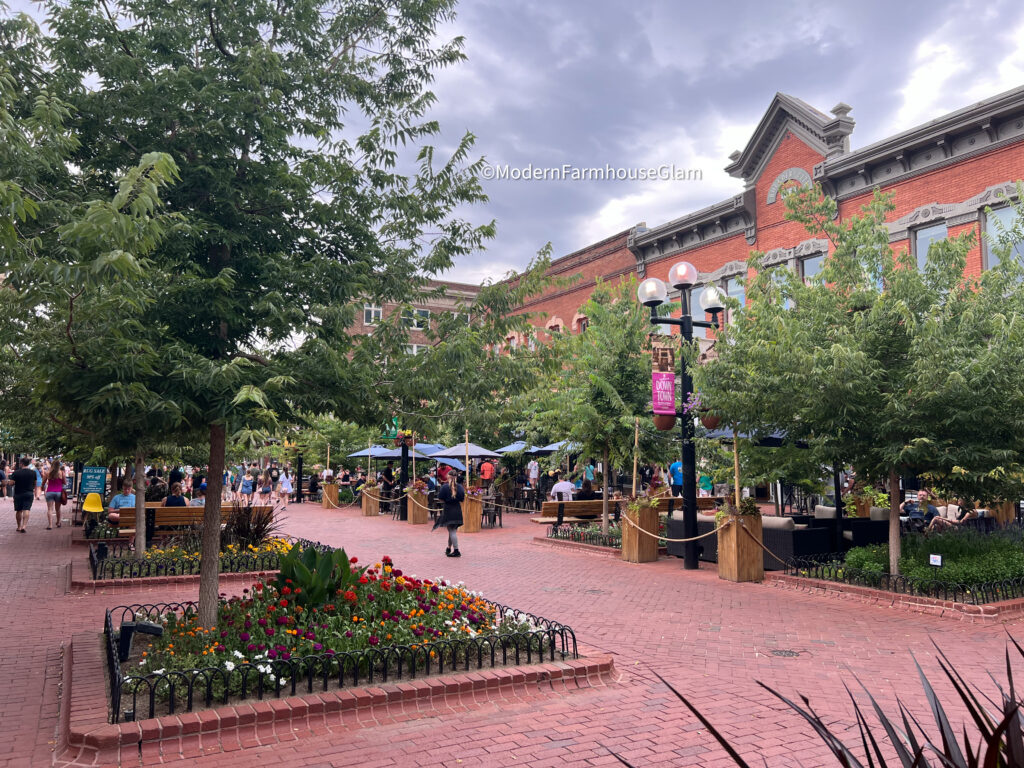 Such a cute place for a stroll while we were wasting time before heading to the airport.  What a nice surprise it was.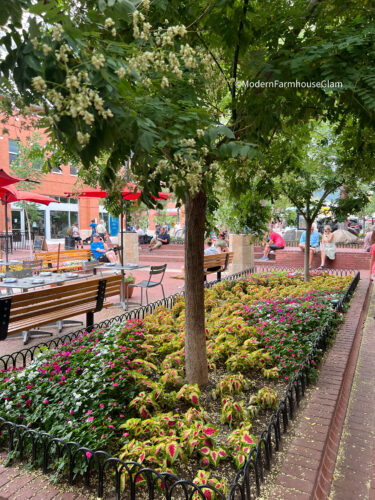 TIPS  for Rocky Mountain National Park:
You need a timed entry reservation to get inside the park.  This is such a pain!
We flew into the Denver Airport from Phoenix and that worked out great.  It was about 1.5 to 2 hours from there to get to RMNP.  We stayed in a little town called Nederland overnight on the way there and drove straight through on the way back, except for a stop in Boulder for lunch on Pearl St.  Highly recommend stopping in Boulder! Such a cute area.
Wear layers when going on hikes.  The weather changes quickly and often.  Be prepared for rain with waterproof clothing and shoes and warm stuff.
Bring binoculars, especially useful at Sheep Lakes, where we saw moose!
Check out my Hiking Essentials list on Amazon 
Go to the grocery store in town the night before and pack a lunch to take into the park.  There's no food inside the park and you'll be happy to not have to drive back to town to wait in line for an overpriced sandwich and then drive the whole way back lol. We also stocked up on breakfast stuff so that we could eat in the cabin and head straight out for our hiking adventures. Make sure you carry plenty of water (obviously).
More video of our RMNP trip on my Instagram Highlight called Glam Places (3) or on my YouTube Channel @ModernFarmhouseGlam
I hope you've enjoyed my highlights from our Rocky Mountain National Park trip and hope that it helps you plan your family's vacation to this magestic place.  Let me know it you plan a trip here, I'd love to hear your favorite hikes and more! Always feel free to DM on Instagram!
You may also be interested in:
Our Grand Teton National Park Trip– Have you ever seen BISON? We had a herd of several hundred cross in front of our car during our trip to Grand Teton National Park.
Our trip to Glacier National Park in Montana
My favorite hike in the Fall in Flagstaff, Arizona
My fave things in Las Vegas Baby
Some of my favorite RECIPES