Here are all the links to shop my home decor and furniture sources in my home at Modern Farmhouse Glam.
Lighting, rugs, media console tables, crystal chandeliers, entryway table, mirrors, nightstands, lamps, tufted ottomans, tufted headboard platform bed, paint colors, curtains, dining room table, round table, dining room chairs, kitchen, bedroom, outdoor furniture, outdoor rugs, seasonal decor, and more.
PLEASE USE MY LINKS IF YOU DECIDE TO PURCHASE ANYTHING, I APPRECIATE IT SO MUCH! It doesn't cost you anything extra and helps to support my page. Thank you!!!

Shop My Outdoor Patio Set, outdoor black and white striped rug, outdoor dining, sectional, and more: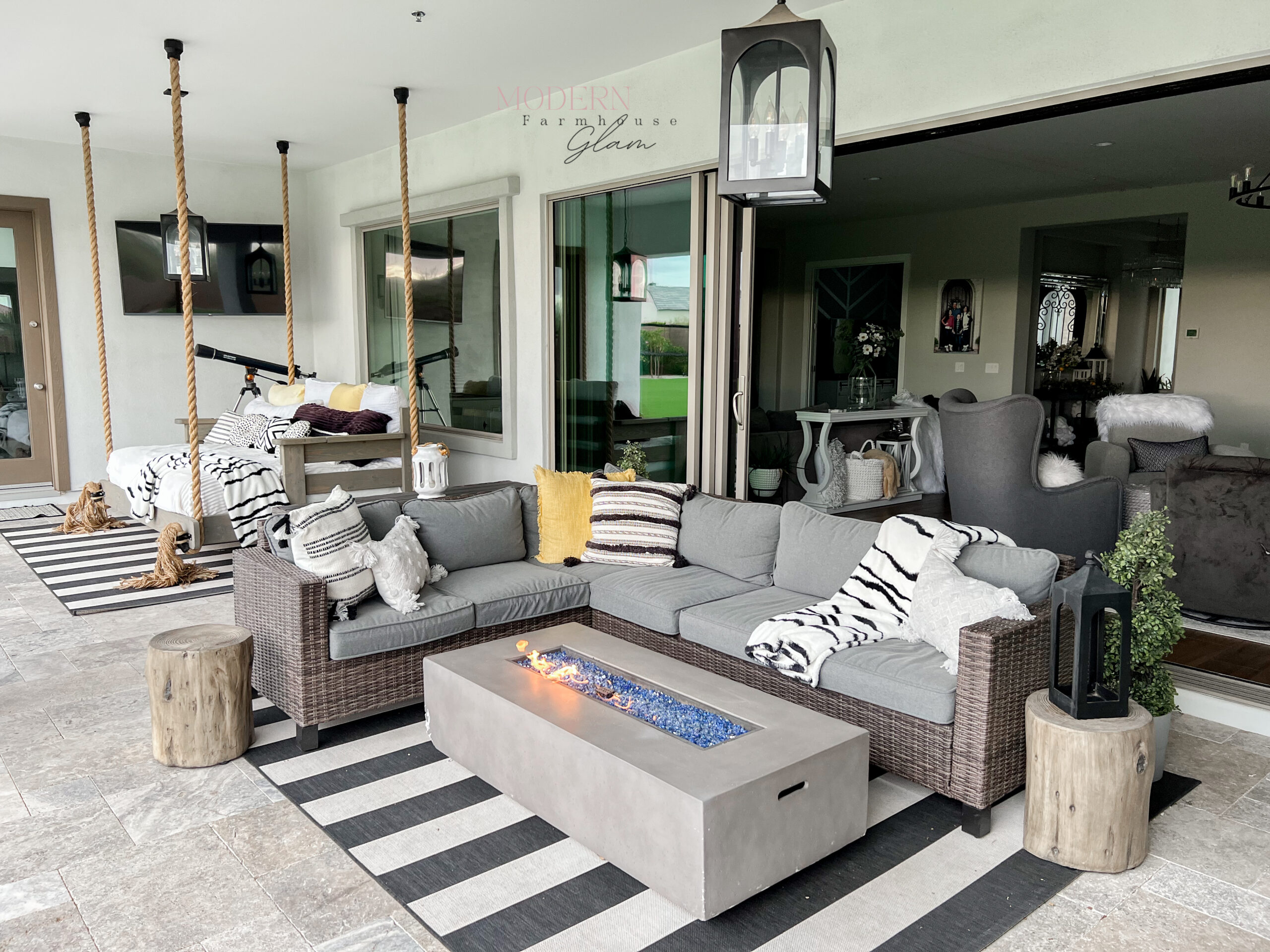 7 PIECE PATIO SET includes the sectional, dining table, two ottomans, and all the grey seat and back cushions. It also comes in several other color combinations. This patio set is affordable and really nice quality.  We've had ours for a couple years and it has held up great!
Fire pit table, propane tank is stored behind the couch, under the table.;) We love this fire table and use it all the time in the fall/winter in Phoenix!
Our Blackstone Griddle-my husband loves this! He makes the yummiest cheese steak sandwiches and sautéed veggies on this.
OUTDOOR AREA RUG, black and white striped rug. My rug under the outdoor sectional is an 8×10 and it also comes in other sizes.  Love the classic and modern black and white striped design.
OUTDOOR PILLOWS BLACK AND WHITE STRIPED
WHITE/BLACK POLKA DOTTED PLACEMATS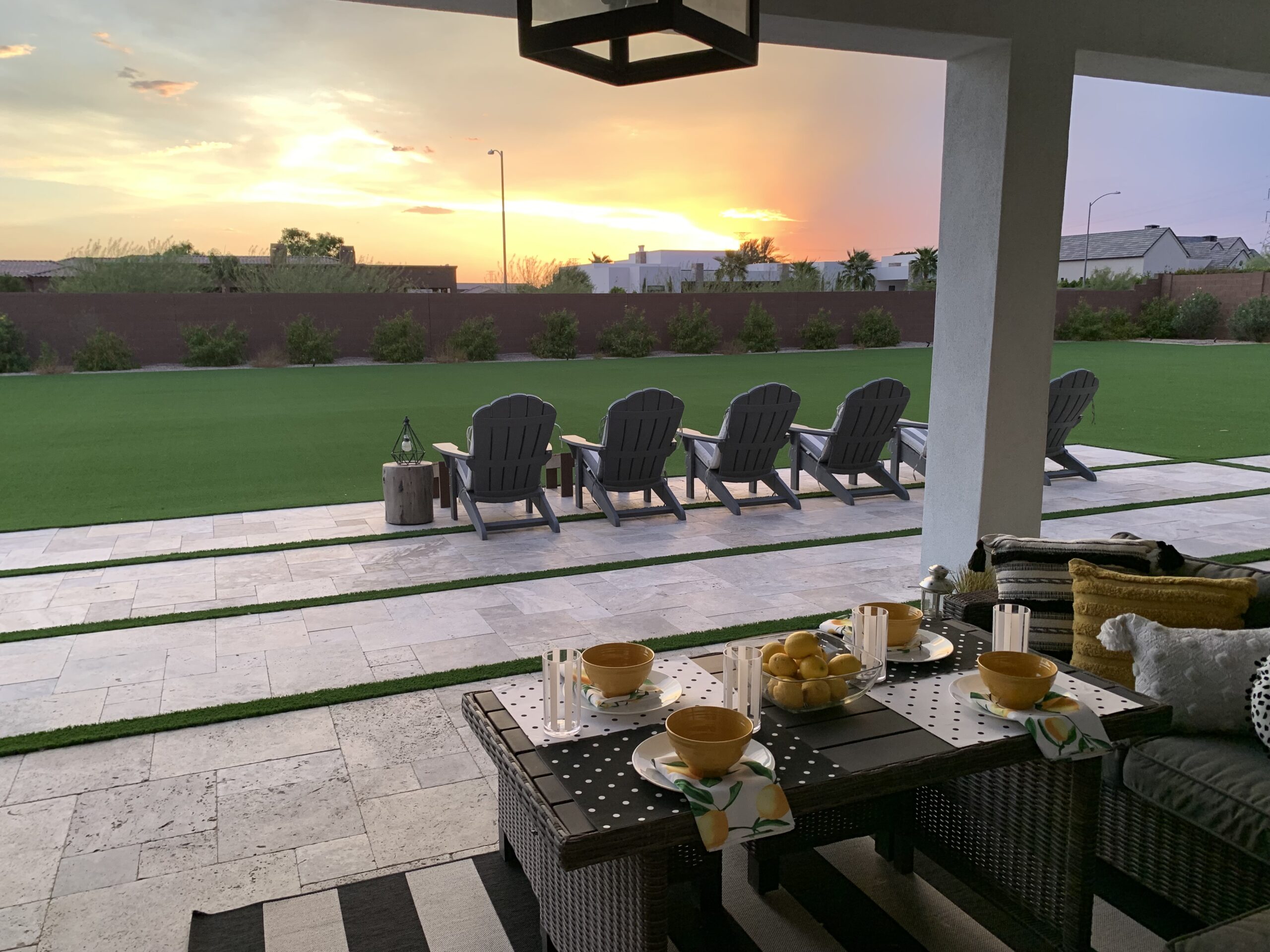 Here is our patio, set up a little bit differently with the fire table in front of the patio set, rather than the table.  I put the table behind one side of the couch to serve as a sofa table or server.  We love the fire pit table, it creates so much ambiance and is warm and cozy without the smoke. The propane tank is hidden under the table.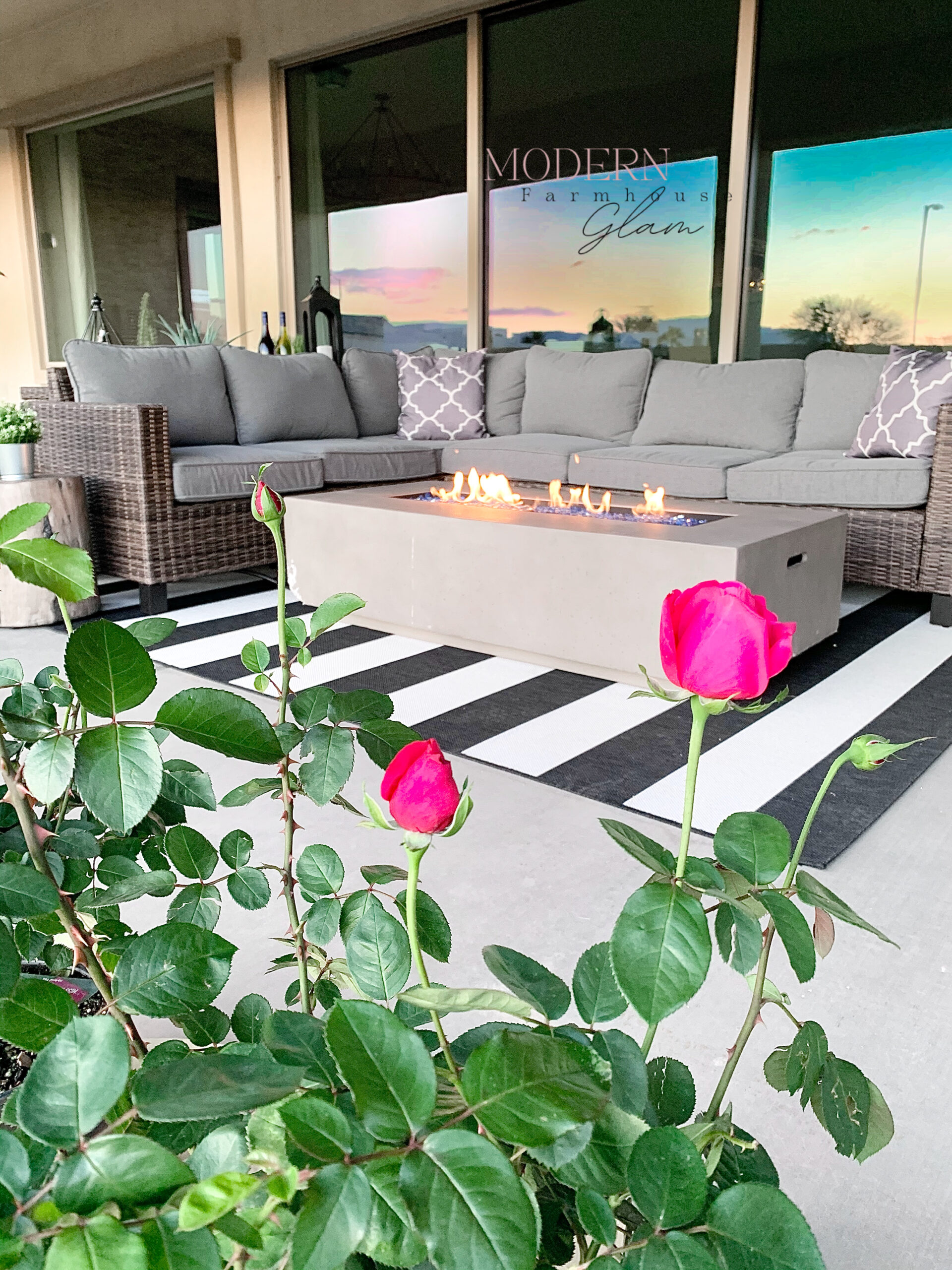 OUTDOOR RUG BLACK & WHITE STRIPED

---
Shop My Livingroom Furniture, home decor, rug, grey sectional sofa couch, curtains, flocked Christmas tree, lighting fixture and more:
GREY SECTIONAL SOFA COUCH, we are so happy with this sectional! Color is Parallel Dove Grey. It is super comfortable and durable.  I've removed the cushion covers on both the seat cushions and back cushions and washed and dried them and they come out perfectly! The color is a beautiful shade of grey and the fabric is almost like a corduroy, super soft and cozy.
RUG– white with black diamonds pattern, this rug is so soft and cozy and a true white. Don't you hate when a rug says it's going to be white, and then it's cream or off-white? This one is definitely a pure white, love it! Our area rug is a size 10×14 and it also comes in many different sizes.
LIGHTING FIXTURE, 50″ wagon wheel iron chandelier.  This is for sure one of my favorite lighting fixtures in our home.  We have a second one in the greatroom over our conversation area. You can find more of my favorite Amazon home finds here. 
CURTAINS, my curtains are 120 inch in white and they also come in other sizes and colors.  Our ceilings are 10ft.  I like the look of the curtains draping/pooling on the floor. We took the curtains close to the ceiling height because it makes the room look bigger.  The curtains are black out and a very nice heavy, pretty material.  The color is white and I find the curtains to have a slight grey/silver hue to them.
MEDIA CONSOLE TABLES – my particular media console table in the picture is discontinued, and I painted it white.  I linked several great options for similar large media console tables.
FLOCKED CHRISTMAS TREE – Mine is the 9ft prelit flocked Christmas tree and I LOVE it! It is a great quality Christmas tree and the flocking is very minimal in terms of messiness.
PILLOW – BLACK AND WHITE CHRISTMAS TREE
BLANKET – BLACK AND WHITE CHRISTMAS TREE
CHUNKY KNIT THROW BLANKET IN GREY
STONE WALL MATERIAL – This is a stone wall that my husband and I did together as a DIY project.  The accent wall made such a huge impact in our family room, creating texture and dimension. More details and tutorial video on my Instagram saved story highlight called DIY Stone Wall.  I will also be adding a blog article on www.modernfarmhouseglam.com
For OTHER RUGS SEEN IN MY LIVINGROOM CLICK HERE
New Black and White Striped Machine Washable Rug Here Shown in photo above + Use my Coupon Code MODERNFARMHOUSEGLAM10 for 10% off site wide.

---
Shop my master bedroom bed, furniture, rug, nightstands, lamps and more: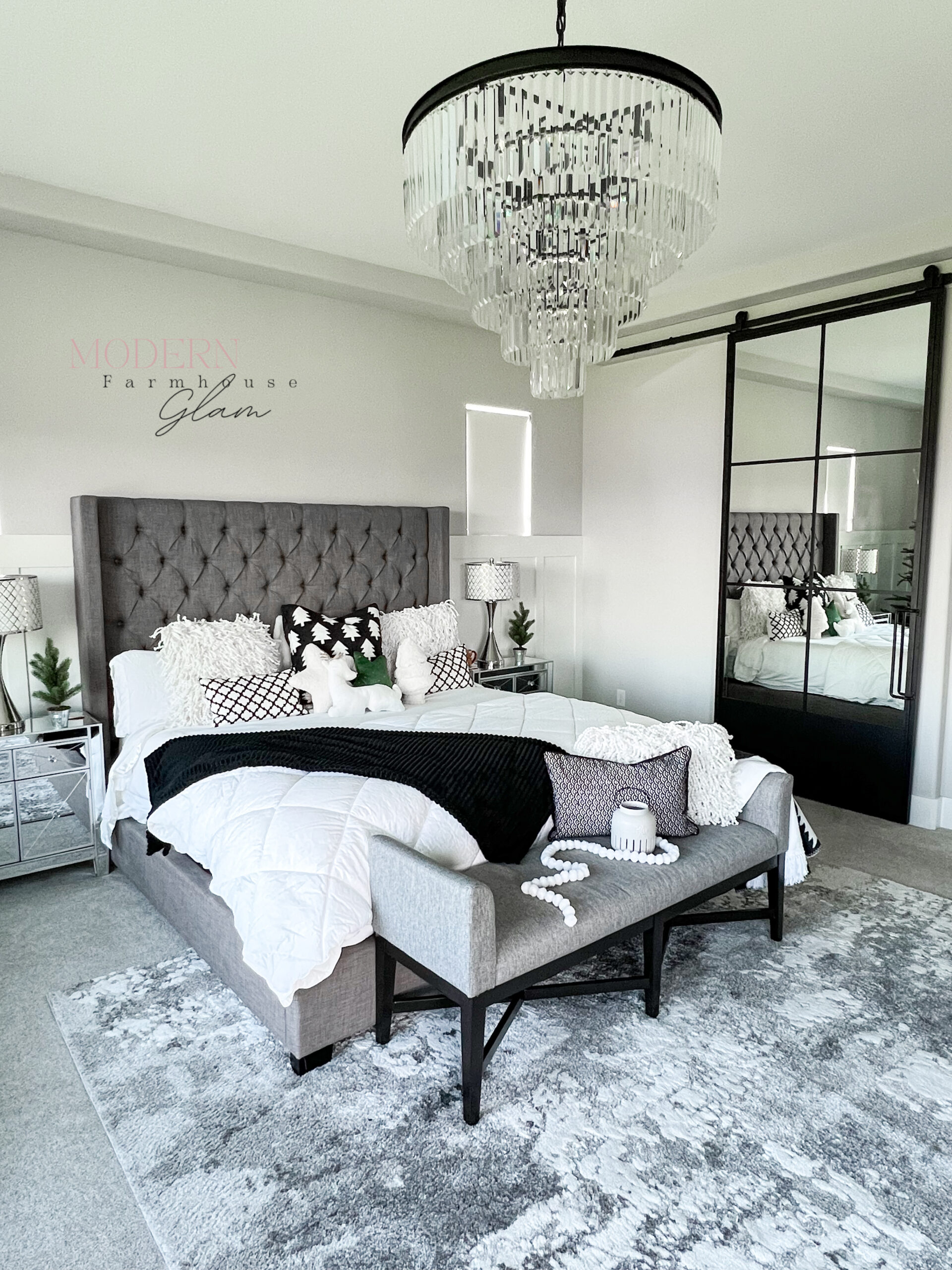 MY TUFTED HEADBOARD PLATFORM BED – I ordered this bed before we even moved into our new home because I knew I had to have it! It is really beautiful in person and is also affordable.
CRYSTAL CHANDELIER – it's stunning
MIRRORED NIGHTSTANDS – love these!!!
RUG – My bedroom rug is an 8×10 with a king size bed.  I love the distressed pattern of this rug and it's nice and soft and cozy for the bedroom.
For OTHER RUGS SEEN IN MY BEDROOM, click here for links
For MORE FURNITURE & DECOR ITEMS AS SEEN IN MY BEDROOM, click here to head to the LTK app for more sources.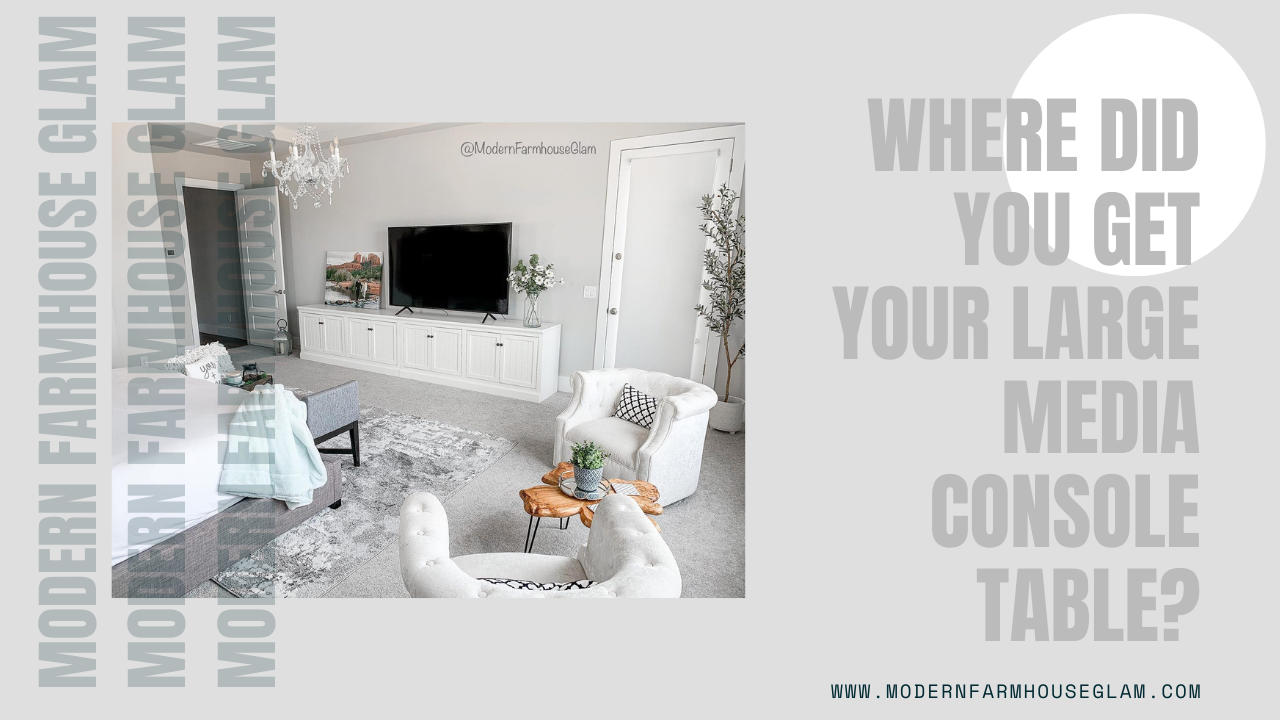 ---
Shop my Kitchen and Dining Room area, including my dining room chairs, neutral area rug, chandelier, and ideas for wooden round farmhouse dining tables.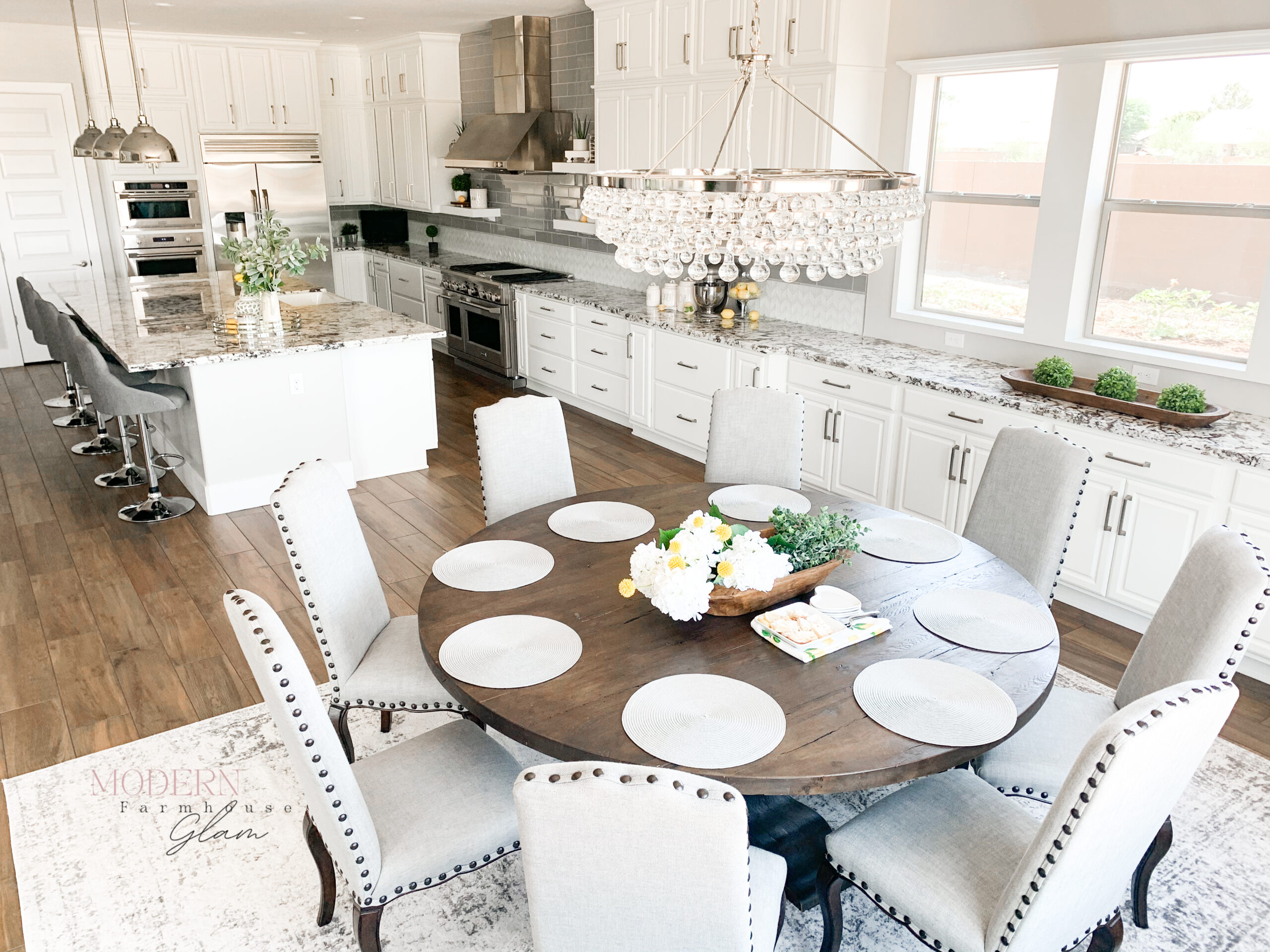 CHANDELIER – I saw this in a model home before we moved into our new home and knew I had to have the same one! It's such a beautiful and elegant lighting fixture, perfect above the dining room table. It add the GLAM to the modern farmhouse look.
RUG – I love the distressed look of this white and grey rug and it's very affordable. I don't like to buy expensive rugs, especially in the kitchen.  If it gets ruined, it's not a big deal to replace it.  We've had it for three years and it still looks great.
ROUND WOODEN DINING ROOM TABLES – Ours is not linkable, it was from Restoration Hardware, so I linked some similar options to our 75 inch round wood table.  Round tables are the best for conversation, don't you think!?
BAR STOOLS – I've linked some similar bar stools, ours are discontinued
PENDANT LIGHTS in the kitchen
---
SHOP MY CONVERSATION AREA: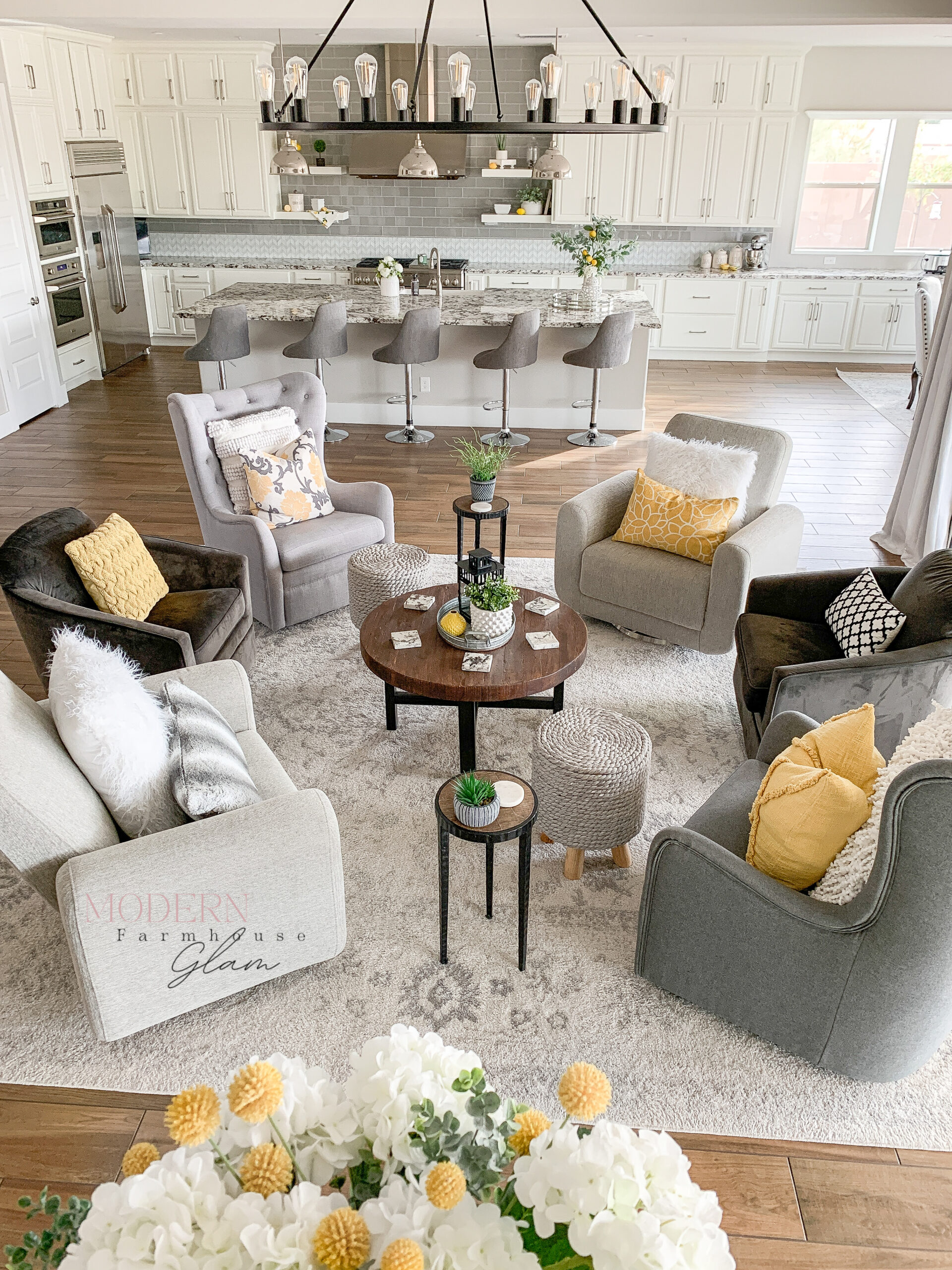 RUG– Mine is a 12×12, which was a difficult size to find, it comes in many other sizes
SWIVEL GLIDER CHAIR– Light grey, square chair and a half
COFFEE TABLE– wood and iron circular coffee table
ACCENT TABLES– these are the perfect size for drink tables
WAGON WHEEL IRON CHANDELIER– mine is the 50 inch
BAR STOOLS– mine are discontinued, I linked some similar options
WHITE HYDRANGEA STEMS– these are some of my favorite Spring and Summer floral stems and only $5 each
YELLOW BILLY BUTTON STEMSYELLOW BILLY BUTTON STEMS
---
Shop My Barrel Room furniture and home decor here: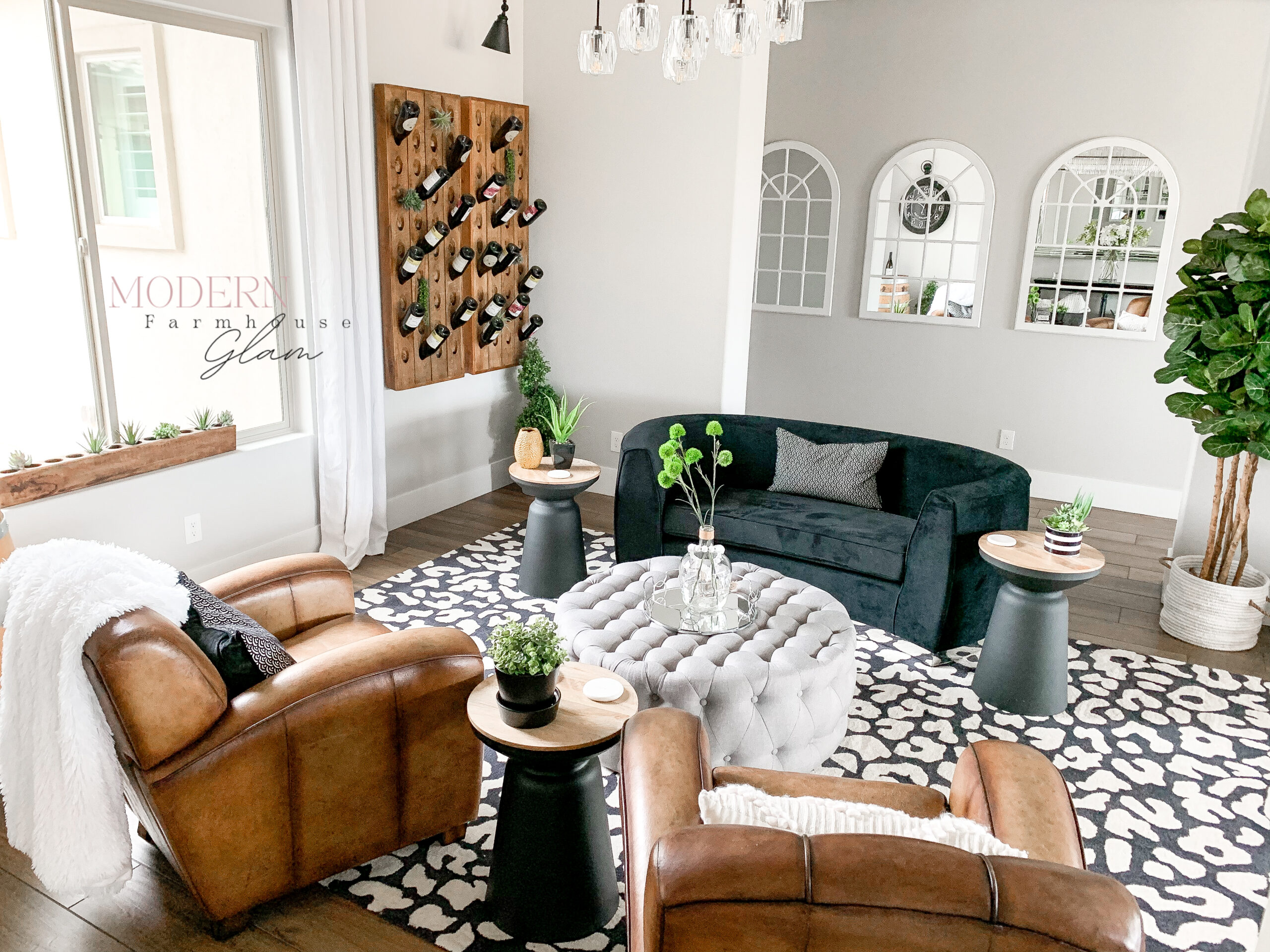 ---
SHOP MY LAUNDRY ROOM: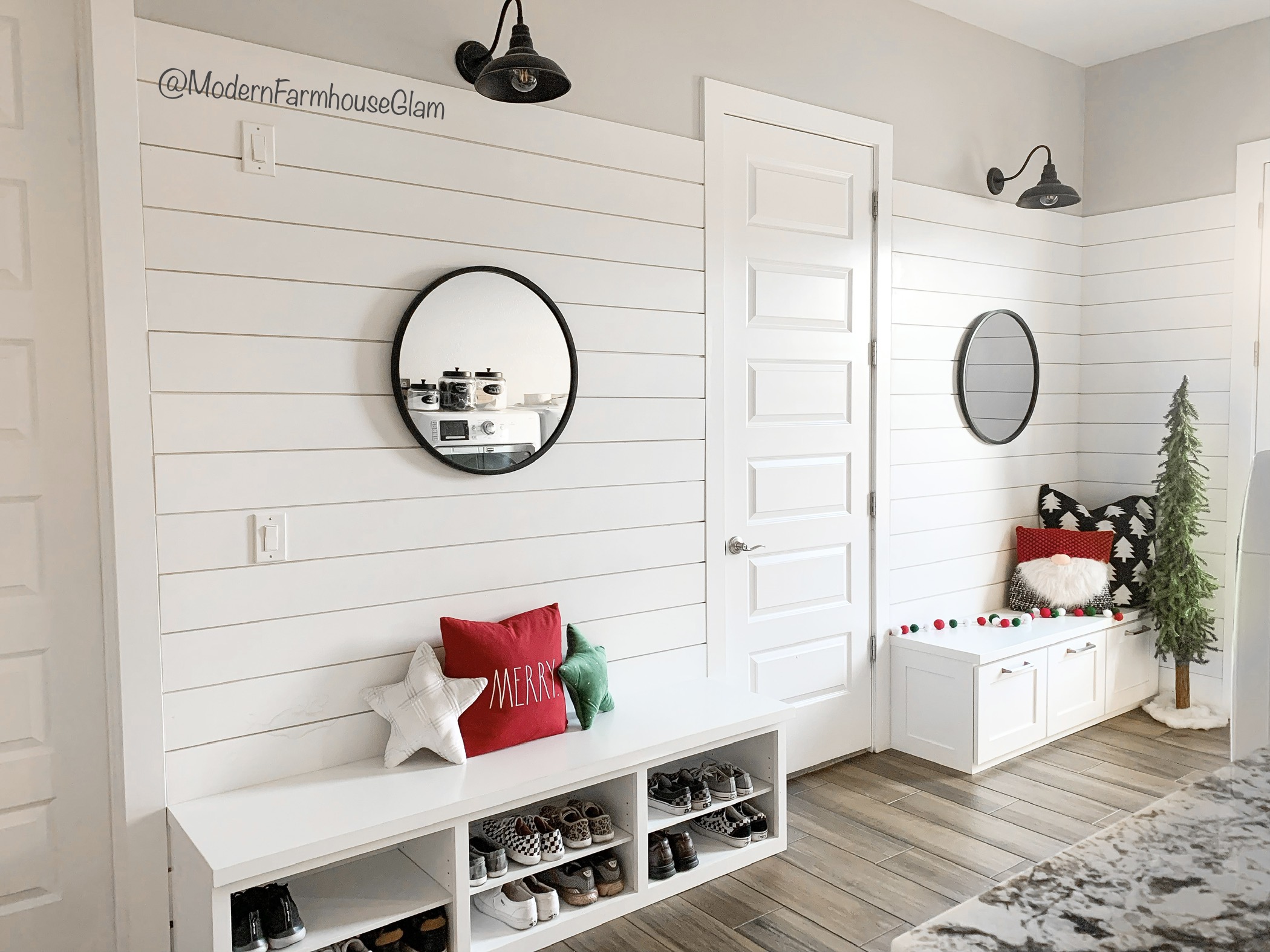 DIY Shiplap Wall Tutorial
---
SHOP OUR TEEN ROOM/GAMEROOM: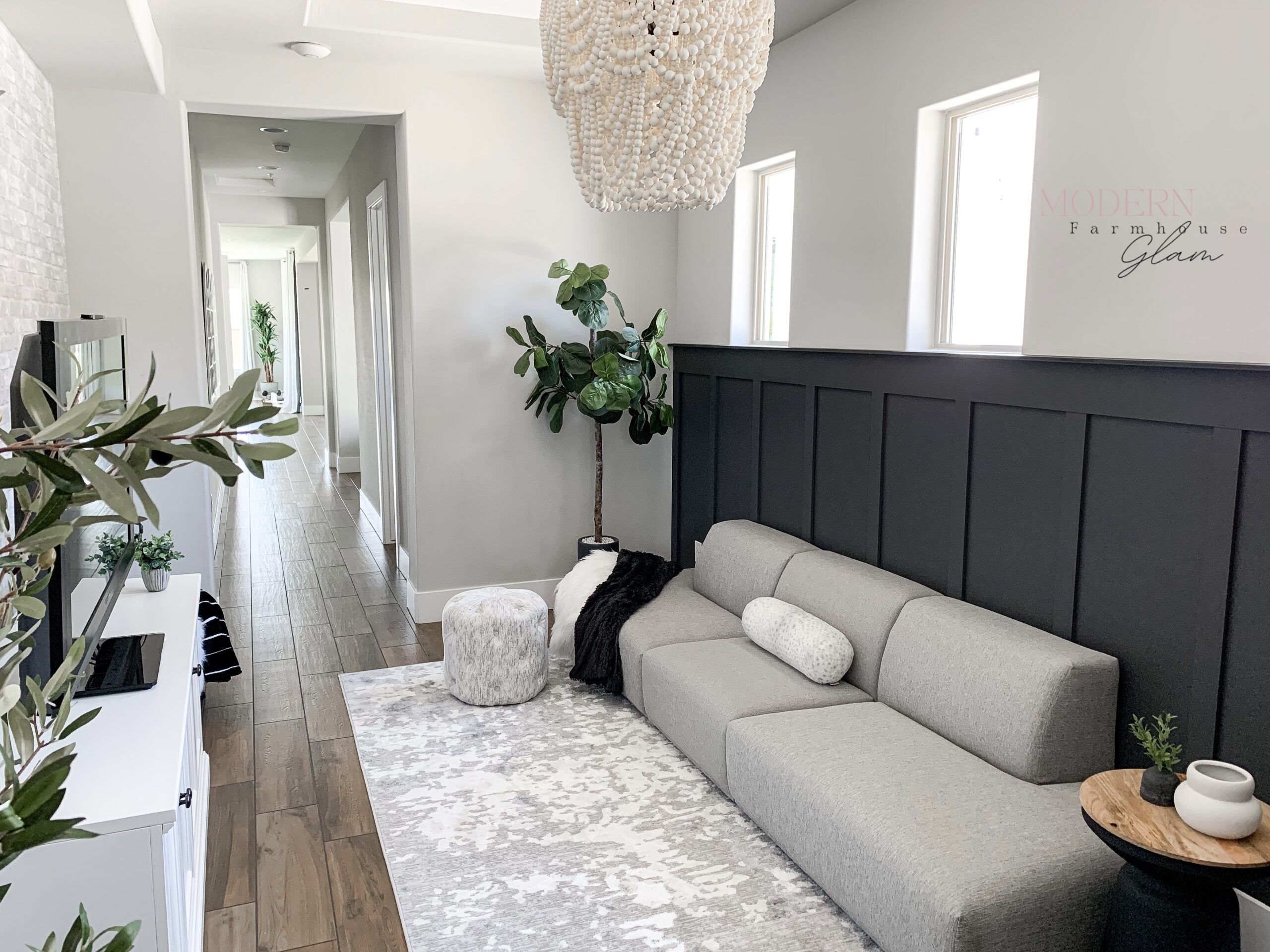 MEDIA CONSOLE TABLE – I put two of these together to make one large unit.  The sides are flush! This created so much storage.  I also put two in my master bedroom.
GREENERY – small stems in black vase
FIDDLE FIG TREE – similar one linked
TUTORIAL FOR BLACK "MOODY" BOARD AND BATTEN WALL HERE
VIDEO OF PEEL AND STICK WALLPAPER DIY SAVED TO MY INSTAGRAM HIGHLIGHT CALLED PEEL AND STICK WALLPAPER
---
ENTRYWAY/FOYER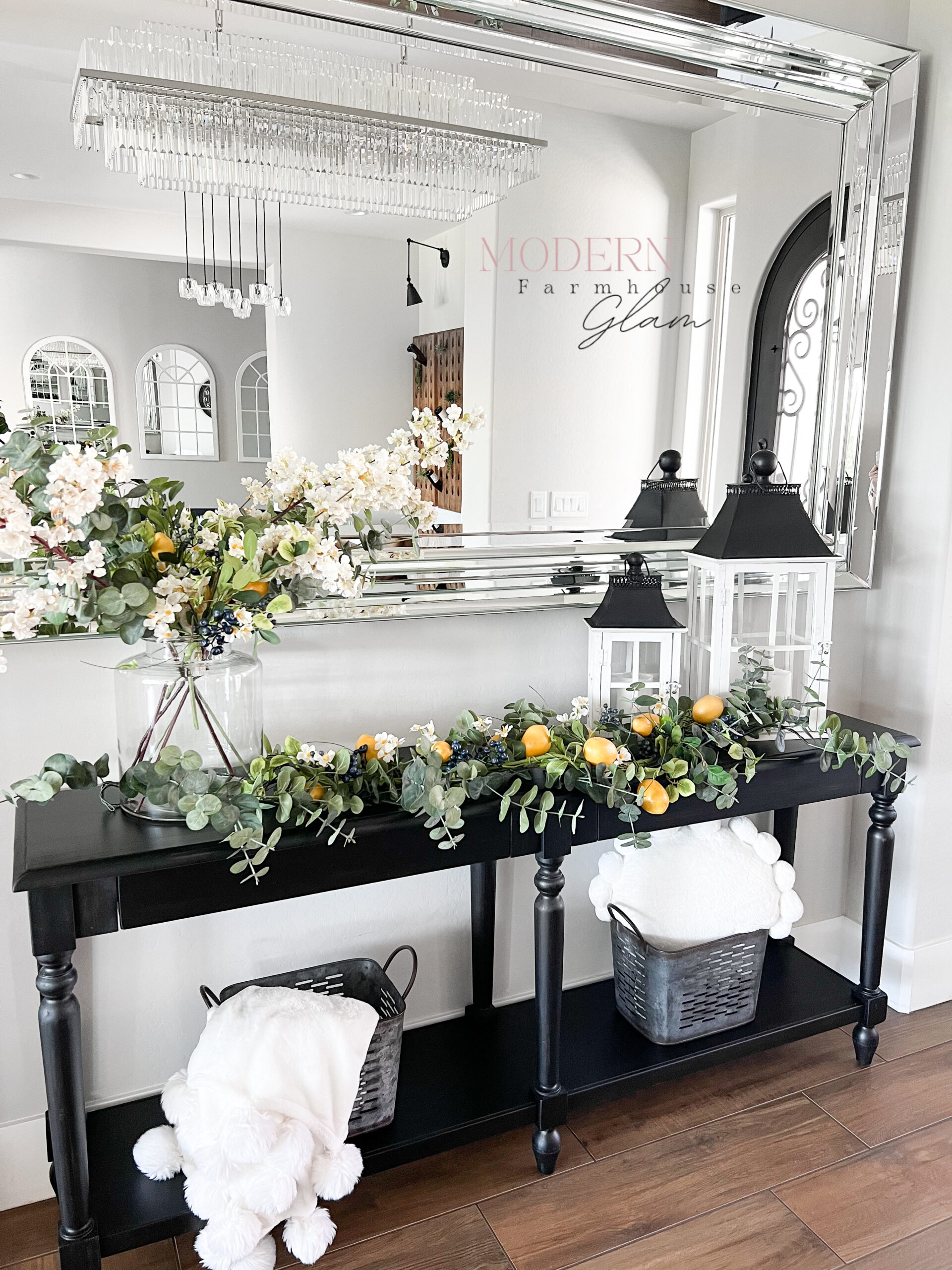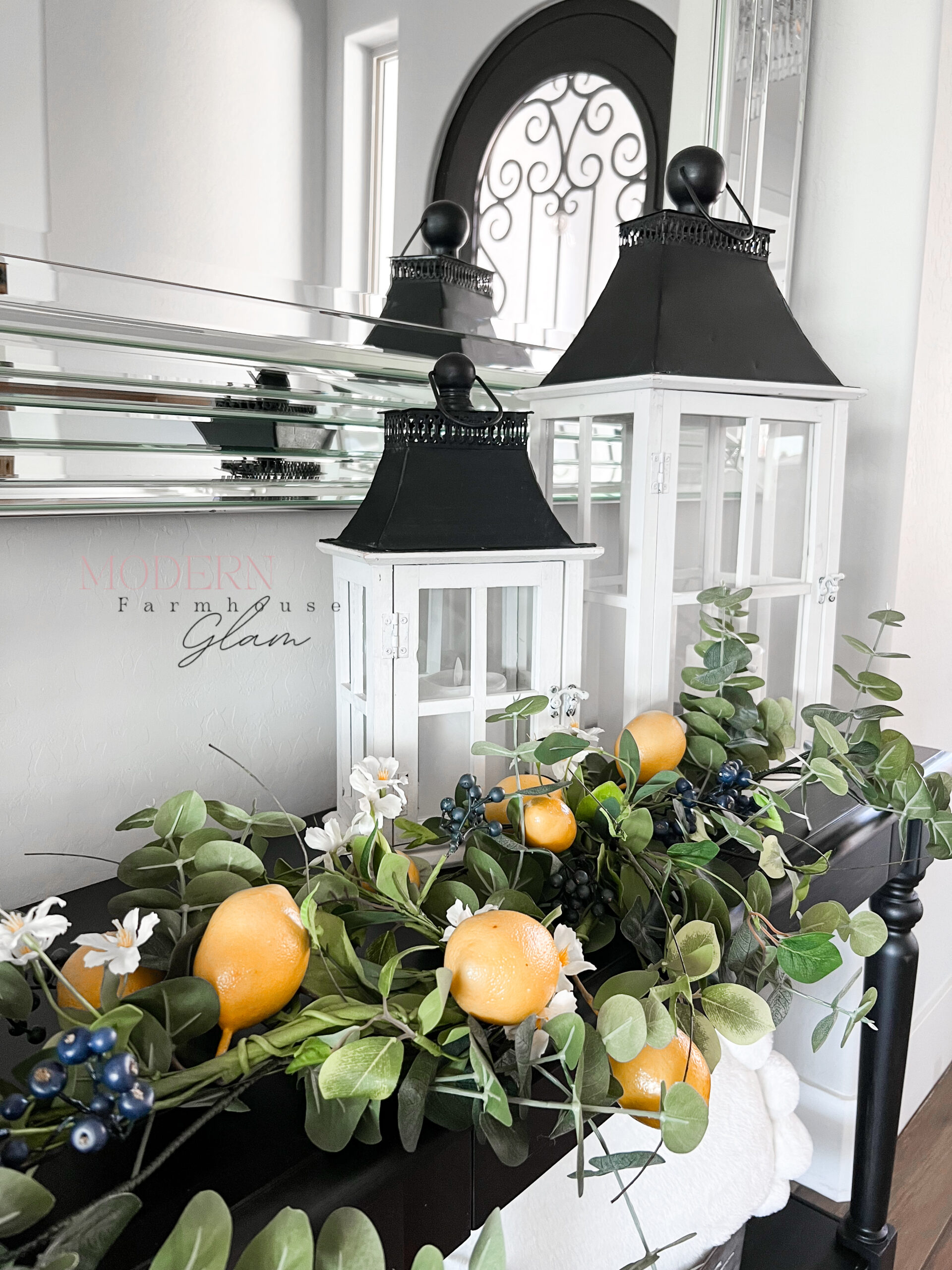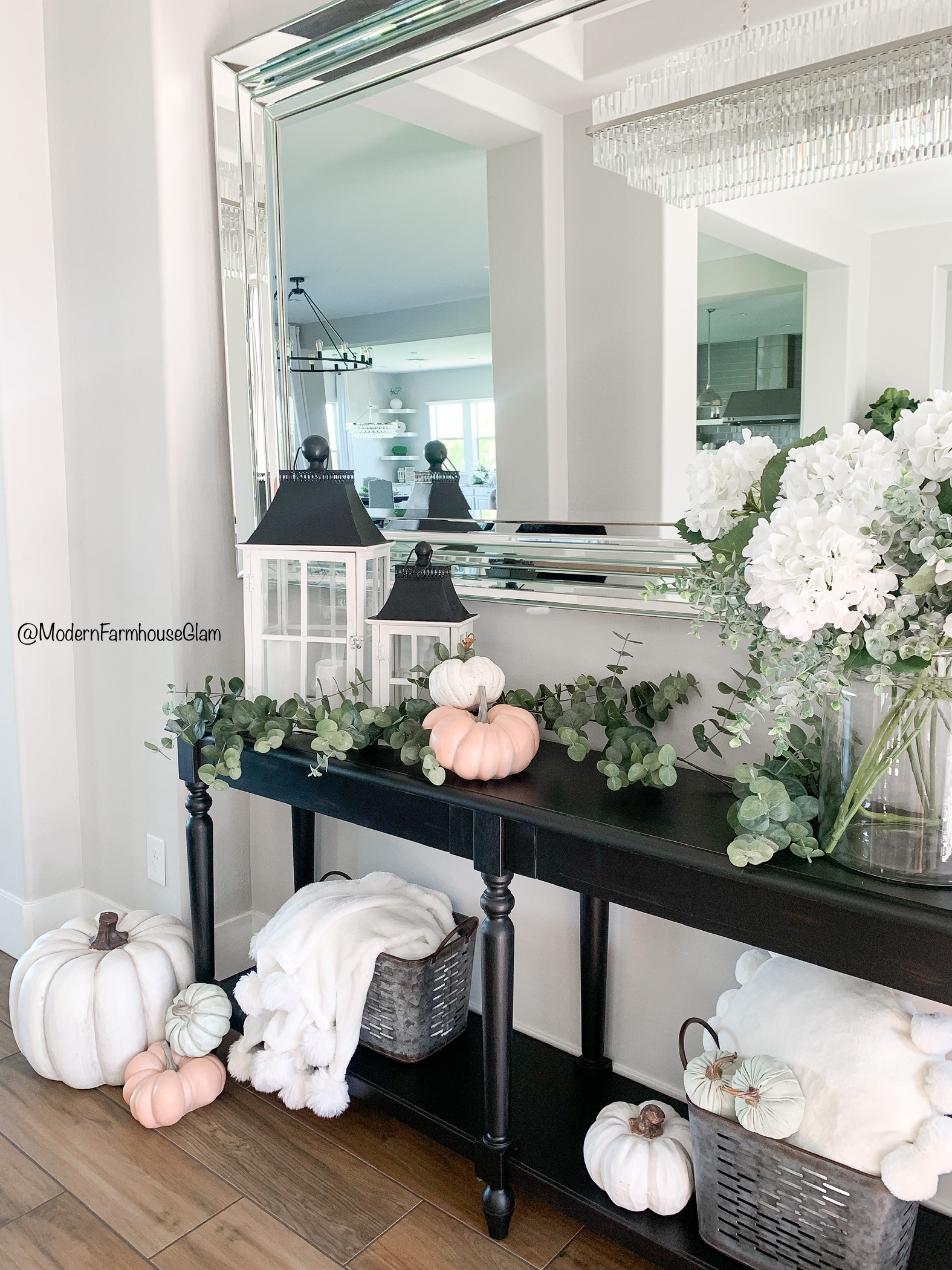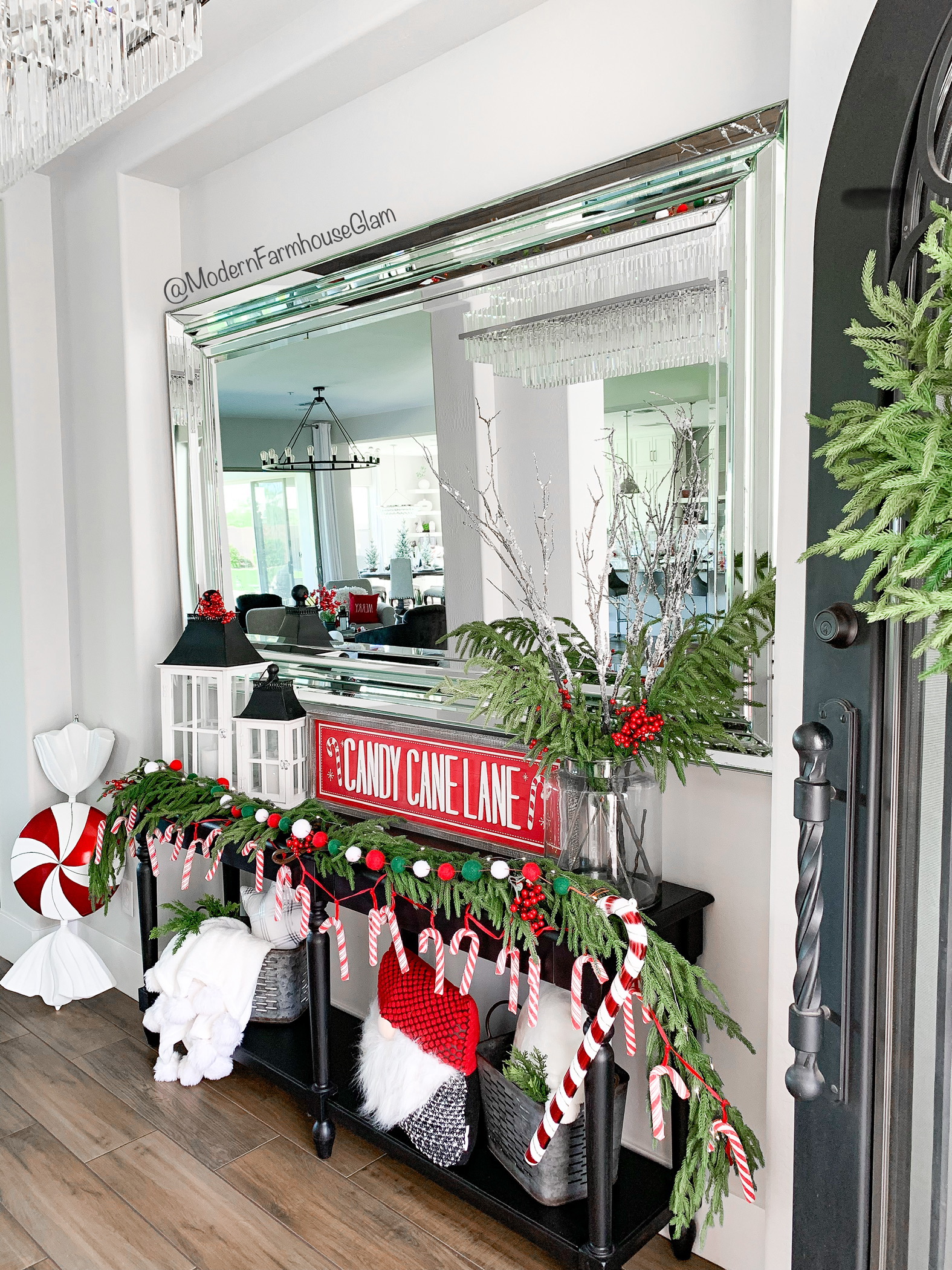 BLACK CONSOLE TABLE– I linked the exact table that I have, however it doesn't come in black anymore, only brown and white.  Here are some other similar black tables here
Sorry guys, this is discontinued by the manufacturer, but I'll update if it comes back CANDY CANE LANE SIGN
MIRROR– mine is three years old! I linked a similar option
EUCALYPTUS GARLAND
LEMON AND BLUEBERRY GARLAND- If there's enough interest, I can make this product available for sale in The Glam Girl Shop on my website.
---
RUGS IN MY HOME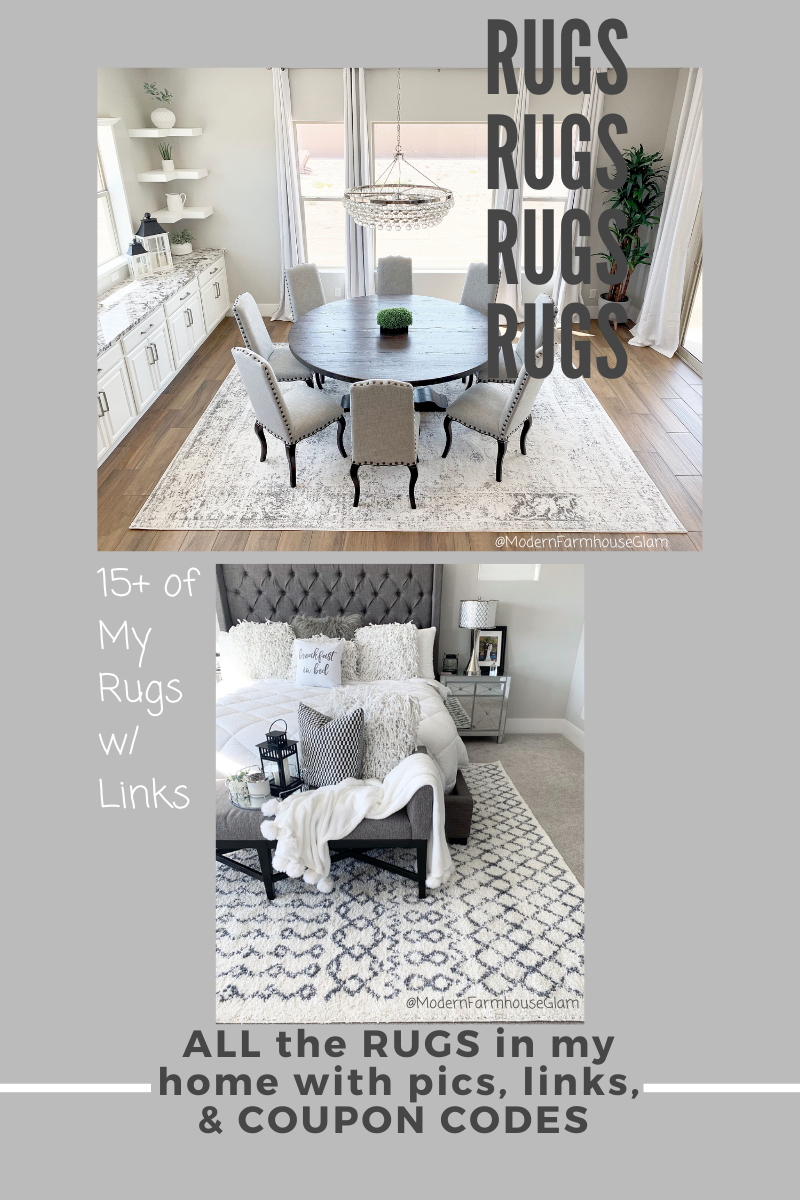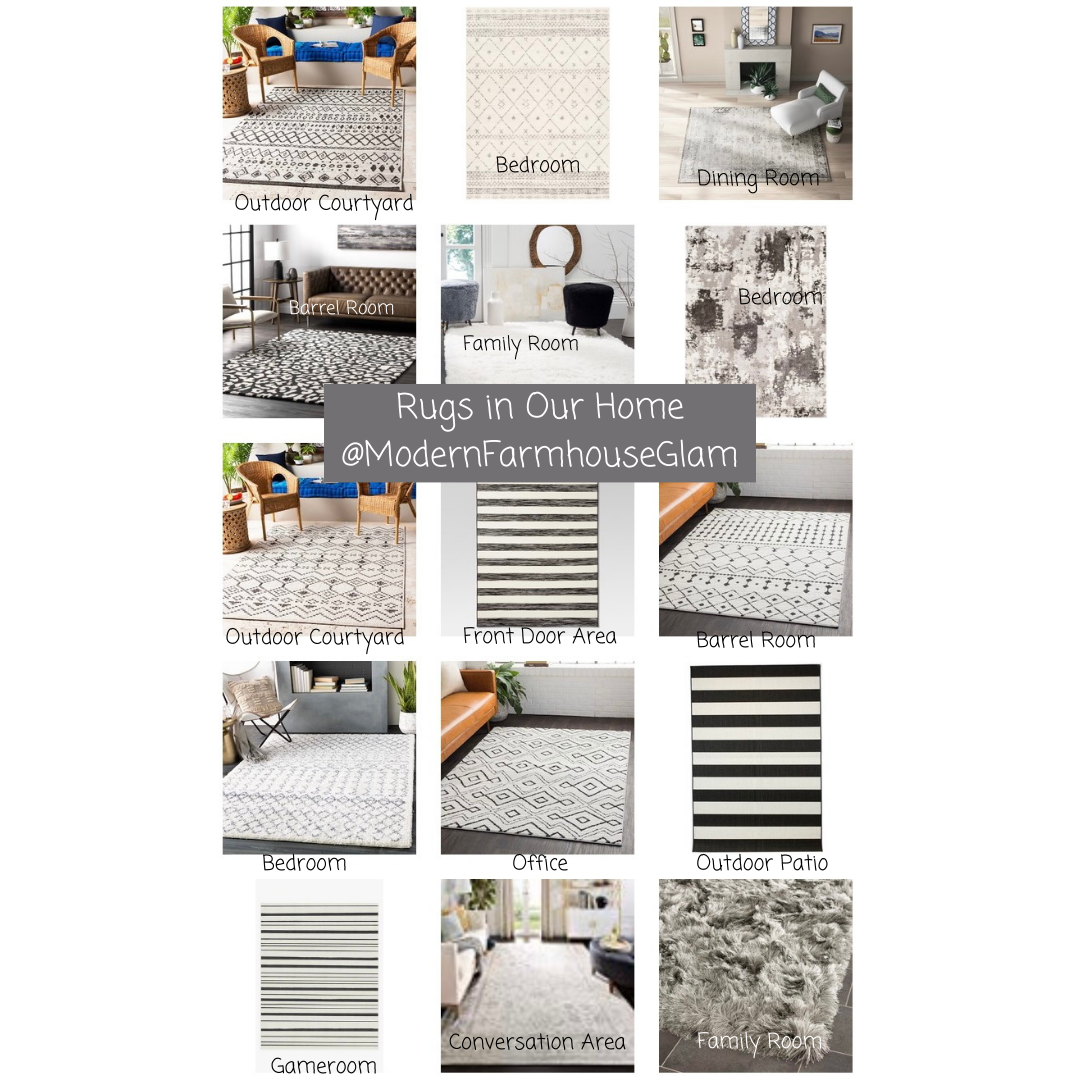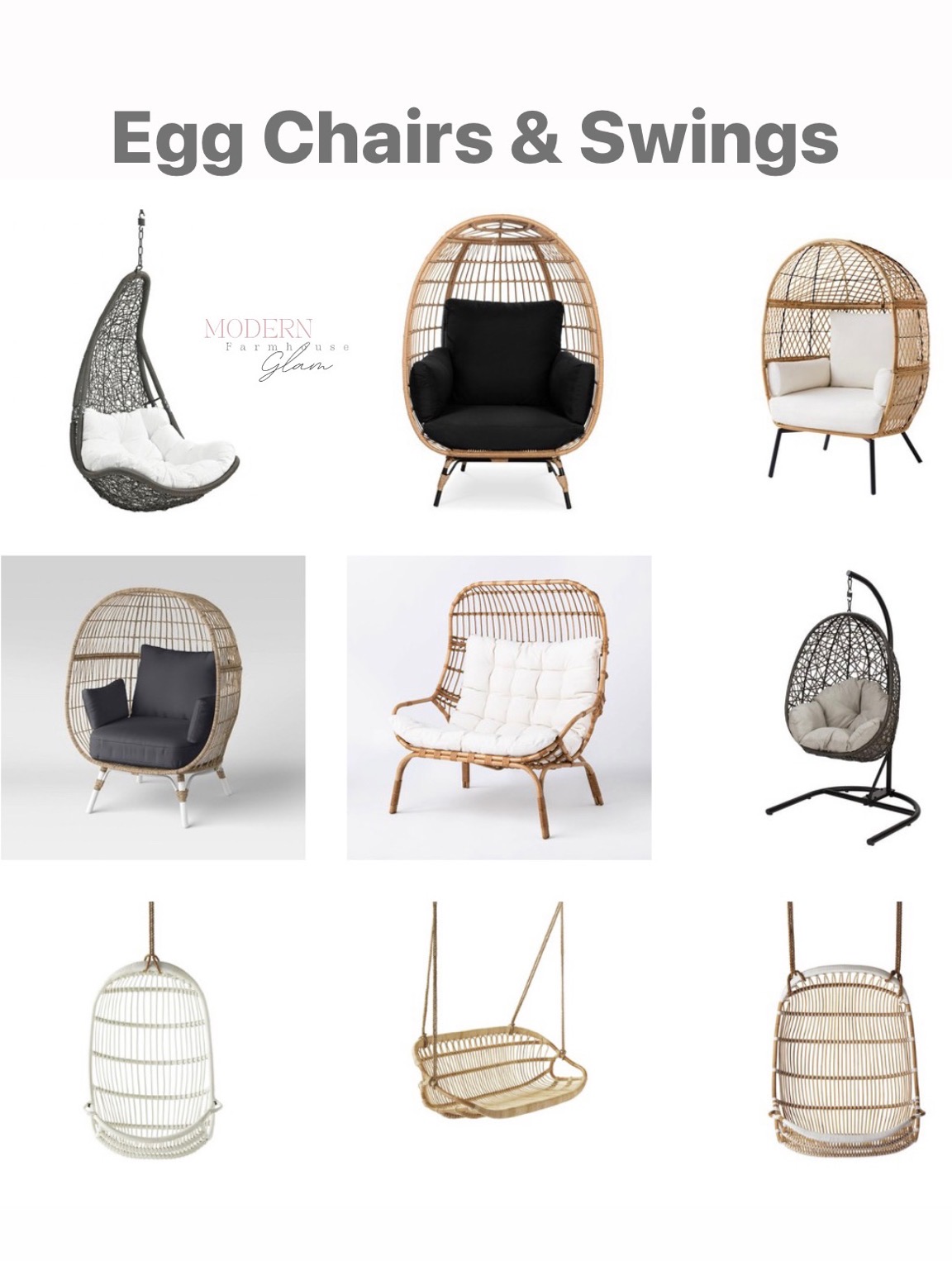 Theater Room: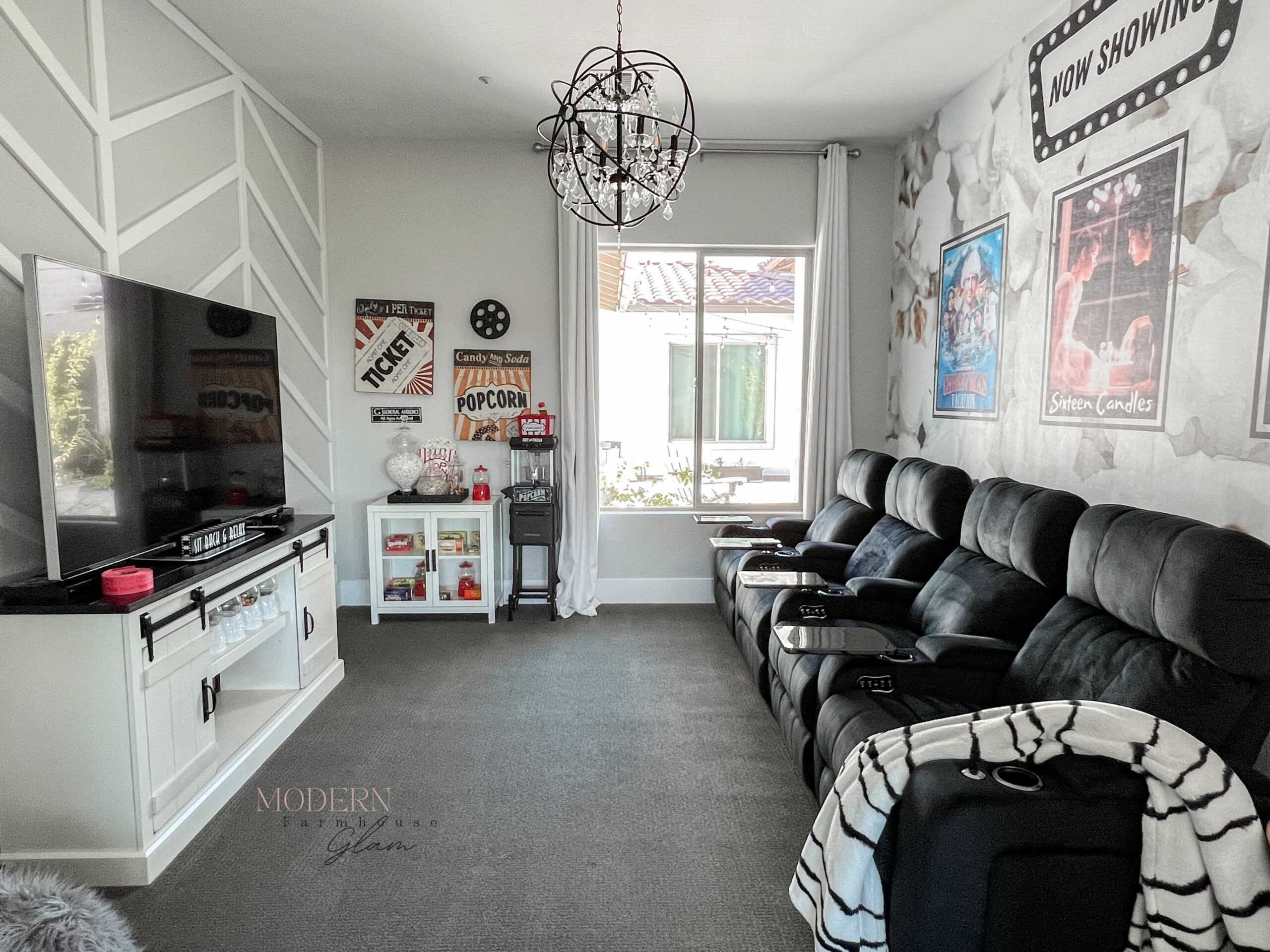 Similar orb chandelier, for when my exact one is sold out, which it tends to be.
Similar white and black barn door media table
Theater seating-this is so comfortable and soft.  I love microfiber seating rather than cold leather.
White cabinet snack and candy holder

Home Office:

Shop my home on the LTK app here:
---
MORE ROOMS IN MY HOME WITH SOURCE LINKS COMING SOON!
MANY MORE OF MY SOURCES ARE LINKED CURRENTLY ON LTK (THE LIKE TO KNOW IT APP).
FOLLOW ME ON THE LIKE TO KNOW IT APP for lots of decorating ideas with sources. I also link my favorites in fashion, beauty, and much more!  It's a free app!
IT DOES NOT COST YOU ANYTHING EXTRA TO USE MY LINKS AND HELPS TO SUPPORT MY PAGE.  I appreciate you using my link, thanks SO much!
YOU CAN ALSO FOLLOW MY AMAZON STOREFRONT for my favorite Amazon finds in many categories, including home, beauty, fashion, household cleaners, gift ideas, tools, and more.
XO Amy, Modern Farmhouse Glam