Christmas Eve at Menu and Recipes at Modern Farmhouse Glam:
Christmas Eve is undeniably the most favorite day of the year for my sweet family of four. The anticipation of ripping open gifts under the tree from Santa the next day, spending time together and of course all of the FOOD we will eat both Christmas Eve and Christmas Day! I've included our Christmas Eve MENU and RECIPES to follow.
Christmas Eve Menu at Modern Farmhouse Glam:
Christmas Tinis
Festive Feta Dip with Warm Baguette
Warm Jalepeno Artichoke Dip (Costco's is so good)
Arugula Salad w/ goat cheese, slivered almonds, raspberries, and strawberry poppyseed dressing
Homemade New England Clam Chowder
Alaskan King Crab Legs
Baked Raspberry Brie
Reindeer Chocolate Chip Cookies
Need a fun drink idea to jazz things up a bit for Christmas Eve? My Christmas Tinis are delicious and look so festive, decked out with a gumdrop on the side of the martini glass! Everyone loves these and I get asked a ton for the recipe! Cheers!
Christmas Tinis, by Modern Farmhouse Glam:
My Christmas Tinis are featured on Better Homes and Gardens this Christmas! Watch my Instagram Reel Here!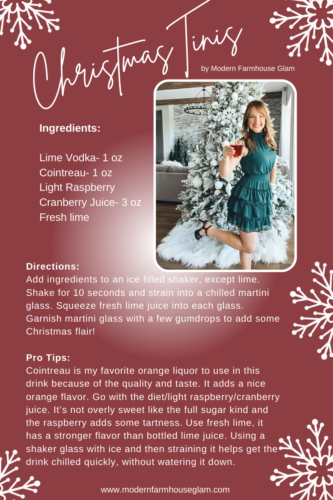 Watch me make Christmas Tinis on my YouTube channel: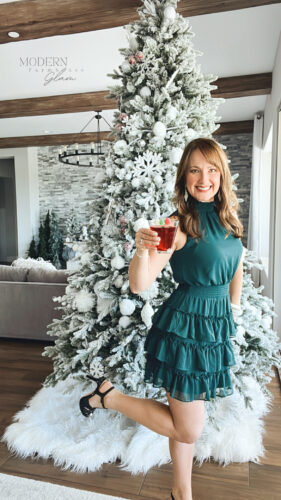 Shop my Martini Glasses, Party Dress, Christmas tree and more: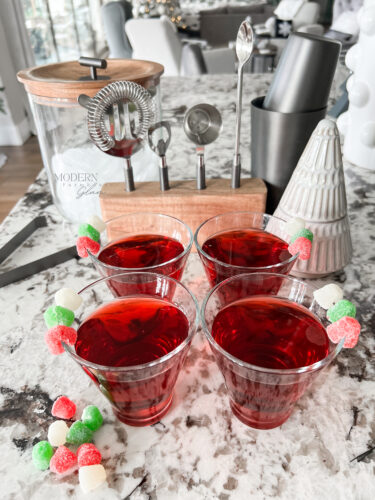 Shop my martini glasses, shaker set, ice bucket, cocktail set and white Christmas tree candle here:

Festive Feta Dip: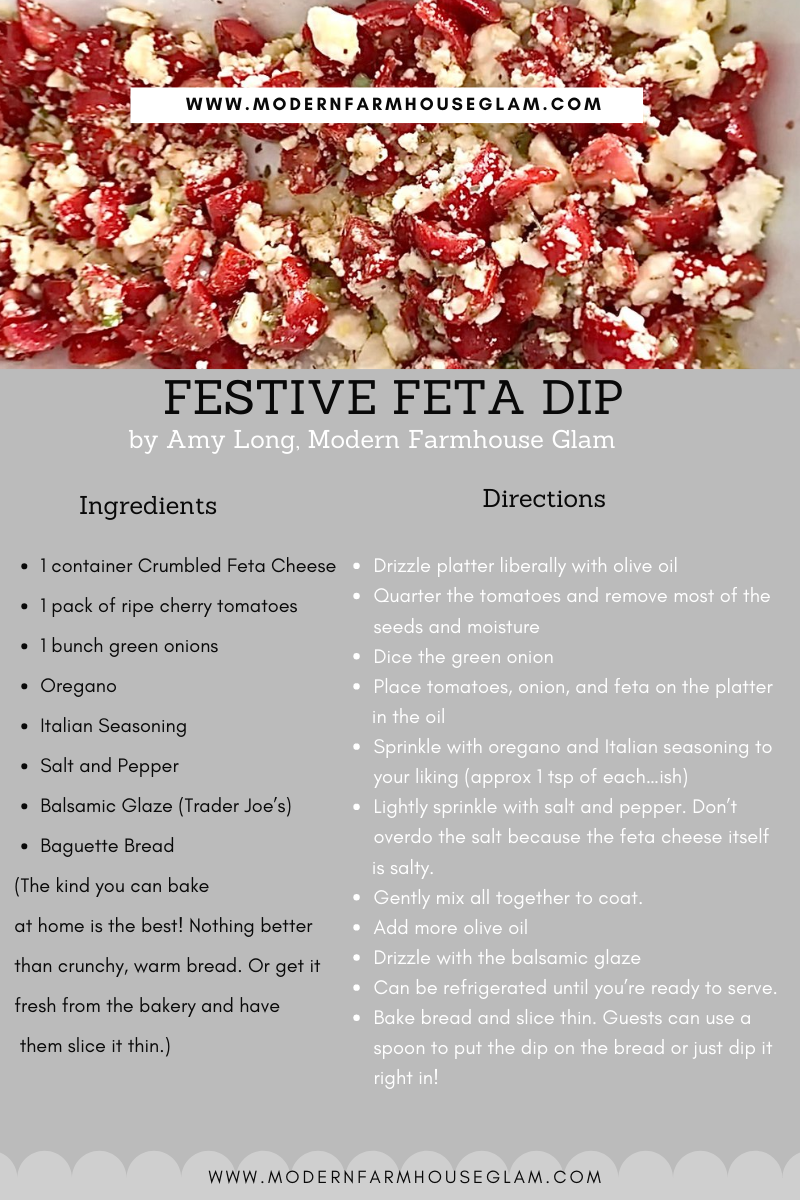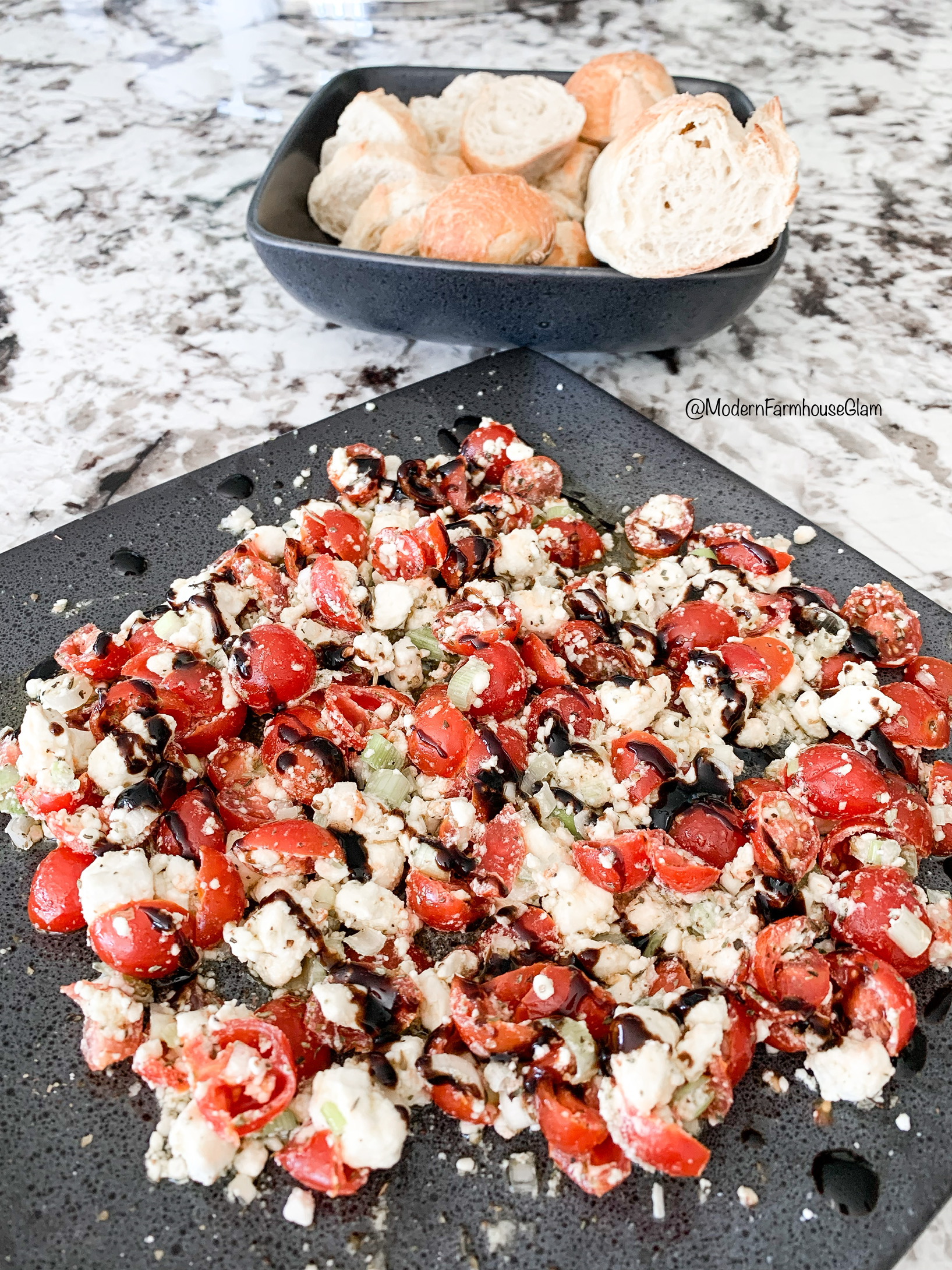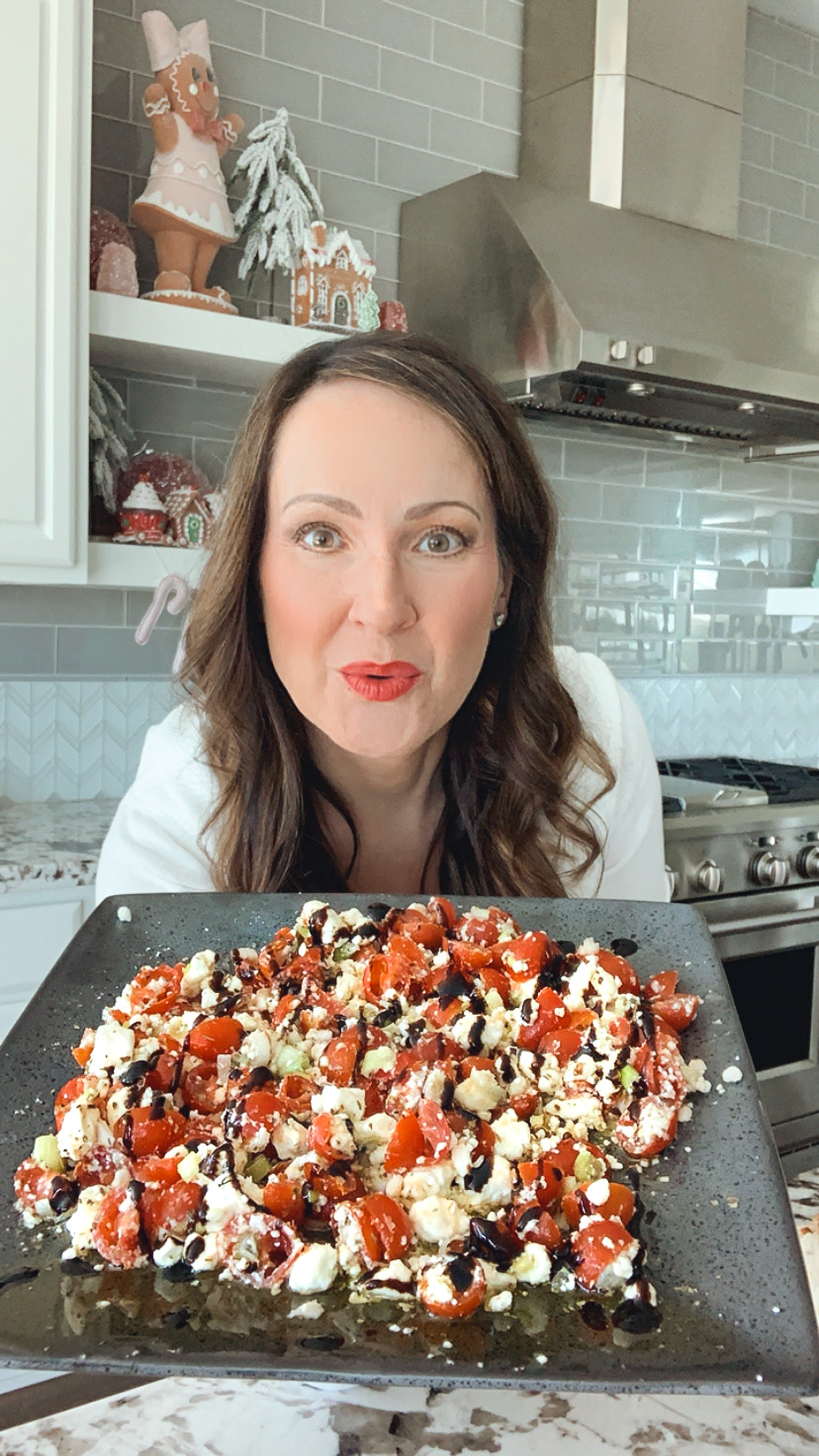 Every year since Brian and I have been together, we have had the same favorite foods on Christmas Eve. Lunchtime starts out with delicious warm homemade Clam Chowder, AKA Glam Chowder. This chowder is heavy on the clams and light on the potatoes. Nothing worse than ordering overpriced Clam Chowder at a restaurant, and then getting a mouthful of big chunky potatoes that you hoped were clams. So we don't mess around! More clams, less potatoes.
Clam Chowder Recipe
AKA "Glam Chowder"
6 slices bacon, diced into small pieces
4 TBSP butter
Olive oil
3 cups chicken stock
12 ounce organic cream of chicken (only if you like thicker soup)
Four 6 1/2 ounces cans chopped clams, liquid reserved
1 large sweet onion diced
4 stocks celery diced
4 cloves of garlic minced
5 tablespoons flour
4 medium red potatoes diced
4 ounces heavy whipping cream (8 oz if you like it creamier)
2 cups low-fat buttermilk
5 sprigs fresh thyme (about a 1/4 tsp)
5 bay leaves
4 tablespoons minced fresh parsley
Salt and pepper
Crunchy baguette style bread
In a large stew pot, cook bacon until crisp, stirring often. Remove and reuse pot to sauté chopped celery and onion in olive oil and butter. Add salt and pepper, thyme and minced garlic at the end, then add bacon back in.
Slowly stir/whisk in the flour, coating all the veggies and the bacon. Continue cooking about a minute until the flour begins to brown.
Gradually pour in the chicken stock and reserved clam juice. (Clams get added at the very end)
Dice the potatoes into small chunks and microwave with a little bit of water for approximately four minutes or until soft
Drain potatoes and add to pot and bring to boil, then simmer for about 20 minutes.
Stir in the buttermilk, cream, and chopped clams, bring to a boil and then heat through and simmer for approx five minutes. Remove from heat and stir in fresh parsley. Season with salt and pepper to taste.
Serve with crunchy baguette style bread
Pretty and yummy salad that looks Christmasy, too!
Arugula, goat cheese, slivered almonds, pomegranates, and raspberry vinaigrette
Baked Raspberry Brie:
Glam Girl's Baked Raspberry Brie:
•One puff pastry baking sheet (make sure you dethaw one overnight in the refrigerator)
•Small jar raspberry preserves (I like the organic strawberry one from Costco)
•Wedge or a circle of brie cheese ( I like the Costco Kirkland's brand)
•Egg yolk beaten
Box of buttery crackers-the butterfly Pepperidge farms ones are always good with this
Preheat oven 400°
Fully thaw pastry sheet according to directions. Spread a moderate layer of jam on pastry. Take the skin off of one side of the Brie and place the skinless side down in the center of the pastry. Pull pastry sheet up over brie and crimp seams. Seal with egg yolk. Flip seam side down onto buttered cookie sheet or cookware. Cut decorative vent on top with knife and fork. Brush top with egg yolk. Bake at 400° for 15 to 20 minutes until golden (sometimes longer).  Serve with buttery crackers.  Enjoy!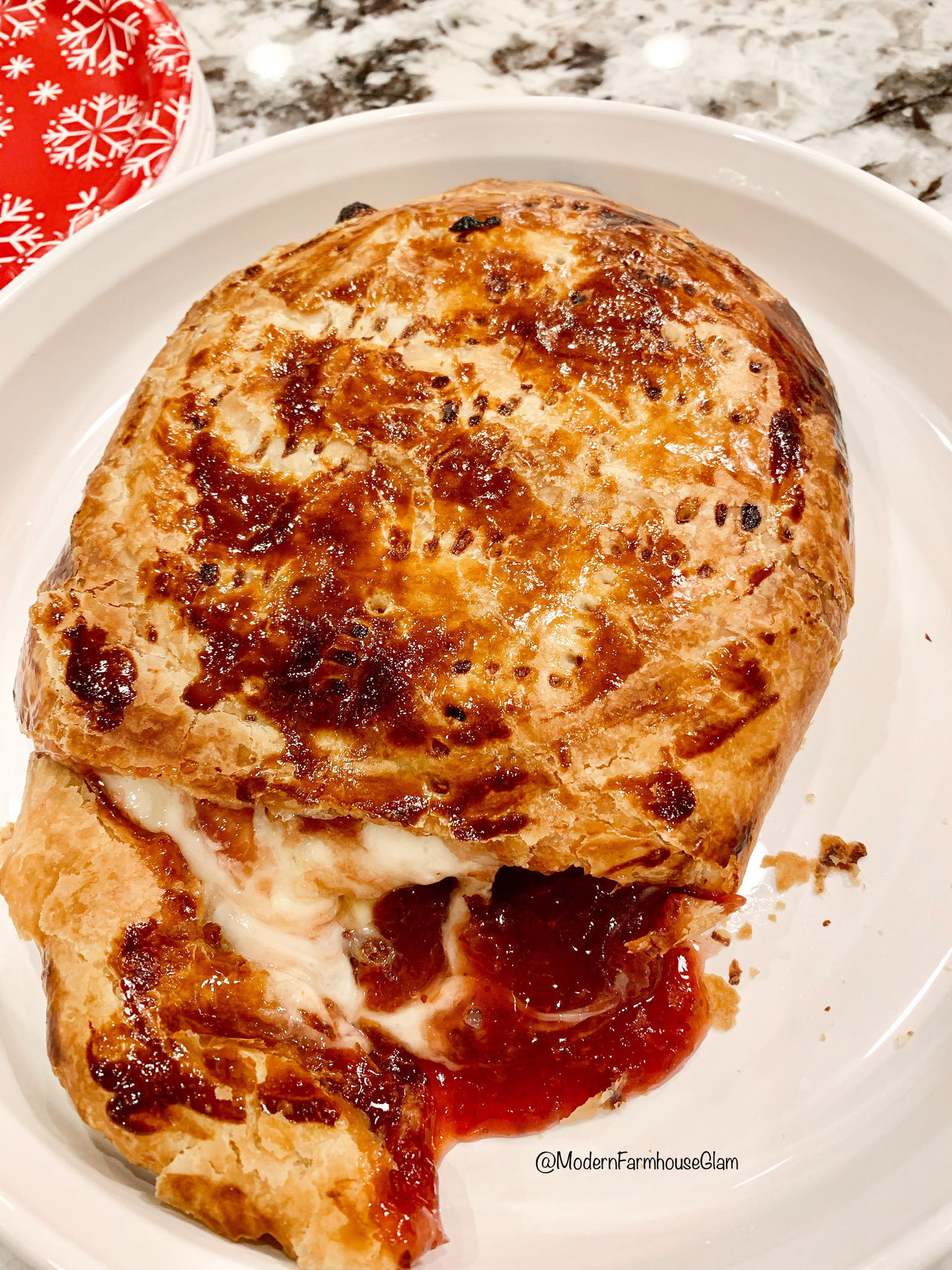 Alaskan King Crab legs. Need I say more? This is our favorite food tradition and it happens on Christmas Eve. We buy the huge ones from Costco, which are by far the best and the BIGGEST. Put them on a cookie sheet in the oven at 475 degrees for 15-18 minutes, and bam, they are done. It is really that easy. Crack 'em open and dip into hot melted butter and you will be in heaven. My husband always has the right technique on how to crack them and ends up doing ours too.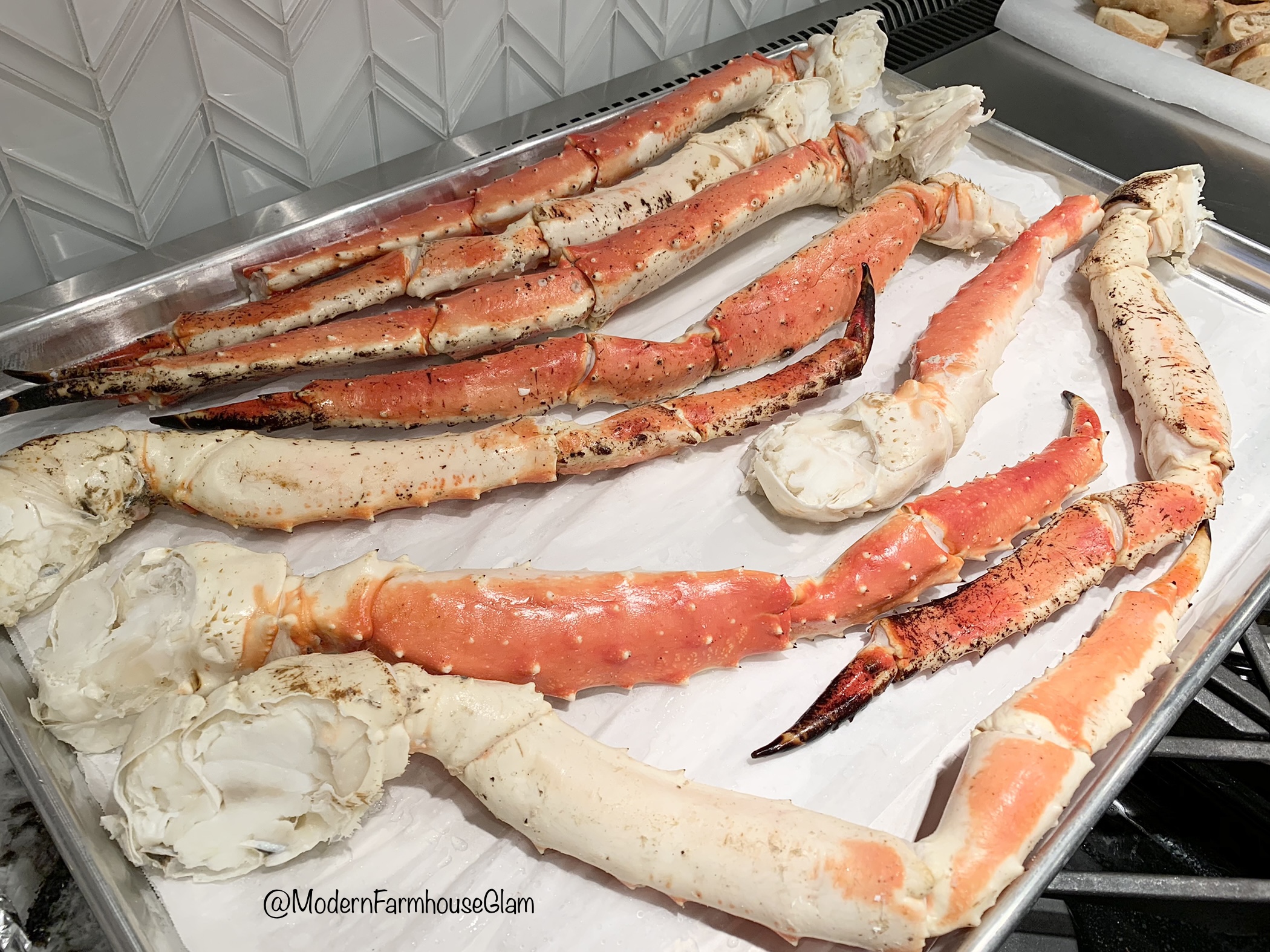 Look how huge the crab meat pieces are! They are sweet and delicious.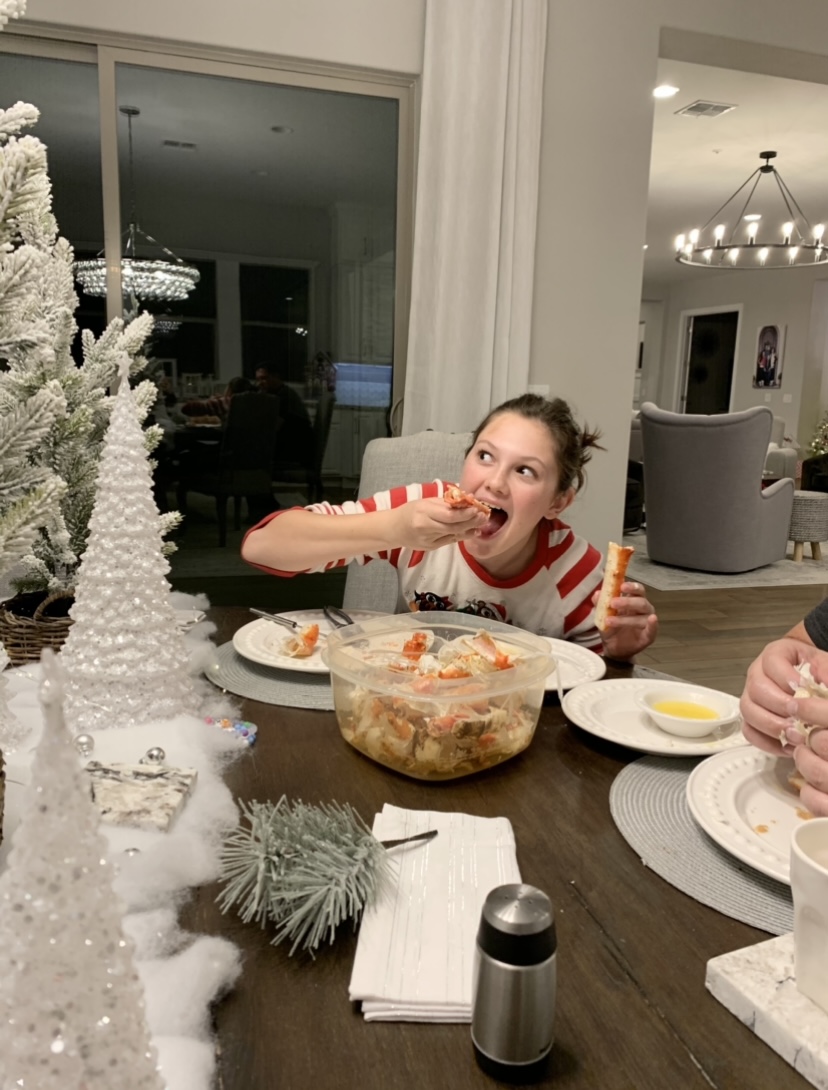 My RECIPE for Reindeer Chocolate Chip Cookies: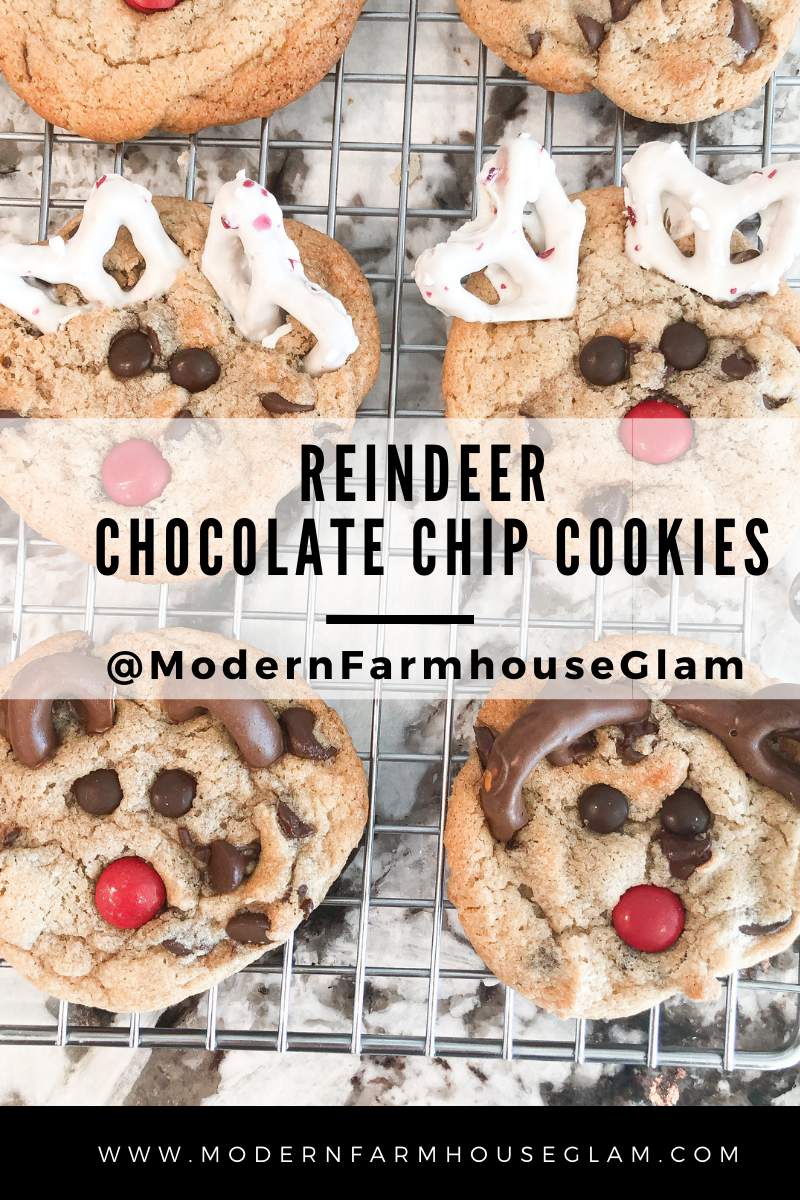 Christmas Tablescape by Modern Farmhouse Glam 2022
My Christmas tablescape was featured on Better Homes & Gardens- watch HERE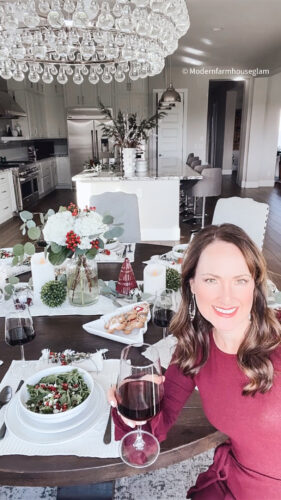 Cheers! Create a festive Christmas tablescape for you family to enjoy or for your Christmas Eve party!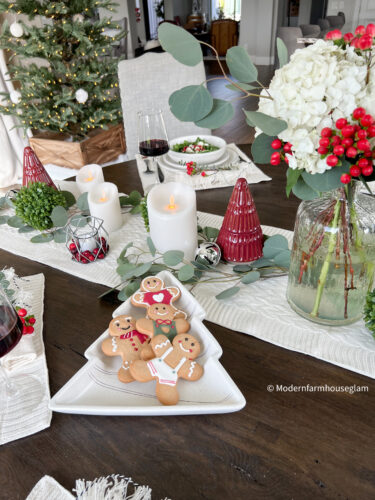 Shop my Christmas tablescape, including my holiday plates, Christmas tree cookie platter, table runner and placemats, candles, wine glasses, matte black silverware, battery operated candles and more:

Gingerbread cookies are the sweetest, right?! Too cute to eat!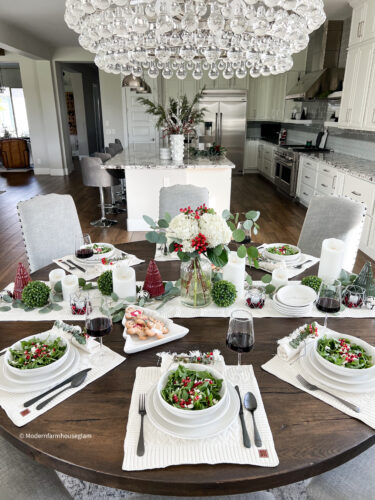 Shop my chandelier, dining room chairs, wine glasses, matte black silverware, glass vase and similar round wood dining tables:

Click on the picture for sources for my 2021 Christmas Eve tablescape decor, chandelier, rug, dining room chairs, and more. The snowy table runner is only $5! I searched forever for the perfect holiday table runner and they were so expensive. I couldn't believe how this $5 snow blanket did the trick!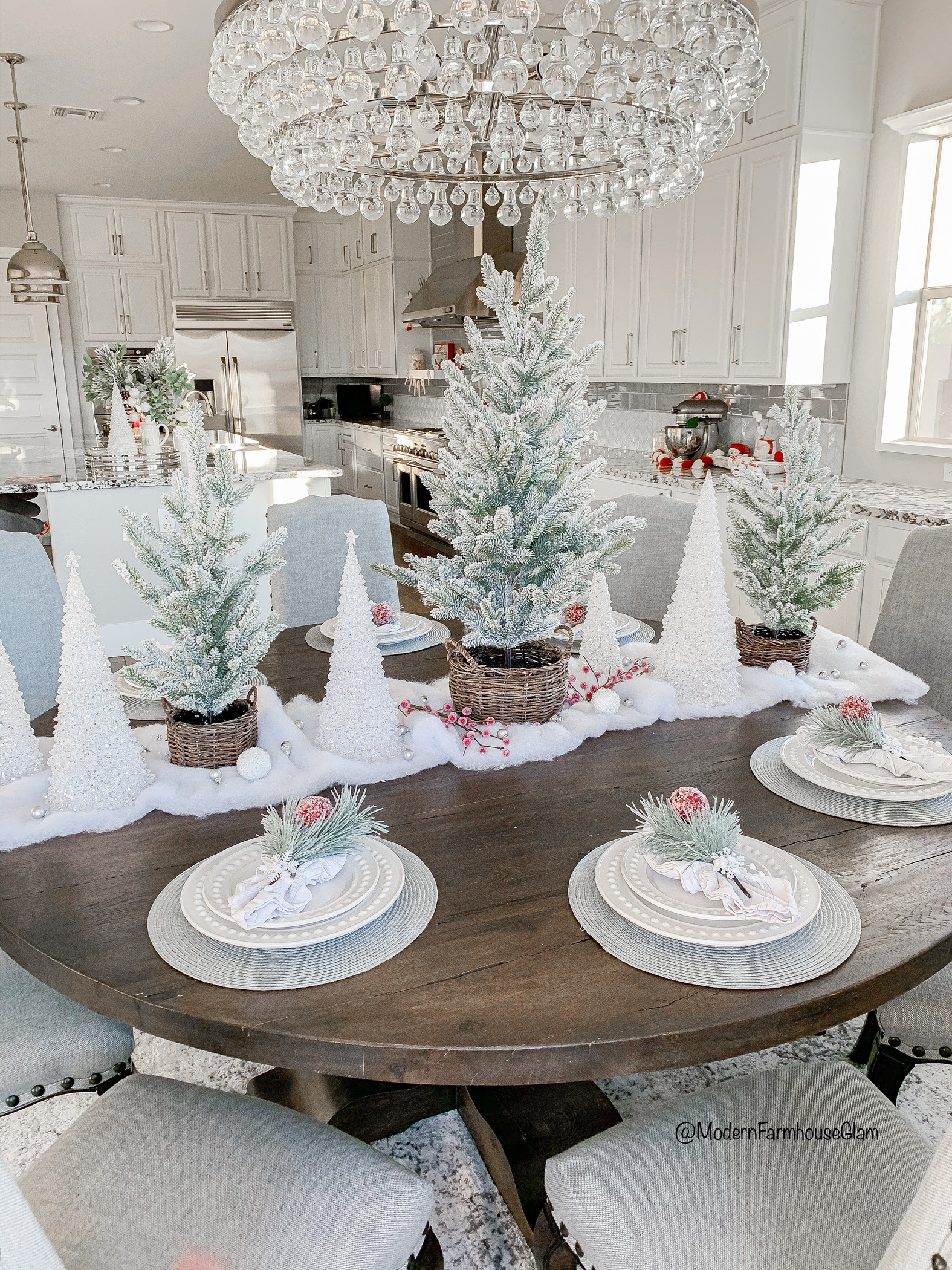 Click on the pic for source links in this pic. My Flocked Christmas Tree is linked HERE. The one here in the kitchen is 7'5′ and the new one this year in the family room is a flocked 9 footer!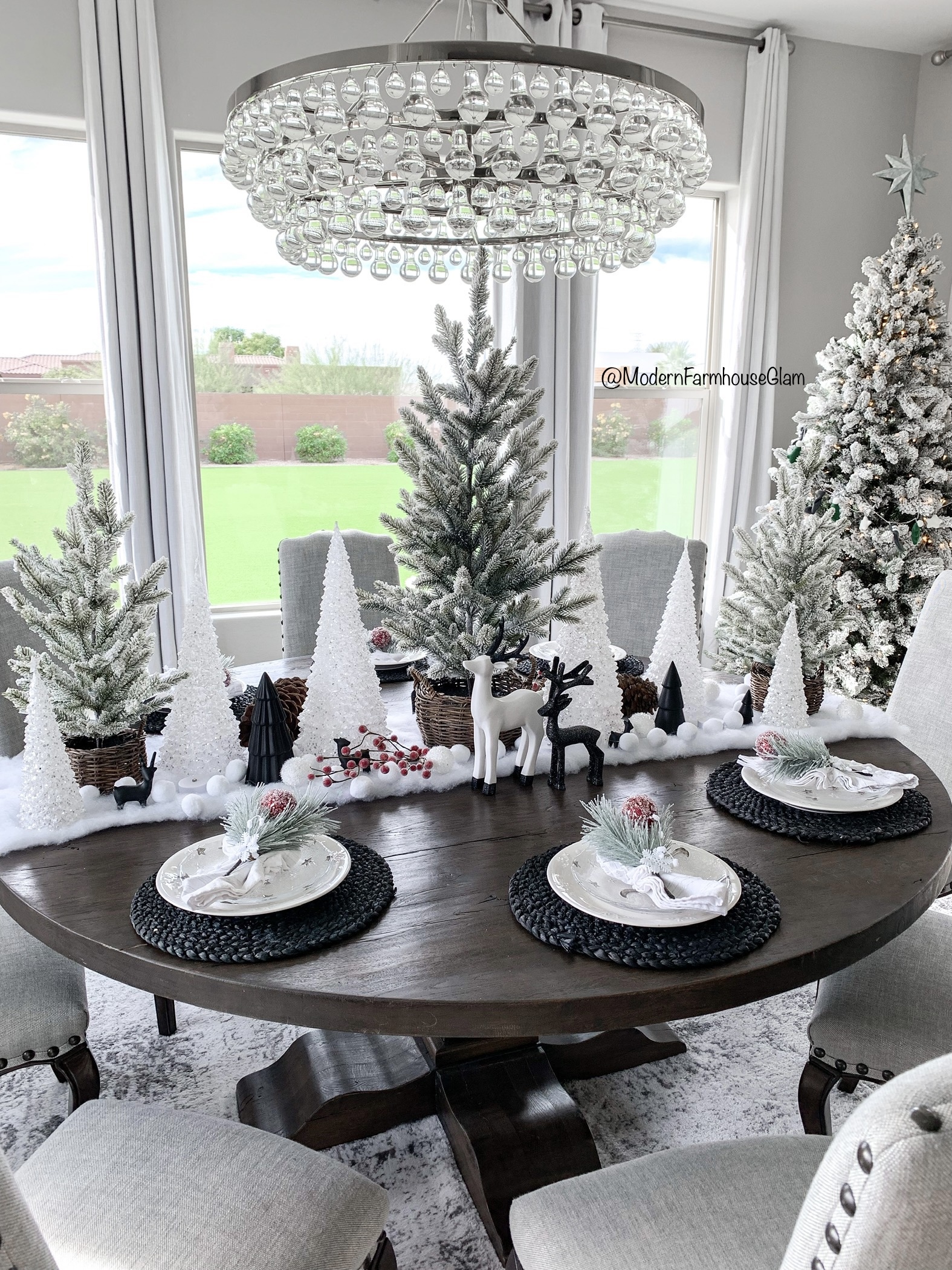 Merry Christmas Eve, friends! XO-Amy
You may also enjoy:
Everything Christmas at Modern Farmhouse Glam
Christmas Napkin Holder Tutorial by Modern Farmhouse Glam
My Christmas Trees at Modern Farmhouse Glam
6 page MAGAZINE FEATURE in Entertain & Celebrate Holiday 2021
Shop the feed