Here's how to make easy festive Christmas napkin holders for your holiday dining table!
Christmas tablescape at Modern Farmhouse Glam
Here's another way to style a Christmas tablescape, using the same napkin holders. Click on the picture for source links for my chandelier, rug, dining room chairs, flocked Christmas trees in baskets and more. Click HERE for my Flocked Christmas Tree in the corner.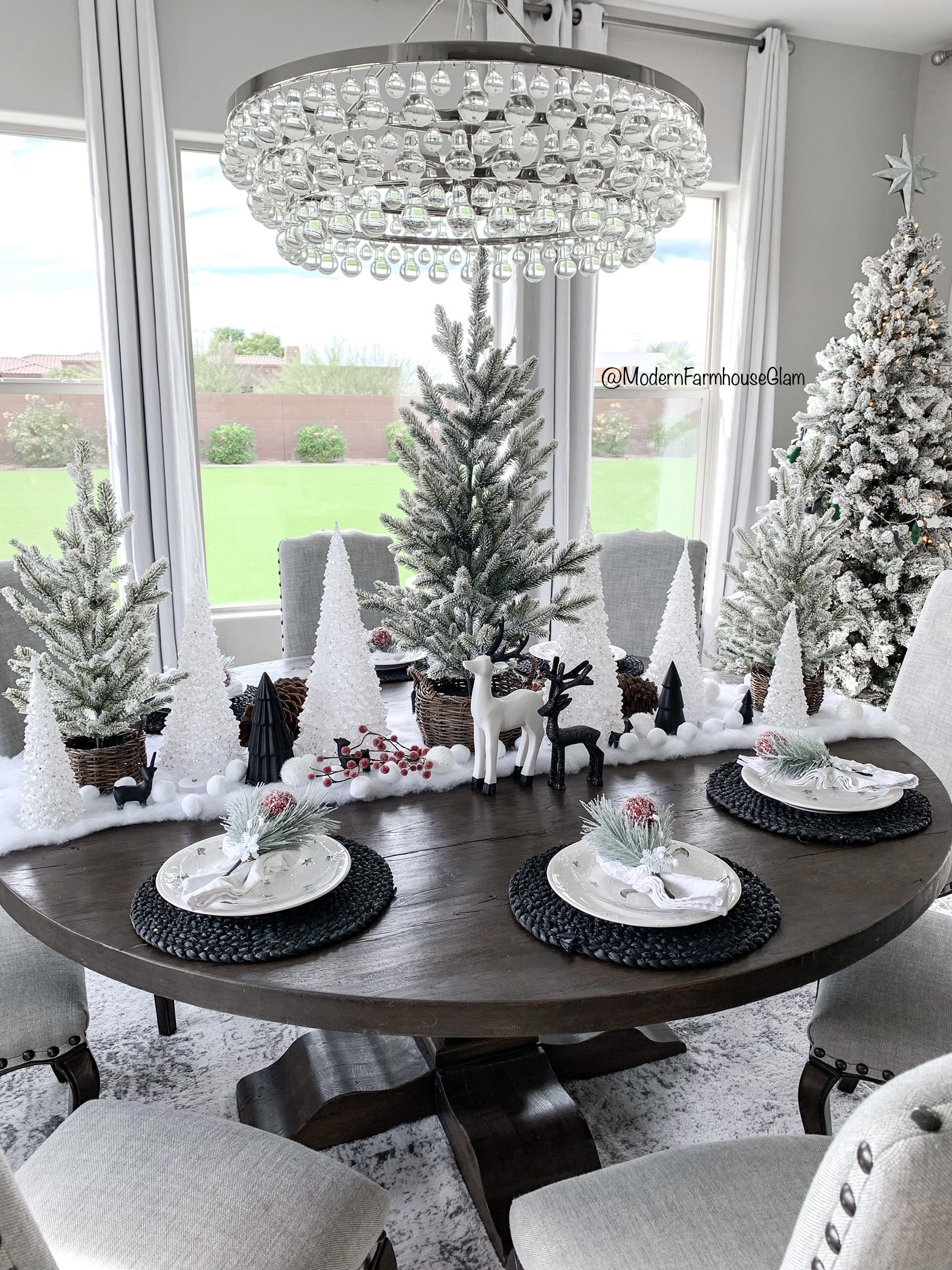 You may also enjoy:
Reindeer Chocolate Chip Cookies by Modern Farmhouse Glam
My Christmas Trees at Modern Farmhouse Glam
6 page MAGAZINE FEATURE in Entertain & Celebrate Holiday 2021
Follow Modern Farmhouse Glam on Instagram!
IMPORTANT LINKS
SOURCE LINKS:
Shop My Home: www.modernfarmhouseglam.com
Follow me on the LTK app for sources at: www.liketoknow.it/modernfarmhouseglam
Amazon Shop: www.amazon.com/shop/modernfarmhouseglam
Let's get SOCIAL! Follow Modern Farmhouse Glam on:
Instagram: Instagram.com/modernfarmhouseglam
Glam Girl SHOP & Blog: www.ModernFarmhouseGlam.com
Shop my Home & Closet: www.liketoknow.it/modernfarmhouseglam
TikTok: www.tiktok.com/@modernfarmhouseglam
Pinterest: www.pinterest.com/modernfarmhouseglam
YouTube: www.youtube.com/channel/UCopIYixxloEoMvikinYgeqA
Amazon Shop: www.amazon.com/shop/modernfarmhouseglam
WORK WITH ME! FOR BUSINESS INQUIRIES email: [email protected]
Disclosure: I may earn a commission from purchases using my links. This does not cost you anything extra and it helps support my page and the free content and tutorials that I create. Thank you so much for your support!
Modernfarmhouseglam.com is a personal blog written and published by Amy Long. Amy Long and Modern Farmhouse Glam LLC are not liable for the outcome of DIY project tutorials and advice provided. Information provided on this website should be considered opinion and Amy Long/ MFG is not responsible for results or liability. Modern Farmhouse Glam sometimes gets commission or compensation for sponsored posts, reviews, advertising, and affiliate links, but it does not affect the purchase price of an item to a customer. All images and content belong to Modern Farmhouse Glam.