HACK!!!! A FAQ has always been, where did you get your large media console table in the family room?
The bad news is, the exact one in my family room is discontinued (was from Restoration Hardware and I painted it), but the GOOD news is I have THIS similar option that you will love in our bedroom! This hack worked out perfectly! Because the sides are flush, we put these two media console table units together to create one large one. It is 12 feet long and so nice to have the extra storage!
Video here and links below for my media console table and other furniture, rug, and lighting items in our Master Bedroom.
Links are below this picture for my media console tables, rug, tufted platform bed, crystal chandelier, glass vase with stems, and more in our Master Bedroom.
TUFTED HEADBOARD/PLATFORM BED – the color of mine is charcoal grey. FAQ-yes, we have a box spring with it.
EUCALYPTUS STEMS -mine are the 28″
SHOP MORE OF MY HOME SOURCES HERE
You can also shop my home on the LTK app:
---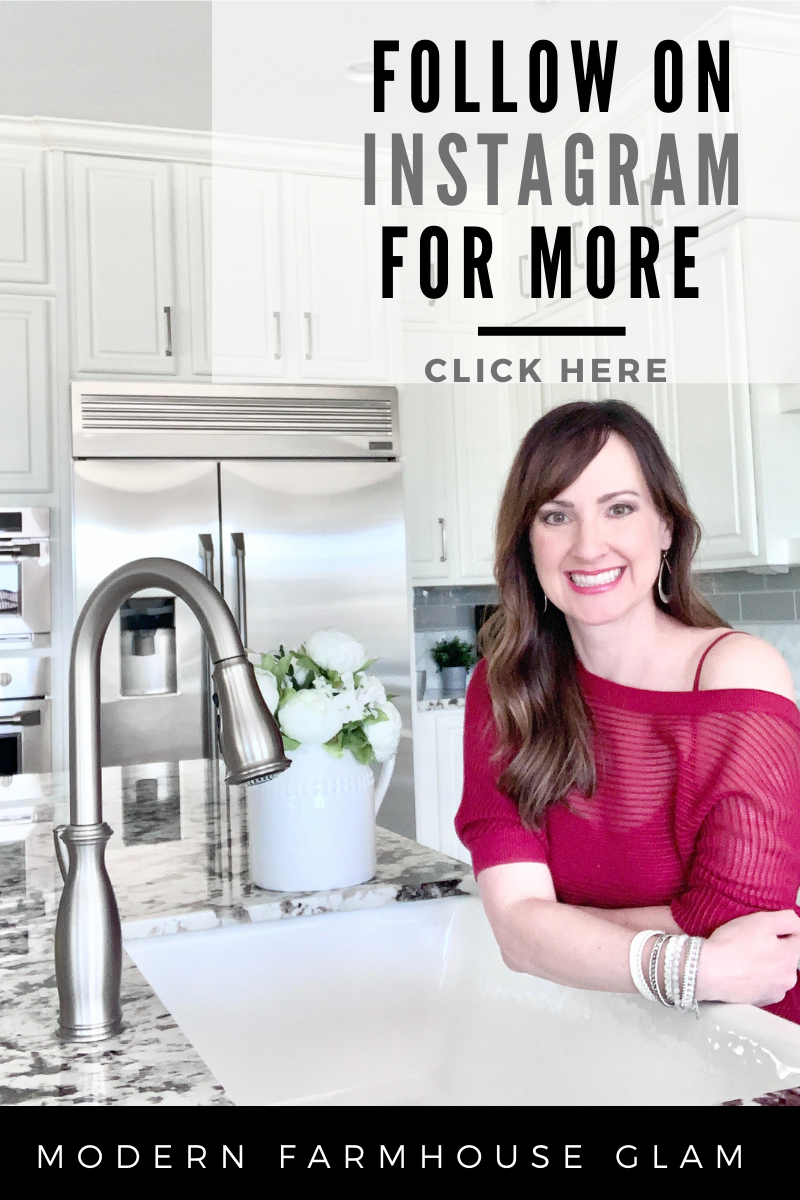 Let's get SOCIAL!
Follow Modern Farmhouse Glam on:
Instagram: Instagram.com/modernfarmhouseglam
TikTok: www.tiktok.com/@modernfarmhouseglam
Pinterest: www.pinterest.com/modernfarmhouseglam
YouTube: www.youtube.com/channel/UCopIYixxloEoMvikinYgeqA
Amazon Shop: www.amazon.com/shop/modernfarmhouseglam
Glam Girl SHOP & Blog: www.ModernFarmhouseGlam.com
Shop my Home & Closet: www.liketoknow.it/modernfarmhouseglam
WORK WITH ME! FOR BUSINESS INQUIRIES email: [email protected]#modernfarmhouseglam #cozyhome #homedecorblogger #myhomevibe #howtodecorate #homedecor #homedecorating #masterbedroom #diyhome #dreamhome #customhome #doingneutralright #studiomcgee #moderfarmhouse #myhousebeautiful #homestyling #moderfarmhousestyle #hgtv #interiordesigntips#bhglivebetter #fixeupperstyle #familyroomdecor #neutraldecor #homegoals #newhome #homedecorinspo #springdecor #modernfarmhousestyledecor