Here is the Moody DIY Board in Batten Wall that I created in our Teen Room.  I'm loving the new dark charcoal grey color and the dimension that the wood trim created! I'll provide as much info as I can so that you can create this wall in your home!  This project is level EASY! Great beginner's DIY project.  I think the trickiest part is the measurements. You may need a few trips back to Lowes or Home Depot lol! Don't all home projects require at least several unexpected trips back? Let me know if you have any questions in the comments on my Instagram post.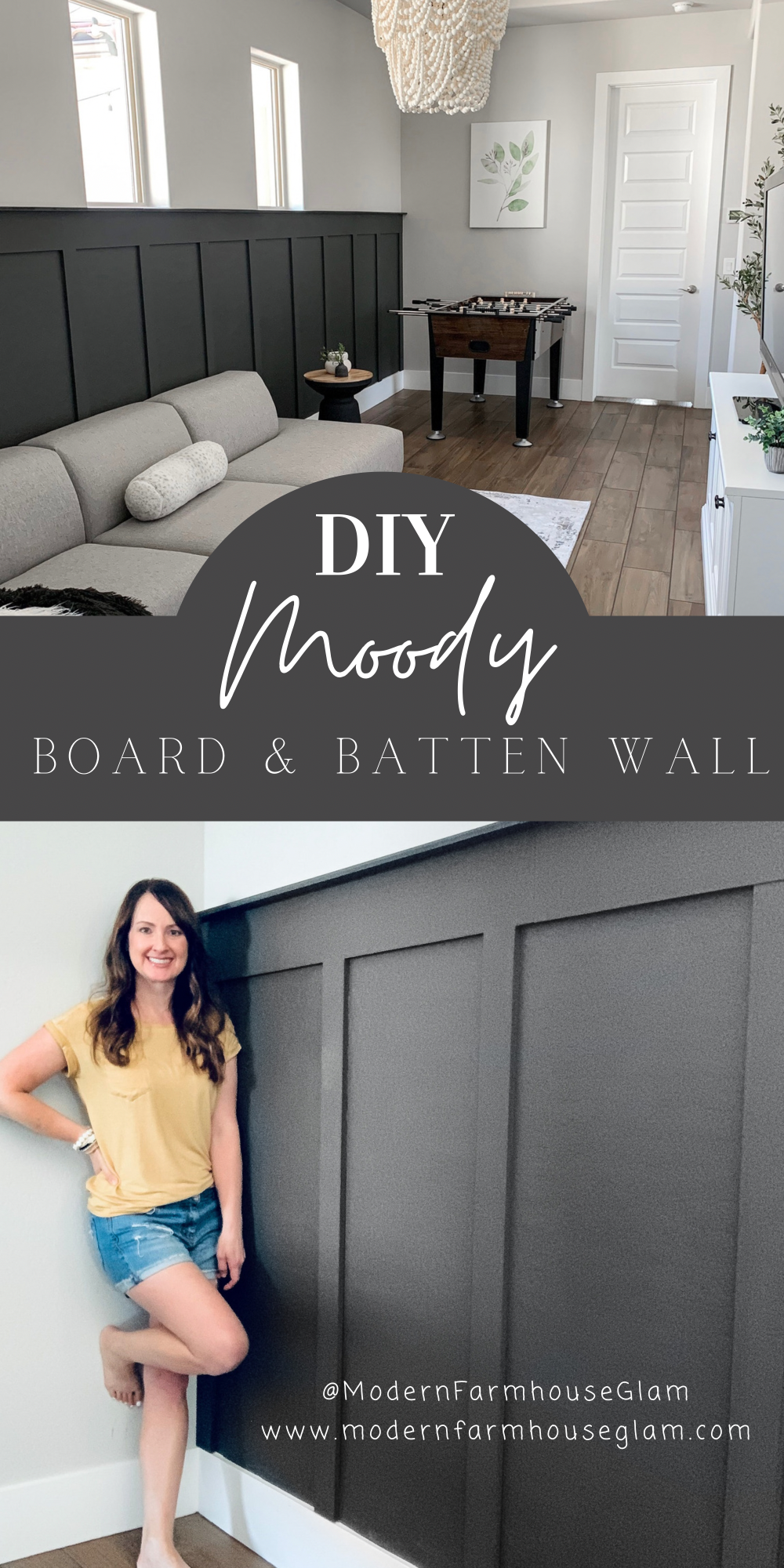 Here's the measurement that I used. The lengths and spacing will vary, depending on your wall space.  It's important to decide your spacing based on avoiding the outlets so that you don't have to make extra unnecessary cuts!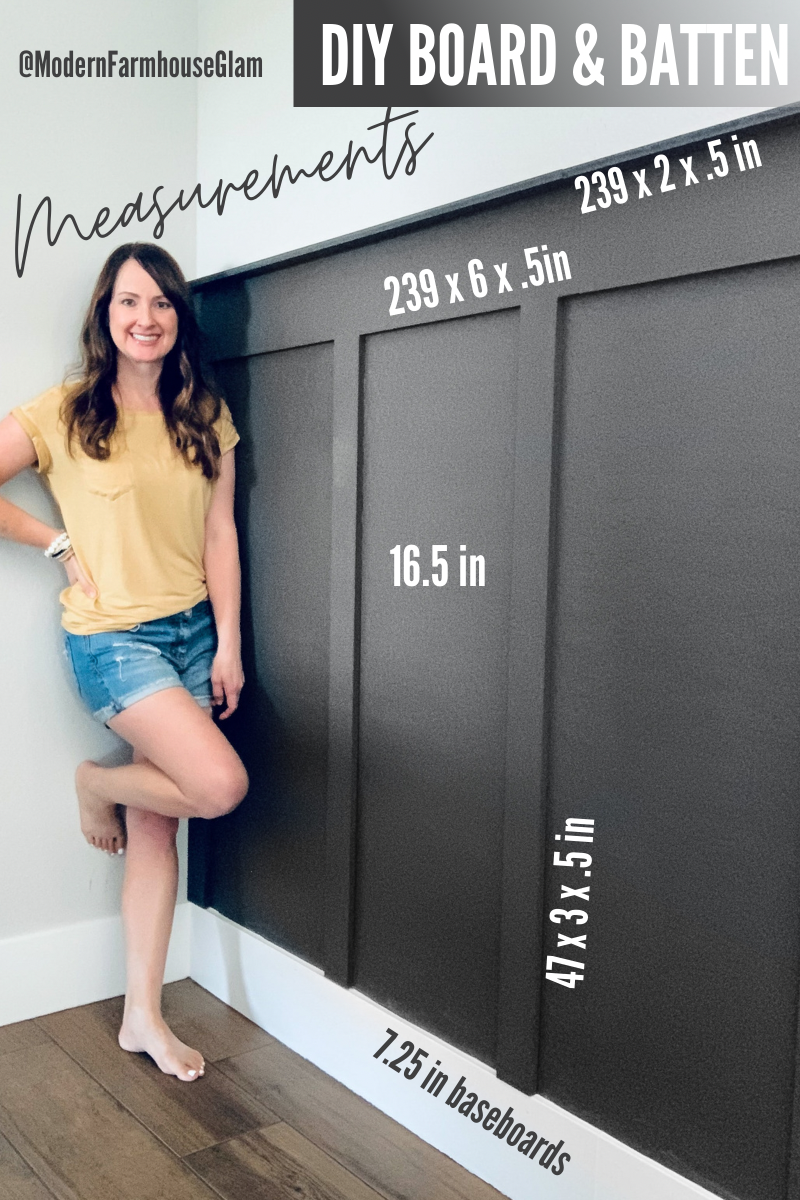 MATERIALS & TOOLS NEEDED:
CLICK THE PIC TO PURCHASE THESE ITEMS ON MY AMAZON STOREFRONT. THEY ARE LISTED UNDER DIY PROJECTS, TOOLS, AND CRAFTING.
YOU'LL NEED:
Nail gun and compressor or cordless nail gun
MDF board(s) I used two for my project  (I'll show a pic of what I bought)
Caulk or spackle
Level
Paint (My exact dark charcoal paint and light grey paint above it are both linked)
My fave paint brush for cutting in on the trim so that I don't have to tape it off.
General paint supplies like roller, drop cloth, blue tape, etc.
Punch tool for nails that don't go the whole way in/flush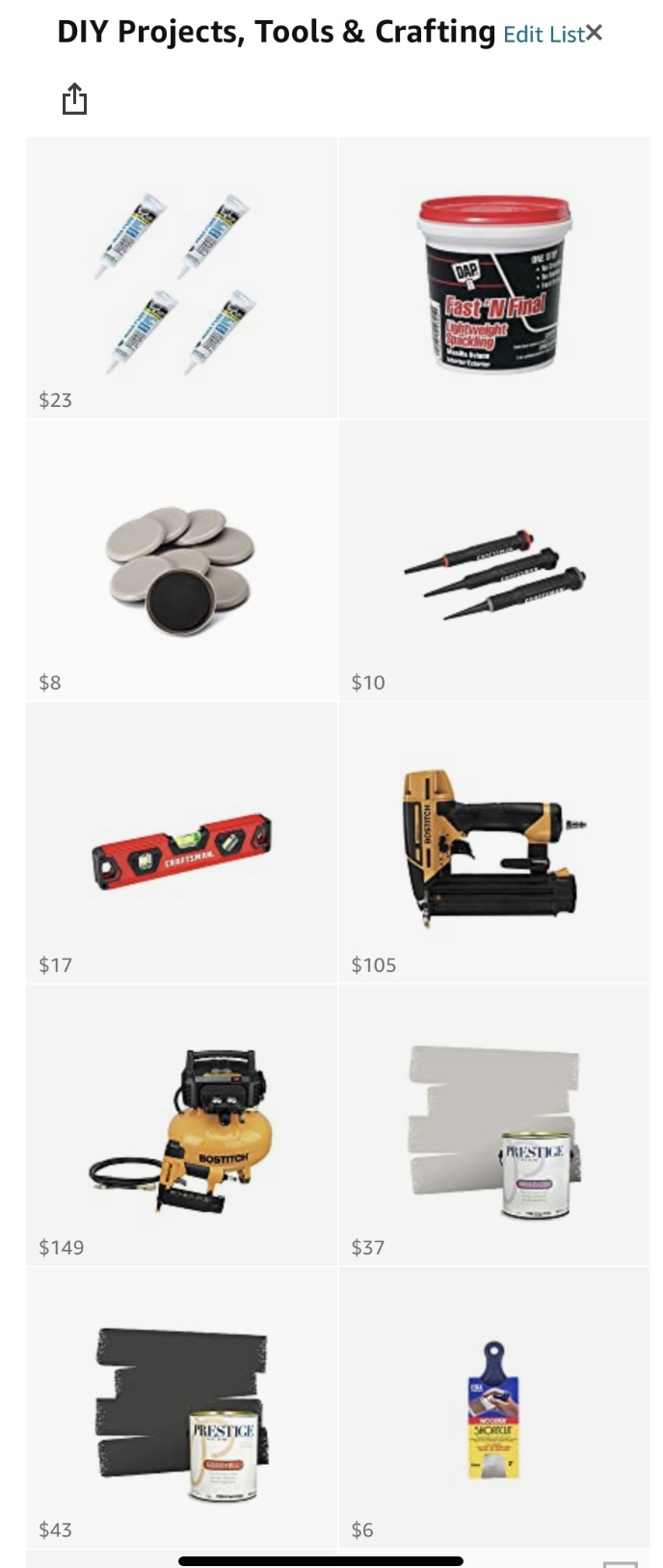 Click on the pic above for my sources and links to my paint.  The moody black color is Sherwin Williams Iron Ore and the light grey paint color is Sherwin Williams Repose Grey.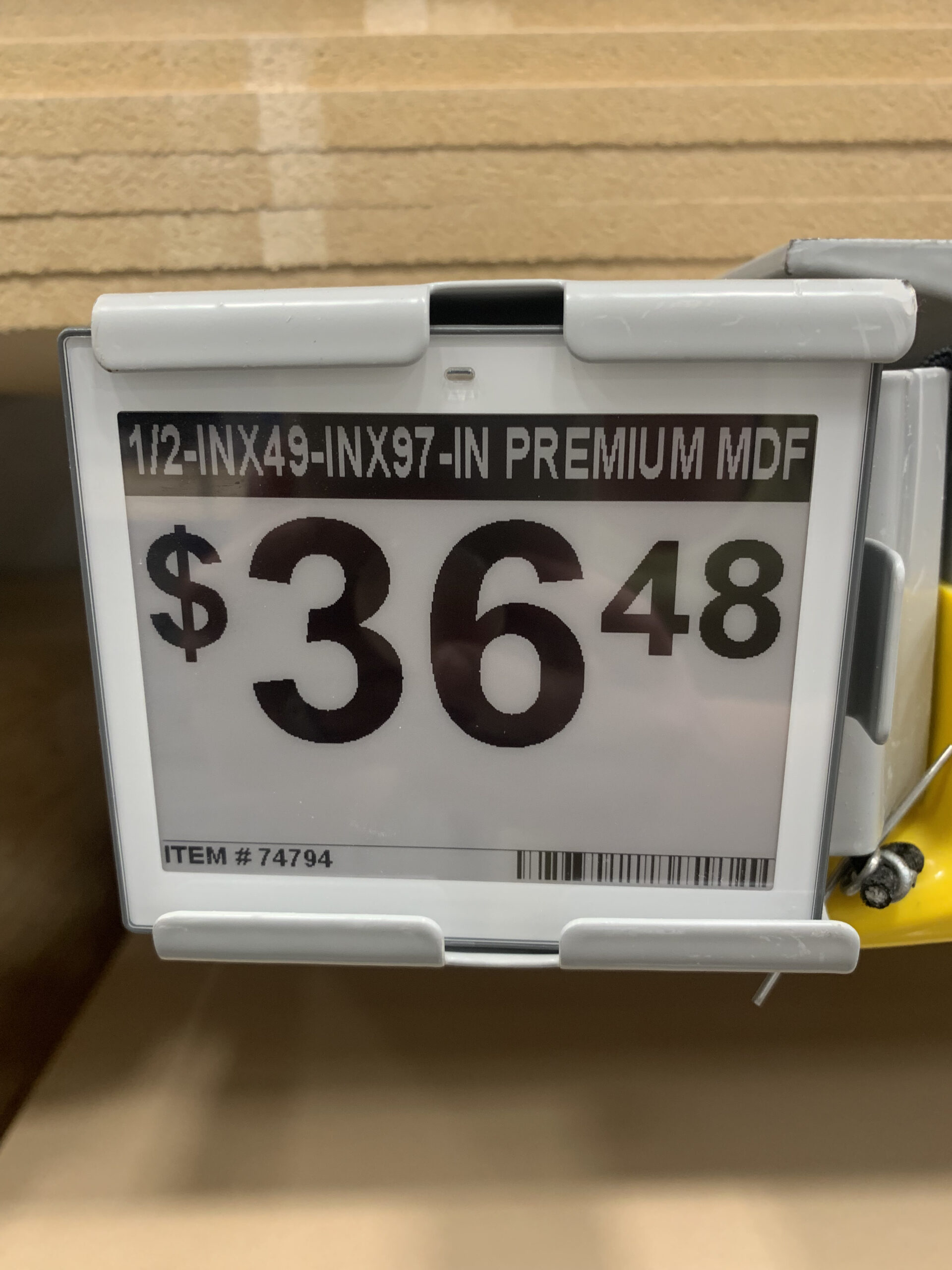 They made my cuts for free, which saved so much time and effort! Yay!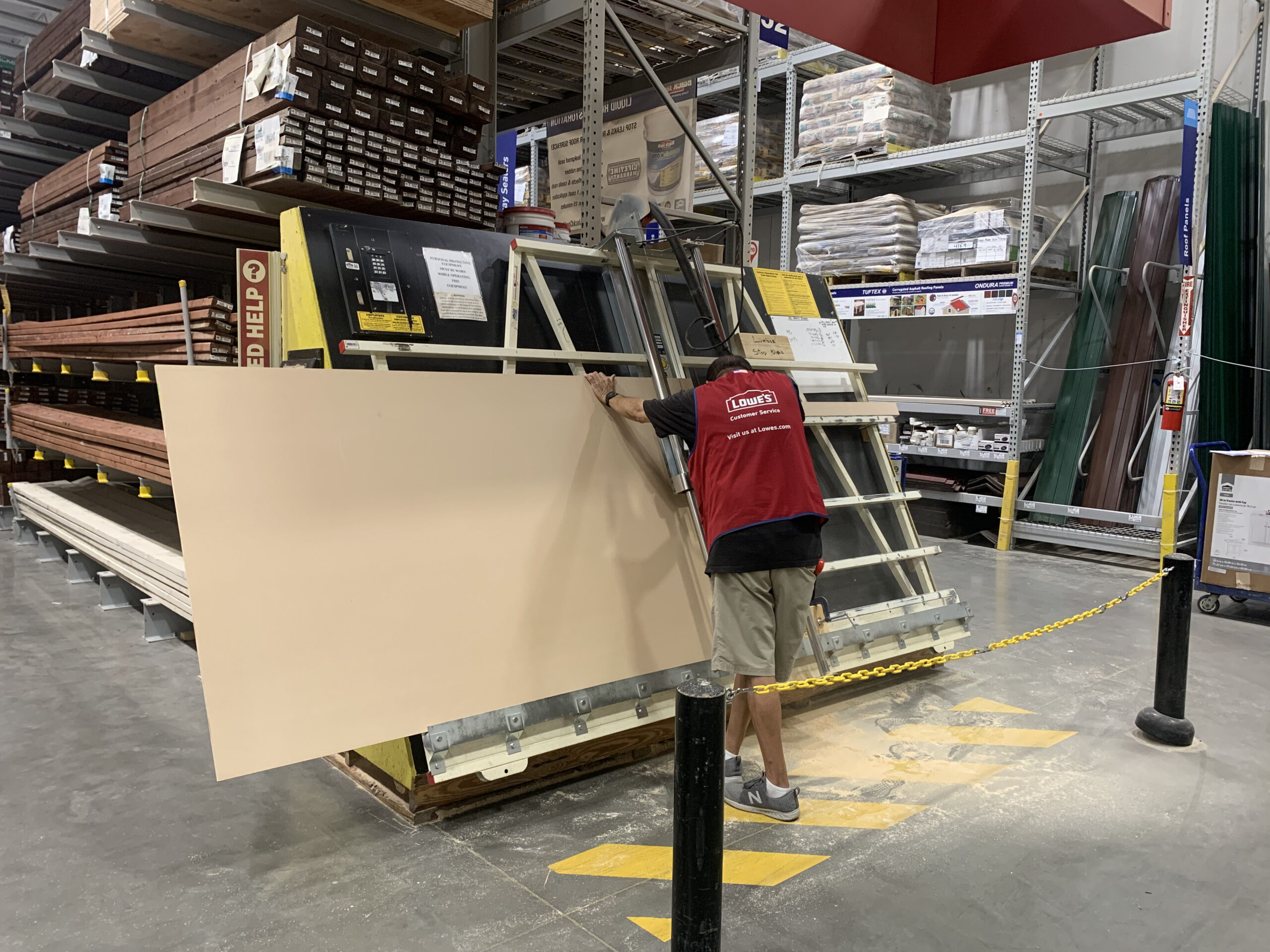 CLICK ON THE PICTURE FOR SOURCE LINKS FOR MY FURNITURE, RUG, LIGHTING, AND HOME DECOR ITEMS. NOTE THERE ARE TWO DIFFERENT RUGS SHOWN.  Which one do you like better? You can get 60% off either rug and site wide with my RUG LINK HERE and coupon code MFG60.
CLICK ON THE PICTURE FOR SOURCE LINKS FOR MY FURNITURE, RUG, LIGHTING, AND HOME DECOR ITEMS.
USE THE RUG LINKS PROVIDED PLUS MY COUPON CODE MGF60 FOR 60% OFF SITEWIDE.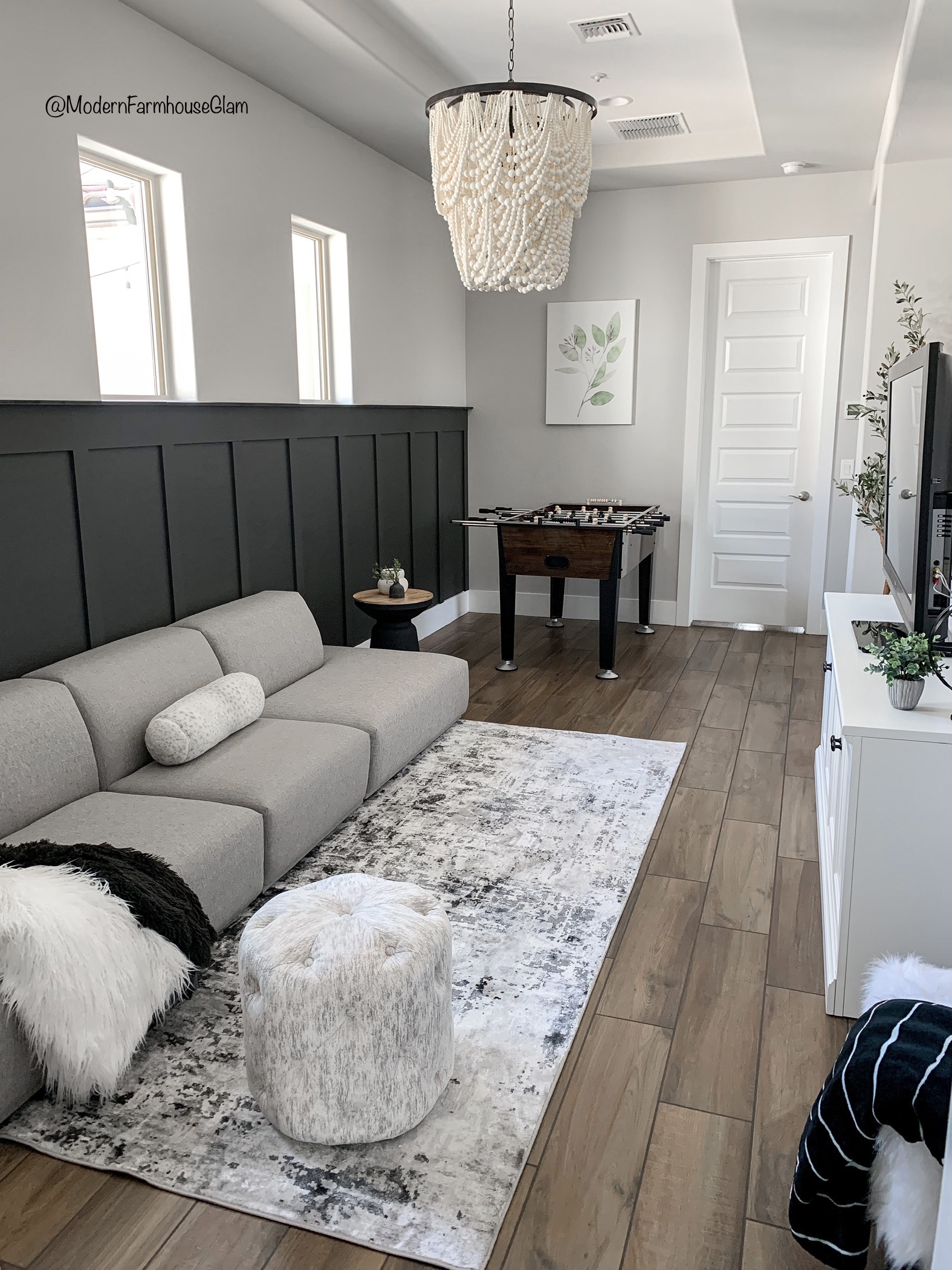 CLICK ON THE PICTURE FOR SOURCE LINKS FOR MY FURNITURE, RUG, LIGHTING, AND HOME DECOR ITEMS.
WHICH RUG DO YOU LIKE BETTER? DARKER OR LIGHTER? You can VOTE on my TikTok Video for Rug #1 or #2!
FAQ:
Are your walls textured?
YES, all of our walls are textured and I leave them that way. I don't find it necessary to take that extra step to put up a board to make them flat. Not worth it in my opinion. Plus, I think it actually matches better with the upper part of wall that is textured. Personal preference, no right or wrong answer here.
If you have any questions, put them on the comments of my Instagram post with this DIY Wall so that I can answer them for everyone to see.
HOPE YOU ENJOYED THIS TUTORIAL! YOU CAN DO IT!
TAP on the pic or HERE for shopping links!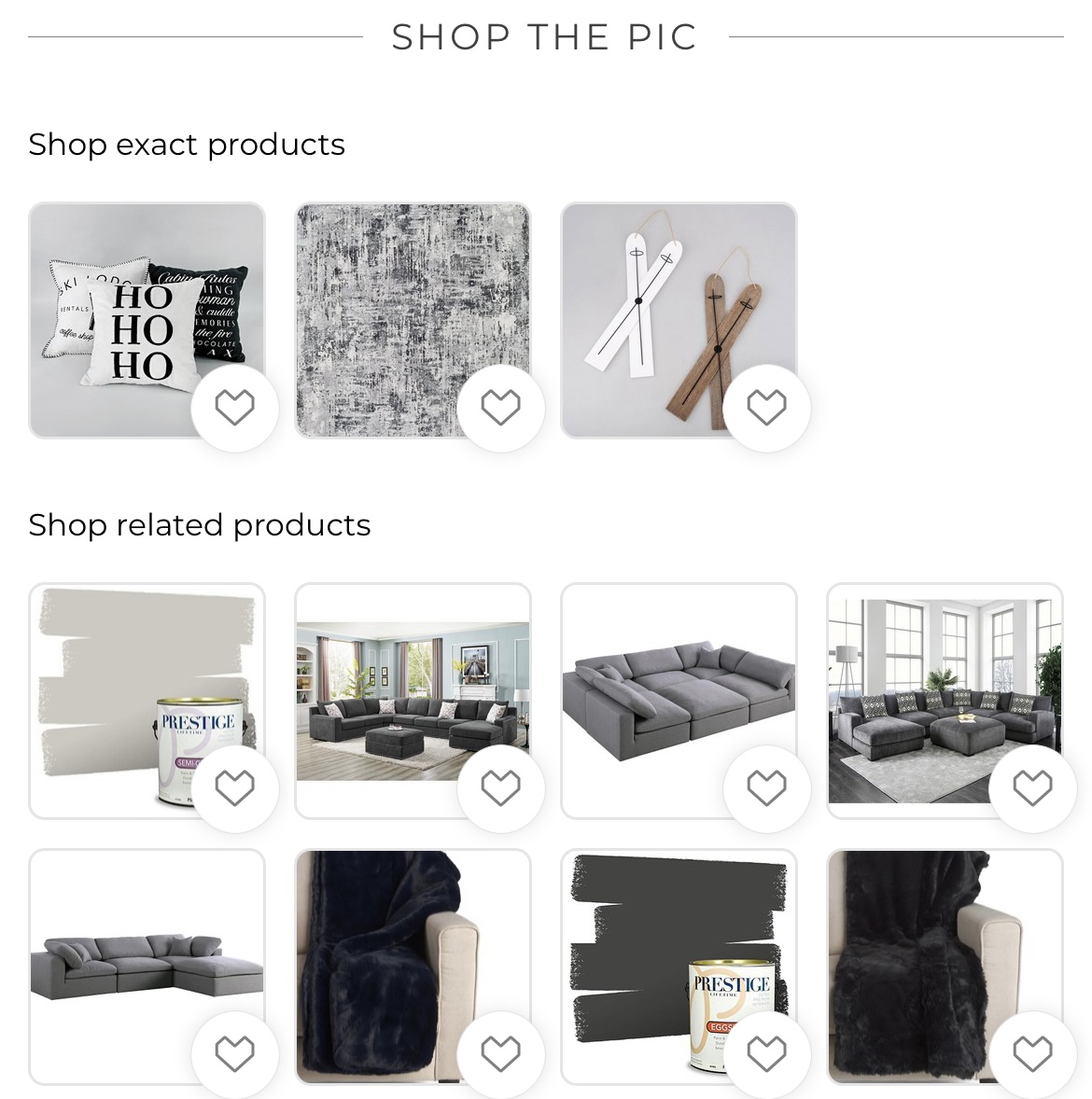 ---
Here is a pic with the new game table that we madeover! Check out my Reel and stories on Instagram for all the details. We took a $60 used solid oak table and spray painted it grey and white.  Easy family DIY project and money saver.  Family game nights here we come!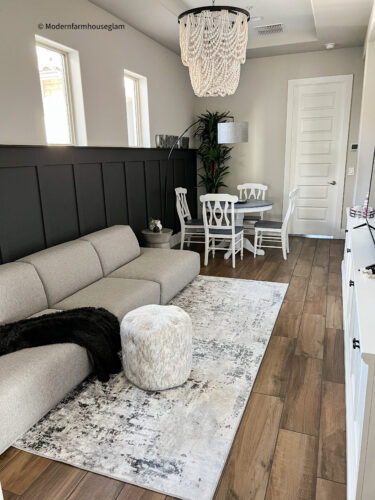 Shop the look! I linked mu beaded chandelier, area rug, media console table, and the spray paint that we used for the table makeover.

This board and batten wall would make a great beginner DIY home project.  If you make own in your home, make sure to tag me or DM on Instagram. I would love to see how yours turns out!
XO-Amy
Modern Farmhouse Glam
---
YOU MAY ALSO LIKE:
DIY BOARD & BATTEN WALL IN OUR MASTER BEDROOM
DIY PEEL AND STICK WALLPAPER IN OUR OFFICE
---
IMPORTANT LINKS
SOURCE LINKS:
Shop My Home: www.modernfarmhouseglam.com
Follow me on the LTK app for sources at: www.liketoknow.it/modernfarmhouseglam
Amazon Shop: www.amazon.com/shop/modernfarmhouseglam
Let's get SOCIAL! Follow Modern Farmhouse Glam on:
Instagram: Instagram.com/modernfarmhouseglam
Glam Girl SHOP & Blog: www.ModernFarmhouseGlam.com
Shop my Home & Closet: www.liketoknow.it/modernfarmhouseglam
TikTok: www.tiktok.com/@modernfarmhouseglam
Pinterest: www.pinterest.com/modernfarmhouseglam
YouTube: www.youtube.com/channel/UCopIYixxloEoMvikinYgeqA
Amazon Shop: www.amazon.com/shop/modernfarmhouseglam
WORK WITH ME! FOR BUSINESS INQUIRIES email: [email protected]
Disclosure: I may earn a commission from purchases using my links. This does not cost you anything extra and it helps support my page and the free content and tutorials that I create. Thank you so much for your support!
Modernfarmhouseglam.com is a personal blog written and published by Amy Long. Amy Long and Modern Farmhouse Glam LLC are not liable for the outcome of DIY project tutorials and advice provided. Information provided on this website should be considered opinion and Amy Long/ MFG is not responsible for results or liability. Modern Farmhouse Glam sometimes gets commission or compensation for sponsored posts, reviews, advertising, and affiliate links, but it does not affect the purchase price of an item to a customer. All images and content belong to Modern Farmhouse Glam.