Want an EASY DIY to transform any room? Here's the Peel and Stick Wallpaper I just completed in my home office. I also have some pics and videos of the Peel and Stick Wallpaper I DIY'd in our GAME ROOM below!
It's an easy DIY transformation for any room! I'm loving this peel and stick wallpaper because it's so easy to install and remove. I was able to complete this project in a couple of hours! Which one of your room a could use a little refresh?
I did this board and batten wall previously using lattice strips, which was so easy. I have a saved highlight on Instagram @modernfarmhouseglam called DIY Office Wall if you'd like to see the tutorial.
Here's the 15 second VIDEO of me installing the peel and stick wallpaper in my office. Follow Modern Farmhouse Glam on Instagram and TikTok for more fun home decor and DIY videos to get ideas for your home!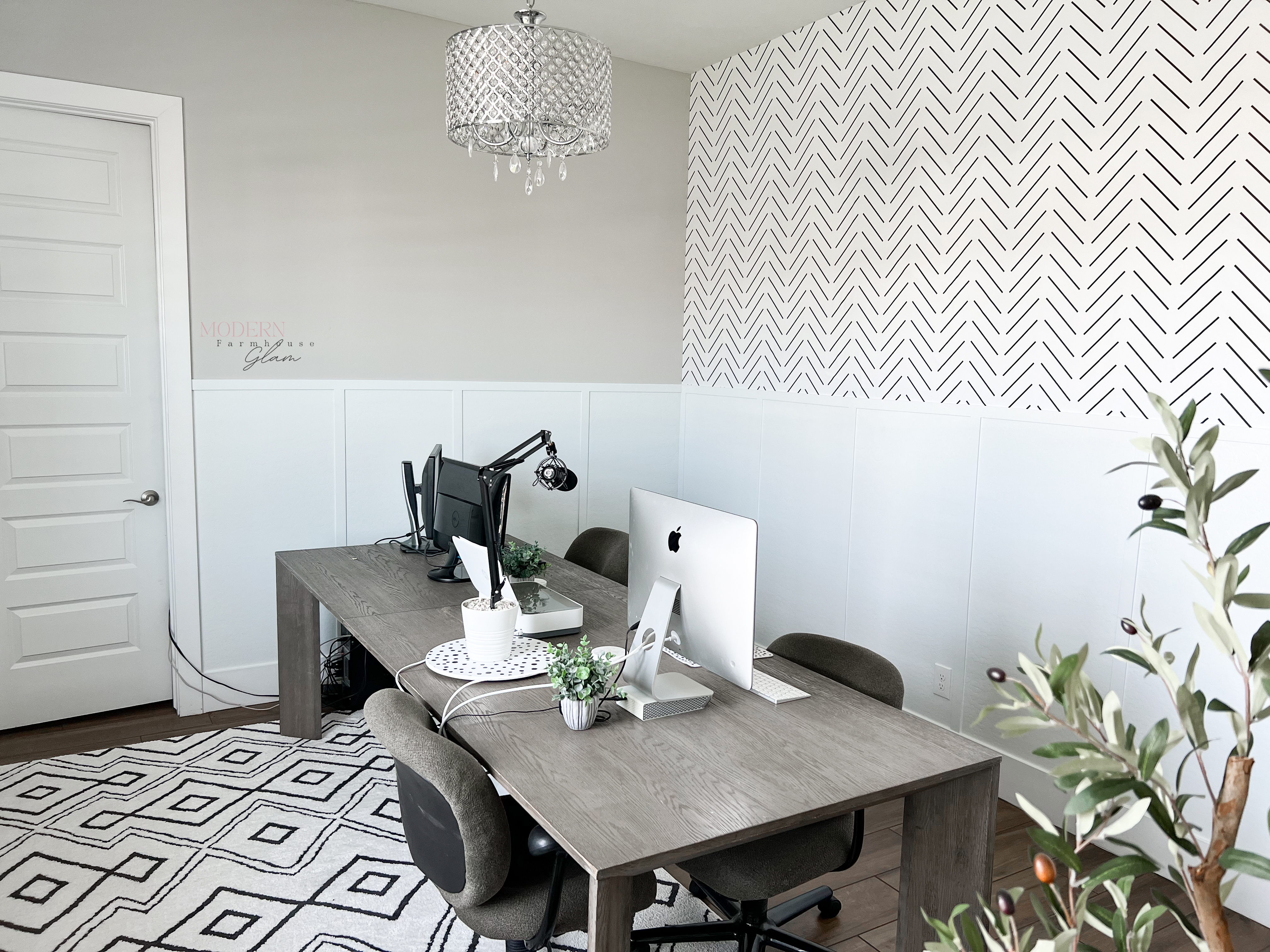 BEFORE: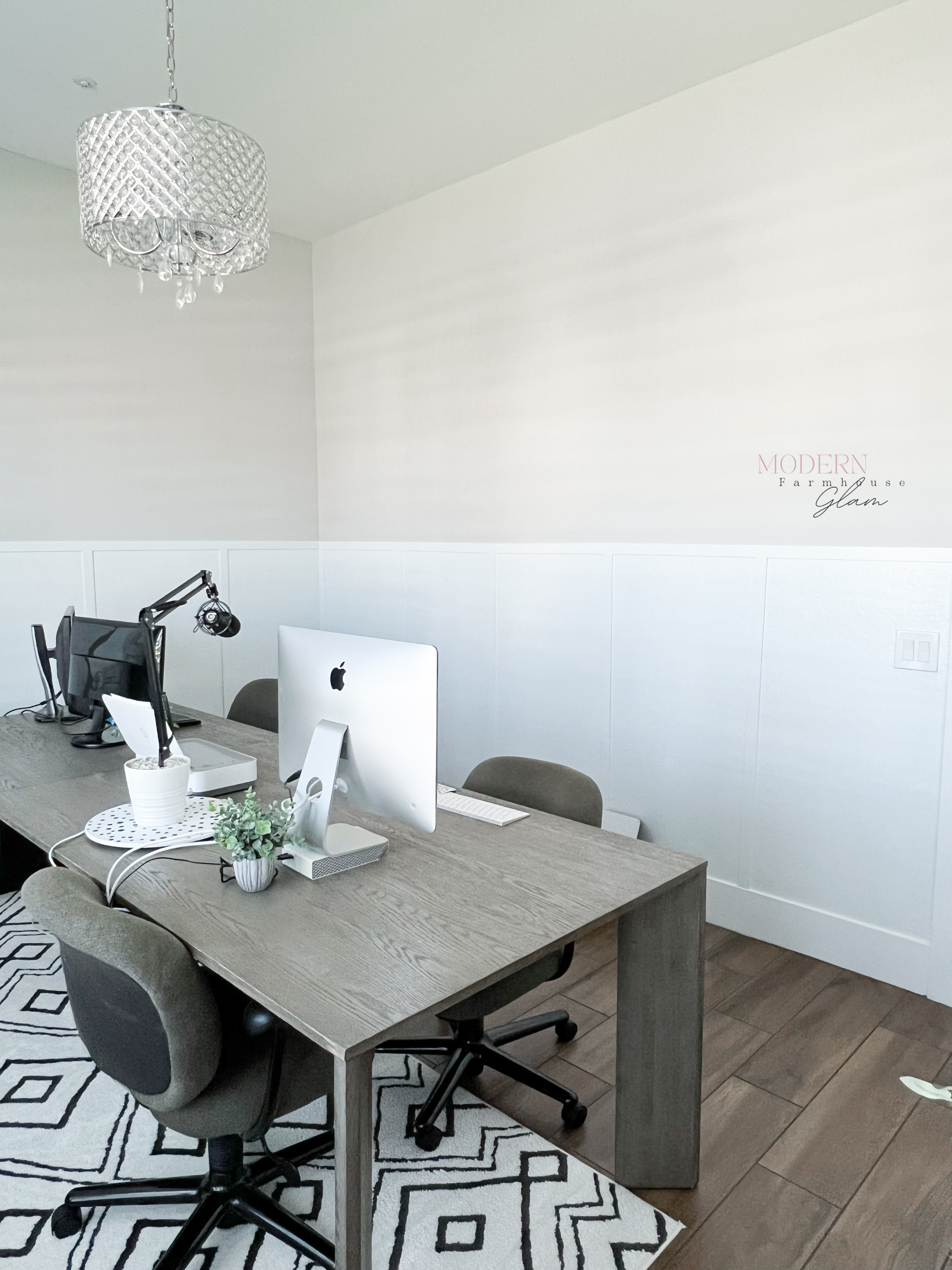 Lining up the first panel is the most important piece because everything else will follow it.  Make sure it is level! You can stick and restick this wallpaper and it will not damage the walls. Match the black lines with the second panel and the ones to follow.  I overlapped each panel by about an inch.  I also went over by about a half inch on the side edges and ceiling and then used my blade to create a straight edge.
TOOLS NEEDED: wallpaper, level, smoother, blade, and scissors
The trickiest part was going around the door frame, but it was still easy.  The wallpaper was great quality and pretty forgiving.  Make sure the blade on your knife is sharp, that makes a huge difference.
I used this smoothing tool to not only help get out the bumps, but also as a guide when cutting across the wood trim to get a straight line with my blade.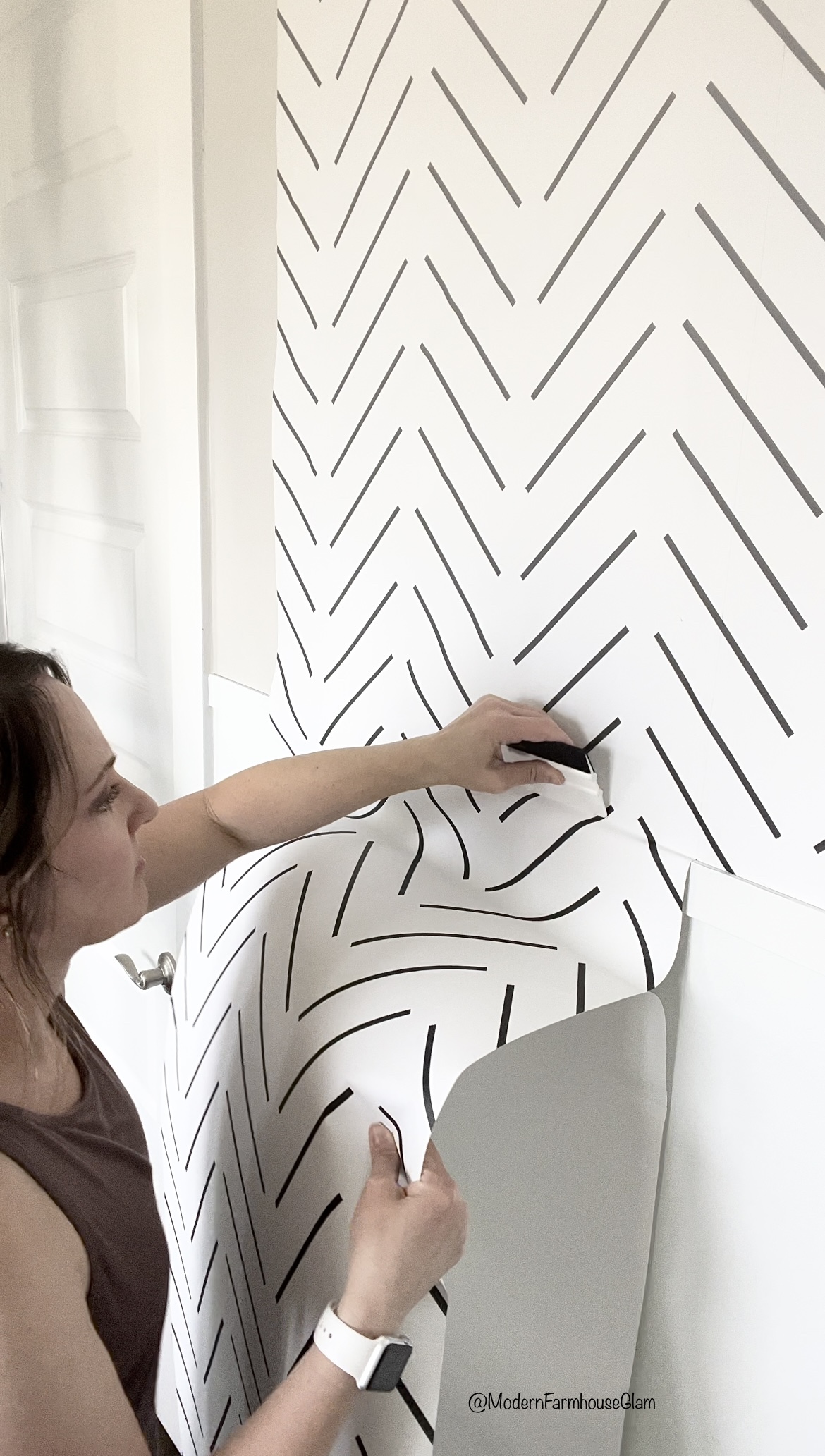 Halfway through selfie!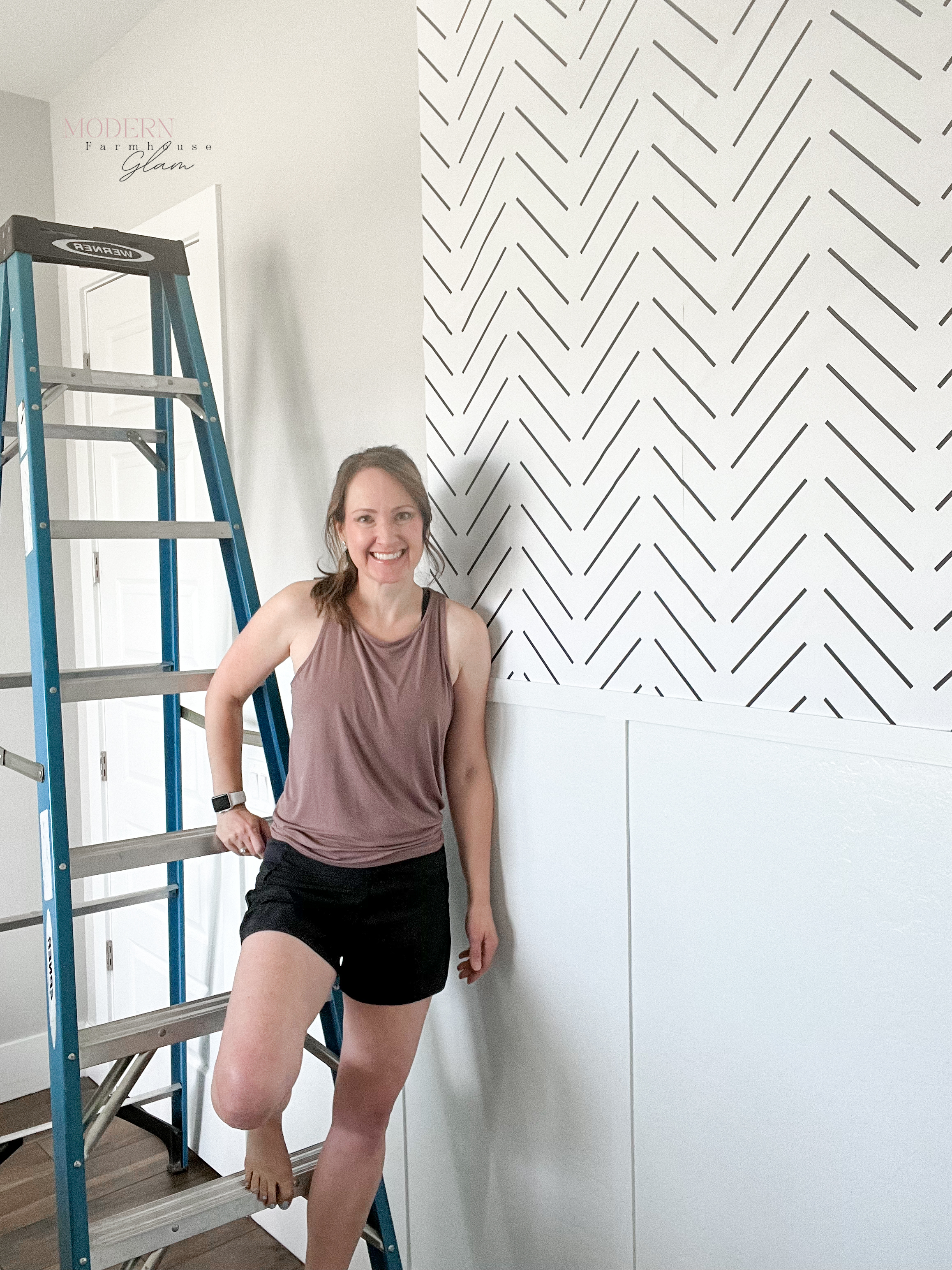 Doesn't my home office wall  look more complete now? The rug that I have in this room was the inspiration for the wallpaper pattern.  It really brought the look all together.
I love the look of black and white with warm wood floors, don't you?
My peel and stick wallpaper is from Love vs Design. They have so many different options to choose from and you can customize the color for any pattern. I chose a white background and charcoal for the lines. The pattern is called Big Chevron.
Feel free to DM on Instagram if you have any questions! Good luck with your peel and stick wallpaper project in your home!
LINK TO MY LIGHTING FIXTURE, RUG, OLIVE TREE

Here is the peel and stick wallpaper that looks like real BRICK that I did in our Game Room.
Here is the link to my EXACT BRICK LOOKING PEEL AND STICK WALLPAPER.
It cost approximately $200 to do this whole wall. It was an easy DIY project.  The key is to use high quality wallpaper, like this one.
FAQ: Can I put peel and stick wallpaper over TEXTURED walls? YES! I have done it in three different rooms and it worked out perfectly. You can't see the texture through the wallpaper and it sticks just fine. VIDEO HERE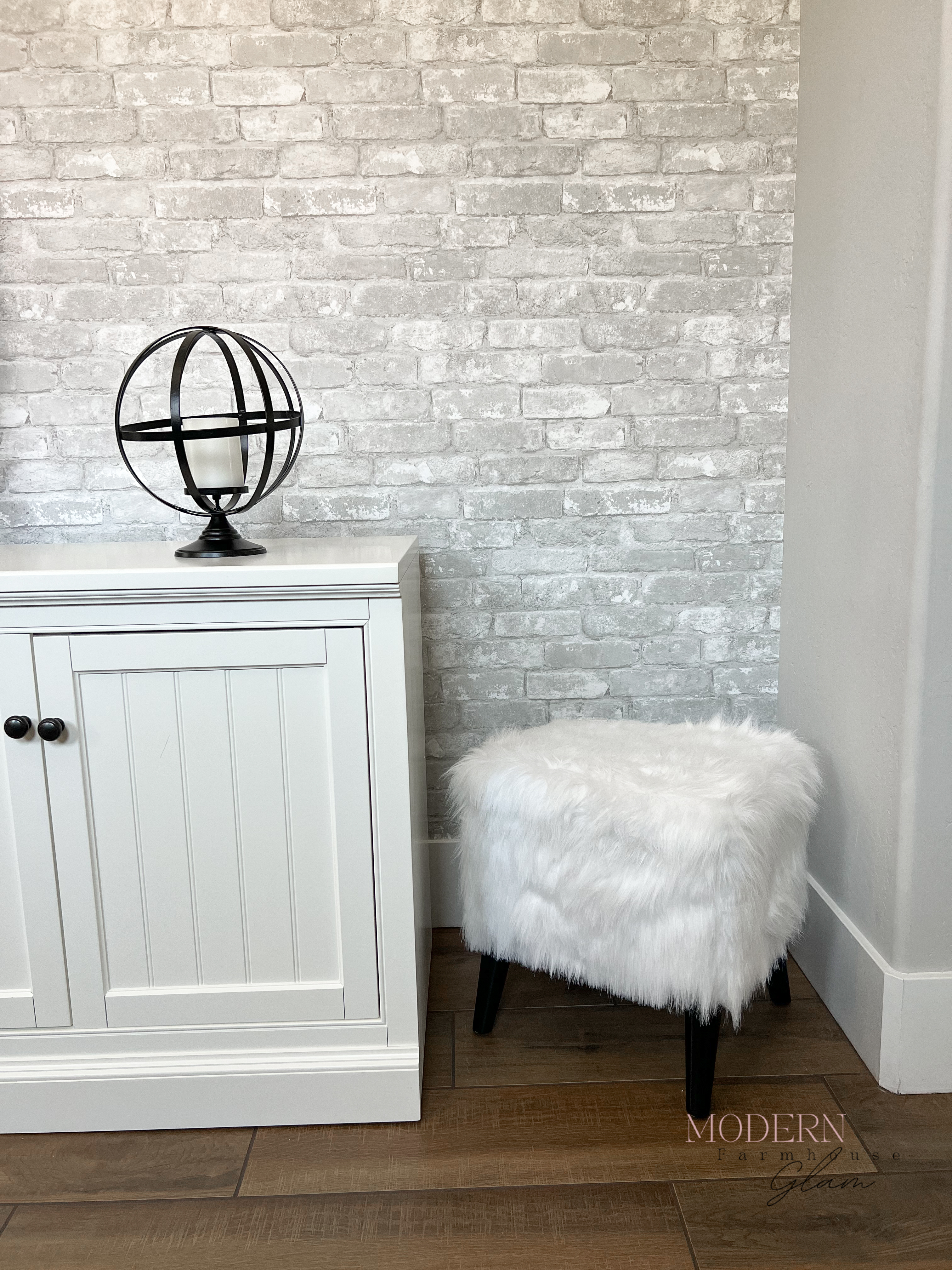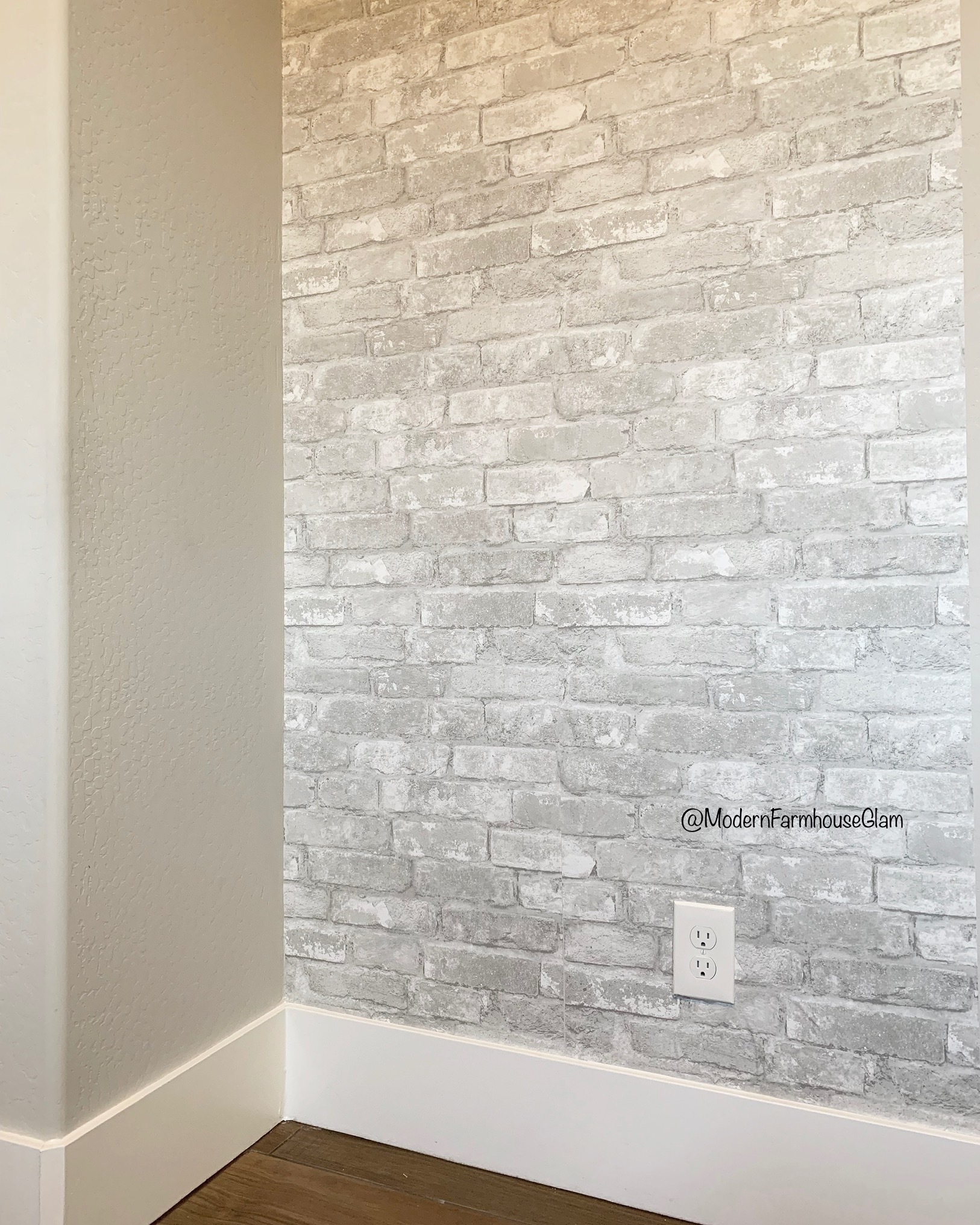 Custom Peel and Stick Wallpaper in our Theater Room
Here the link to the company I used for this custom peel and stick wallpaper.  They also have regular designs, but it's neat to have a custom option!
YOU MAY ALSO LIKE:
Board and Batten Wood Accent Wall DIY in the Master Bedroom
WORK WITH ME! FOR BUSINESS INQUIRIES email: GlamGirl@modernfarmhouseglam.com
#peelandstickwallpaper #roomdesign #homeoffice #wallpaper #boardandbatten #diyhome #diyprojects #homedecor #interiordesign #homerenovation #modernfarmhouse #modernfarmhouseglam #neutraldecor #oneroommakeover #interiors