Durango, CO is a neat little town, about a seven hour drive from Phoenix, and we did a five day vacation there this summer.  Here are the highlights and my tips to help you plan your trip!
Our four favorite parts of our trip to Durango:
1. Train Ride from Durango to Cascade Falls
2. Paved bike path along the Animas River
3. Purgatory Ski Resort- ski lift, alpine slide and coaster
4. James Ranch Grill
After I highlight these four places, I'll give you all the deets on the other things we did in the Durango, Pagosa Springs, and Purgatory area.
We also stopped by Mesa Verde National Park on the way up and Petrified National Forest/Painted Desert on the way home! You can see my VIDEOS on INSTAGRAM STORIES saved to my highlight called Glam Places (5).
1. Narrow Gauge Railroad from Durango to Cascade Falls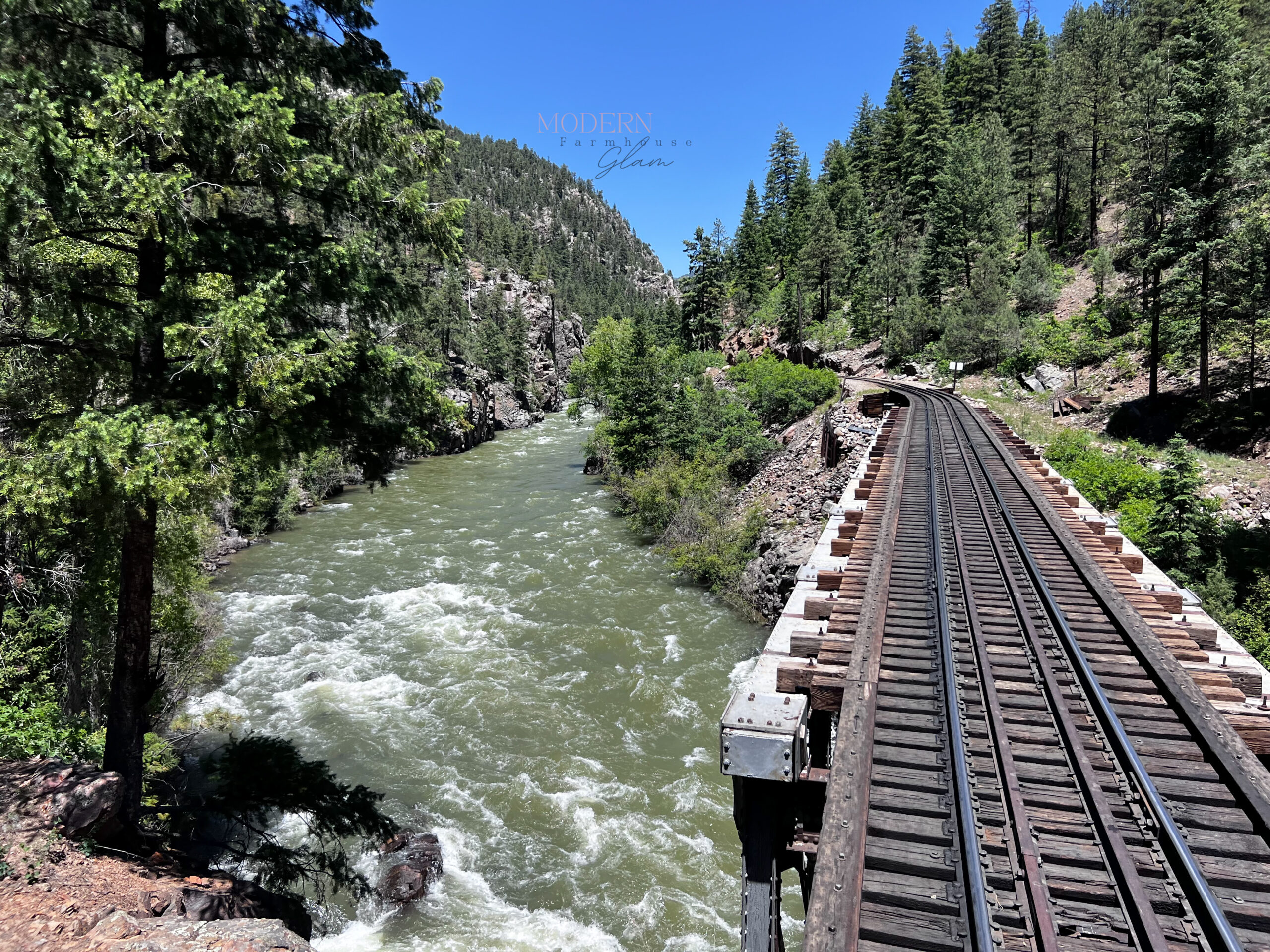 Do this! It's stunning. This train ride is something my family will always remember. You leave all your worries behind and relax aboard the rickey train, going through pine trees, over bridges and through the San Juan National Forest mountains. This train ride originated in the 1880s!
Tip: You can take the train the whole way from Durango to Silverton, but it's like 9 hours long.  I didn't want to be on the train for that long and if we didn't like it, that would be a really really long ride lol.  Seemed a bit risky with the kids, too.  So I opted for the 5 hour ride that goes halfway, which is from Durango to Cascade Falls and back.  Two hours there, and hour break for lunch along the river and then two hours back. It was the PERFECT amount of time for our family.  I'm so glad we did that shorter trip instead of the longer one.
Tip: Make sure you get tickets for the OPEN AIR CAR! It's so much better than the interior cars.  Those looked so boring and stuffy.  You have to have the experience being in the fresh air and with nature.  The train car is covered with a roof, so you don't have to worry about being in direct sun.
Tip: Pack your lunch! They have a refreshment car on the train, but it looked dumb and people had to wait.  We grabbed our lunch that morning at Nature's Oasis Grocery Store and I def recommend that! They had really yummy salads, deli sides, dips, and deserts. We brought a backpack cooler from home and that worked out perfectly for the train ride. We also brought another bag for chips and cookies, etc. After a two hour ride one way, you get off the train and eat at picnic benches along the river, in the woods.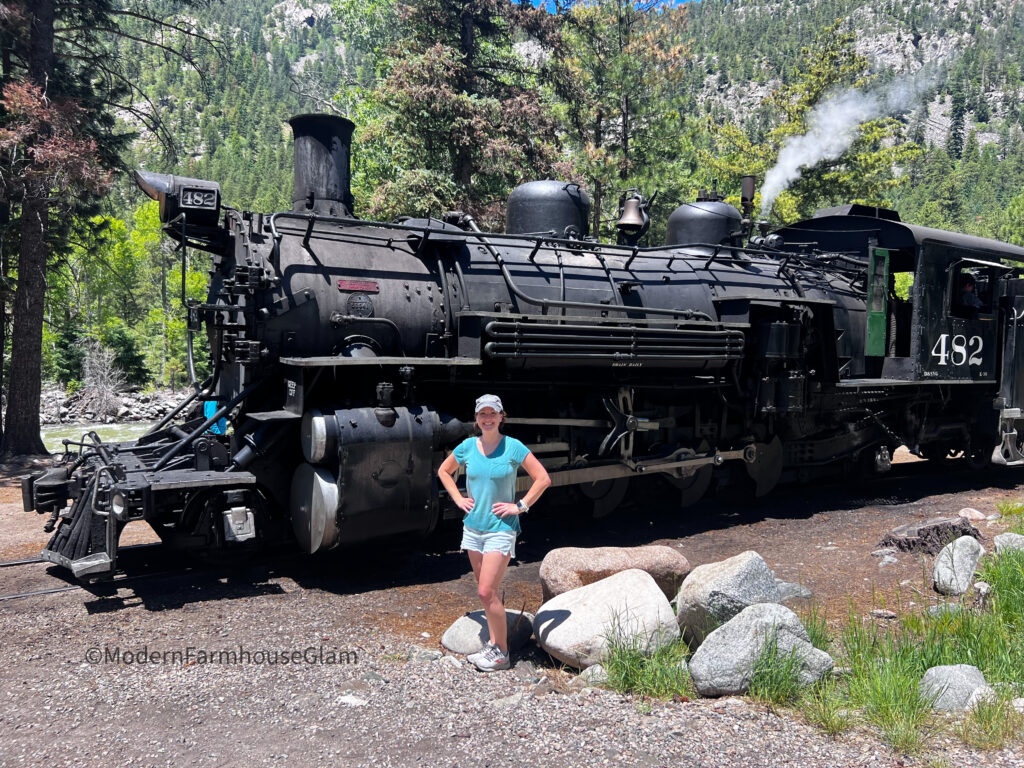 Above is me in front of the train, during our lunch stop at Cascade Canyon.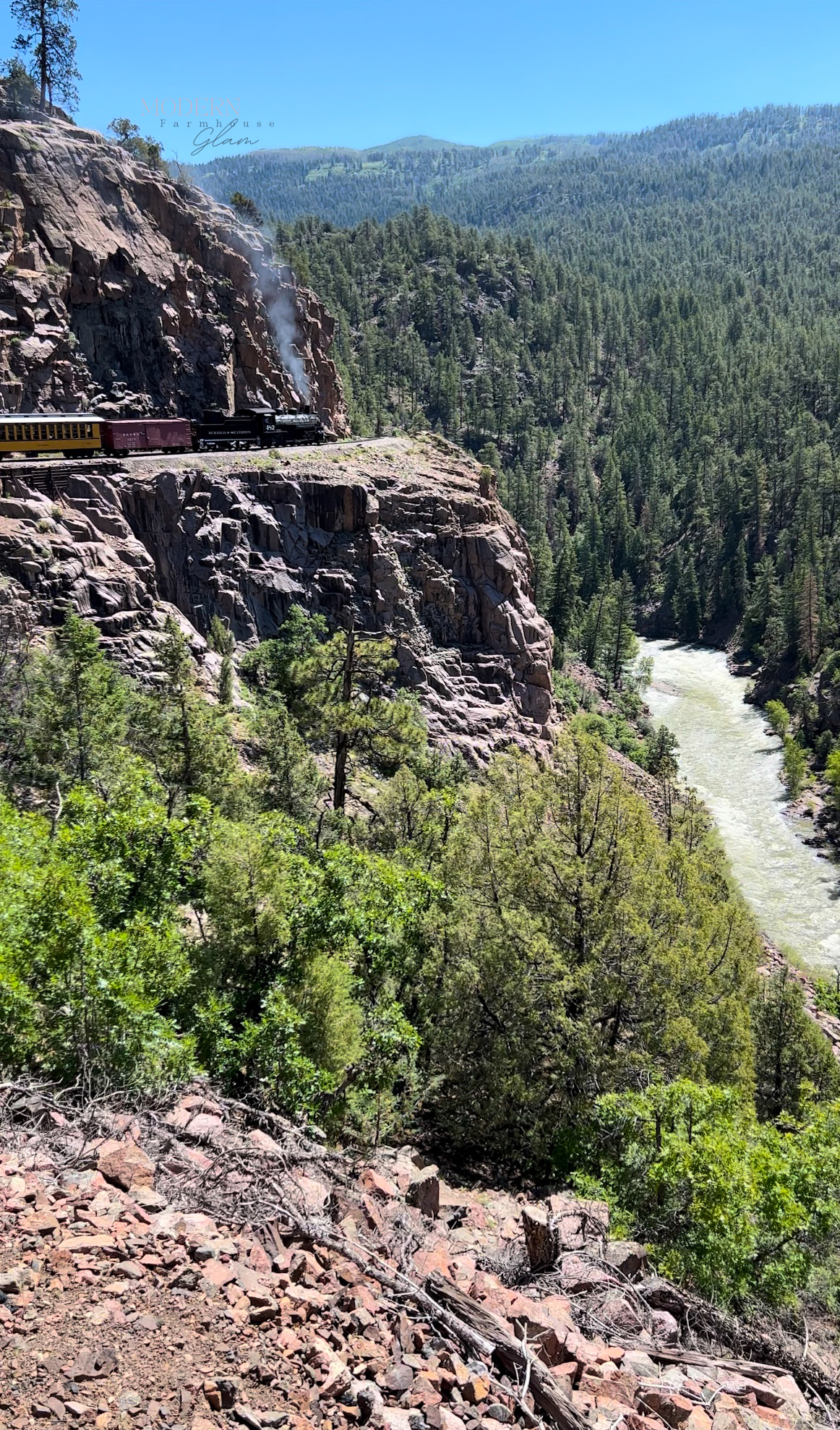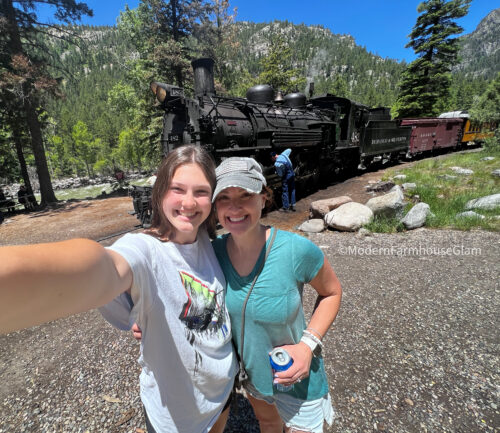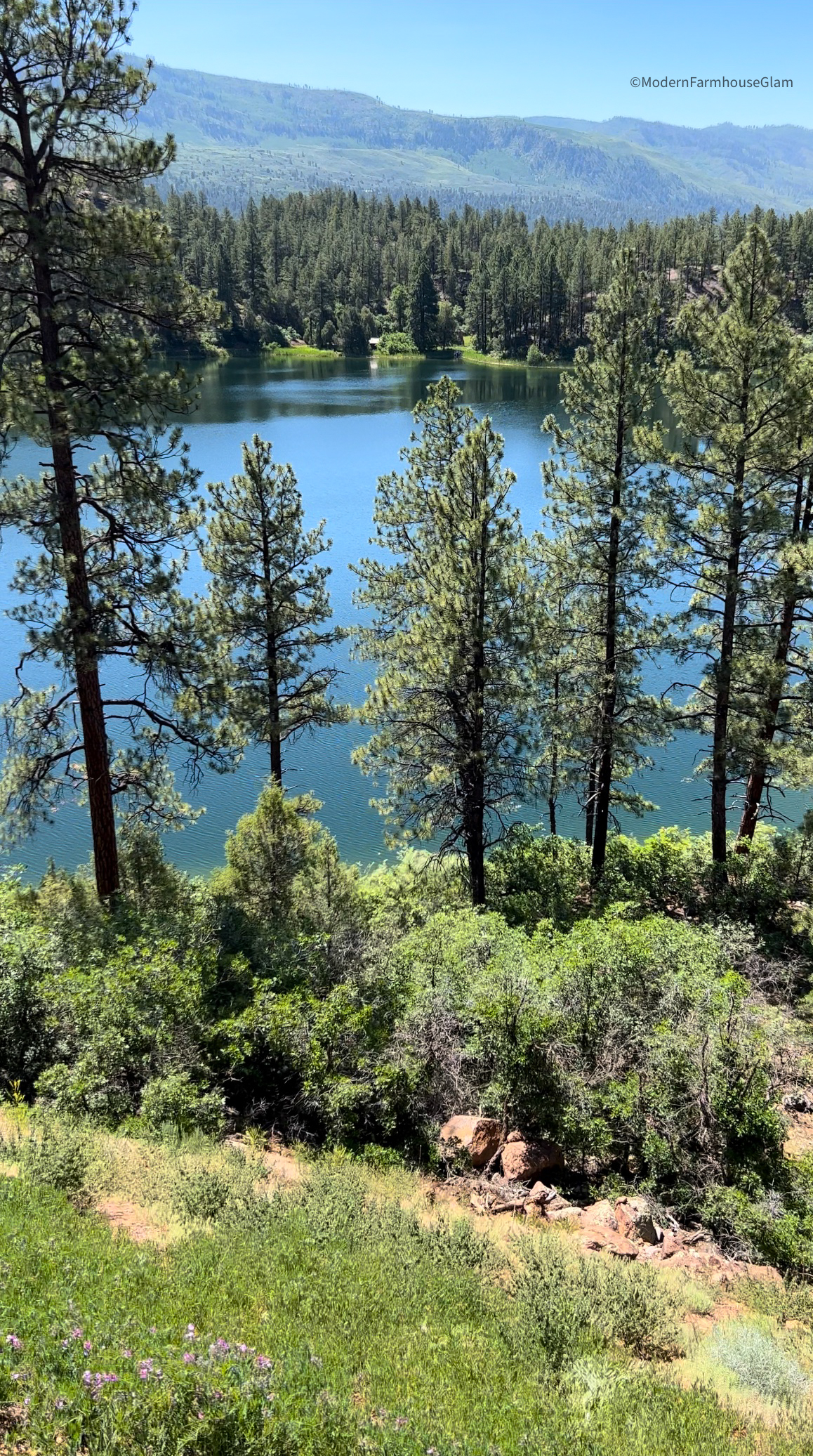 We chugged on the train past this stunning lake! (above) My fam of four loved this train ride! (below)
Animas River Trail:
We loved this paved trail so much that we did it three times! The kids loved it.  We brought our own bikes with us from home (linked below) and hitched them onto my SUV.  The biking/walking seven mile paved trail runs along the Animas River, over several cute bridges, through some tunnels and along the train tracks and wildflowers.
The spot that we liked to enter the trail was at the San Rita Park.  Plenty of parking and good place to get the bikes unloaded and ready.  Very quickly on the trail, you come to the spot where the whitewater rafters and kayakers are braving the water. This spot is actually a sight for the Olympians to train and compete.  It's fun to watch! I'm too chicken to do whitewater rafting, even though I'm a very strong swimmer.  I probably would have been interested in my younger years, but I don't have any desire to do it now.  I'll stick to the bike riding! How about you?
Downside of the trail: it was so sad, disappointing, and frustrating to see some drug addict bums loitering along parts of the trail. Too bad the city won't do something to clean up and fix this mess. I'm sure many families don't use the beautiful trail because of this.  We saw some guy passed out and overdosing on drugs, screaming and cursing and a cop approaching him with no resolution.  It was something my kids have never seen before and I certainly wasn't expecting to see something like that on a pretty bike ride!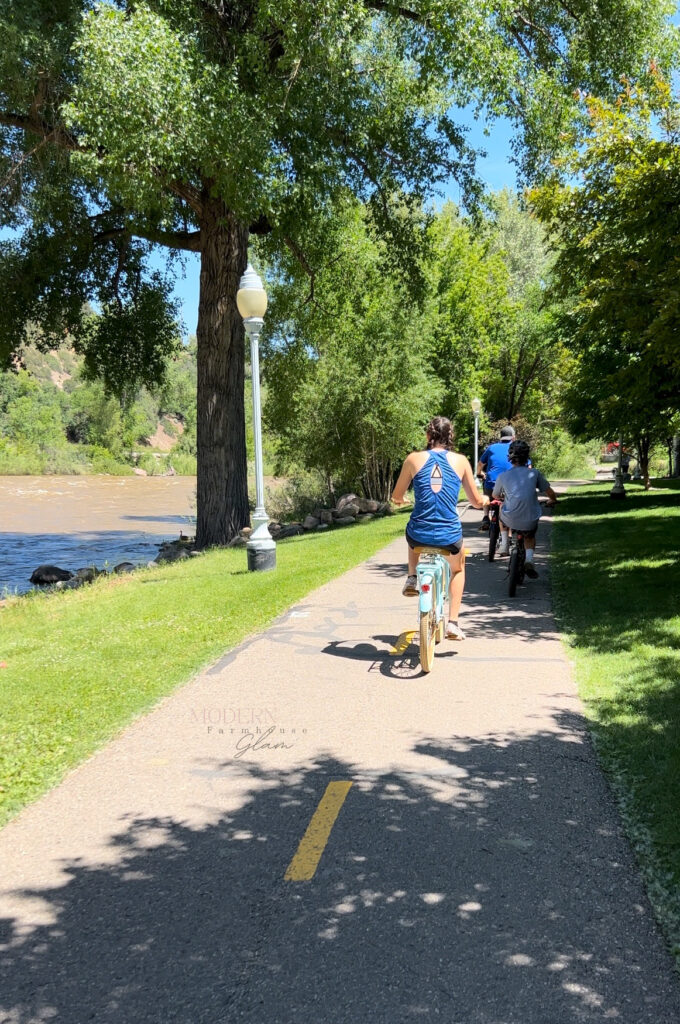 Links to our cruiser bikes and my son's BMX bikes: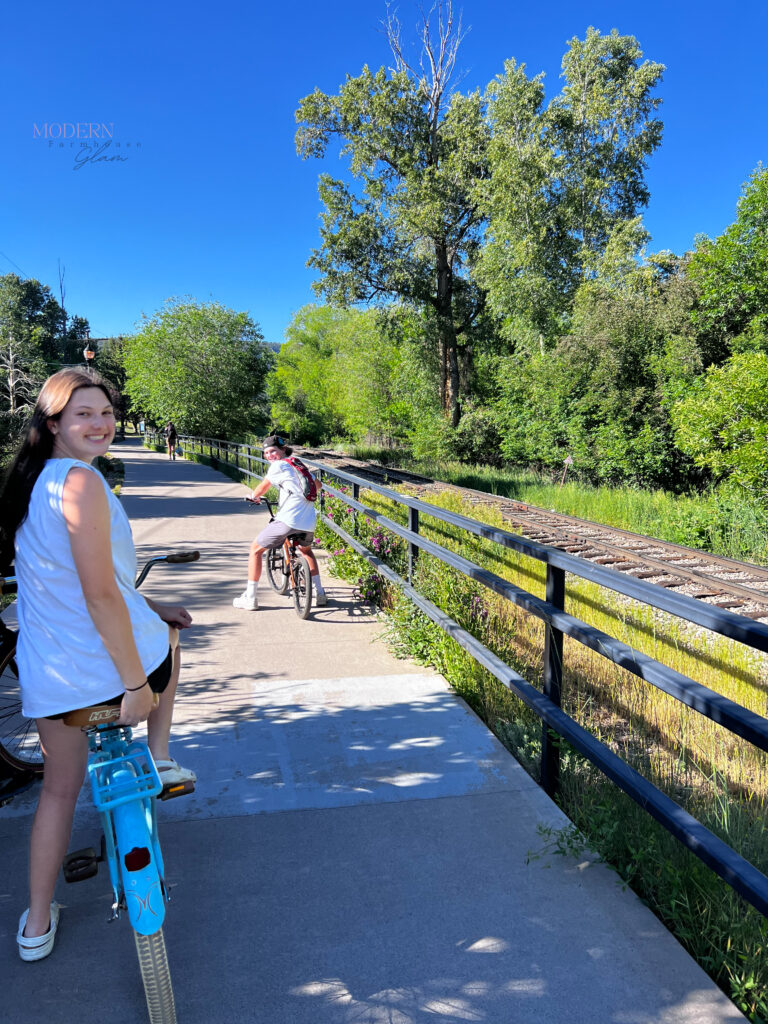 Best buddies. Love these two!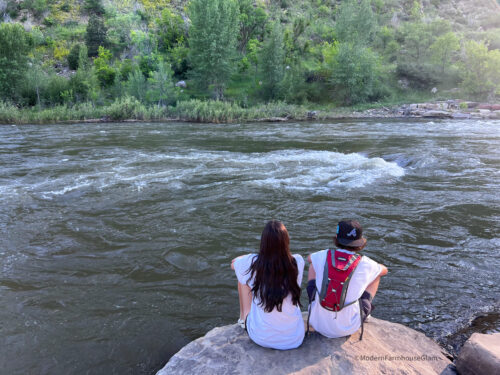 Purgatory Ski Resort:
This is a fun spot for the family since they have a ski lift, alpine coaster and alpine slide.  They also have mountain bike trails, which we wanted to do, but it was so pricey.  Next time we'll bring our own bikes. This ski resort experience is similar to Park City, Utah.  Our favorite ski lift that we have been to is at Sundance, Utah.
The day pass (half day $60) included the coaster, slide, a kayak ride around a small pond, and some REALLY dinky and dumb go-karts…they def misrepresented what these are. You'll see what I mean if you go haha!
We kayaked around the little lake.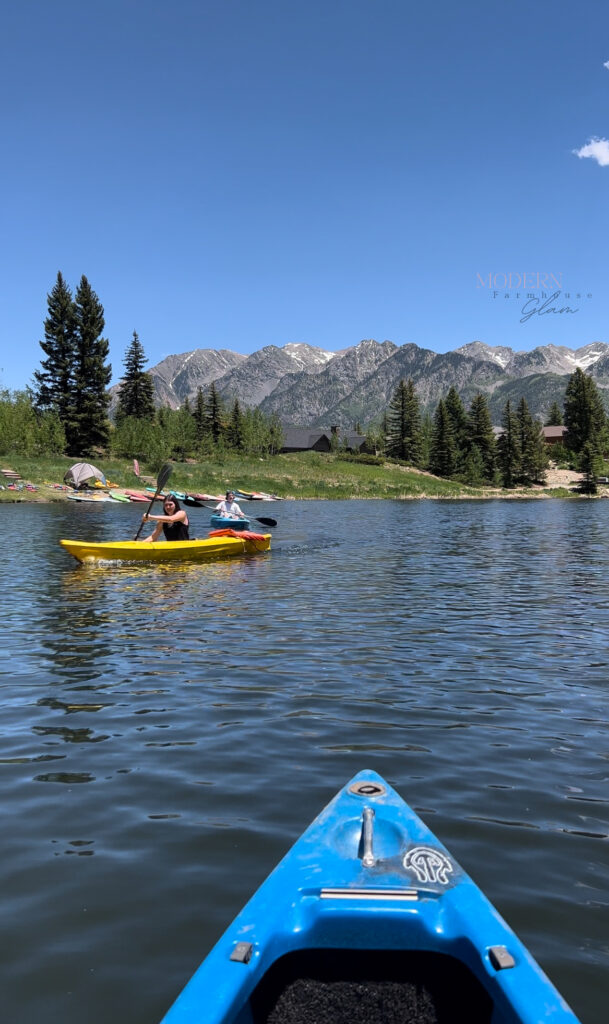 The food at Purgatory was expensive and below average.  We ate at the pizza place and would not recommend.  INSTEAD….bring snack and then have your late lunch/early dinner on the way back to Durango HERE:
James Ranch Grill:
Ok this is THE CUTEST lunch spot! It is situated on acres of land on a real working cattle ranch. You order you food at the counter and then meander around their sweet farm property while your food is prepared. There are beautiful flowers, including peonies, one of my favorites, and goats, chickens and cows off in the pasture.  In the back there are patios and picnic tables in the grass to enjoy your burgers and salads.  Food was fresh, healthy and great and the surroundings were BEAUTIFUL! We got burgers, a beet salad, fries, and root beer floats. We stopped here on the way home from Purgatory Ski Resort for a late lunch/early dinner.
Across the street is a Honey Factory, which is also cute and worth a stop since you're right there. Grab some of their yummy honey and jams and find the queen bee in their bee display.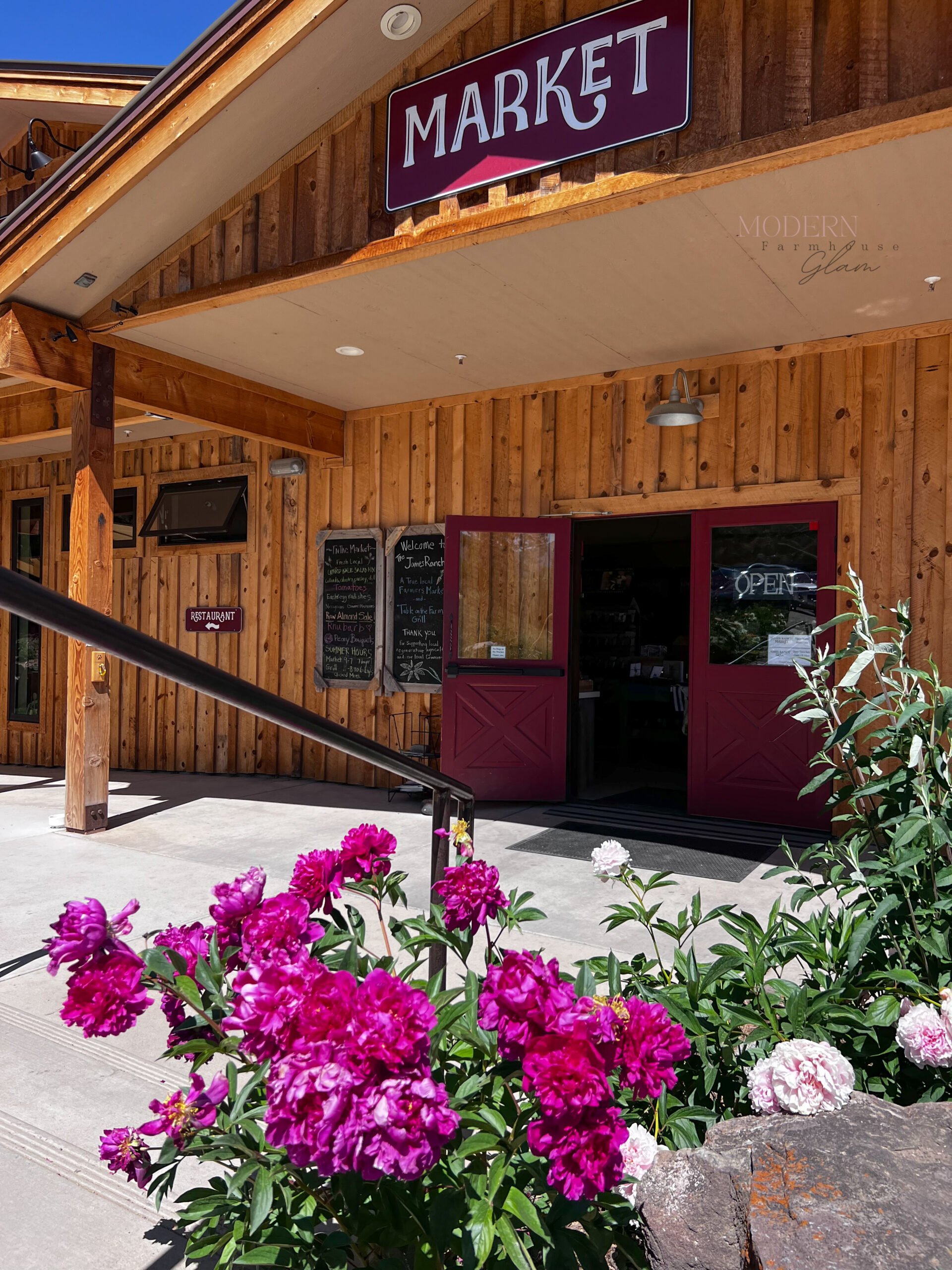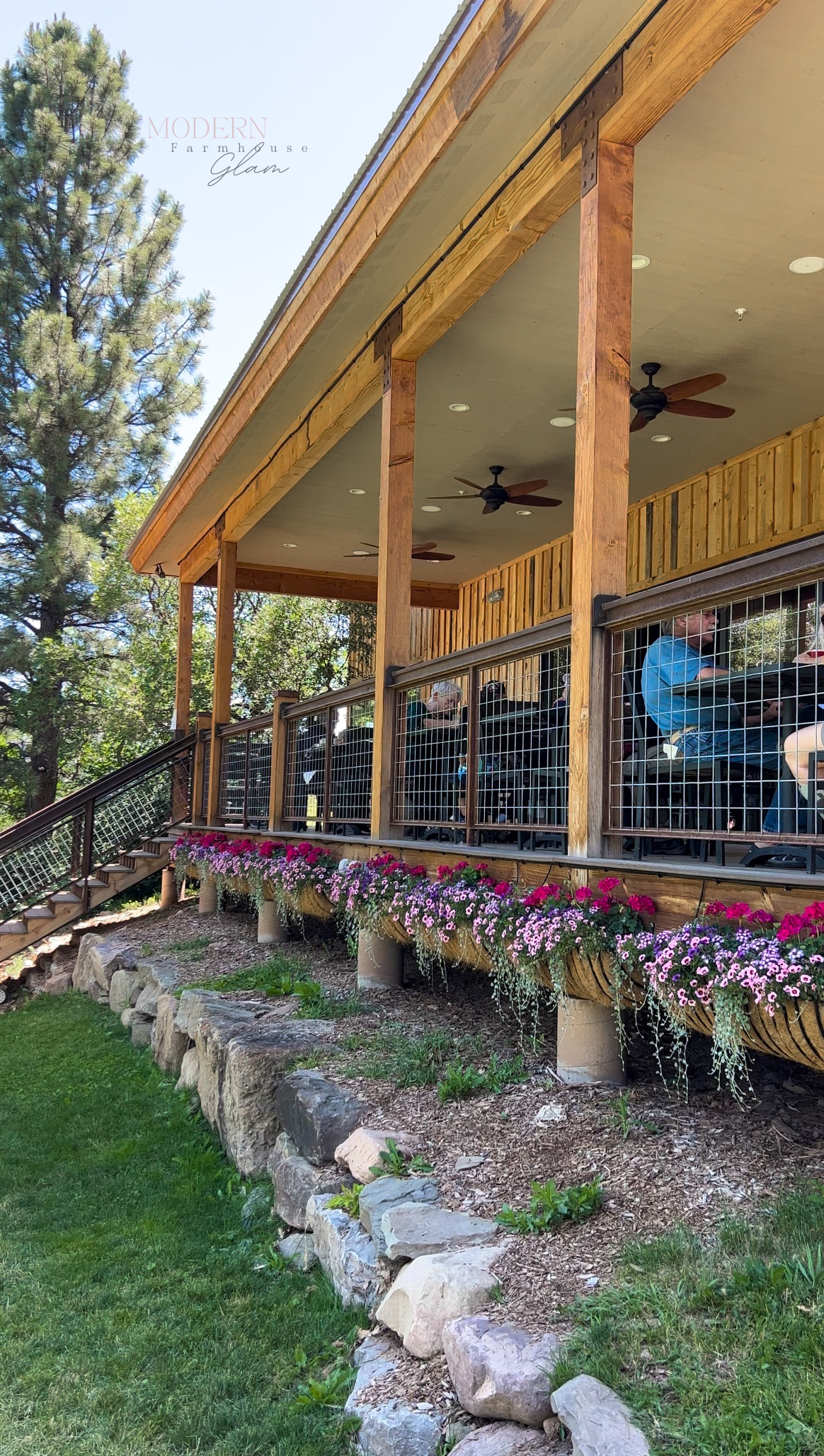 You can see the cattle in the field on the same property as the restaurant.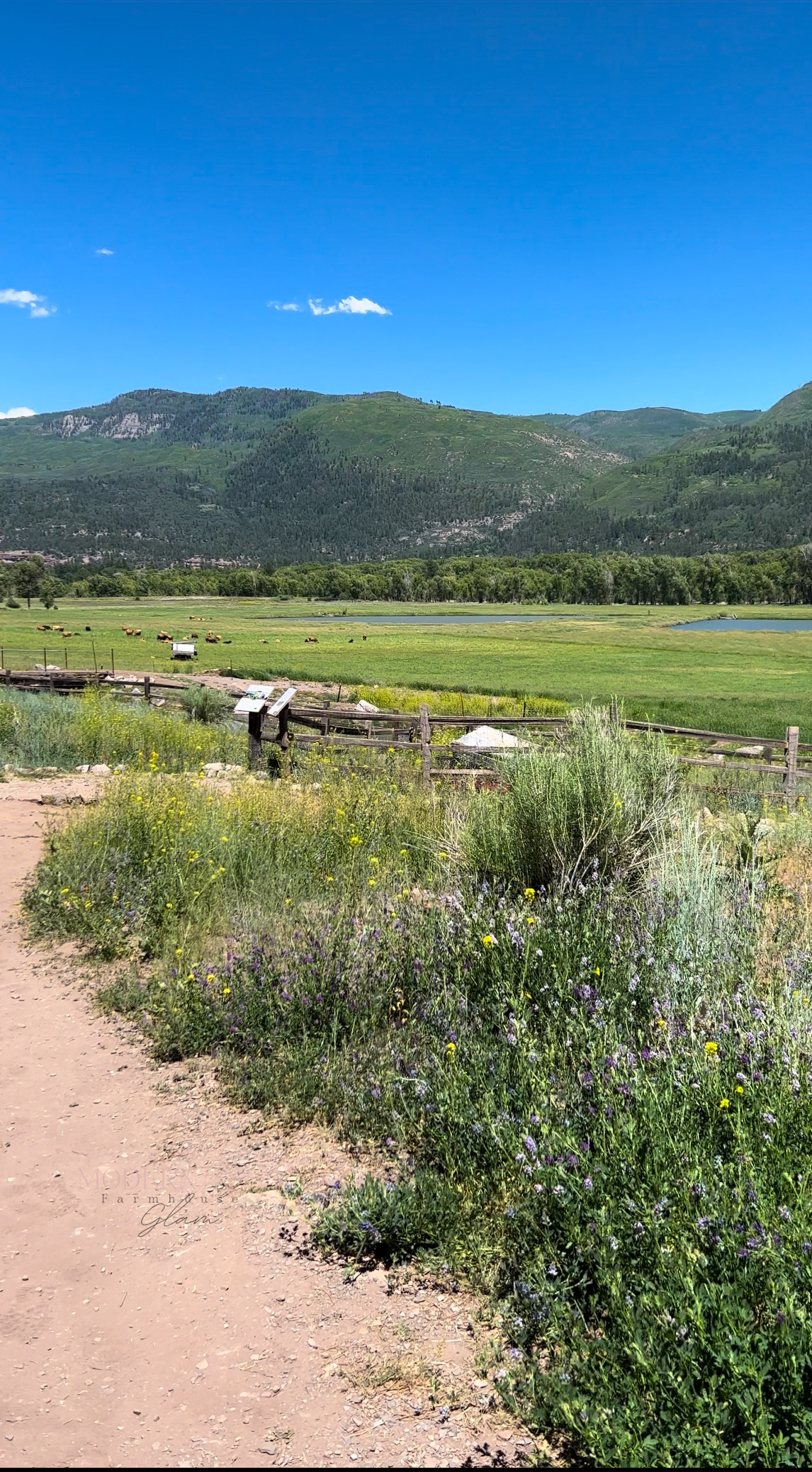 What else we did in the Durango area on our trip:
Pagosa Springs:
Ehhhh….it didn't really live up to the hype, but it was still cool and worth checking out! Instead of going to the Pagosa Resort, where you can buy a $60/person day pass for the springs, we opted for the free ones on the other side of the river. We just wanted to dip in for a bit and move along to dinner, so it didn't seem worth it to spend the money.You get what you pay for (or don't pay for) I guess haha!  The free springs were kinda dirty…I know…eww.  Dirty in the way that the water was a bit cloudy and there was tons of dirty sand that you sit in.  And kinda redneck in a way, with all the people taking turns sitting in the small pools. Yes the water was HOTTT and relaxing.  We enjoyed our experience there!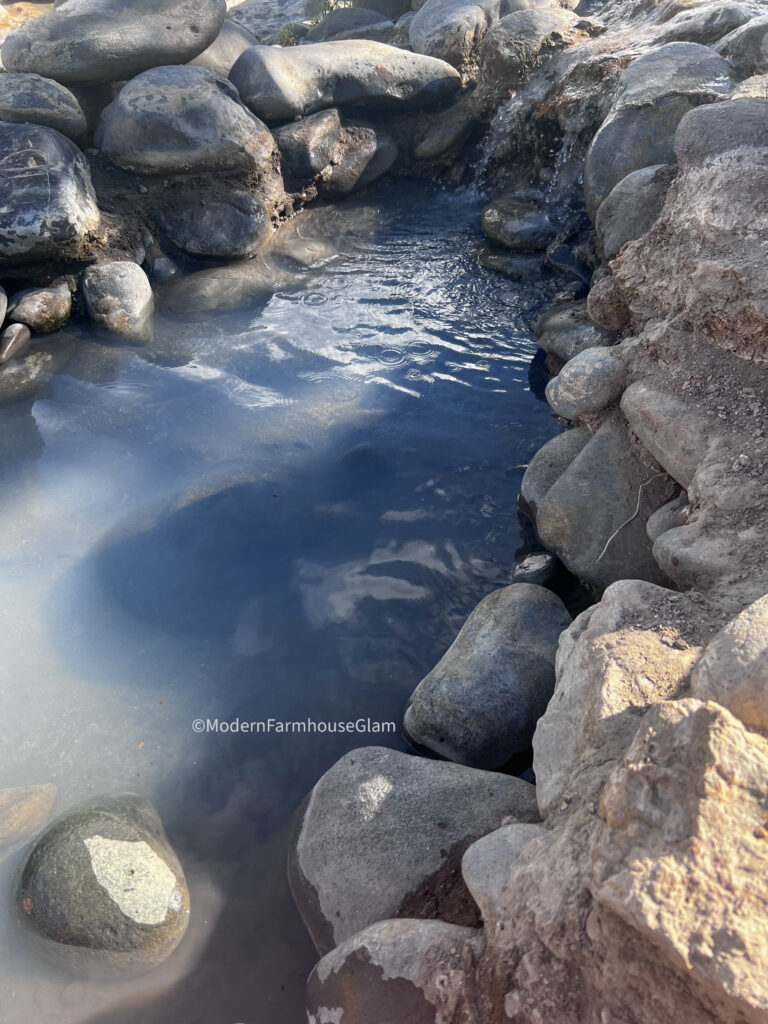 Pic below is taken from the approximate location of the free hot springs, looking across the river at the Pagosa Springs Resort.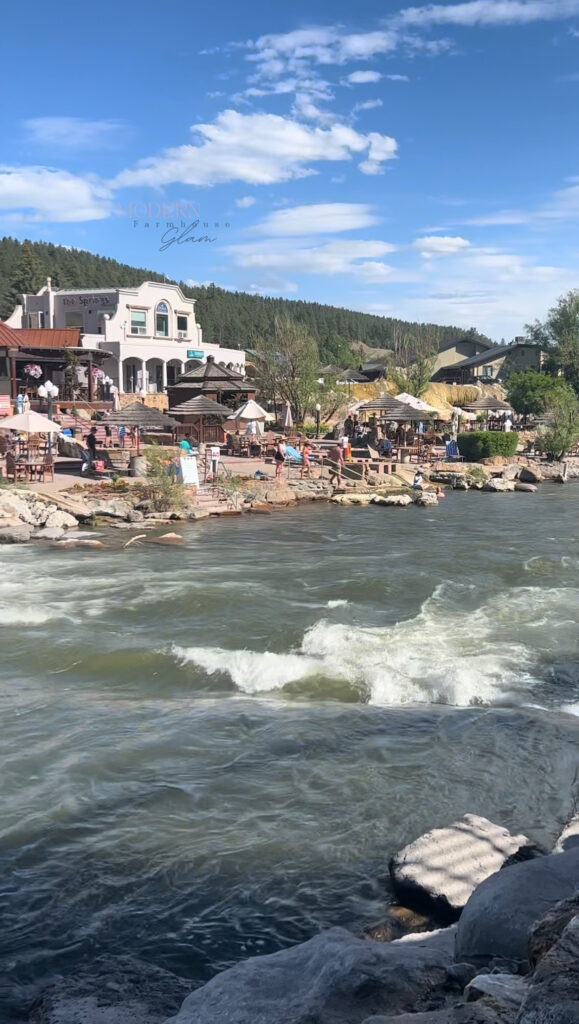 Food:
You can FOLLOW ME ON YELP for all of my bookmarked favorite restaurants in many different cities.  I'm such a foodie, so I love trying new places and all types of food.
Here's the places we at while in Durango area:
There's a super yummy wrap place in town that you have to get wraps to go called RGP's Grilled Wraps.   Order these ahead of time to go because it took about 30 minutes.  We rode our bikes from the trail and grabbed these in town and took them in our bike basket back down to the river trail to a picnic bench overlooking the water and kayakers.  We ordered the Superman (best one in my opinion) Chris & Jen (2nd best), Reuben and Gyro.  They were HUGE and so gooooood!!!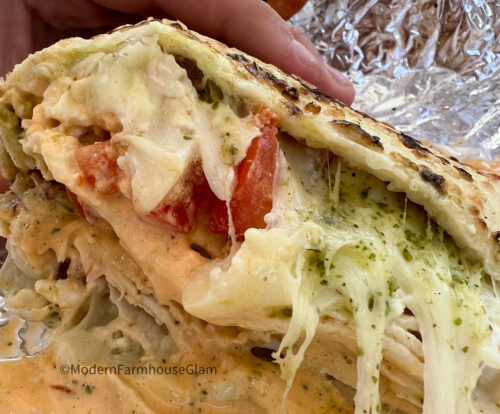 The Container We had dinner here and it was really good! Ate outside on their cute patio and ordered pizza, wings, and appetizers.  Fun family place and good food. Close to the bike trail where we parked at San Rita Park.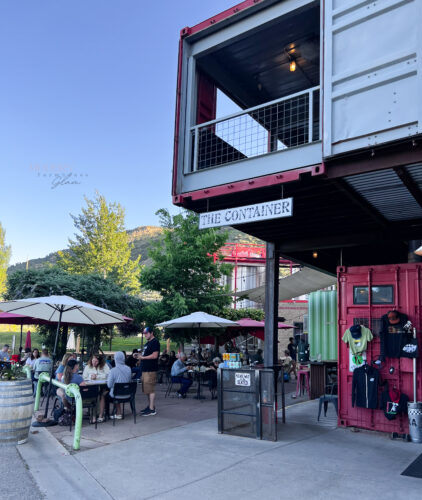 Riff Raff on the Rio Pretty atmosphere along the river, eating outside on the patio. Downside: man are they SLOOOOOW! We had to sit and wait for a good 30 minutes for a table, while there were three literally sitting there empty. I can never figure that one out. And service was equally slow.  Don't come here starving and tired like we were.  It's gotta be the type of dinner where you want to sit and chill for a couple hours.  Food was pretty good, but not amazing.  The loaded French fries we split as an appetizer were great! There are two locations for Riff Raffs, so make sure you to to the one on The Rio.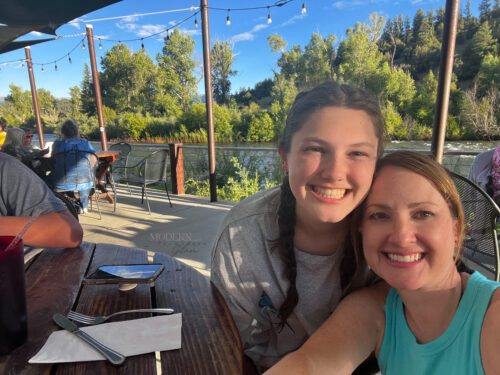 James Ranch Grill This was our favorite restaurant in Durango, hand's down.  I highlighted it above with pictures and descriptions. It's a bit out of town, on the way to Purgatory.  We stopped there on the way home from the Purgatory day.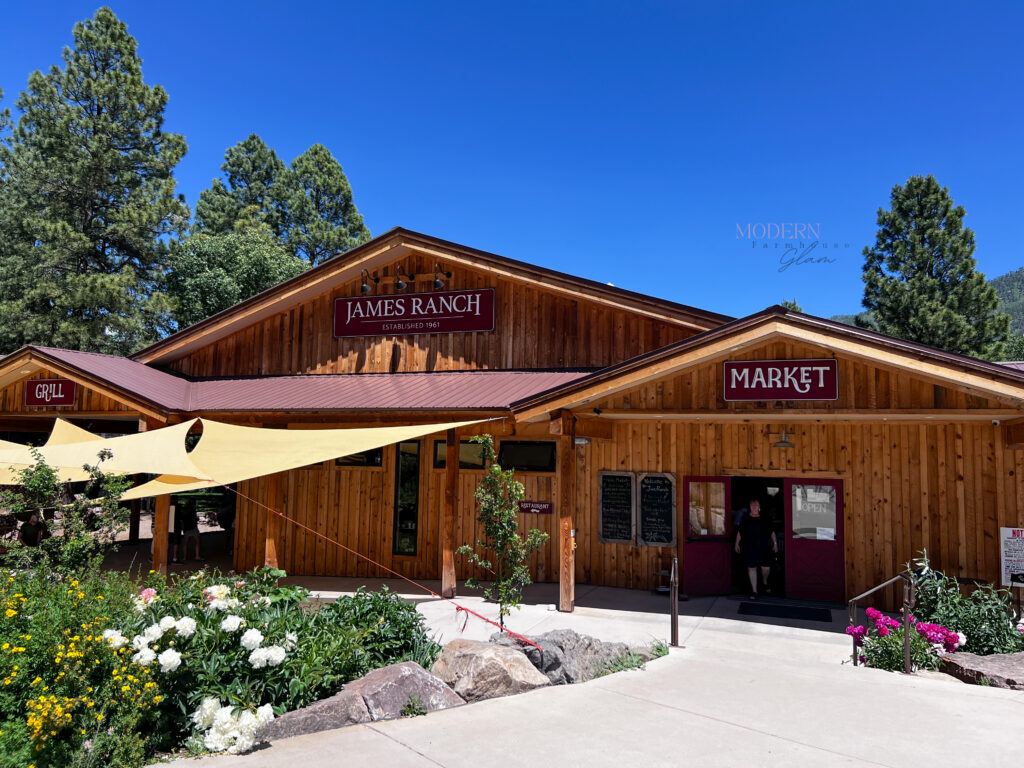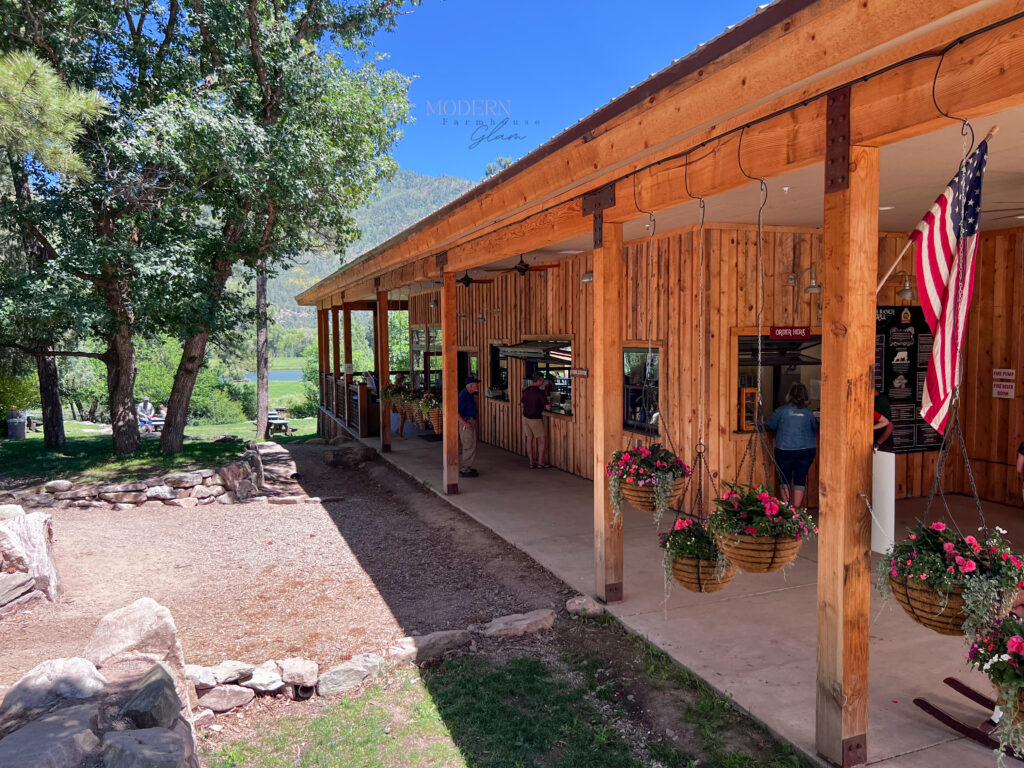 Nature's Oasis Grocery Store We got yummy salads here to take with us on the train ride. The cobb salad was delicious. Also grabbed some chips and dips, deserts and side dish salads from their deli.   We also stopped by here before we left to stock our cooler for the ride home with a packed lunch for Petrified Forest.
The Farm Bistro We ate here just before we got to Mesa Verde National Park.  It was a super cute restaurant and good food. I recommend stopping here for lunch if you're doing the Mesa Verde stop on your way to Durango.
Lodging:
We stay at Airbnbs/VRBOs on our trips.  It's nice to have room to spread out, a backyard to watch sunset and a kitchen to make some food and store stuff in a full size refrigerator. Plus, with two teenagers, we can't all cram into a hotel room anymore.
The first day we drove straight to Mesa Verde National Park, which was about 6 hours from Phoenix. We stayed in a house about 10 minutes from the park.  There was a great back patio with mountain views and we enjoyed wine time around the fire pit.
The next morning we drove 45 minutes into Durango and stayed in a rental home through Airbnb for the next 3 nights.  It was great place, with plenty of room and a huge balcony with sunset mountain views and a hot tub, which was a big hit with all of us in the evenings.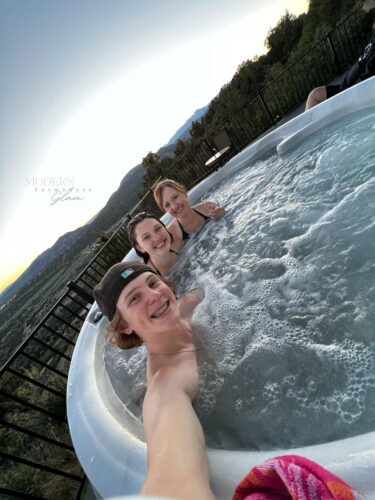 My drink of choice is pretty much always a glass of Pinot.  How about you? Cheers!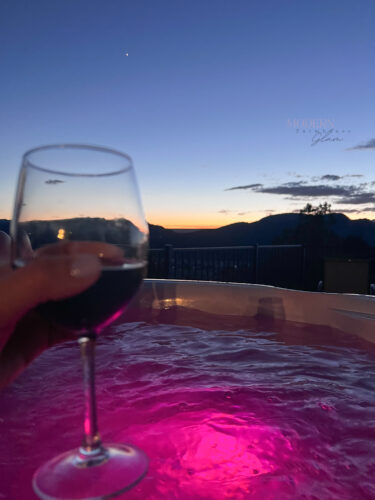 Mesa Verde National Park, CO
This is not the typical National Park you think of like, the forests of Yosemite or something.  Mesa Verde showcases the ruins of the Pueblo people from around 550 AD.  There are stone buildings on the mesas and tucked into the steep canyon walls. It was really neat to see, but I'm glad we just hit this on the way to another destination, and didn't come specifically for it.  It takes about a 35 minute drive through the park to get to the main highlight, which is Cliff Palace.  We made a few pulloffs and stops to see some of the other featured areas, but really you could get away with just seeing Cliff Palace.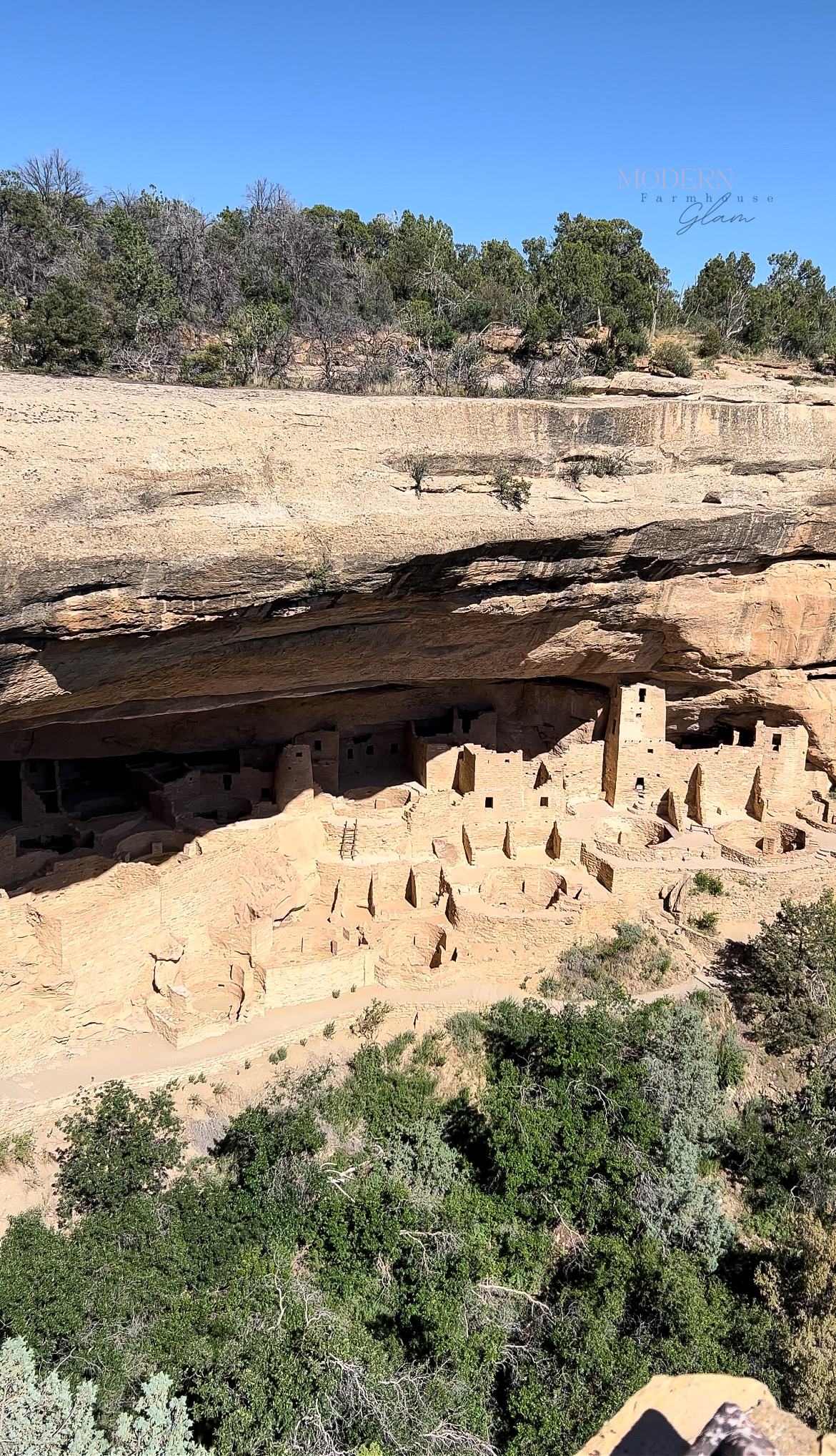 Petrified National Forest/Painted Desert, AZ
We took the "other" route home so we could hit Petrified Forest.  Rather than going through Flagstaff, this way takes you through Holbrook. I would not make a special trip just to see this, but if it's on the way to another destination, it's worth checking it out.  It's pretty underwhelming overall, however the petrified wood is REALLY COOL! I'm glad we stopped to check it out.
Tip: This area is pretty desolate and there's no food.  We got food in Durango before we left and packed it in the cooler for lunch.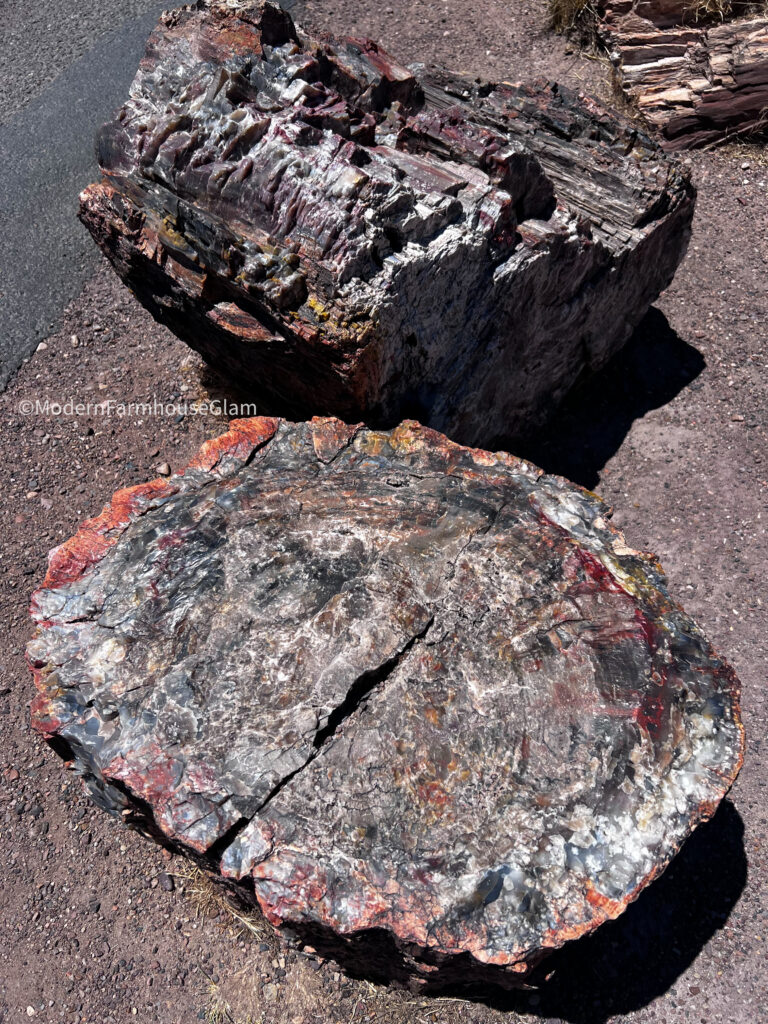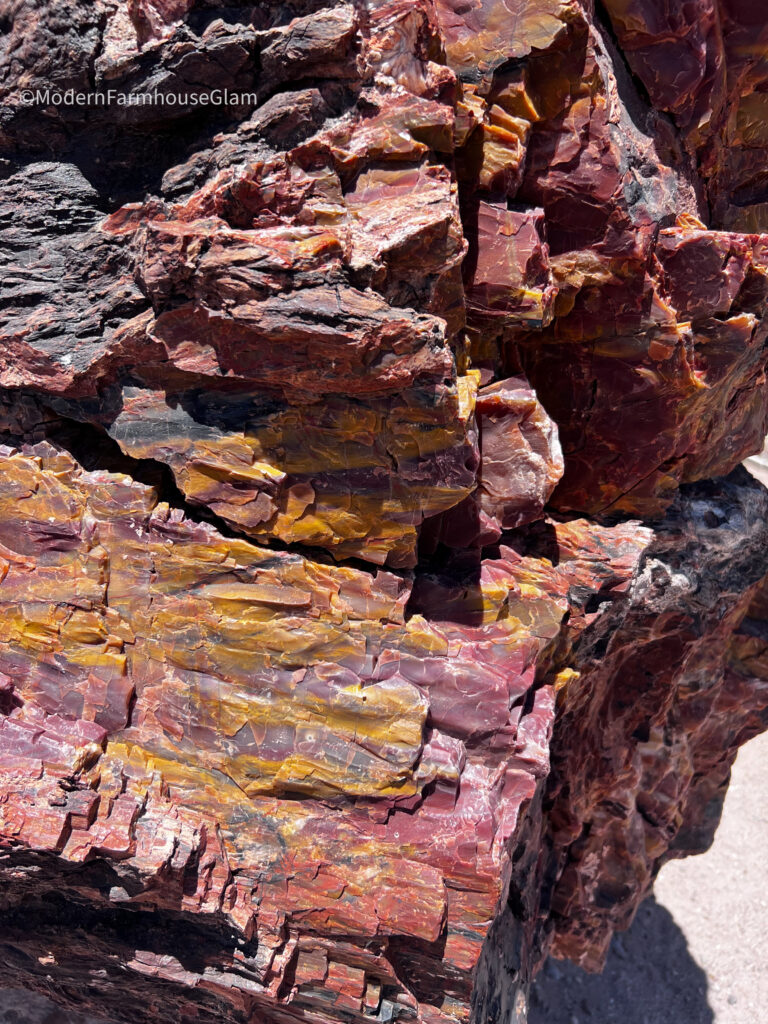 Below is at the area in Petrified Forest called Blue Mesa: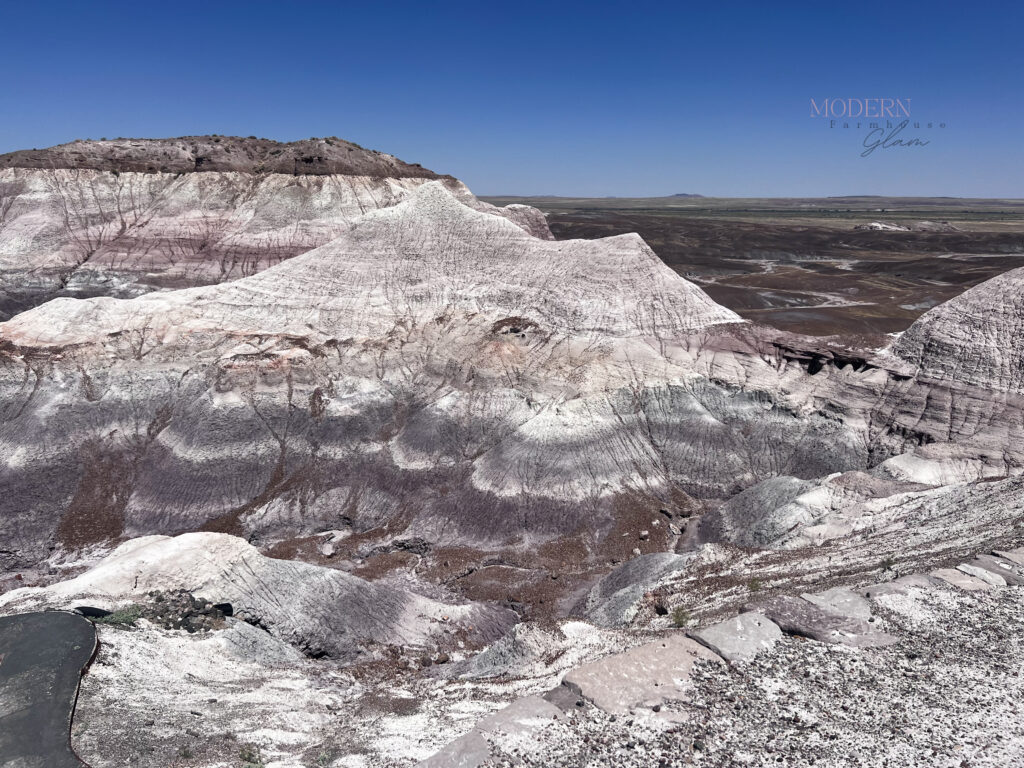 Are you still with me? Watch the VIDEOS of this trip, which I've saved to my Instagram story highlight called Glam Places 5.
I hope you enjoyed my highlights from our trip to Durango, CO and got some tips for your trip.  Let me know if you end up going and how you like it! XO Amy
You may also enjoy:
Rocky Mountain National Park, CO Trip
Grand Teton National Park, WY Trip
Coming SOON- Glacier National Park, Montana Trip!!!!
My Amazon Hiking/Camping Favorite Items
My Travel Essentials Amazon List