Are you building a new house? Dreaming of a new construction or custom home? I'm sure you've started your list of must-have features in your dream home, right? Here's a list of some of my favorite features in our new home, plus some items that would be nice to add. What's on the top of your list?
KITCHEN MUST-HAVE LIST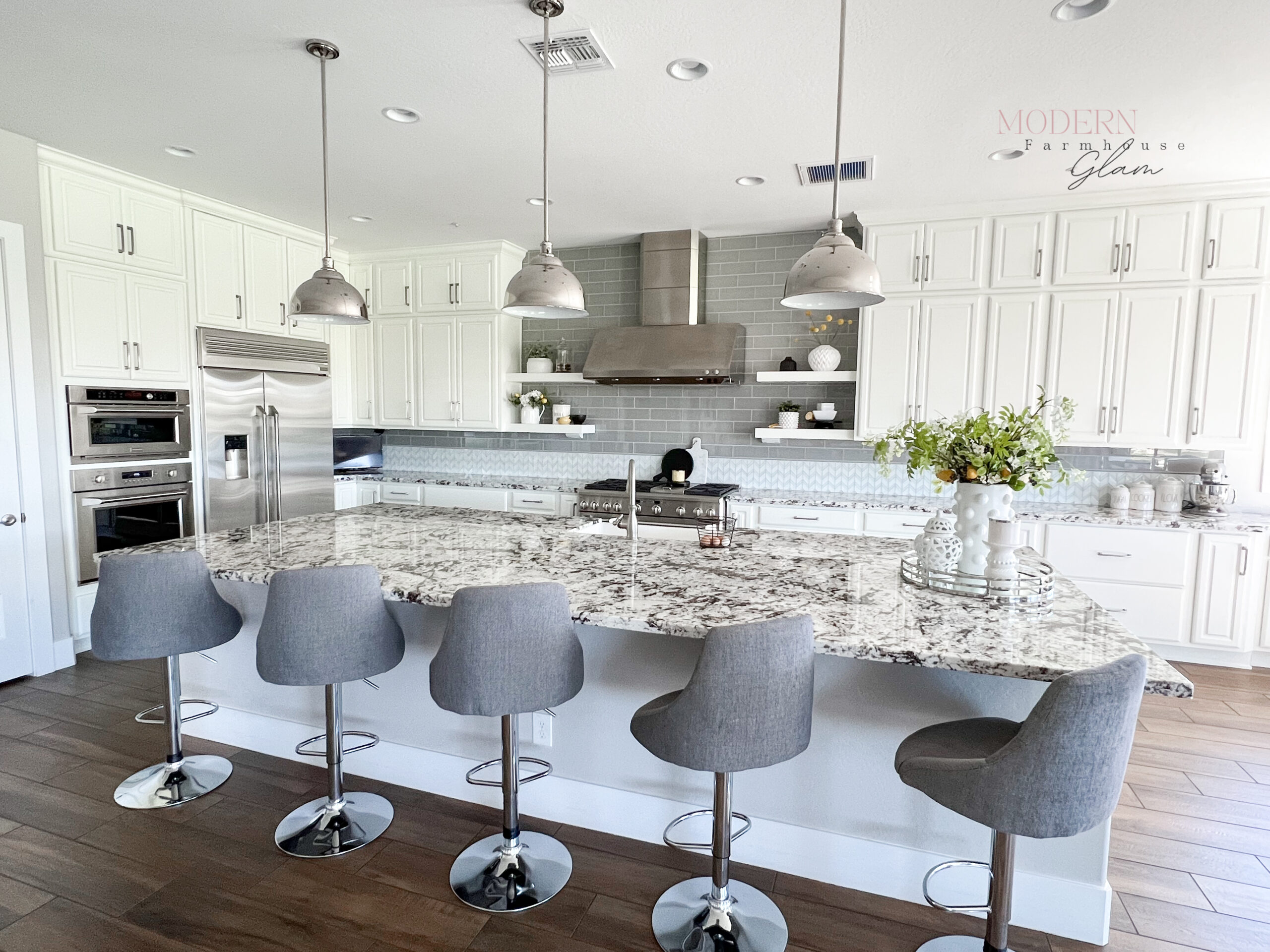 Kitchen:
Large kitchen island-ours is 13'x6', with seating for five+ at the island
Cabinets to the ceiling-makes your kitchen look grand
Extended counter space into the eat-in kitchen for a buffet area, for serving food
Pull-out spice rack next to the range
Pull-out cabinet next to the range for cookie sheets and cutting boards
Soft close drawers
Deep and wide cabinet drawers
Pull-out drawer cabinets all along the buffet
Large quality, impressive appliances show the caliber of your kitchen
Range with two ovens-extra large and small one, plus a wall oven
Warming lights on the range hood
Pull out garbage can cabinet
Large walk-in pantry, add outlets
Two dishwashers-working on this one!;)
Two microwaves
Under cabinet outlets
Under cabinet lighting
Reverse osmosis and soft water systems
Shop our dining room/kitchen area seen in the picture above:

Laundry Room: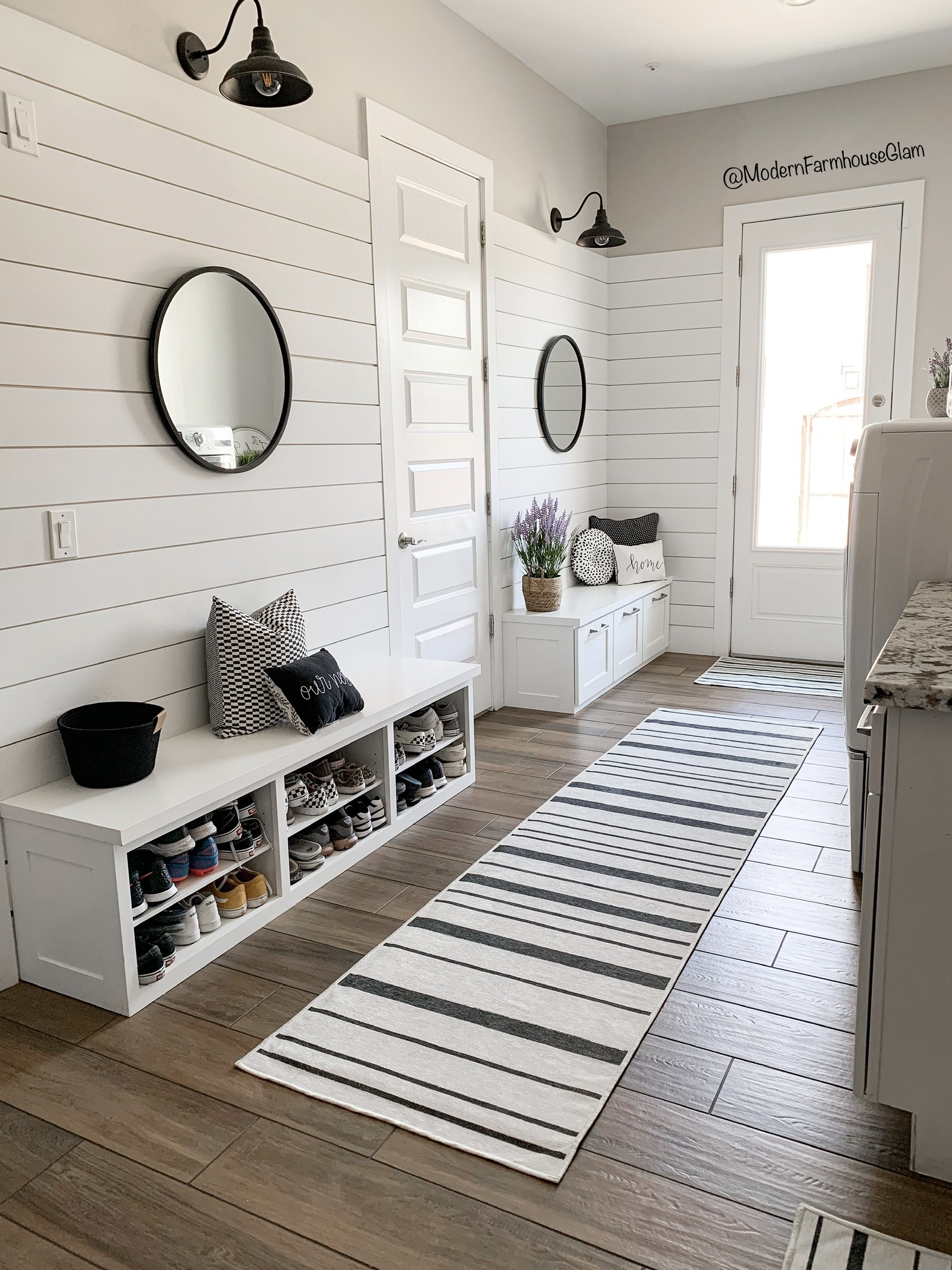 Extra refrigerator-we love having the extra fridge in the laundry room rather than the garage.
Master bedroom closet connecting to the laundry room-this is so convenient! We have a door that goes from the master closet to the laundry room
Custom shoe holder and bench seating
Custom laundry basket holder
Plenty of storage and large space
Counter space-lots of it
Pull-out garbage can cabinet
DIY Shiplap Wall
2 washing machines and 2 dryers
Upper cabinets on the other side going in soon, stay tuned!
Shop my laundry room machine washable rugs, lighting and mirrors here:

My favorite cleaning products here
BACKYARD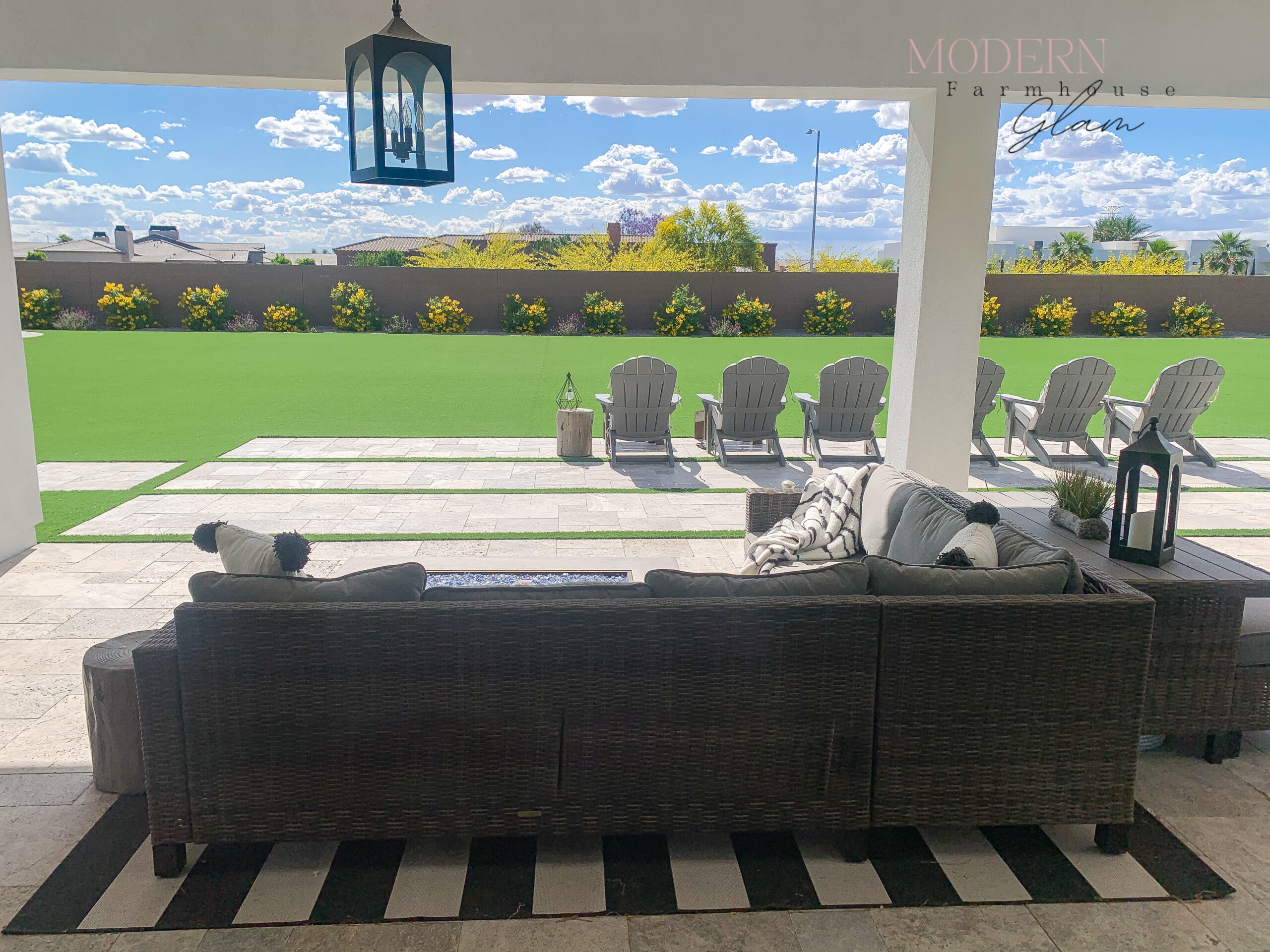 Dream Backyard Must-Have List:
Plenty of outdoor electrical PLUGS and HOSE BIBS-we underestimated how many we needed! Go with WAY more than you think you'll need, in every possible spot!
DIY Porch Bed Swing
DIY Smokeless Fire Pit
Propane Fire Table
Beautiful flowering plants, like our White Iceberg Roses
Vegetable Garden
Sunflower Patch
TV
Comfortable Outdoor Furniture/Patio Set
Outdoor Kitchen and Bbq Area
Pizza Oven
Fireplace
High Quality Speaker for playing Music
Travertine- LOVE this stone, it is gorgeous
Viewing deck- we want to add this to our future outdoor kitchen
Security cameras
Good outdoor lighting
Sunset Views
Large open artificial TURF or real grass area
Shop our patio set, outdoor rugs, first table and more:

Our outdoor black lantern lighting
Video of DIY queen size bed swing here
More about our DIY Porch Bed Swing here
GREATROOM/LIVINGROOM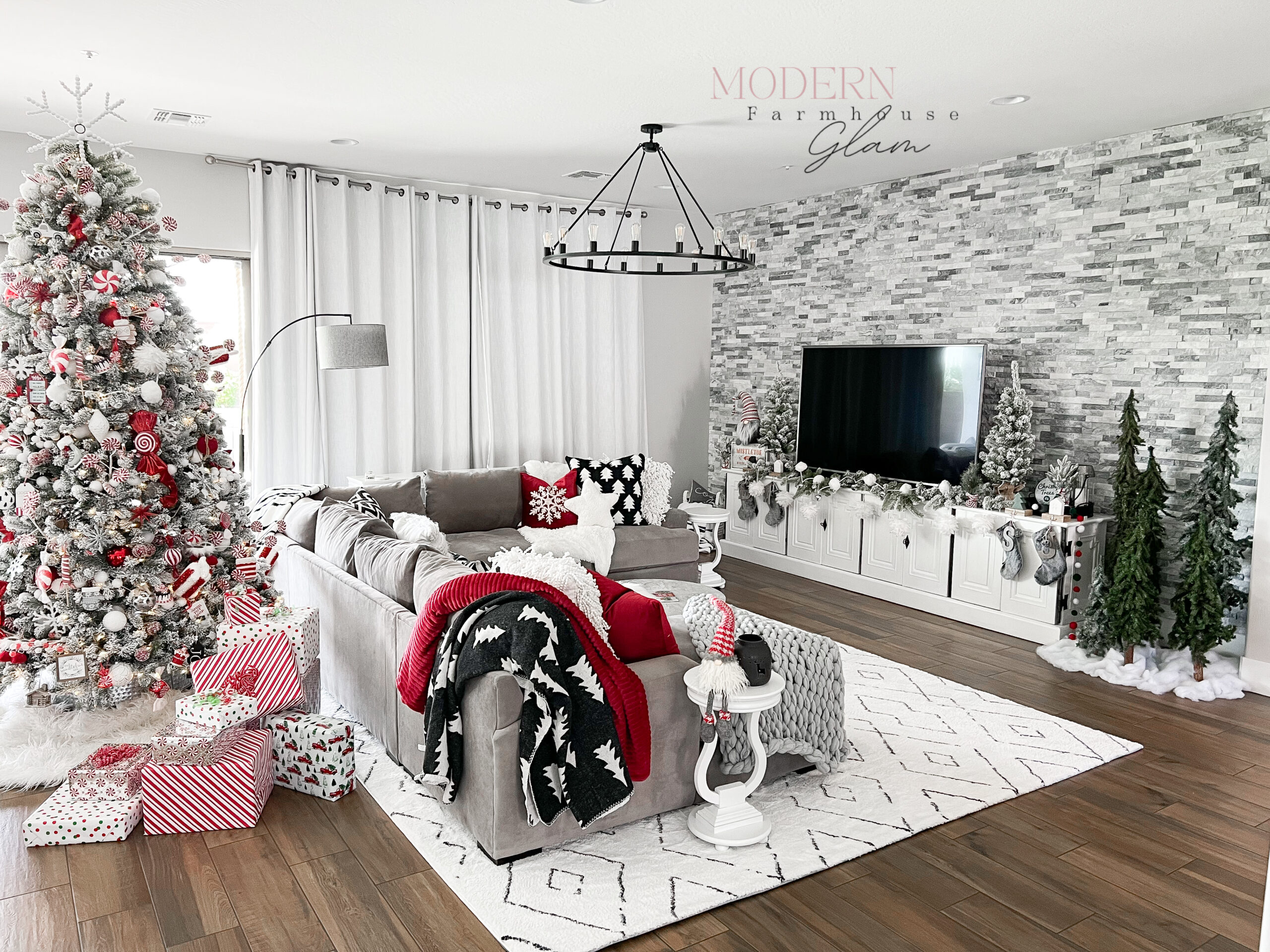 Livingroom:
Large open concept greatroom
24 ft rolling wall of glass-opens the indoors to the outdoors. This is such a hit at parties!
7 1/4 inch baseboards-makes your house look grand! So glad we went for this upgrade
Quality flooring-we went with wood-look porcelain tile and are SO happy with it.
Conversation area
Separate area for comfy movie watching on a large sectional couch
Faux wood beams- we just had these installed in our home! Video here!
DIY Stone Accent Wall- Before and After Video Here
Lots of windows and natural light
Wide hallways
Shop our family room, including our sofa sectional couch, rug, lighting and more:

Sources for Christmas items here
Here's our Conversation Area below. It's the space that everyone gravitates to because of the comfy chairs and seating set up in a circle for talking.

Shop our Conversation area, including the rug, square swivel chair, lighting, coffee and end tables and more here:

QUALITY FLOORING!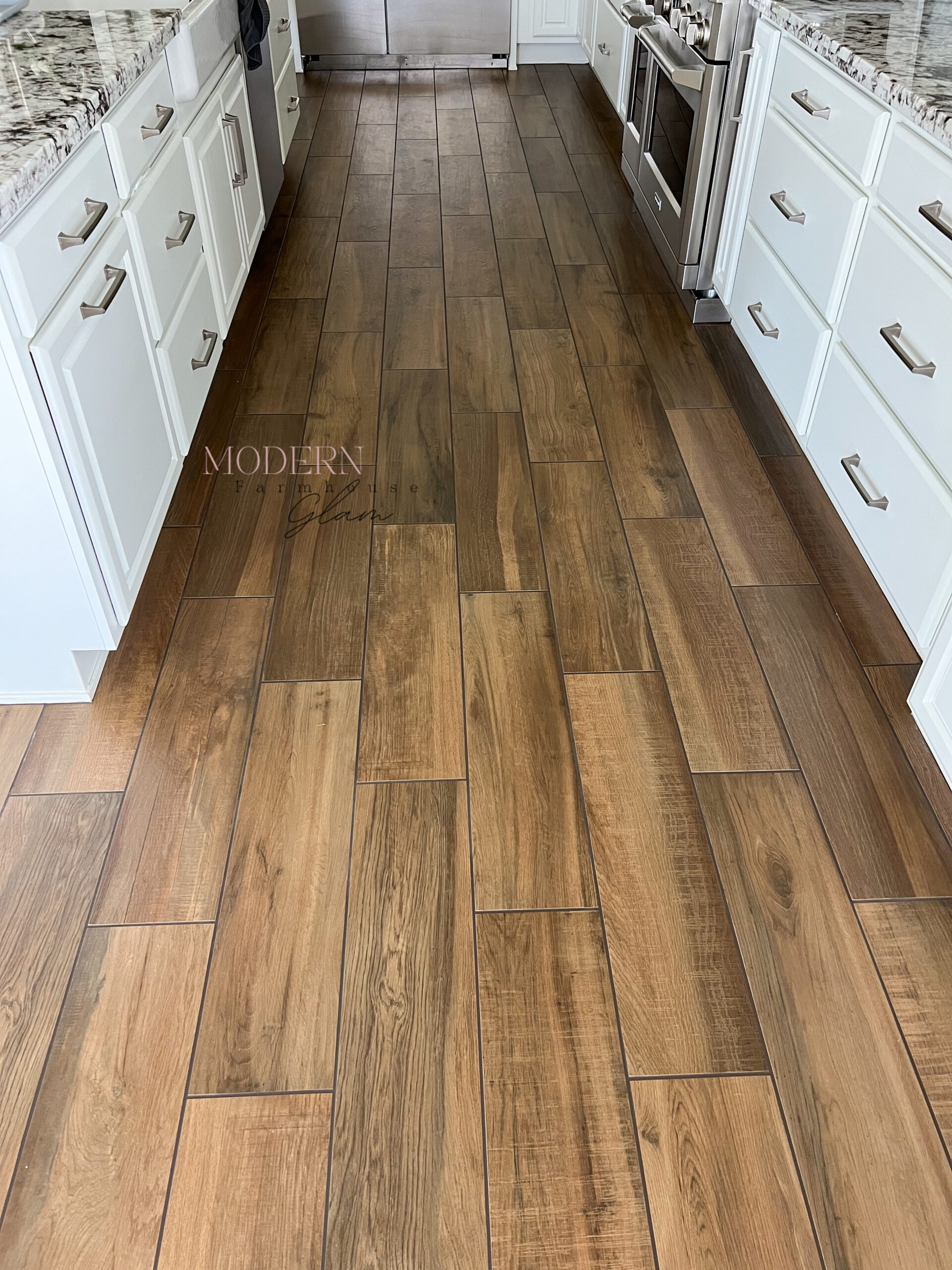 Our flooring in wood-look porcelain tile.  I consider porcelain tile to be the "gold standard" when it comes to flooring material. Flooring is one most important design choice in your home. Especially if it's a large home. It sets the stage for the rest of your design.
I wanted something extremely durable and predictable, rather than trying out some of the newer products out there. The wood-look of this tile is gorgeous and I love the variation in the look of the grain. With so much floor space in our new home, I wanted to go with something top of the line and high quality.
Since I wanted white cabinets and light gray walls, we chose flooring that was a warm tone so that the space would not look sterile. The warm wood-look floors warm up and brighten up the neutral whites and grays. It's a perfect balance.
Note: Installing porcelain tile is more expensive than LVT. Still worth it!
Details on our flooring:
The builder used a local company to supply our flooring. Wish I could give you a link!
HERE'S AN OPTION I FOUND AVAILABLE ONLINE THAT LOOKS SIMILAR.
Here's another flooring option that looks very similar to mine
Here is a 3rd flooring option that I found online that looks similar and has many color options.
Our planks are 8" x 32"
10mm
I highly recommend that you get your porcelain tile and grout sealed. This will keep your grout lines and tile from looking dirty.
We selected a dark grout, which is also a key step in maintaining the clean look of your tile.
Why I love this flooring rather than alternatives like LVT, laminate, hardwood:
Durability- tile is a harder material than wood or vinyl plank, therefore more resistant to scratches, cracks, dings and dents, fading.
Water resistant. The wood look porcelain tile we chose looks similar to hardwood without the downsides. No issues with water damage, as with hardwood. Cleaning upkeep. Pet friendly. Scratches.
Tile does not warp of buckle like LVT can
Easy to clean (def get your tile and grout SEALED- it makes a HUGE difference)
Why I would NEER do hardwood floors again: We had hardwood floors in a home that we rented out. The tenants had a pipe that leaked on the toilet and did not know to put it into the bathtub to drain. Consequently, in the 15 minutes it took for us to get over there to shut off the water, there was an inch and a half of water across all of the flooring. The entire house of tile had to be replaced. What a nightmare.
This is either the exact flooring we have or similar:

Double RV garage:
My husband's dream come true
It's fully air conditioned and heated.
Plenty of room for storing boats, RVs, and dune buggies.
It's also a great bonus area in the summertime when it's too hot in Phoenix to be outside. the air conditioned RV area is perfect for doing DIY home projects in the summer.
It's so nice to keep all of the garage storage items in the RV garage, which frees up the regular attached 4-car garage for cars and kids bikes, etc.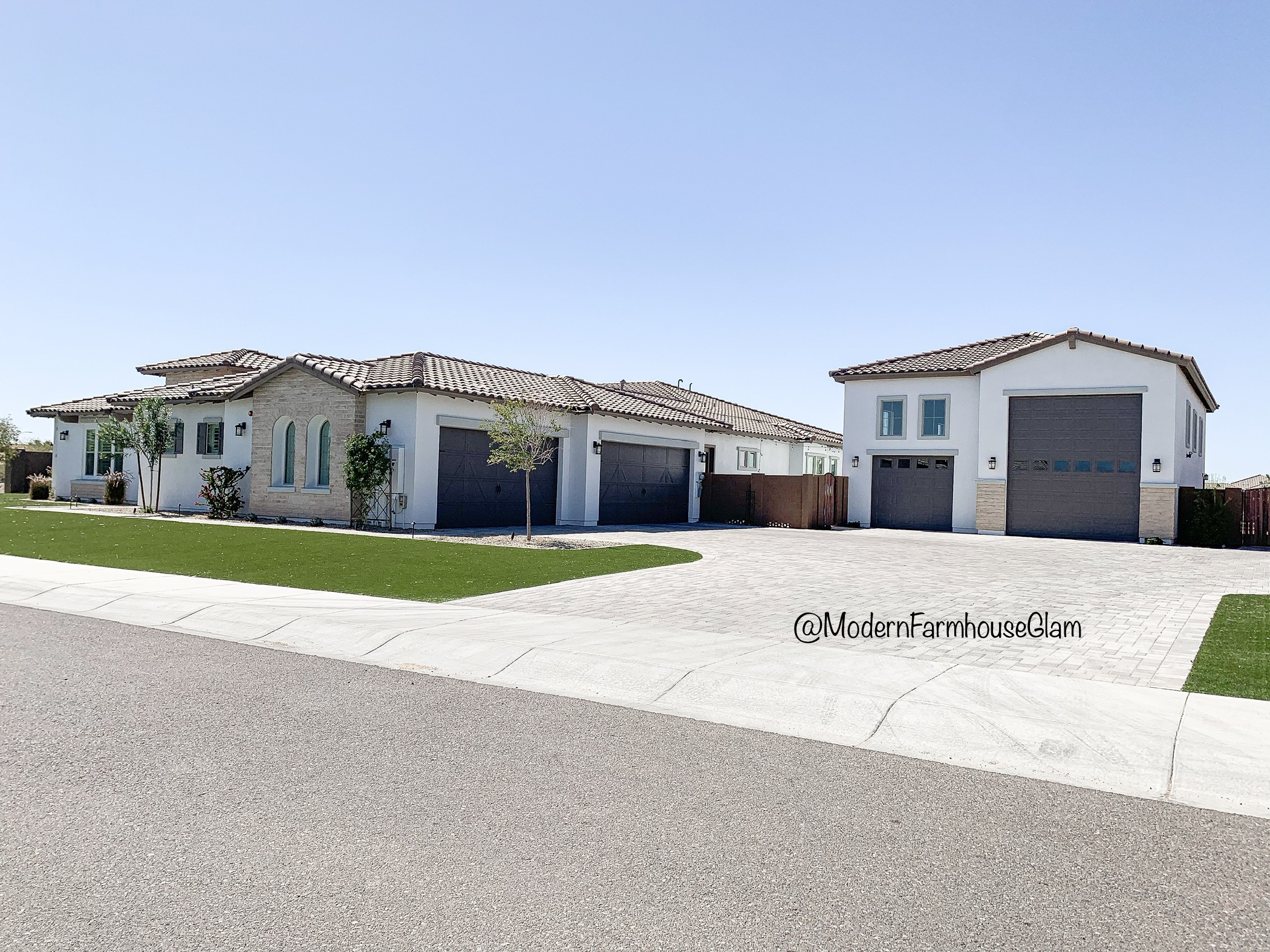 HOME THEATER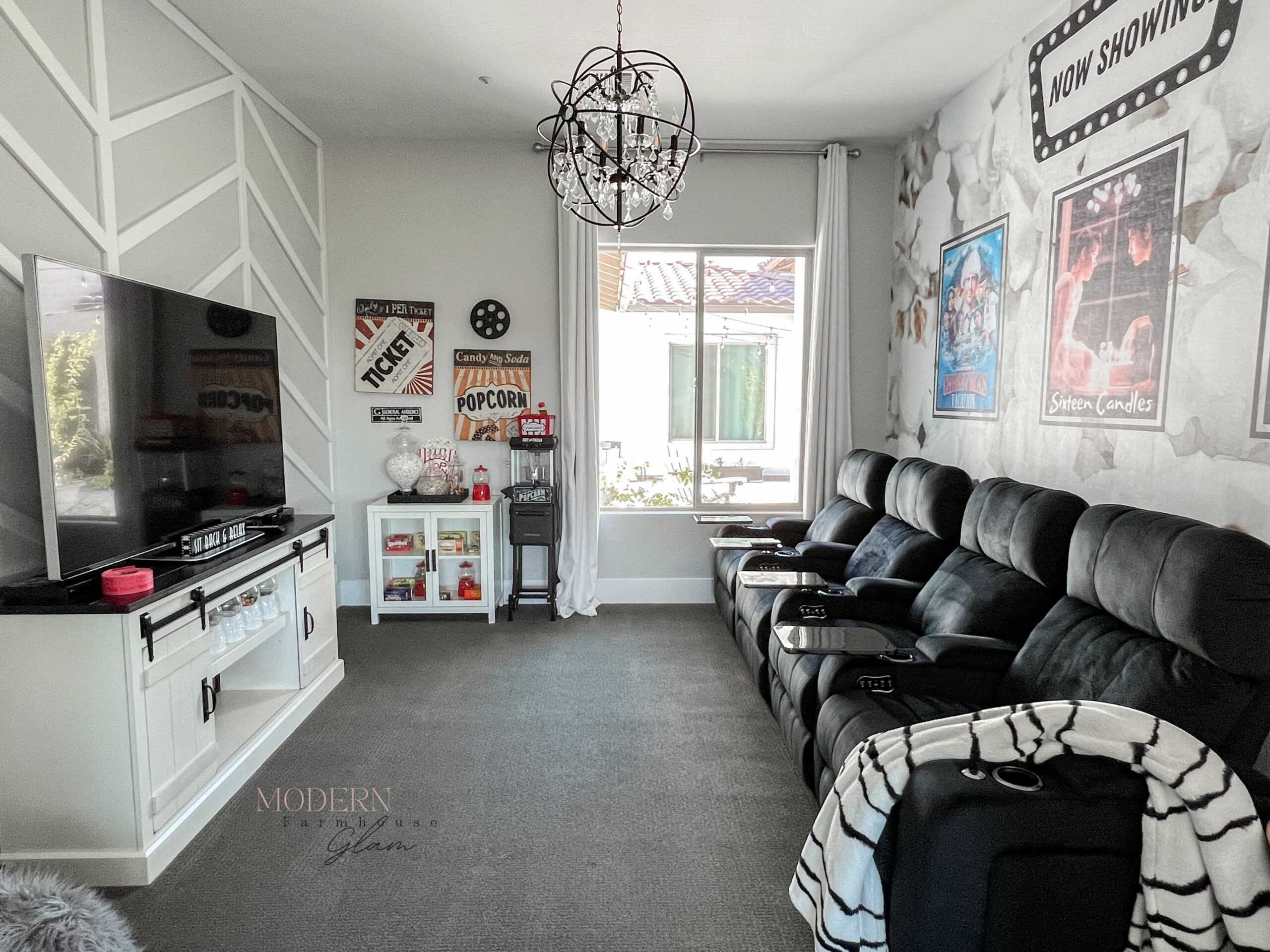 Theater Room:
Comfortable electric reclining seating with LED lighting
It's so nice having a secondary option for a room to watch TV
Links to our theater room seating and accessories here
Master Bedroom:
Door access to the outdoor patio
Seating area
Coffee bar in the master bedroom/bathroom area
Large custom master closet with chandelier. Windows in closet for natural light.
Board and Batten Wood Trim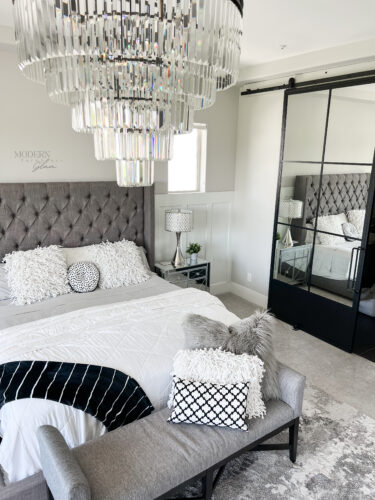 Shop our master bedroom chandelier, rug, tufted headboard bed, mirrored nightstand, lamp, and similar metal barn doors here: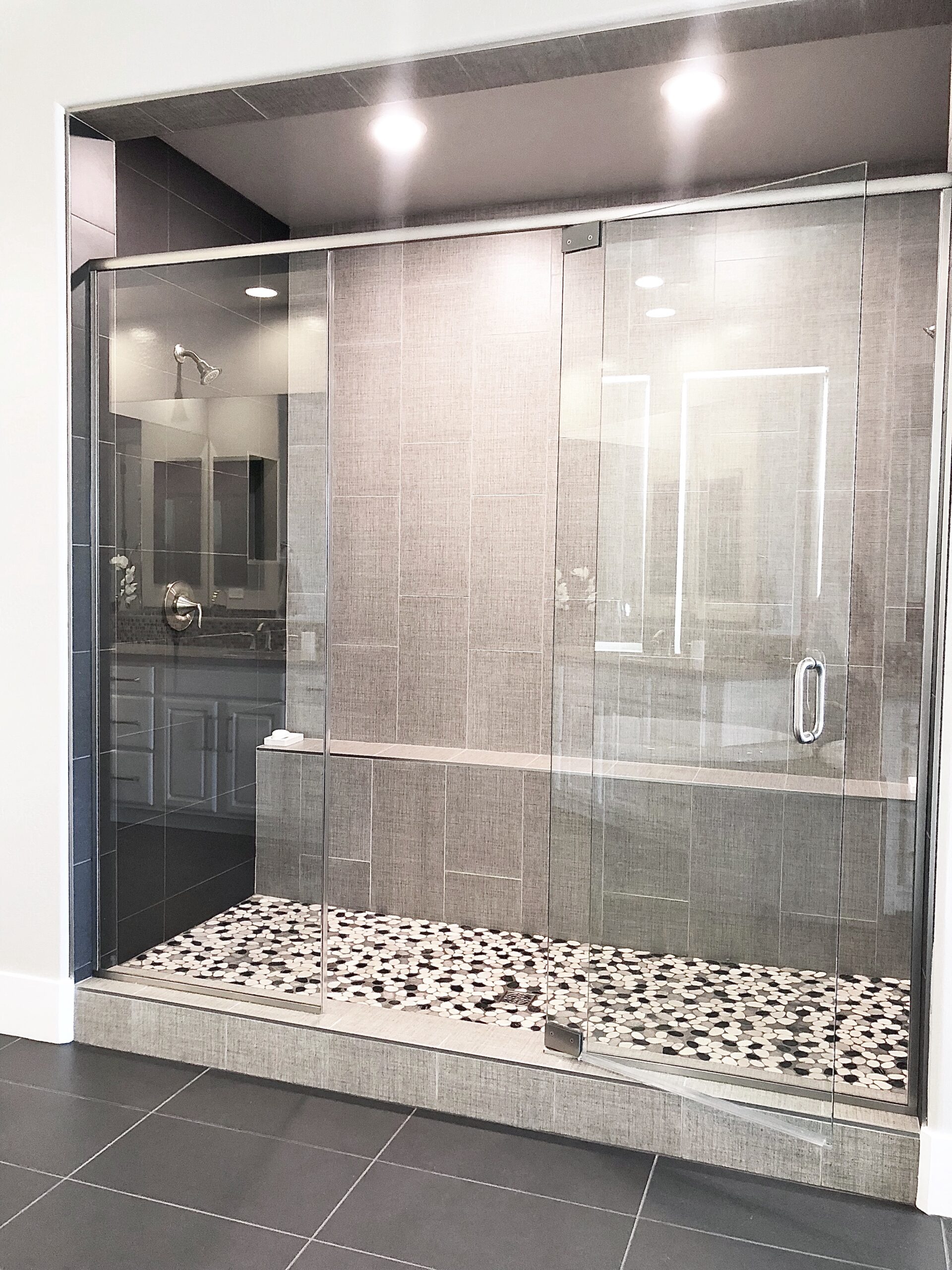 Master Bathroom:
Hot water speed-We almost didn't do this upgrade and I'm really glad we did! If you have a large house, this is a must-have. You don't want to have to wait for the hot water to heat up on the sides of the house that area furthest from the hot water tank in the garage.
Extra large shower with double shower heads
Coffee bar
Separate his and hers sinks and vanities
Makeup storage vanity
Chandelier over the bathtub adds glam
Custom Master Closet:
Add a glam crystal chandelier to your closet
Having windows in the closet is great for letting in natural light
LED lights on the crown molding adds some flair
Middle island with storage drawers on both sides
More on our Custom Master Closet here on the blog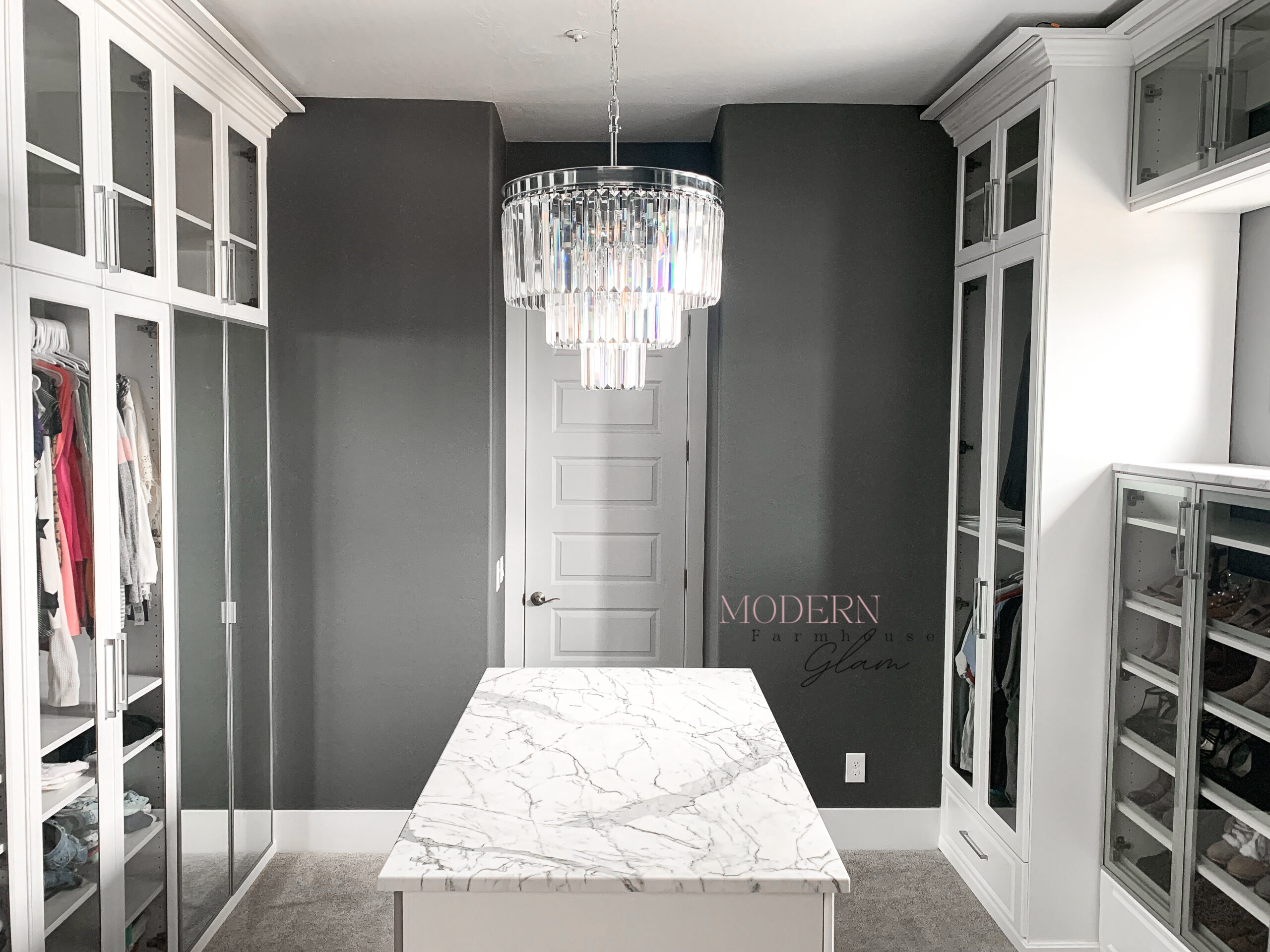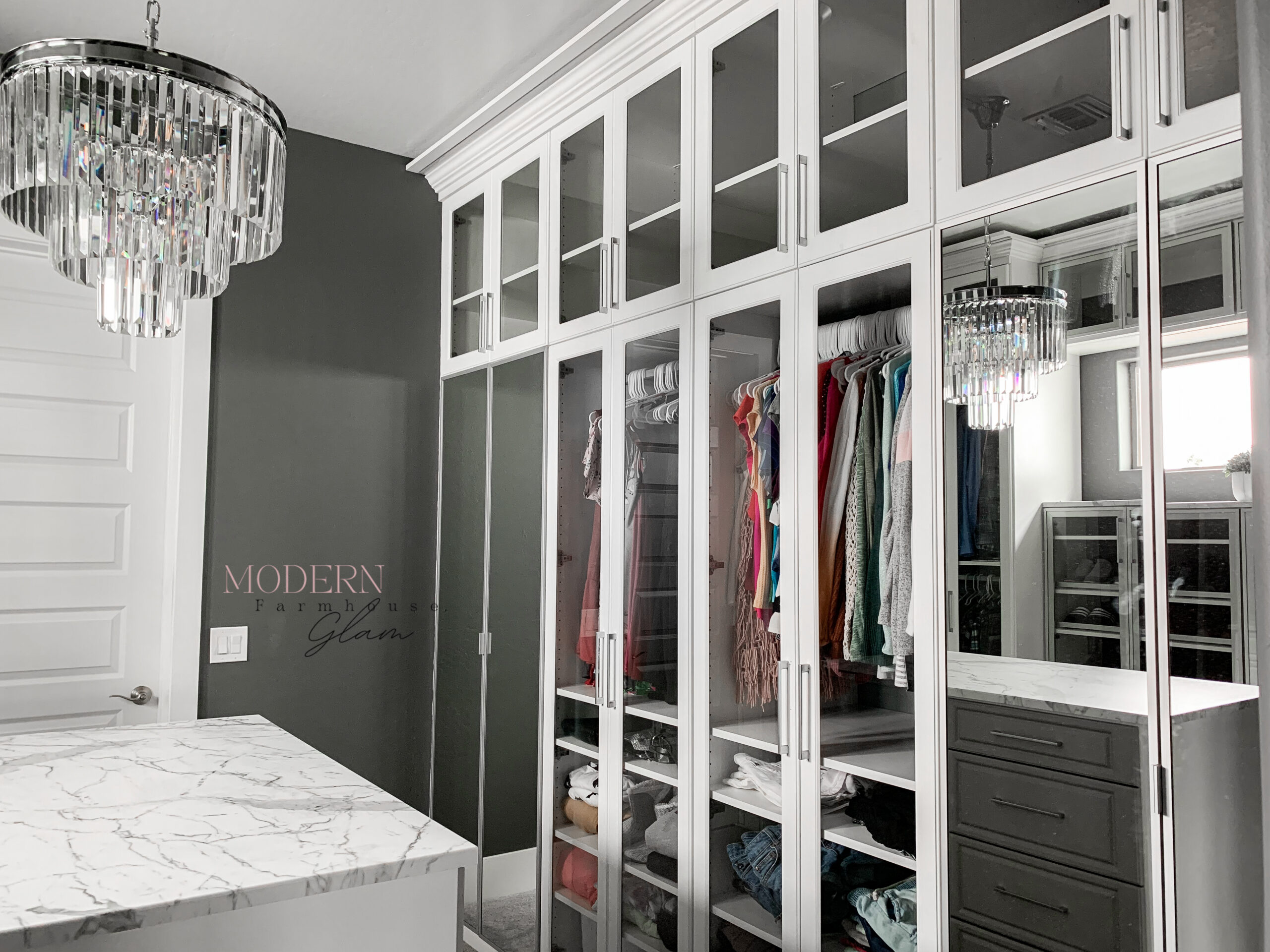 Home Office:
Use a large dining room table for your desk-provides lots of open working space
Storage
Windows facing the front of the house, with lots of natural light
Built in custom storage, storage is so key in an office to minimize clutter
Barrel Room:
This is a home wine bar, entertaining area
Wooden wine bottle holder
Modern, chic furniture, like our black velvet loveseat and leather cigar chairs create ambience
Teen Room:
It's great having a separate area for the kids to hang out with their friends! We also enjoy doing puzzles, chess, and games as a family on our new DIY game table!
Casita:
It's so nice to have a separate entrance suite for our guests. This room can also be used for other purposes like a craft room or storage room.
OTHER GENERAL MUST-HAVES:
Single story
High quality flooring throughout
Storage
Large lot, privacy from neighbors-we are next to an open grass field, so no neighbor on one side and nobody behind us
ITEMS ON MY MUST NOT HAVE LIST:
POOL-We didn't like having a pool bc:
1. It was a constant worry with our kids/the kids' friends/our friends with little ones. The fence was necessary, but looked terrible. Plus still not without risk/liability/worry of kids sneaking in somehow.
2. It took up a huge part of the yard that could have been used otherwise for the majority of the year. In Phoenix it's only hot enough for swimming for 3-4 months and during that time we didn't want to be out in the heat/sun anyway. Instead we love having an open area with turf for throwing football, volleyball, etc. which can be done year round
3. Expensive investment, which did not add value to our home or get used as much as we thought. Weekly maintenance/expense, which especially gets annoying for the 9 months when we weren't using it.
4. When the kids were little, it was not really fun sitting out in the heat watching them swim. As they get older, they only have fun swimming if they're with their friends or else it's boring.
Watch my VIDEO for more on why we didn't put a pool in our new home.  We put one in our last house and regretted it.
MARBLE COUNTERTOPS
HARDWOOD FLOORING
QUARTZ
DARK COLORED BASEBOARDS-shows too much dirt
TOO MANY OPEN SHELVES
FLOATING SHELVES SURROUNDING LIVINGROOM TV AREA- way too much clutter.
Busy, loud, brightly colored rooms are not my thing.  I prefer calming, neutral tones.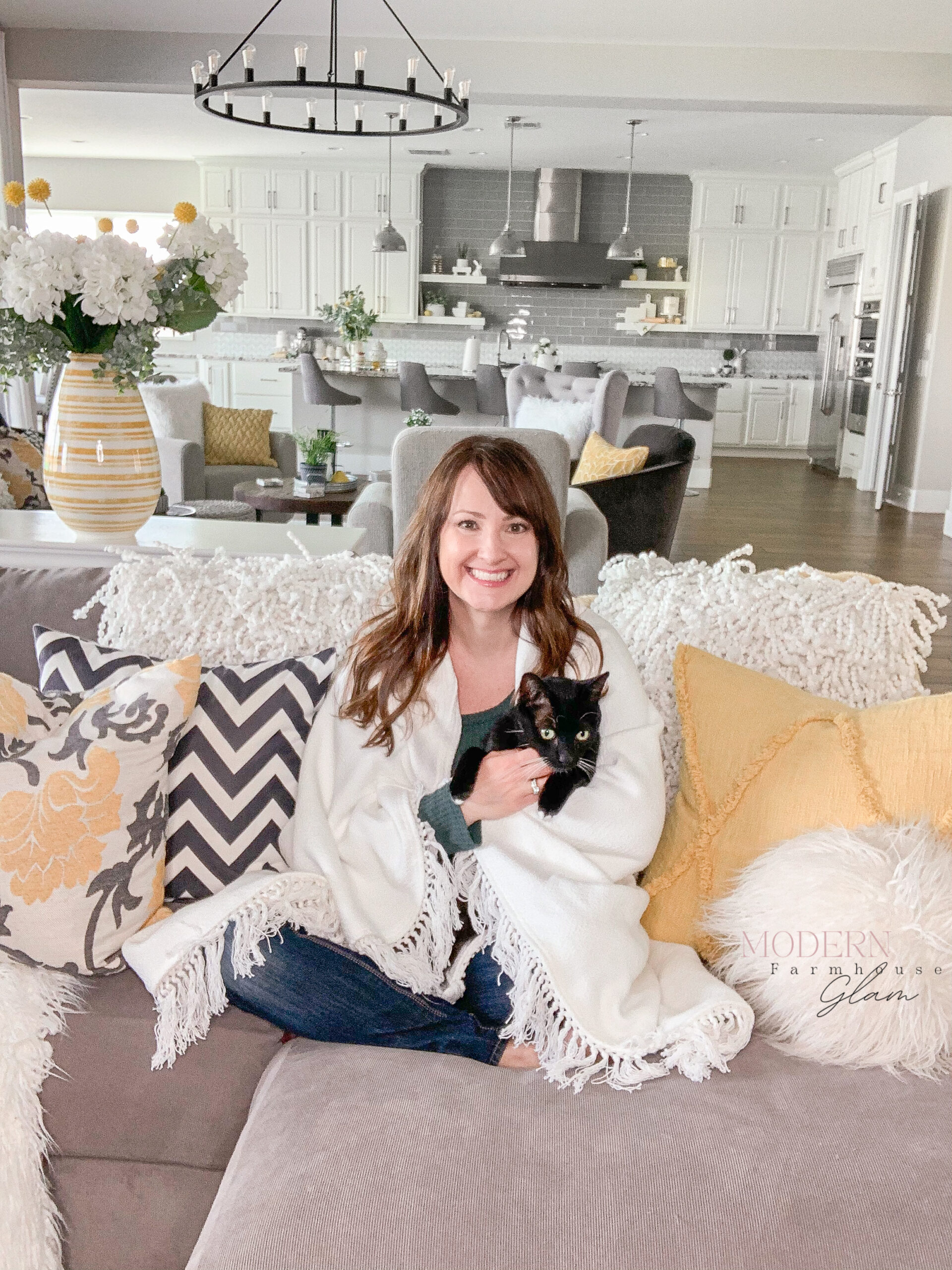 I HOPE THIS DREAM HOUSE MUST-HAVE LIST HAS GIVEN YOU SOME IDEAS FOR YOUR DREAM HOME! I will be adding to this list! Check back!
DM me on Instagram if there's something on your dream home let that you think should be a must-have!
If you're looking for additional sources for home decor, furniture, lighting, or rug sources, etc seen in my home, check out the Shop My Home Blog article and Follow me on the LTK shopping app for free!
Amazon Storefront with all my fave home decor items, cleaning product, kitchen gadgets and more!
XO-AMY, MODERN FARMHOUSE GLAM
You may also like:
Check out my series on TikTok @modernfarmhouse glam "Dream Home Must-Have Lists" Parts 1-