Everyone wants to know…what's my favorite Christmas trees? Here are all the Christmas trees in my home at Modern Farmhouse Glam, including my two FLOCKED snowy trees (I have a 9ft and 7.5 ft) and my NOBLE FIR Tree, plus my two small flocked trees in baskets on my entryway table.
Above is my 7.5 ft flocked tree in our greatroom. This year's tree will be the same thing, but a 9 footer!
Here is the new 9ft stunner! Linked HERE or tap the picture. Oreo sure thinks it's feeling cozy in here!
Below is my 9 ft Noble Fir Tree. I love it's simple rustic beauty. It looks gorgeous on its own or decorated with ornaments.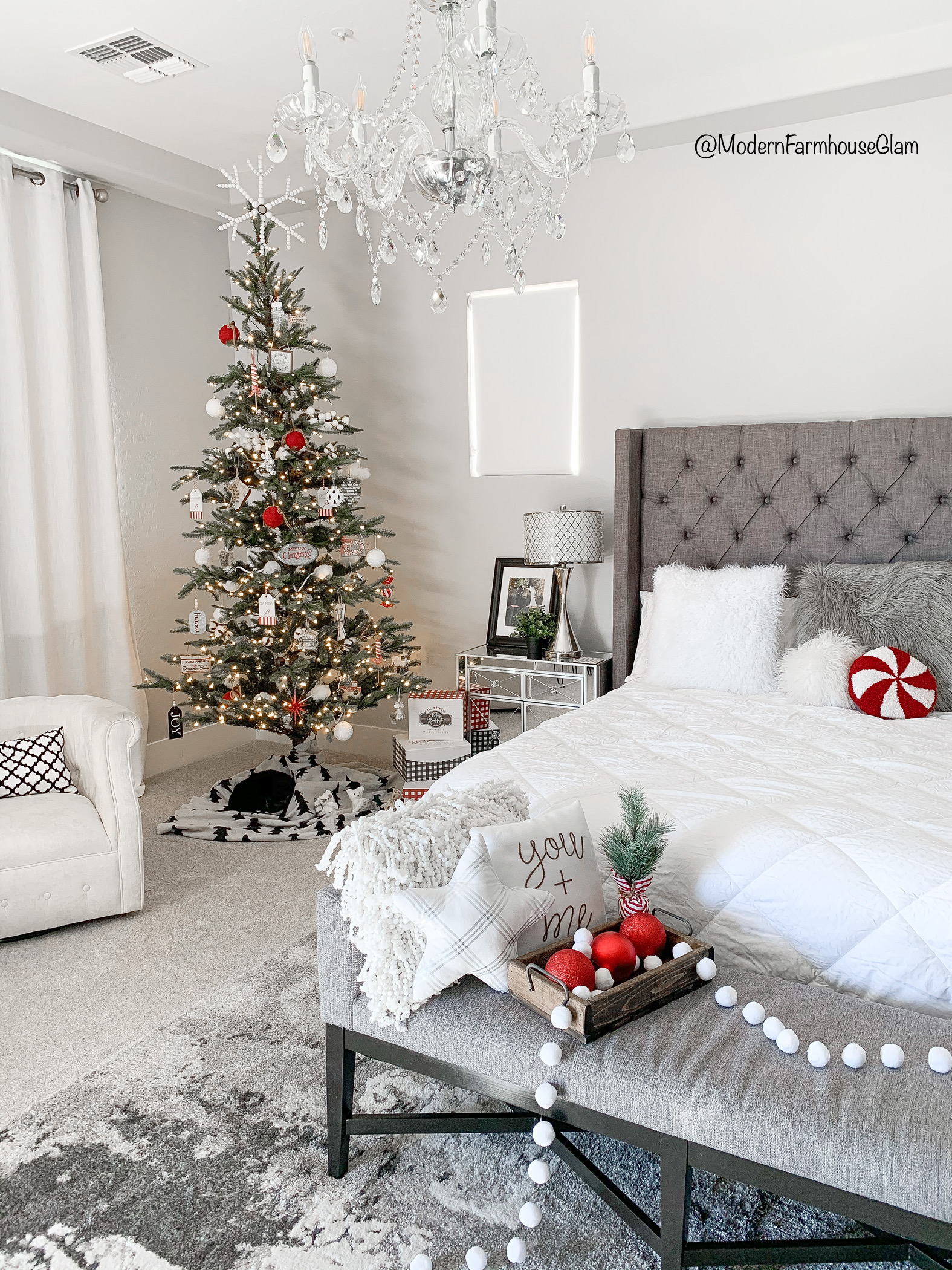 Here's the same Christmas tree in our bedroom, with a few simple decorations.  It is such a beautiful tree, that it can shine on it's own!  Link to this tree, just click on the picture or HERE. We collected those giant pinecones just outside of Yosemite National Park, on a family trip a few years ago.  They are from the largest pine tree, the Sugar Pine!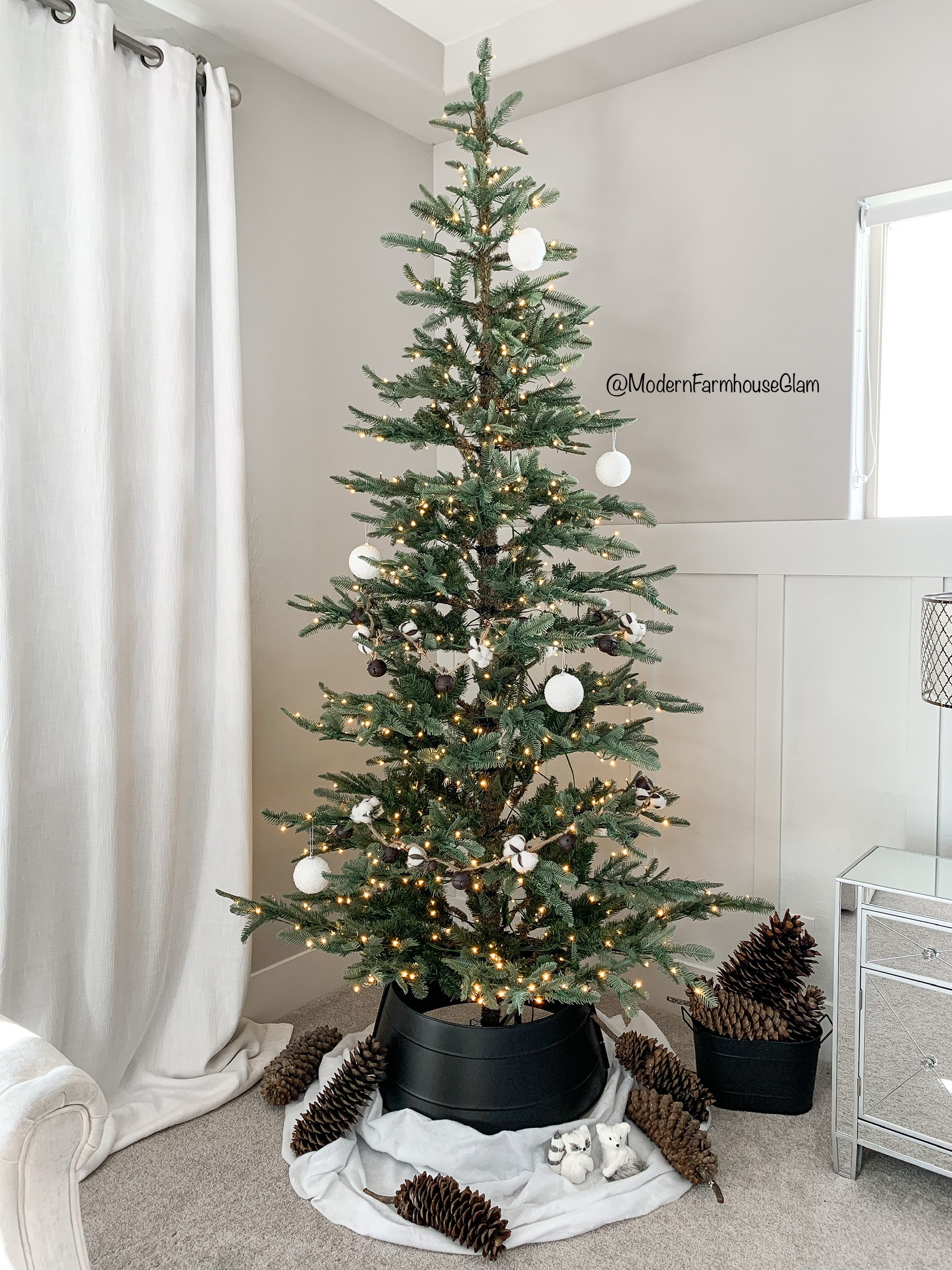 The set of small flocked trees in baskets and flocked garland add a special Christmasy touch to the entryway. It also is pre-lit!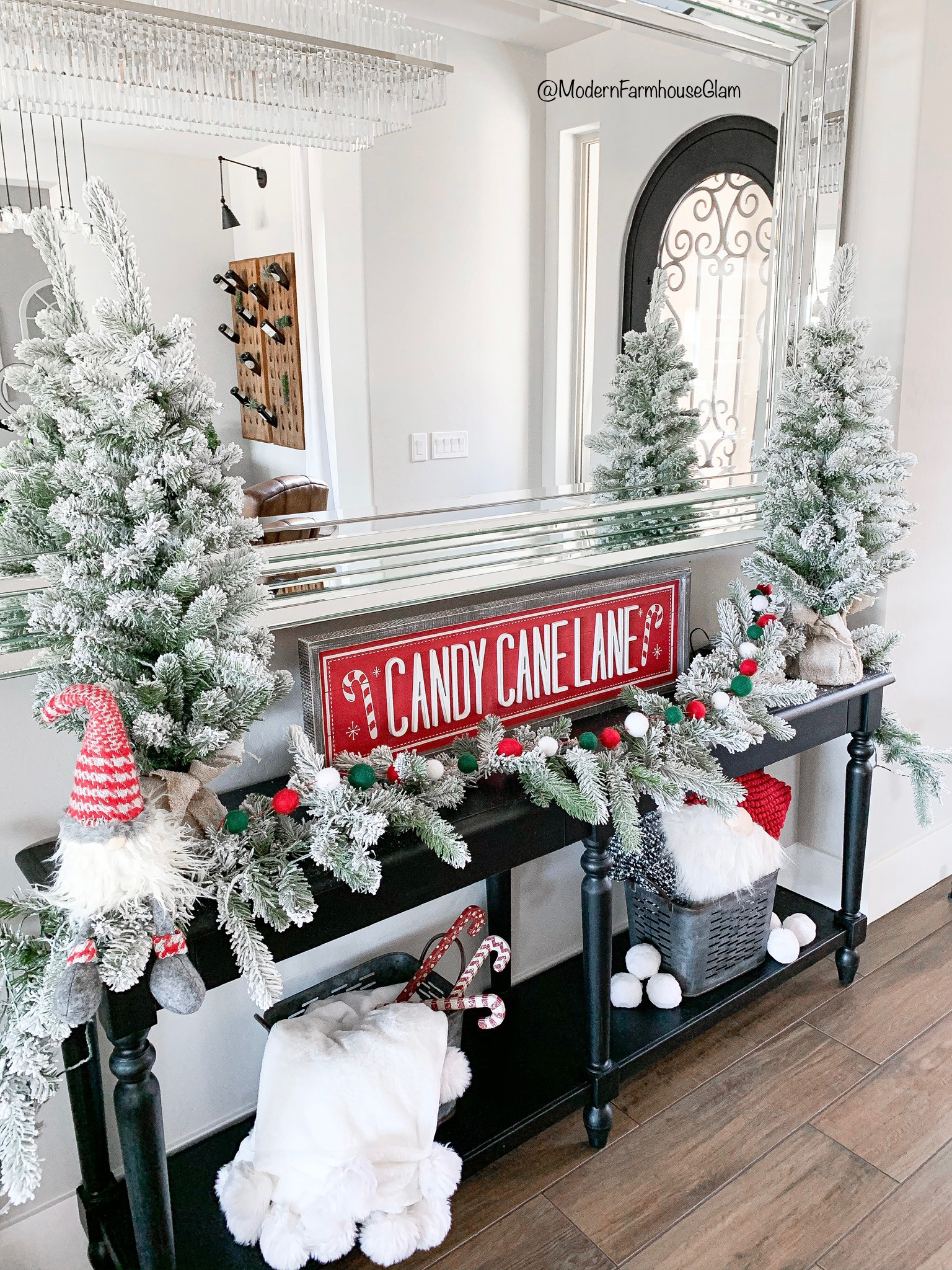 Here's a 10 second video of me putting up my new 9ft FLOCKED TREE.  I can't wait to decorate this beauty!
The same 7.5 flocked Christmas Tree set up in our entryway.
Another angle of our 9ft flocked Christmas tree.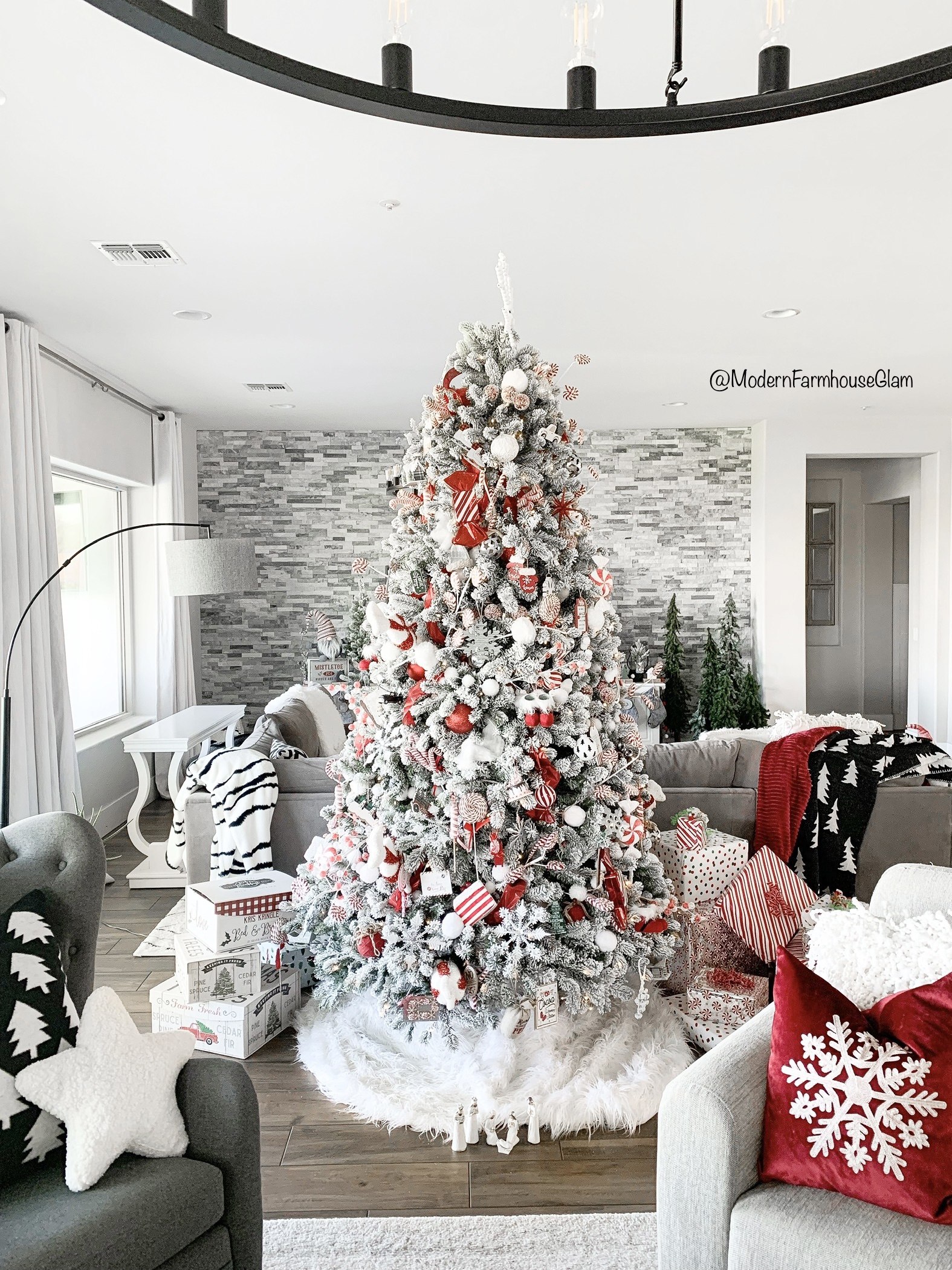 Here's another look at our Noble Fir in our bedroom: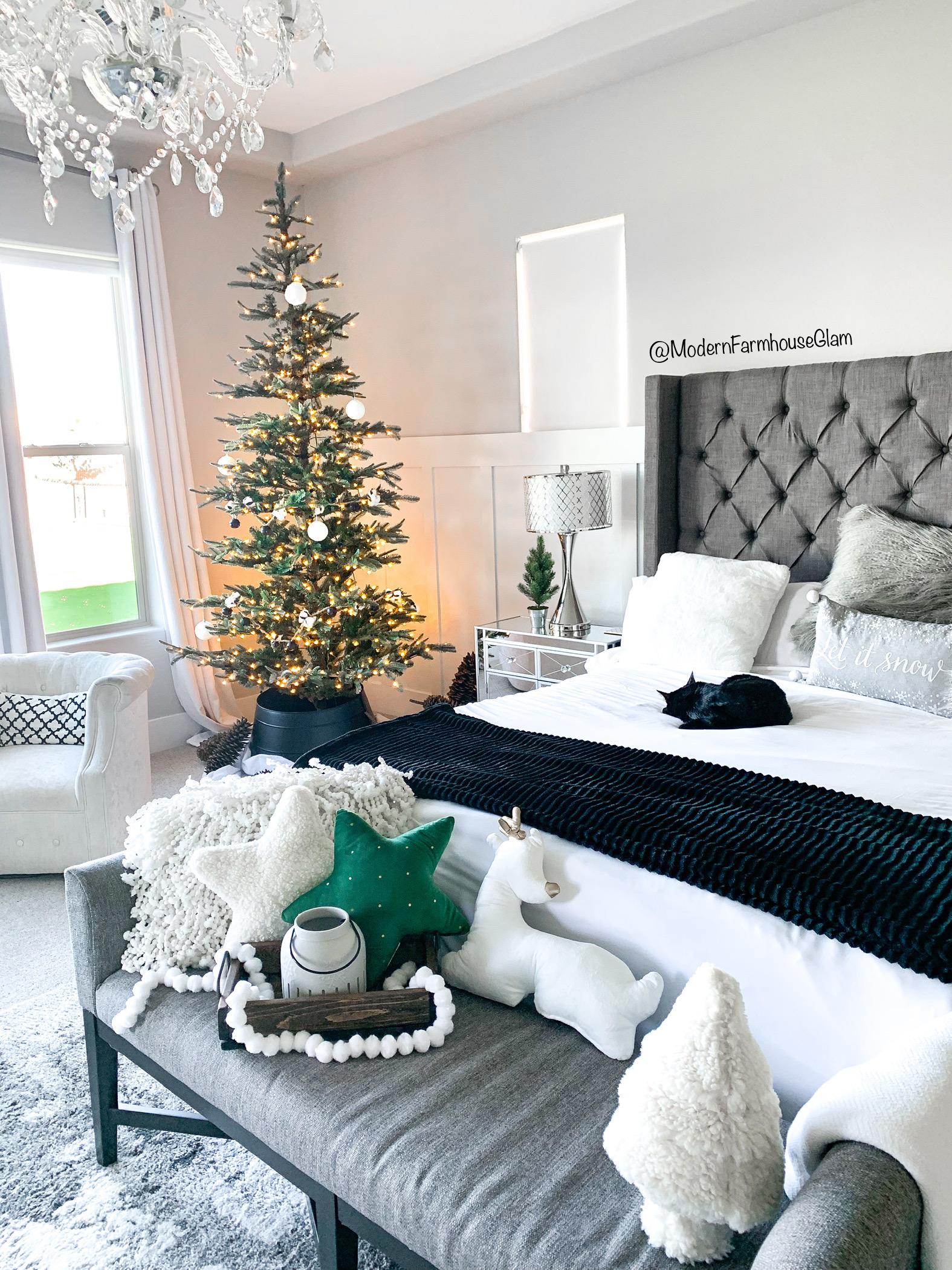 You may also enjoy:
Christmas Napkin Holder Tutorial by Modern Farmhouse Glam
6 page MAGAZINE FEATURE in Entertain & Celebrate Holiday 2021
Follow Modern Farmhouse Glam on Instagram!
SOURCE LINKS:
Shop My Home: www.modernfarmhouseglam.com
Follow me on the LTK app for sources at: www.liketoknow.it/modernfarmhouseglam
Amazon Shop: www.amazon.com/shop/modernfarmhouseglam
Let's get SOCIAL! Follow Modern Farmhouse Glam on:
Instagram: Instagram.com/modernfarmhouseglam
Glam Girl SHOP & Blog: www.ModernFarmhouseGlam.com
Shop my Home & Closet: www.liketoknow.it/modernfarmhouseglam
TikTok: www.tiktok.com/@modernfarmhouseglam
Pinterest: www.pinterest.com/modernfarmhouseglam
YouTube: www.youtube.com/channel/UCopIYixxloEoMvikinYgeqA
Amazon Shop: www.amazon.com/shop/modernfarmhouseglam
WORK WITH ME! FOR BUSINESS INQUIRIES email: [email protected]