Everyone wants to know…what are my favorite Christmas trees?
Here are the artificial Christmas trees as seen in my home at Modern Farmhouse Glam!  They are all are high quality and stunning Christmas trees.  The flocking is not messy in my experience on these.  I've tried flocking my own mini trees before and it was a hot mess! Worth the price to buy some high quality holiday Christmas trees that will last. All of my trees are pre-lit.  SO much easier that way! Snowy white Christmas trees make your home feel like a Winter Wonderland!
I also love the simplistic organic look of the Noble Fir green Christmas tree that I put in my master bedroom. See pics below.
Here are all the Christmas trees in my home at Modern Farmhouse Glam with shopping links:
Use my links plus coupon code CYBERMONDAY for 50% off of my trees!
9 ft Flocked Christmas Tree in Greatroom 2021
9 ft Noble Fir Green Christmas Tree as seen in my master bedroom 2020 and 2021
7.5 ft Flocked Christmas Tree as seen in my entryway 2020 and in my kitchen 2021
4 piece set– Pair of Snowy Flocked Trees in baskets, Wreath and Garland Pre-lit as seen in my Entryway
My Christmas Tree for 2022 is a 10 foot queen flocked beauty.
Pictured below is my 9 ft stunner from Christmas 2021.  Oreo is feeling pretty Christmas cozy, right? I love the snowy Winter Wonderland feeling of this flocked Christmas tree!

Below is my 9 ft Noble Fir Tree. I love it's simple rustic beauty. It looks gorgeous on its own or decorated with ornaments.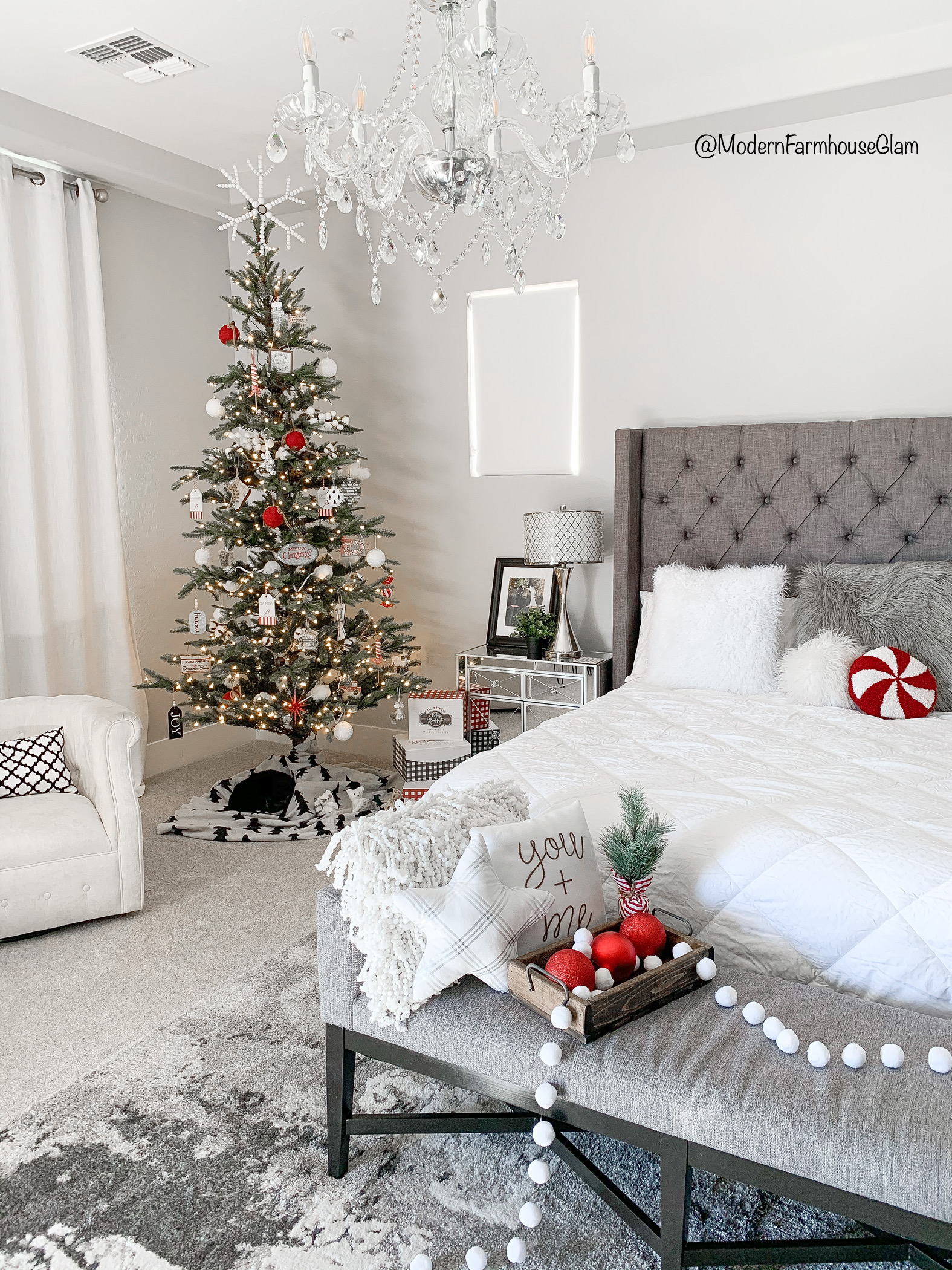 Here's the same Christmas tree in our bedroom, with a few simple decorations.  It is such a beautiful tree, that it can shine on it's own!  . We collected those giant pinecones just outside of Yosemite National Park, on a family trip a few years ago.  They are from the largest pine tree, the Sugar Pine!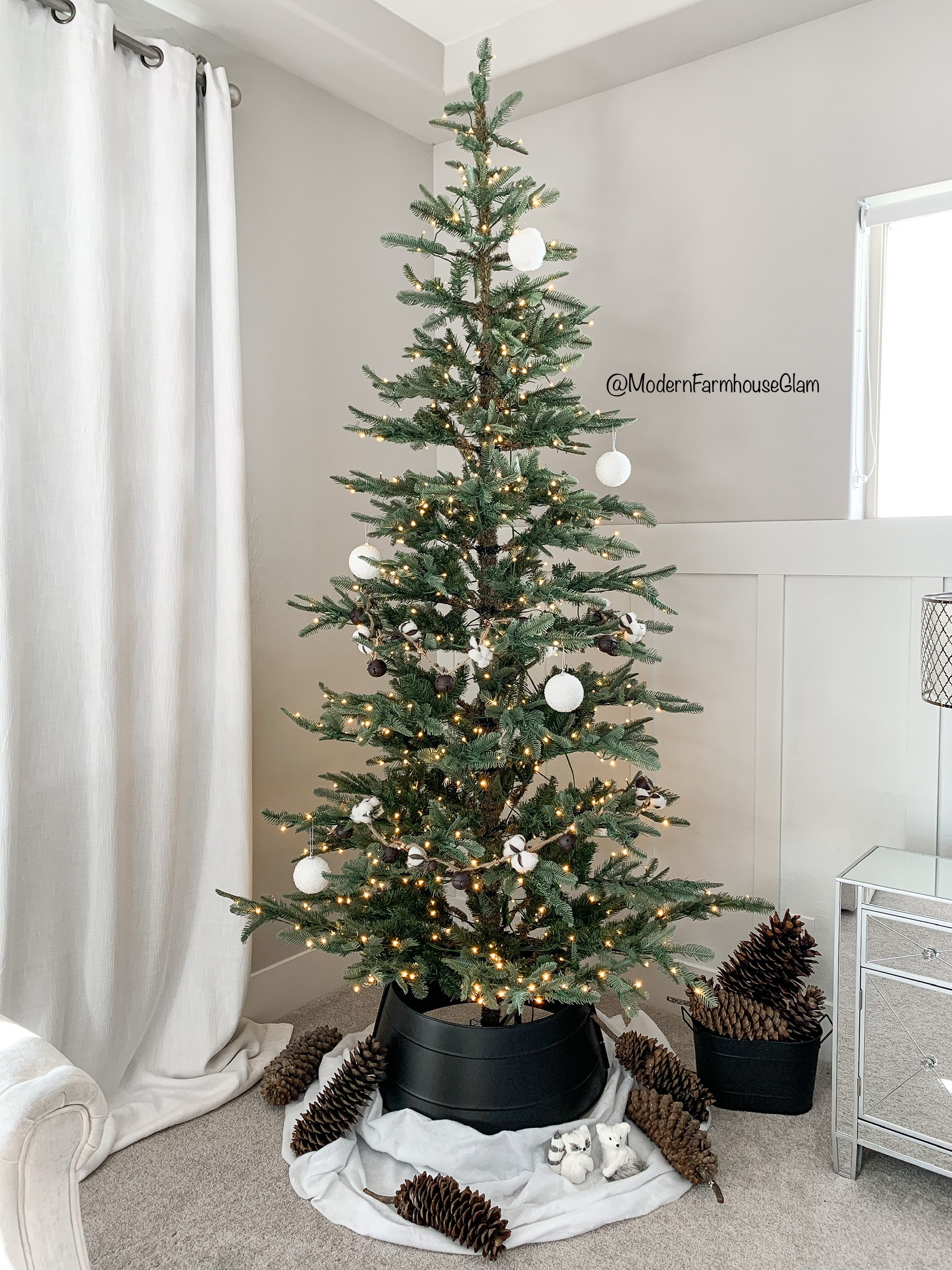 Shown below is my 4 piece set of two small flocked trees in baskets and flocked garland.  It also comes with a flocked pre-lit wreath now shown in the pic.  These snowy trees and garland add a special Christmasy touch to the entryway. It is all pre-lit!
You can purchase my Candy Cane Lane sign in The Glam Girl Shop! Sorry everyone, this item got discontinued by the manufacturer, ugh!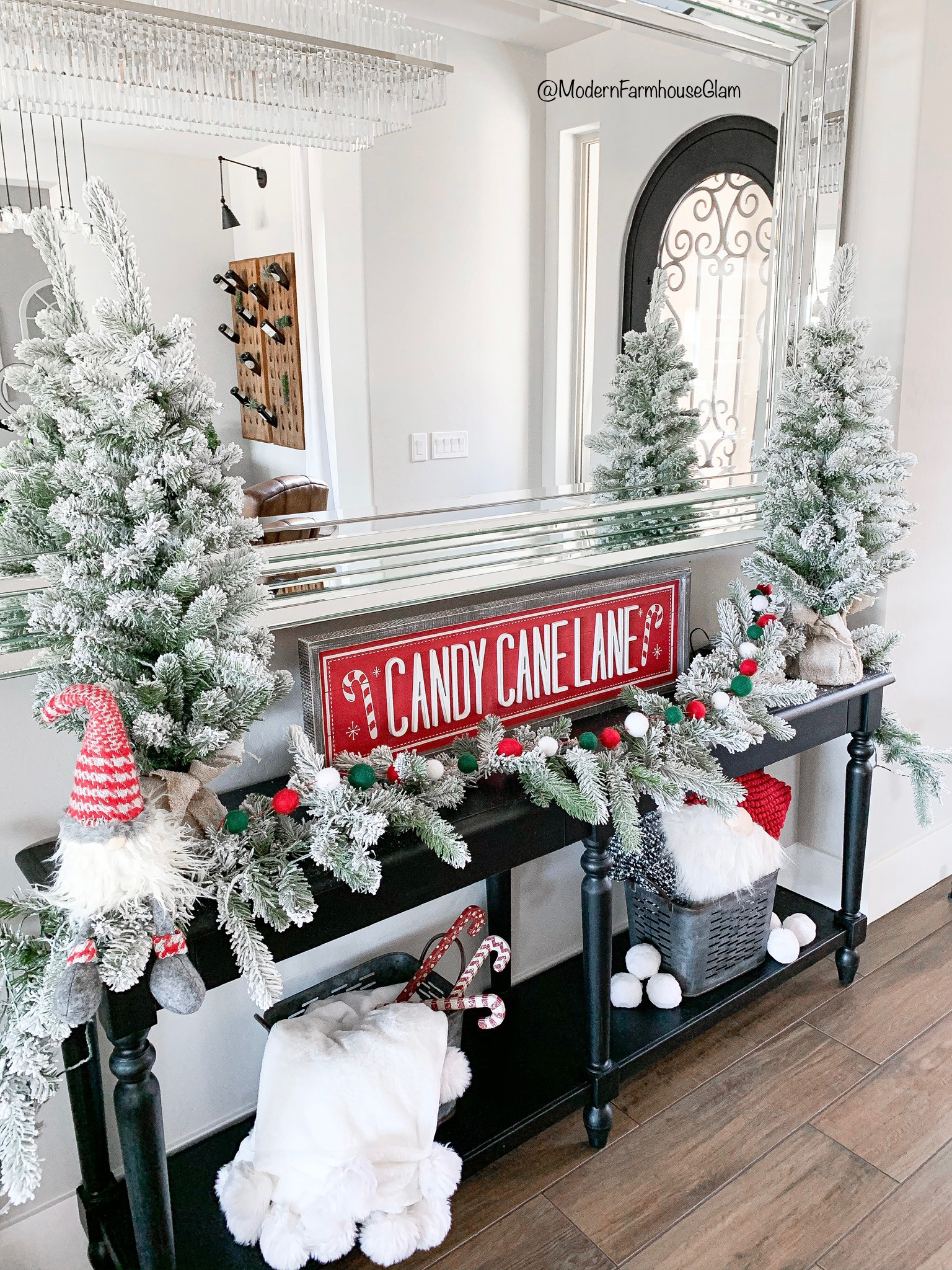 My 2022 10ft flocked Christmas tree.  My ceilings are 10 ft, so this maximizes the size of the Christmas tree potential.  I placed the star in front of the top branch on top and it worked out well.  This tree is so pretty! The branches are thinner than my last years tree.  Last year's tree has chunkier, thicker branches.  Both beautiful.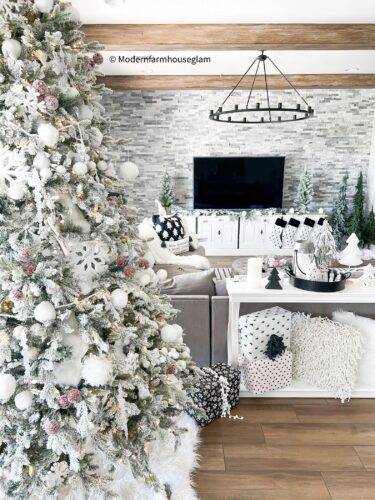 Shop my Christmas tree and holiday livingroom here:

My 2020 7.5 flocked Christmas Tree set up in our entryway.
Another angle of our 9ft flocked Christmas tree.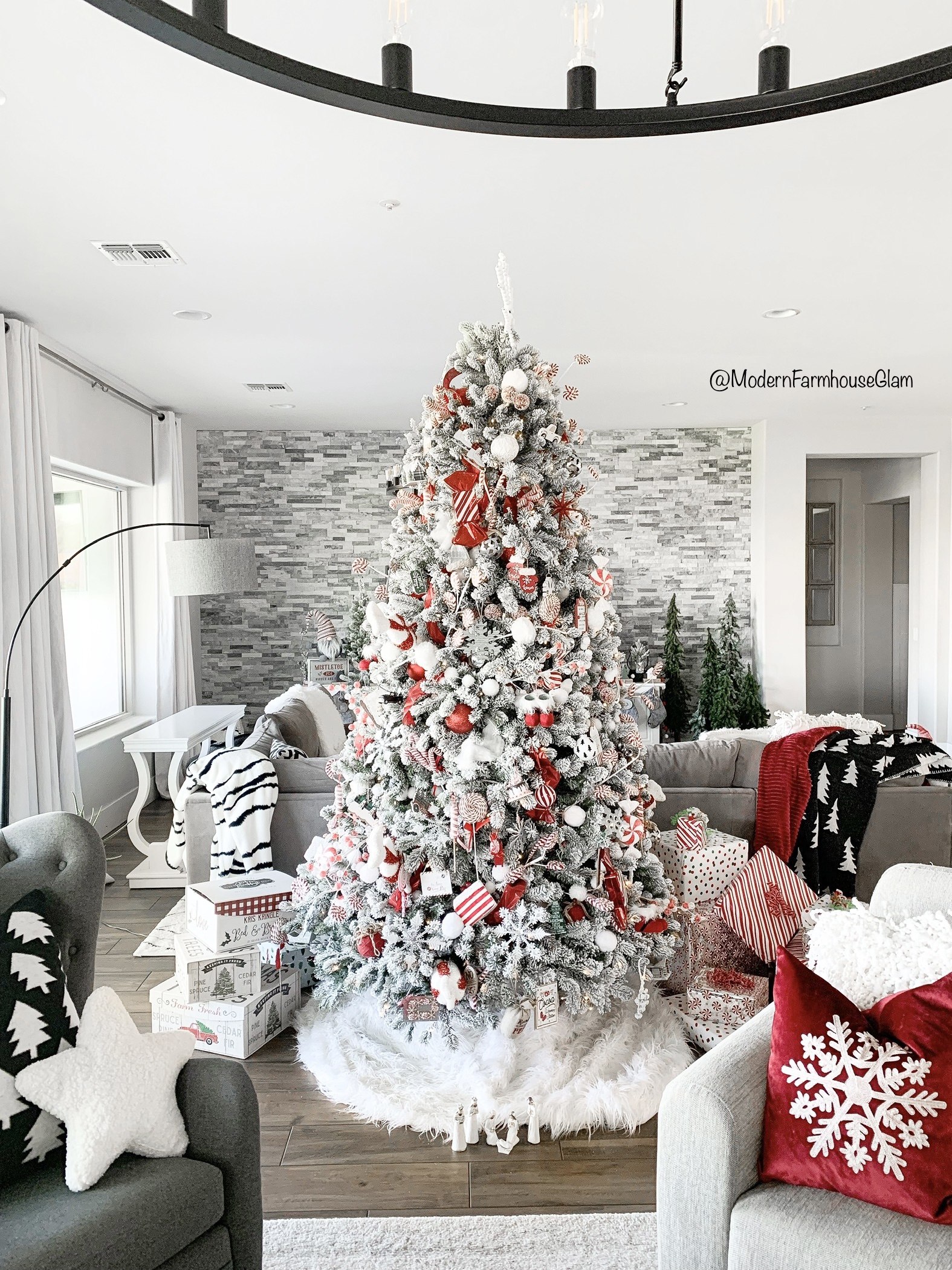 Here's another look at our Noble Fir in our bedroom. Oreo sure thinks it's Christmas cozy in here!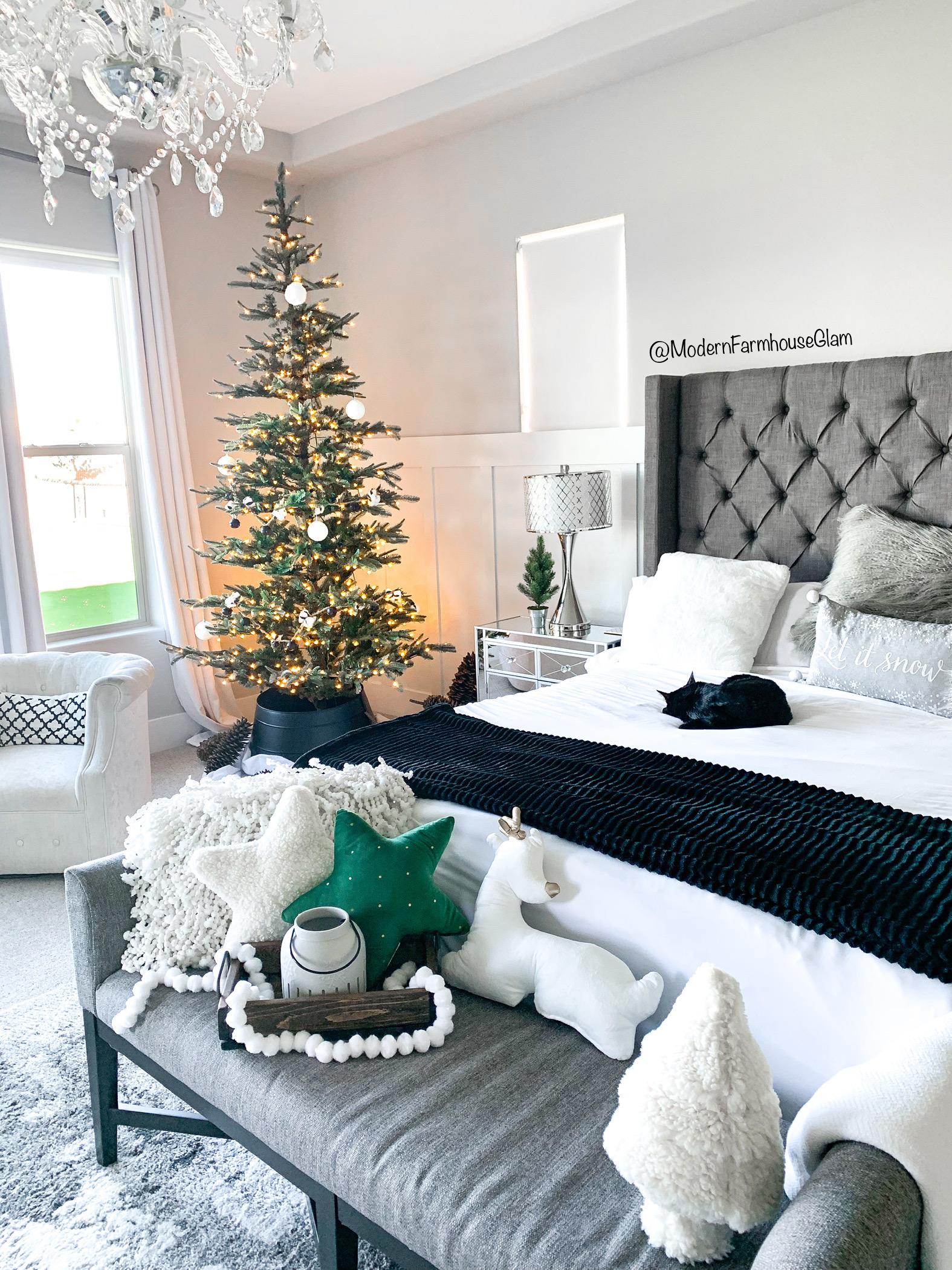 You may also enjoy:
Christmas Napkin Holder Tutorial by Modern Farmhouse Glam
6 page Magazine Feature in Entertain & Celebrate Holiday 2021
Follow Modern Farmhouse Glam on Instagram!
My 2022 10 foot flocked Christmas Tree
Christmas Eve Menu at Modern Farmhouse Glam
My Holiday Gift Guides for Her, Him, Kids, and Home!
Shop my Home and Closet: