Halloween Home Decor and Fall Food Ideas at Modern Farmhouse Glam
Halloween Party Spooky Snack Mix!🍫👻🕷️
Easy snack to add to your Fall & Halloween fun! Entertaining for the holidays is a great time to use your creativity! I love making special recipes and making our home cozy for the holidays for my family.  How about you?
Let's make this easy Halloween treat, using 3 simple ingredients, all Halloween related.  
Video here of me making my Spooky Snack Mix for Halloween.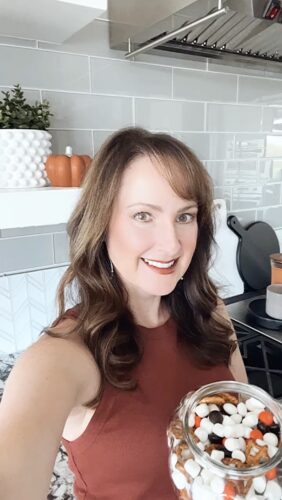 3 easy ingredients and the kids will love it as a Halloween treat!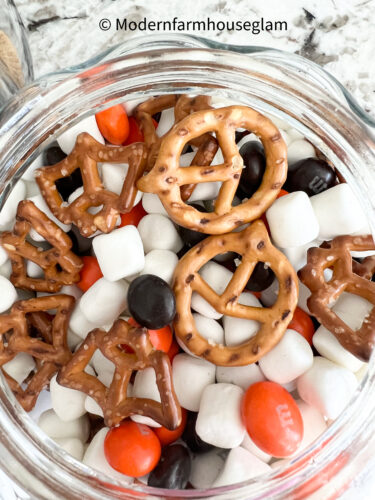 Ingredients:
I linked these for you so you can shop them online.  
🤎Bat & Pumpkin Pretzels-Utz's
🧡Cookies-n-Scream M&Ms
🤍Mini Marshmallows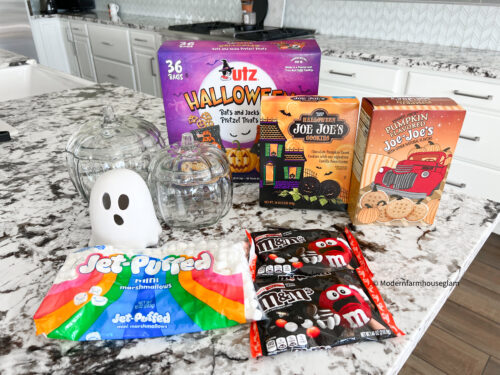 I also shared the Trader Joe's Fall cookies I put in the other pumpkin jar. Which are your fave? The pumpkin spice cookies are so yummy!🧡
I love the combination of rust orange and black, grey, and white for Halloween and Fall home decor.  The orange pillow really pops! And this spider and ghost are too cute for Halloween.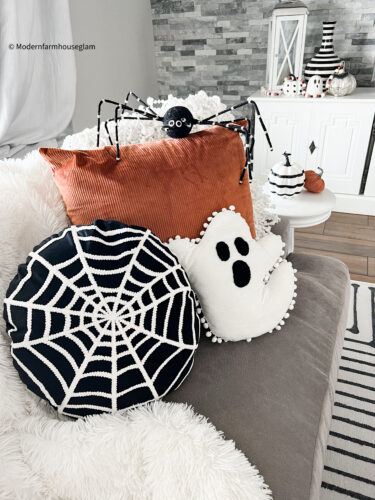 Hanging witches hats from your ceiling or chandelier with some fishing wire creates a fun three dimensional effect.  These bats on the wall also add interest to your Halloween display.
Doesn't my entryway look spooky cute? These are my favorite faux pumpkins! Expensive but worth it if you plan on decorating with pumpkins for years to come.  I linked them for you below the picture.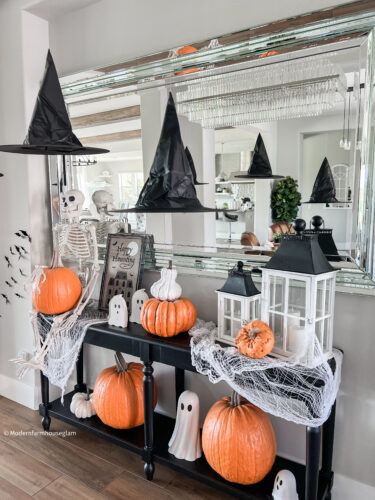 Shop the three wooden ghost set here
Oreo is all set with his costume for Halloween! Shop his Candy Corn Witch Hat HERE!
It comes in different sizes and can work as a cute Halloween costume for a dog or cat.  Would your pet wear this? lol!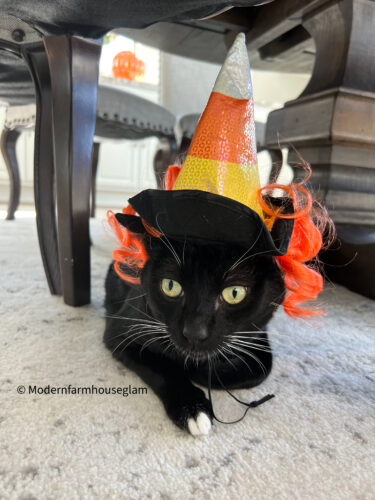 Witch's Brew anyone?
Fall front porch using my favorite faux pumpkins: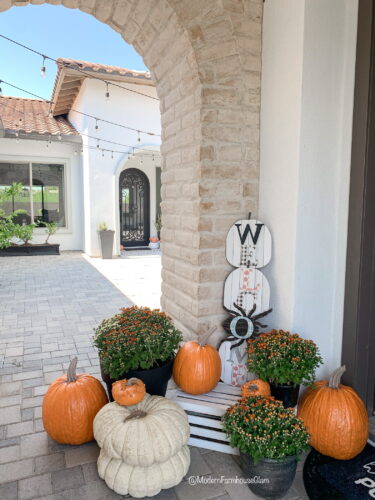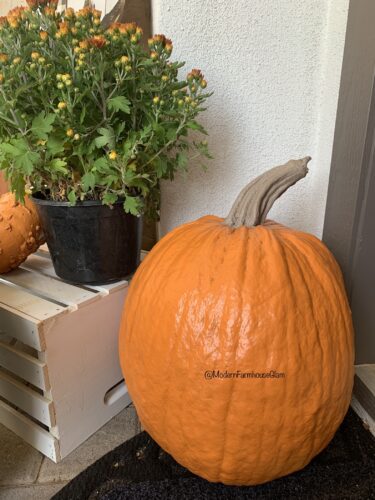 Happy Halloween my friends! Stay tuned for more Fall and Halloween home and food inspo!
XO-Amy, Modern Farmhouse Glam
You may be interested in:
Have you started thinking about CHRISTMAS decorating yet? Check out my favorite Christmas Trees and some of your Fave Christmas blog articles at Modern Farmhouse Glam