Struggling with what to make for dinner tonight? It's challenging coming up with new ideas for dinner for your family each day, right?
Here's an easy and yummy meal solution, using affordable ingredients from Walmart! My family, especially my son, love these sliders.
#walmartpartner
Here are my recipes for Garlic Knot Meatball Sliders and Lemon Parmesan Arugula and Spinach Salad, as seen on Instagram Modern Farmhouse Glam!
I'm using Walmart Marketplace brand garlic knots which are super yummy. Marketplace, along with Sam's Choice, Great Value, and Freshness Guaranteed are Walmart's private label brands. I love their organic options that I can swap out for other more expensive brands, without sacrificing quality.
Ok let's make my Garlic Knot Meatball Sliders! They are delicious and guaranteed to be a hit with the whole fam! Yum!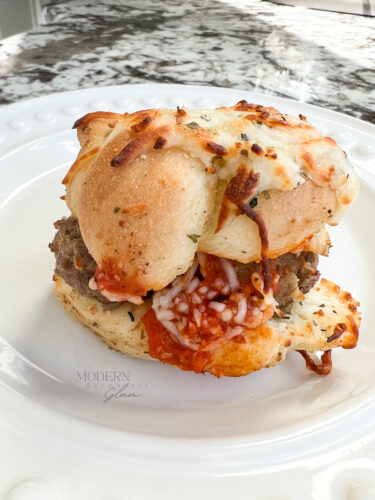 Lemon Parmesan Arugula Spinach Salad.  The pine nuts are the magic touch!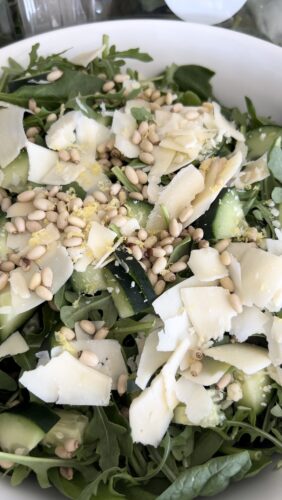 Here's the VIDEO of me making the sliders and salad.
This Lemon Parmesan Arugula/Spinach Salad is the perfect pairing with the meatball sliders, because it is light and fresh.  It doesn't compete with the bold flavor of the sauce and meatballs.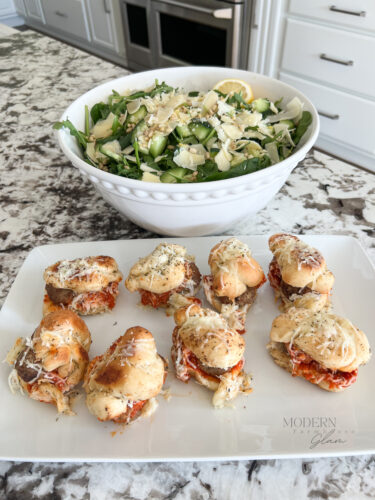 Here's an example of the organic options at Walmart that are great because they are more affordable.  I used Walmart Marketplace brand organic baby arugula and spinach in my salad and it is delicious!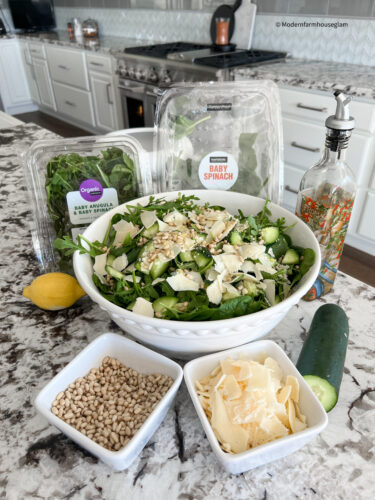 Shop the ingredient list here:

Pine nuts add some flair to this salad, as well as some fresh parmesan cheese and lemon zest.  I use a simple dressing of olive oil and freshly squeezed lemon juice, along with some salt and pepper.  Light and fresh!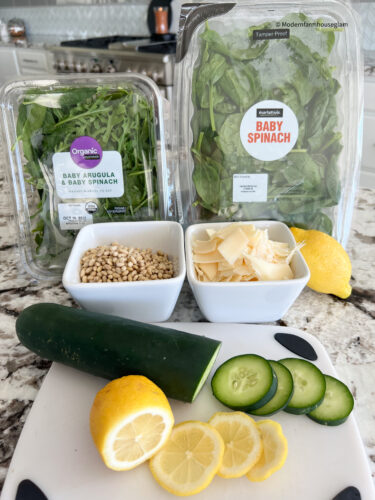 Recipe:
Lemon Parmesan Arugula/Spinach Salad:
Baby Arugula and Baby Spinach
Top with sliced cucumber
Sprinkle with fresh parmesan cheese to your liking.  I use a blend that comes with Asiago, Parmesan and Romano cheeses.
Top with pine nuts
Dress with freshly squeezed lemon, olive oil, and salt and pepper. I also have a lemon shallot vinaigrette that I love!
Zest some lemon on  the top
Enjoy!
Here are the ingredients I used for my Garlic Knot Meatball Sliders.  Great Value shredded cheeses from Walmart are a low-cost quality option.  I also used this organic Walmart brand, Marketside Organic Grass-Fed Ground Beef. And the Walmart Marketside garlic knots….hello yummmm! They are so easy to make, just bake them in the bag they come in!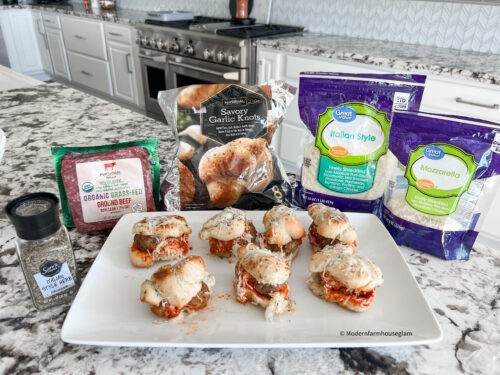 I ordered all of these ingredients online from Walmart and had them delivered right to my door.  So convenient!
Shop my ingredient list here:

New customers can use promo code TRIPLE10 to save $10 off their first three pickup or delivery orders.
$50 min. Restrictions & fees apply.
Dare to compare Walmart brands! Start your order now HERE.
Recipe:
Garlic Knot Meatball Sliders:
Prepare meatballs either homemade or premade, undercooking by a few minutes.
Heat garlic knots in the bag, as per directions on the outside of the bag, undercooking by two minutes.
Slice sliders in half and place in baking pan or cookie sheet.
Place two small meatballs on one half of sliders.
Heat up your favorite marinara sauce and place a spoonful on top of meatballs.
Top with shredded mozzarella cheese.
Place other side of slider on top and sprinkle with Italian Cheese Shredded Blend Cheese.
Sprinkle with Italian Seasoning Blend.
Bake at 350 degrees for about 5 minutes, or until heated through and cheese is melted and golden brown.
Provide marina sauce and ranch on the side for extra dipping.
Enjoy!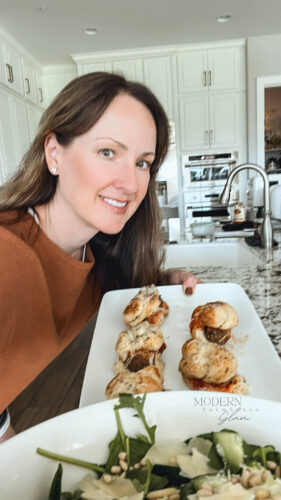 I hope you enjoyed this easy meal solution for your family! Let me know if you try out these recipes!
XO-Amy
Modern Farmhouse Glam
Thank you Walmart for sponsoring this post!