Let's make the YUMMIEST Caramel Apple Dip!
This Caramel Apple Dip is a festive and easy dish to bring to a Fall or Halloween party! Are you hosting or going to a Halloween party this year?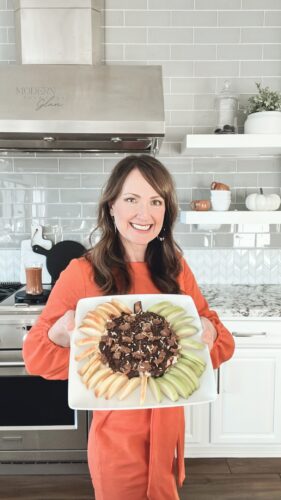 I ordered all of the ingredients online at Walmart! #sponsored It was so convenient getting everything to make this dip delivered the same day.
Isn't Fall the COZIEST time of year? Bonfires, comfy sweaters, and pumpkin spice…what's not to love?!
Here's my recipe for Caramel Apple Dip:
This is my SHOPPING LIST for all the ingredients you need to make this recipe.
Just click on the links and start your online order with Walmart!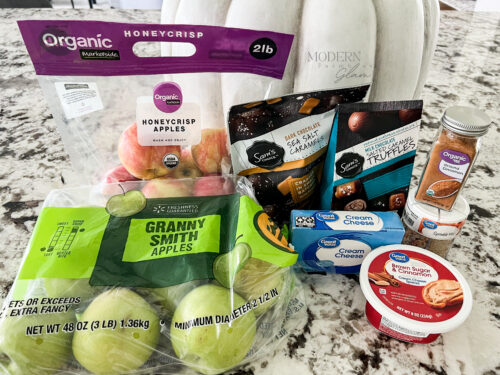 Watch the video of highlights of me making my Caramel Apple Dip HERE!
The chocolate caramel truffles on top add an extra yummy touch! I just cut them up and put them on top as a bonus. The combo of the sweet, creamy, salty with the tart apples is ON POINT! On the left are the dark chocolate sea salt caramels that I melted to drizzle on top of the cream cheese. Both of these are private label "Sam's Choice" Walmart brands.
Prices and inflation are crazy right now, but with affordable quality private Walmart brands, you don't have to feel like you are "trading down." I love the organic food options, like the Marketside (Walmart private label) honey crisp apples. Dare to compare other brands with Walmart private brands! Start your Walmart online order here now.
This brown sugar & cinnamon cream cheese works out great because it saves the step of adding brown sugar to your mixture.  It adds the perfect amount of sweetness to the plain cream cheese.
Would you like the link to the exact white serving plate that I used? It's a nice basic serving platter that can be used for many appetizers or recipes.  And it's super affordable, gotta love Walmart!


Ok… so who is going to make this yummy Fall treat? DM or tag me on Instagram when you make it!
XO- Amy, Modern Farmhouse Glam
You may also love: