Outdoor Patio Refresh! #sponsored I just refreshed my outdoor patio with some great summer home finds from Walmart Home! Do you update your patio for summer? It felt SO good to get everything cleaned up and add some fun new pieces. My patio set is back in stock, so hurry if you've been waiting for it! Click the picture to shop! And how cute are these outdoor textured pillows? The beverage holder is perfect for summer entertaining, with an ice part in the middle to keep the lemonade cold and refreshing!  A few new touches can make your outdoor space feel like a getaway! Click on the pic to SHOP!
Walmart Home has some great affordable options for updating your outdoor space. I'm super impressed with the quality of our outdoor patio set. I've also scored some fantastic textured pillows, both indoor and outdoor ones. Many items, including these pillows ship for free in two days. Try adding a pop of sunny yellow to your outdoor decor.  It goes so nicely with black and white textured pillows, like the ones shown on my sectional. Here are the new outdoor pillows I just got and you can click the individual pictures to shop: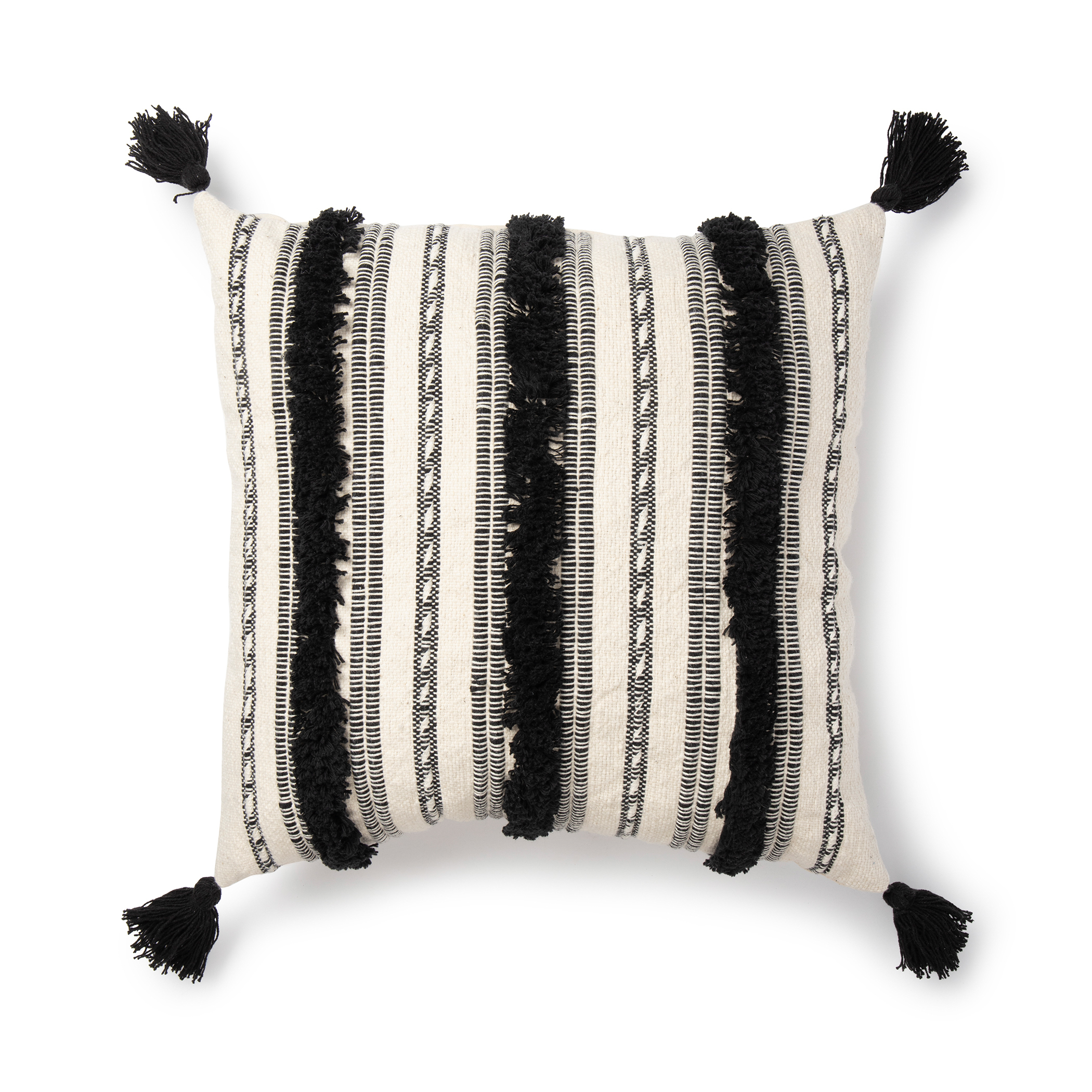 This beverage holder from Walmart Home is great for summer entertaining.  It has a center portion for ice to keep your drinks cold outside.  And how adorable are these striped outdoor cups? I love the simplicity, with a little bit of striping.  Both of these pieces can be used with any outdoor theme or accent color. Click on the pic to purchase yours!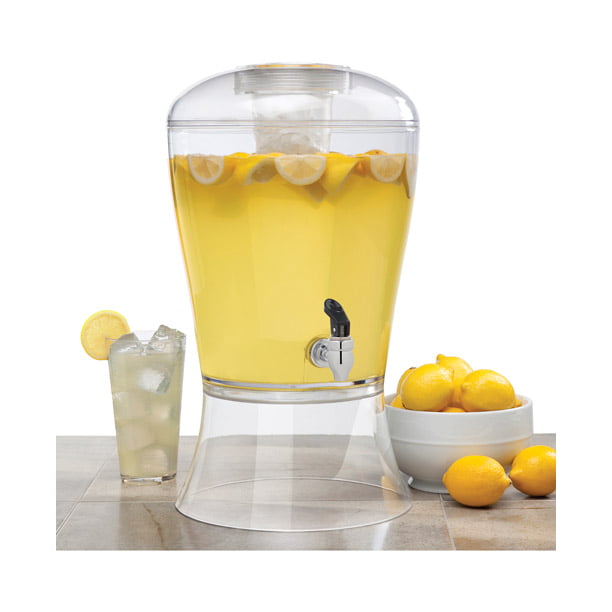 How cute are these outdoor cups with the striping? I love how they are neutral, with a little bit of pizazz! You could pair these with any outdoor tablescape theme or color.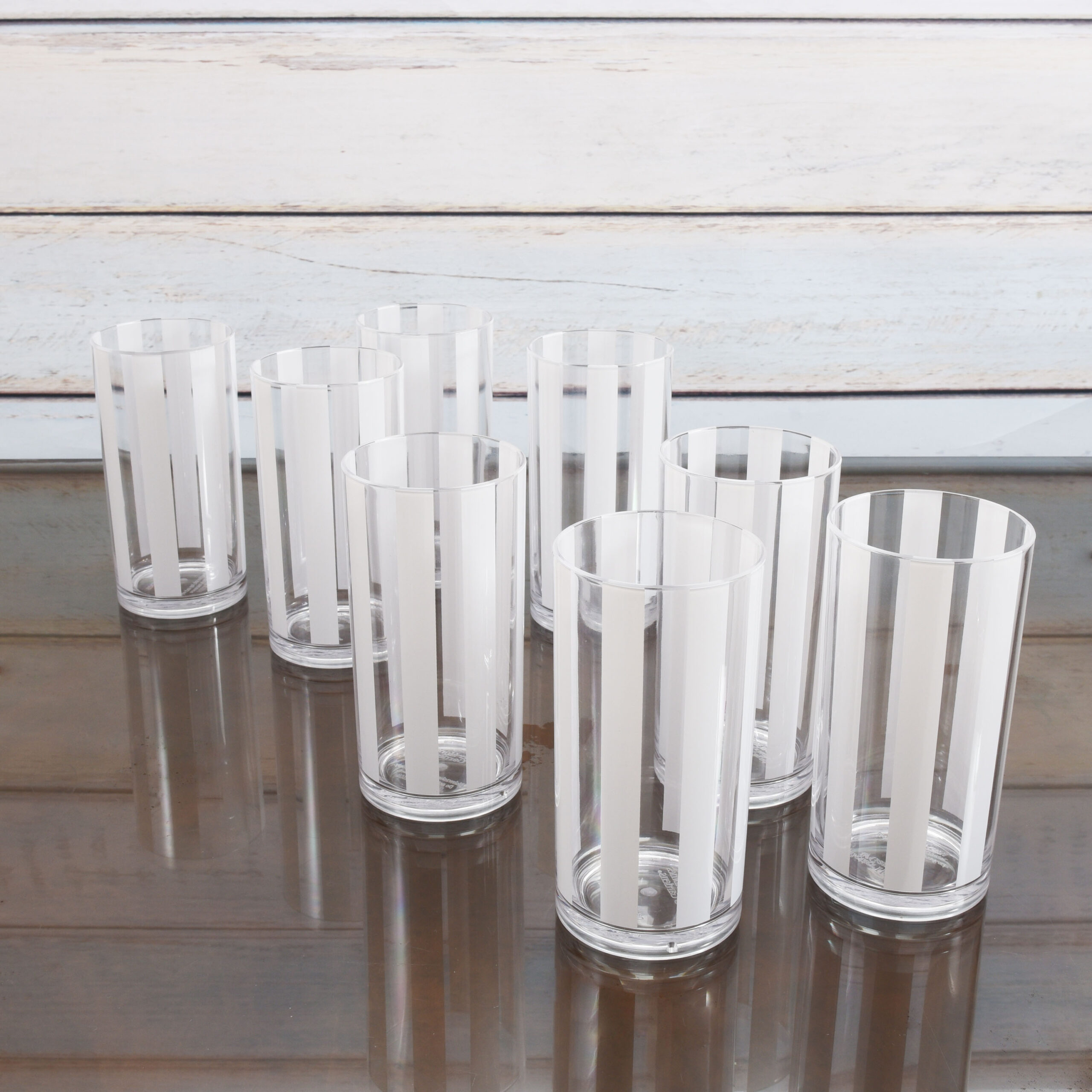 Here's a wider angle of my patio set up.  We've had this Walmart patio set for about two years now and it has held up perfectly.  I'm so happy with the quality and look of this set.  Click on the pic to shop either the grey one that I have or the tan option.  It's a five piece set, that includes the two pice sectional that attaches, the dining table and the two ottomans.  Sometimes I put the table behind the couch as a sofa table that acts as a food server. I love how the two ottomans can be neatly stored under the table as well.  Below this pic, I will show how we also swap out the table for our fire table in the fall and winter time.
In the cooler weather in Fall and Winter, we swap out the dining table for our fire pit table. The dining table sits behind one side of the sectional and acts as a server.  CLICK ON THE PIC TO SHOP OUR FIRE PIT TABLE:
VIDEO of my Outdoor Patio Refresh:
When setting up pillows on your outdoor sectional, here's a few tips:
1. Choose three pillows in different sizes, like the ones I have here from Walmart Home.
2. Mix a solid "anchor" pillow with other pillows that are textured or patterned that coordinate
3. Black and white are great basic pillows to pair with a colored pillow that can be swapped out for the seasons and holidays.
Click the picture to shop all three pillows, the cups, and beverage container, and my patio set!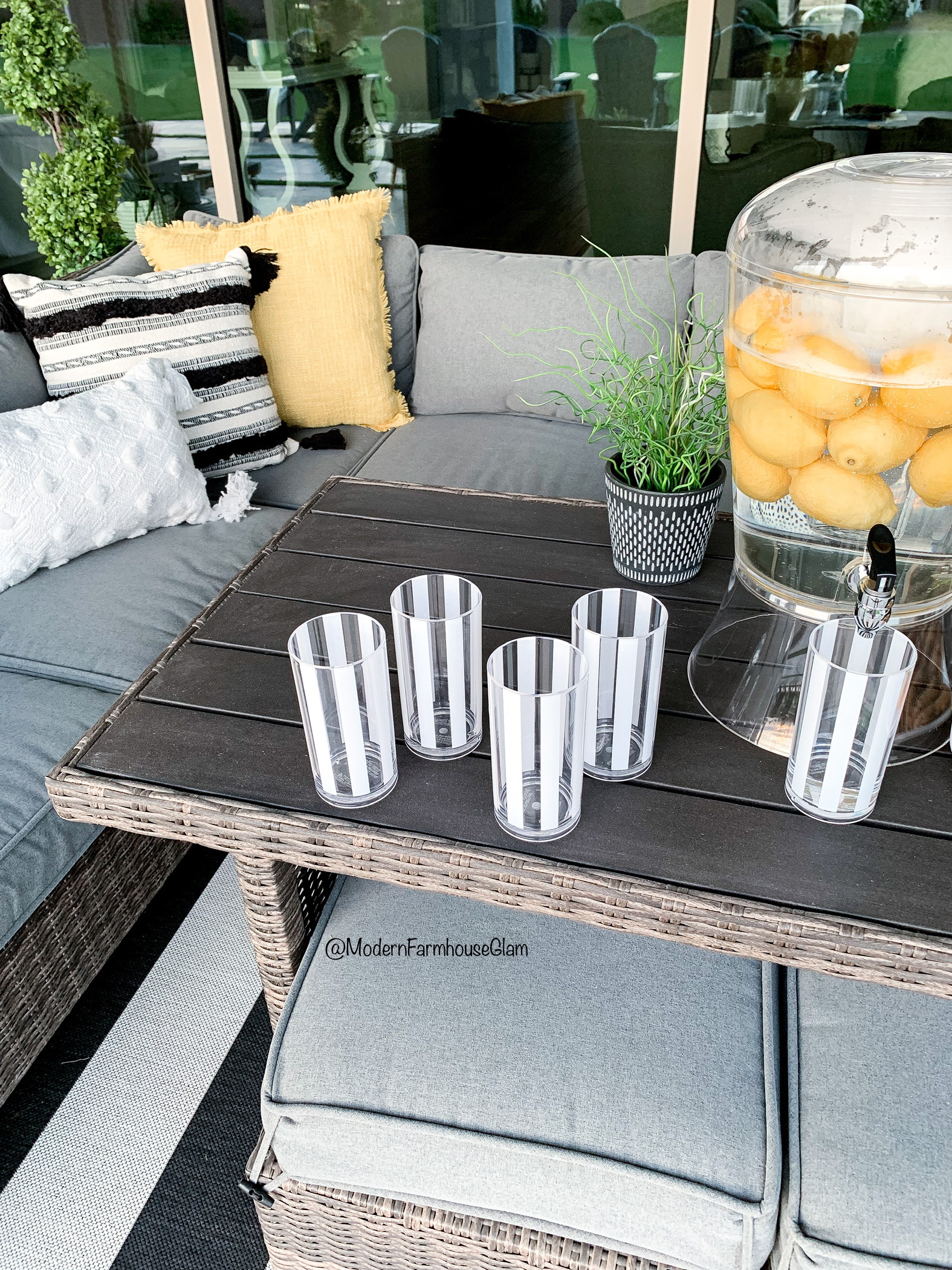 Enjoy refreshing your patio for Summer! Ok, so who's hosting a BBQ of Pool Party? I wanna come!;)
XO- Amy/Glam Girl
This post contains affiliate links 
#walmart #WalmartHome #modernfarmhouseglam #summerhomedecor #patiogoals #outdoordecor #homedecor #farmhouse #modernfarmhouse #betterhomesandgardens #bhghome #styleyourspace #homeimprovement #homeprojects #diyhome #summer2021 #bhglivebetter #patiofurniture #outdoorfurniture #theeverygirlathome #outdoorspaces #doingneutralright #patiofurniture #modernfarmhousestyle #outdoorliving