How to Create a Farmhouse or Modern Farmhouse Glam KITCHEN!
ARTICLE FEATURE: My comments on "how to create a farmhouse kitchen" were featured in an article on "Annie and Oak!" Click on the link to read the article, including comments from 40 other interior designers & home decor bloggers:
https://www.annieandoak.com/blogs/design-style/how…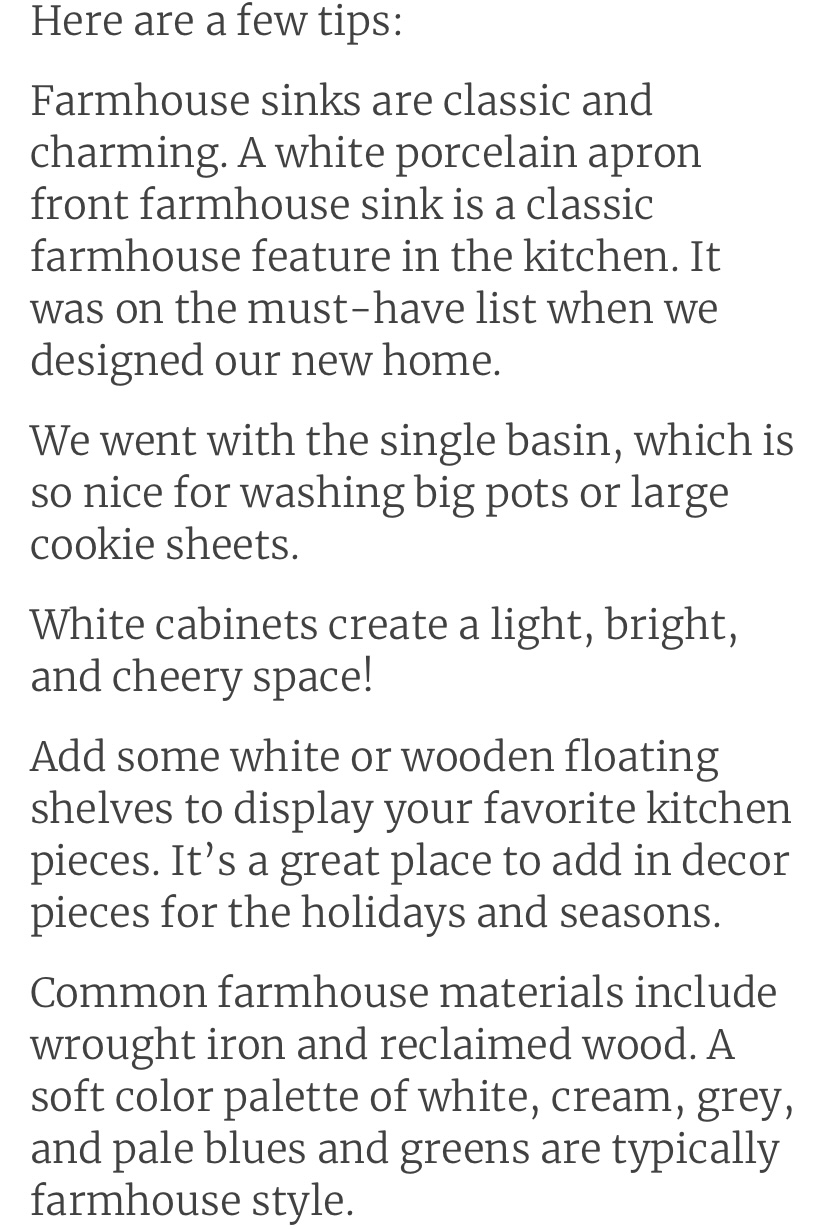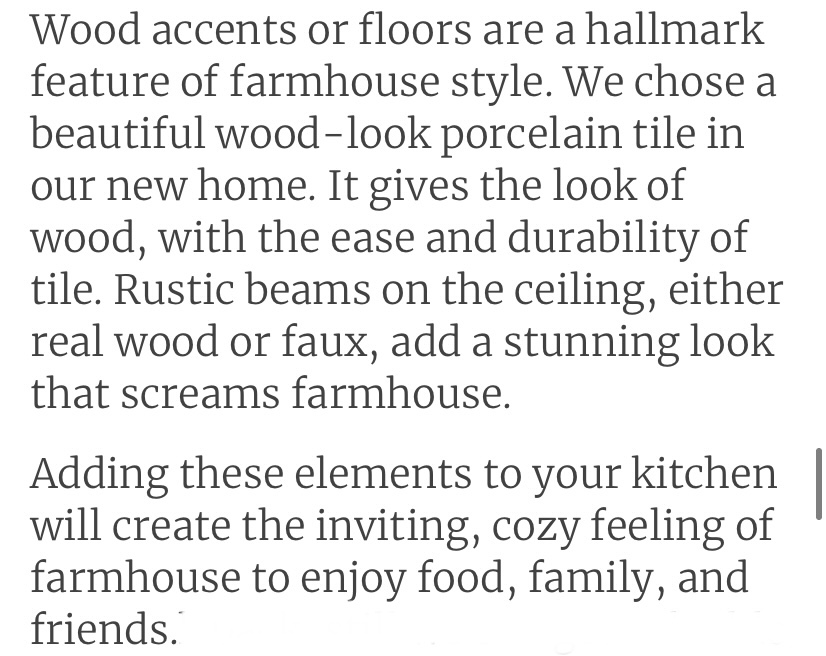 Kitchens are that special place for gathering with family and friends. It seems everyone gravitates to the kitchen island, right? Creating a farmhouse style kitchen brings extra touches of warmth and coziness to the heart of the home. Farmhouse style makes you feel comfortable and at home. But how do you create that farmhouse feeling? Here are a few tips:
Farmhouse sinks are classic and charming. A white porcelain apron front farmhouse sink is a classic farmhouse feature in the kitchen. It was on the must-have list when we designed our new home. We went with the single basin, which is so nice for washing big pots or large cookie sheets.
White cabinets create a light, bright, and cheery space!
Add some white or wooden floating shelves to display your favorite kitchen pieces. It's a great place to add in decor pieces for the holidays and seasons.
Common farmhouse materials include wrought iron and reclaimed wood. A soft color palette of white, cream, grey, and pale blues and greens are typically farmhouse style.
Wood accents or floors are a hallmark feature of farmhouse style. We chose a beautiful wood-look porcelain tile in our new home. It gives the look of wood, with the ease and durability of tile. Rustic beams on the ceiling, either real wood or faux, add a stunning look that screams farmhouse.
Adding these elements to your kitchen will create the inviting, cozy feeling of farmhouse to enjoy food, family, and friends.
How to create a MODERN Farmhouse Glam Kitchen:
In addition to the tips above for a farmhouse kitchen, add in some modern and glam. Think clean lines and sophistication.
I added modern, simple pendant lighting above my kitchen island. The polished nickel, sleek dome style lighting brings out the modern touch. Our dual backsplash consists of both glass subway and chevron tile. The shiny glass brings out the glam factor. Subway and chevron tile fall into all three styles of modern, farmhouse, and glam.
Keep decor on the countertops and floating shelves to a minimum. Modern farmhouse is more about purposeful decor pieces and not clutter. Decorating with a large mirrored tray on the island, with a few items organizes the look, without being too much.
A large granite island with a lot of movement in the pattern creates modern and glam. It is the showcase of the kitchen. One or two large decor pieces on the island, like a floral arrangement keep it simple and clean.
My kitchen at Modern Farmhouse Glam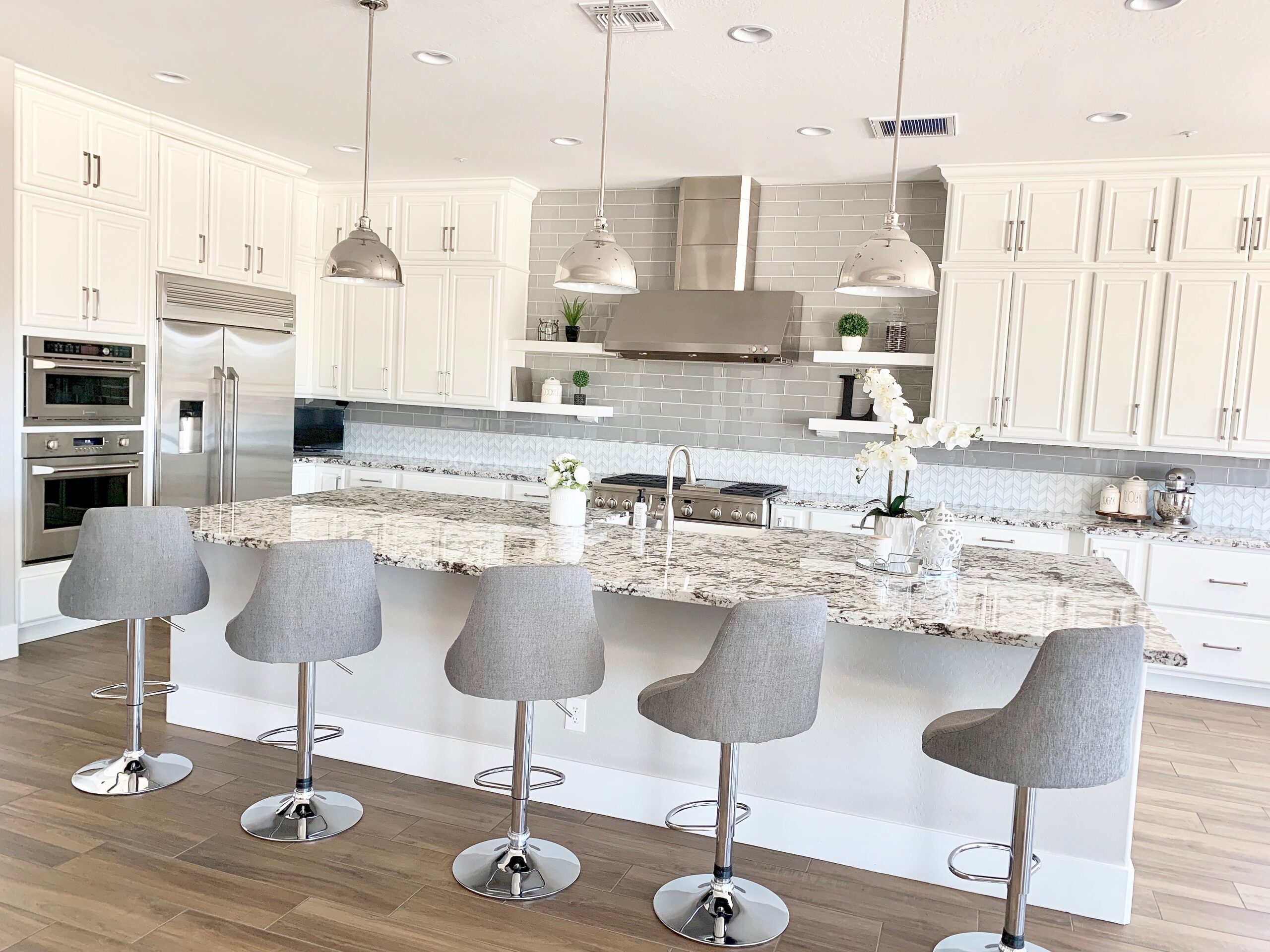 My kitchen at Modern Farmhouse Glam
Floating Shelves at Modern Farmhouse Glam
Kitchen at Modern Farmhouse Glam
Round Farmhouse Dining Table at Modern Farmhouse Glam
Farmhouse Sink at Modern Farmhouse Glam